Food & Drink
Sponsored by

A Dive Education: Life Lessons From Growing Up In Dive Bars
Sponsored by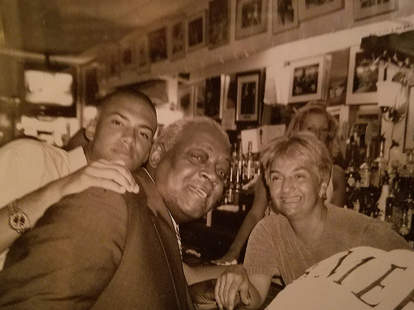 Courtesy of Jimmy's Corner
By the time kids graduate grade school, they probably know the basics: math, reading, science, and history. But not everything can be learned within the confines of a classroom. If you've spent any time in a dive bar (and we have a feeling our audience has), you know how much there is to discover simply by watching and chatting with those around you. But we wanted to go deeper. So we found three people who grew up as the progeny of dive bar proprietors to tell us the lessons they learned first-hand. Here's what they said.
Lesson 1: Everyone sets aside differences when everything is in chaos
Adam Glenn, Jimmy's Corner, NYC
In January of 1981, the regulars at Jimmy's Corner in Times Square had a little bet going. The bar owners, boxer Jimmy Glenn and wife Swietlana "Swannie" Garbarska, were expecting their first child. Swannie was quite a few weeks past her Christmas due date, and the patrons had begun putting money on when she'd have the baby. The doctors decided she would have a C-section at the end of month, which meant big winnings for someone. "The guy who bet on that time slot was a guy my mom didn't particularly like," says Adam Glenn, the subject of the 1981 bet and current manager of Jimmy's Corner. "She actually tried to get the doctor to reschedule, but he wasn't having it.
"I met him later in life," Glenn adds. "A guy by the name of Felix. I always knew him as the guy who won money on my birth."
Glenn was born a full month late, but when he finally came out, Swannie, a Polish immigrant, went right back to work at Jimmy's. After all, it's where she learned English, where she met her husband, and where she called home. And as a family-owned business, Jimmy's relied on everyone to keep the lights on. "I've worked here since I was old enough and big enough to push or move something," Glenn says. "I was loading buckets of ice when I was 3 years old."
But it wasn't until 2003 that Glenn's skills really came in handy. That summer, New York City, along with the rest of the Northeast, suffered a widespread power outage that lasted up to two days in some areas. Instinctively, Glenn rushed to Jimmy's and experienced a night that would change him forever. "Everyone in my family knows if there's an emergency or something, you go straight to the bar," he says. He didn't know everyone else had the same plan. In rushed the entire neighborhood: frightened, aimless, and unbearably hot in the dead of August.
"It was the busiest day and night in the history of Jimmy's because we were able to keep all of our beer cold with our thousand-cup ice machine," Glenn says, adding that even though sales were good, the situation was not. "It was hot and uncomfortable and people were scared." Glenn was fresh out of college, but he knew something needed to be done. Even though it was pitch black in the bar, he took control, serving nearly every single beer Jimmy's had and assuring patrons things would soon be all right. That night, Jimmy's stayed open for the neighborhood until 6am.
"The next day when we were going home, my mom said to me, 'You know what? You're gonna be a hell of a bartender.' It was such a point of pride for me," Glenn says.
Between then and now, Glenn got a Harvard law degree. But it's a funny thing: He says taking the bar is far less intimidating than tending one. "The best education I ever got was at Jimmy's," Glenn says. "It taught me how to deal with people, how to manage situations. If you can manage a situation at a bar, with people at their worst, you can manage a situation in a boardroom, or really anywhere in the world."
Advertisement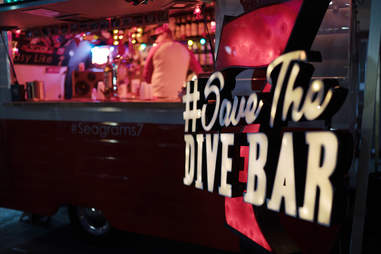 Courtesy of Seagram's 7
Everyone has a story that took place in a dive bar. Sometimes those stories live on in photos. Sometimes they make a cameo in the bar's verbal history. No matter how they live on, it's dive bars we have to thank for being a history book of the neighborhood -- and no one knows that better than Seagram's 7. So on July 7 -- National Dive Bar Day -- celebrate where your stories take place with a Seagram's 7&7. It's smooth and easy, just like the dives that have served it for decades.
Courtesy of The St. Charles Cafe
Lesson 2: If you can talk to anyone, you'll always have a seat
Johnny Spingola, The St. Charles Cafe, Western PA
Johnny Spingola is well known in lower Manhattan for his now-shuttered dive, Boxcar Lounge. But if you ask him, he'd say his real education happened in Western Pennsylvania. "In my dad's family, we actually kind of had a dynasty of bars around here," he says, calling from his father's establishment, The St. Charles Cafe. "[My dad's] uncles owned bars, a second cousin owned a bar, his two brothers owned a bar, and then I owned one."
He didn't know back then, but running around the now 53-year-old St. Charles as a kid would prepare him for a lifetime of rubbing elbows with award-winning playwrights and writers, owning successful bars of his own, and helping others open establishments. When he thinks back on his childhood in Western Pennsylvania, he doesn't remember dreaming of this life. But he does remember more than just bar stools and beer. He remembers the people who spent their days and nights there. He remembers the high-stakes poker games his dad held. And he remembers the summers he spent eating lunch with adults, getting intel no other kid his age had access to.
"My dad had all these characters who would gravitate towards him," Spingola says. One man, Buster, "was a real enigmatic figure. He would want to know what the lottery number was in Ohio or Indiana and when I'd ask why, he'd say, ''Cause it'd be blowing this way -- down towards Pennsylvania.'" he says. When Spingola eventually wrote essays about these characters in college, his classmates didn't believe they were real.
Spingola's father didn't shield him from anything. He got an inside look at adulthood, from Buster's dad-joke sense of humor to more serious matters. "I spent a lot of time with my dad, and he would tell me all sorts of stuff," he says. "It makes you grow up so fast."
It was these times at the St. Charles that taught Spingola how to connect through meaningful conversation -- something that's always happening at a true dive bar. When he moved to New York City at age 22, one of his dad's friends, a Daily News columnist, took him to the legendary Lion's Head. It was like the senior thesis to his dive education: Here, Spingola would converse with anyone, whether they were scholars, literary figures, or journalists like Lanford Wilson, Norman Mailer, and Dennis Duggan. "At Lion's Head I saw guys literally get into a heated argument over the French and Indian War," he says. "I mean, I don't know if [conversation like] that even exists anymore."
Spingola went on to open Boxcar Lounge, which served the East Village for nearly 20 years before closing in 2016 -- and he's helped friends open bars, including The Gateway and the 120, in Pennsylvania. "I think the main thing I learned in bars was the power of conversation," he says.
"The highest compliment I ever got in my bar was that there was always an interesting conversation going on," Spingola says. "I take great pride in that."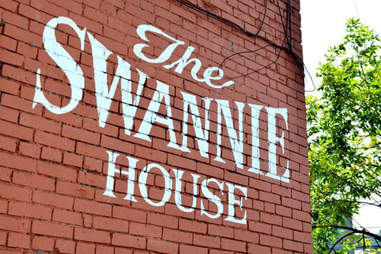 Courtesy of The Swannie House
Lesson 3: You can learn something from literally everybody
Maria Wiles, Swannie House, Buffalo, NY
Maria Wiles describes herself as a shy teenager. She would've been perfectly satisfied serving years as a waitress or barback at her parents' Buffalo establishment, Swannie House. Back then, it was ideal to have as little conversation as possible with the patrons. But quiet observation isn't an option when your family owns a popular dive.
Wiles was 18 when her dad said, "[Now] you're going to be a bartender,'" she recalls. In a bar described as having a "Cheers atmosphere," she wouldn't be able to keep to herself for long. Regulars at Swannie House were (and still are) chatty. That's one of the characteristics of a good dive bar: It has a devoted cohort of locals who come together to not just drink, but socialize. (Seems like shy Wiles's pops was onto something.)
"Having my parents kind of force me to work made me appreciate all people from everywhere," says the now 27-year-old Wiles. While her friends might've been at the movies or the mall, Wiles was "with a bunch of 70-year-olds, serving them, making jokes with them, and learning what to say to make them laugh," she says.
Among the friends she made, there's Dee, who still comes in after her shift at the hockey arena. And of course, Scotty, who's been working at The Buffalo News for nearly three or four decades. "Knowing every person has lived a different life from you," Wiles says, "you can take so much from just talking and having a simple conversation with somebody different, versus sticking to people [to whom] you can already relate."
After years at Swannie's, the formerly shy 18-year-old from Buffalo now works as a publicist in Los Angeles. She still brings some of her past life to the table: She accepts all, rejects none, and tolerates zero BS. Maybe that's thanks to her late mother Marlene, who Swannie patrons described as a tough boss of a woman. Or maybe it's just Swannie House making sure she doesn't get soft on the other side of the country.