From beer baths to white-water rafting: 12 breweries that go way beyond just tours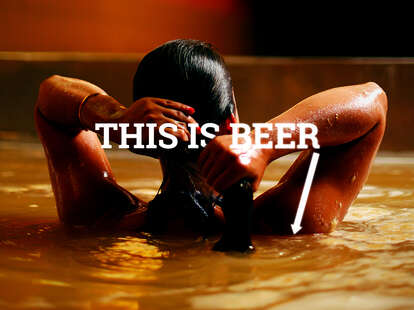 It's a worthy goal to visit all of the best craft breweries in America, but once you've seen one mash tun, you've kind of seen them all... so what's the point of hearing some hippie drone on about yeast while your beer gets warm? Especially when you can hit up a spot that pairs craft beer with rafting trips. These 12 breweries offer more than the standard wait-in-a-line tour, and beg the question: why follow a tour guide while holding a sweaty plastic cup when you can drink while relaxing in an Austrian beer bath?
Asheville Brewing Company (Asheville, NC)
What you'll do: ABC has set out to totally kill it at a Jackson 5 tribute show marry the concepts of playgrounds and breweries, and they've done just that. The Merrimon Ave location has a just-as-good-as-the-$12-ticket movie theater -- but your ticket will cost you a paltry $3. Combined with a game room featuring life-sized Connect Four, cornhole, and picnic tables for enjoying flights, this place is kind of like Chuck E. Cheese's... minus the creepy, dead-eyed mouse and two-beer limit.
What you'll drink: Grab a pint of the Fire Escape: a jalapeño-infused version of their equally delicious Escape Artist Pale Ale.

Great Lakes Brewing Co. (Cleveland, OH)
What you'll do: Rather than forking over your hard-earned beer money for pricey suds served in sweaty plastic cups at the stadiums, stop by the brewhouse for a few pints and grab the $1 veggie-oil shuttle to and from any Indians or Cavs game, or just kick it in the year-round beer garden that's LEED certified.
What you'll drink: Their line-up is huge, but, if you're around in the Winter, you gotta grab the seasonal Chillwave Double IPA.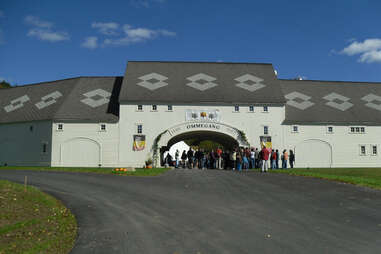 Brewery Ommegang (Cooperstown, NY)
What you'll do: Before you head to the actual brewery, take a tour of another Cooperstown destination: Howe Caverns. Once a year, Ommegang lowers cases of its Hennepin, Three Philosophers, or Abbey Dubbel into the 52° cave, where they age for 9mos -- the brewers claim they're the first to cave-age beer in America in over a century. The aging location moves each year, but you'll spy it while underground. Next, head to Ommegang, where the tour gets points for actually being different: they brew their Belgians using open fermentation and other means.
What you'll drink: Snag a $3 tasting-pass for a sampler glass you can fill with six beers of your choice, but buy a bottle or five of the cave-aged brews to take home -- it's hard to track them down outside the brewery's store, and the aging gives the ale an amazing, complex flavor.
Stone Brewing Co. (Escondido, CA)
What you'll do: Supplement the brewery visit with another tour 8mins down the road at the 19-acre Stone Farms, where you'll learn how ingredients like fresh-snipped jasmine or local avocado honey -- both used in the Suede Imperial Porter -- are incorporated. Swing by Stone's Escondido or Liberty Station restaurants for brunch the next day, and you'll know exactly how fresh your eggs are, since you just saw the quail, chicken, and ducks that laid them. Growler fills and produce are for sale after the tour.
What you'll drink: Four taps rotate through seasonal (this is a farm) beers, but look for the brews you'll only find at Stone Farms, like the Lavender Pale Ale or Dandelion IPA.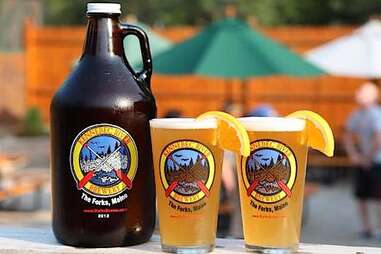 Kennebec River Brewery (The Forks, ME)
What you'll do: You'll definitely get into some awesome outdoor sport that justifies guzzling a bunch of craft brews later in the day, because this brewery is housed in the main lodge of the Northern Outdoors resort. It depends on the season (because you might, you know, freeze to death if you go rafting in a Maine Winter), but kayaking on Martin Pond, rafting three different white-water rivers, and grabbing an ATV or snowmobile for a ride are all options.
What you'll drink: The Kennebec River Pub is, of course, also on-site, so grab one of the six drafts (including the Honey Badger Rye), with localized brewpub food such as the Maine lobster roll.
BierVision Monstein (Monstein, Switzerland)
What you'll do: The brewery hosts different "experiences", which take full advantage of the awesome Alpine location and all end back at the brewery for tours and tastings. We recommend the culinary (read: cheese) tour of Devos: you take a cable car down the beautiful Jakobshorn mountain and hike to Clavadeler Alp, a restaurant and ski lodge with panoramic views of the entire area. After a cheese-making demonstration, the tour heads back to the brewery -- it's the world's highest, so they use special production methods -- for a tour and tasting.
What you'll drink: One of nine beers brewed on-site using Swiss mountain-spring water and local hops and malts. Try the Monsteiner Bio SteinBock-Bier, the brewery's special merger of their Bock and Stone beers. If you suddenly decide beer isn't your thing, they also make single-malt whisky.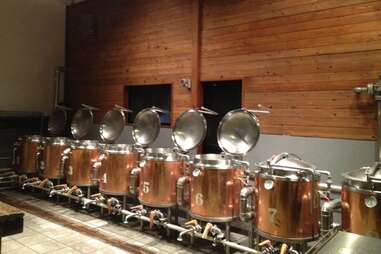 Kiuchi Brewery (Naka, Ibaraki Prefecture, Japan)
What you'll do: Kiuchi's brewers will help you make your own beer on-site using a recipe tailored specifically to your beer tastes -- want a high-alcohol, hoppy ale? They'll teach you how to do it. Then, the brewmasters will take you through the entire process, from measuring the malts to pitching the yeast. You'll even design a label for your beer, so when the finished product arrives at your house four weeks later, it'll look and taste professional.
What you'll drink: While the Japanese brewery has been churning out sake-influenced ales like the White Ale and Red Rice Ale since the late '90s, Kiuchi has been brewing sake for generations... and also distills a luxury shouchu, another traditional Japanese beverage. All are available for sampling at the brewery's bar.
Pelican Pub & Brewery (Pacific City, OR)
What you'll do: Like BierVision's near-perfect, Alpine-perched location, scenery is everything, so take a brew onto the sandy-beach patio and relax like you're in one of those Corona commercials, except no one will be eventually interrupting you to return to that stupid business meeting because you are actually drinking beer (craft beer, mind you) by the beach. Pro tip: While it's illegal to take open containers off the premises, that giant sand dune you're gonna climb will be even more awesome with a growler fill.
What you'll drink: Six house beers stay on draft and, since these guys won at the Great American Beer Festival last year, you can really just choose blindly and be happy.
Snowy Mountain Brewery (Saratoga, WY)
What you'll do: Eight to 10 beers stay on tap at this microbrewery, located inside the Saratoga Resort and Spa. There are few better ways to encourage guests to sample every single one than the promise of a reinvigorating (re: hangover-slaying) soak in the natural hot springs -- each has its own awesome tepee -- and swimming pools. Further rejuvenation at the spa is entirely up to you, but if you find yourself needing some more badass exploits after your soak, the area is rife with hunting spots, or you could snag a round on the life-sized, Native American-themed chess set.
What you'll drink: The Honey Rye Porter is perfect for the chilly region, even if you are nestled inside a tepee.

Trapp Lager Brewery (Stowe, VT)
What you'll do: In Vermont, the hills are alive with... lager. And the sound of music... since Trapp is owned by those Trapps. In 1950, the Vonn Trapp family opened a lodge to guests/fans. The place hosts the Stowe Performing Arts' Summer Music in the Meadows series, plus a a weekly screening of TheSound of Music. The brewery is owned by Maria's son, but if you don't care about Julie Andrews, there are also seasonal resort activities like horse-drawn sleigh rides, maple sugaring, and snowshoeing.
What you'll drink: The three year-round brews -- a helles, an amber, and a dunkel -- are all Vienna styles, so you can continue the themed experience while saying auf wiedersehen to your worries.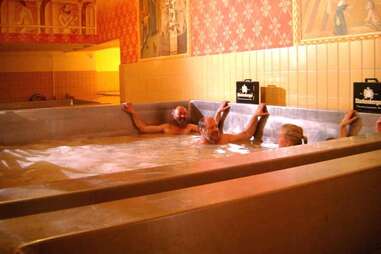 Starkenberger Brewery (Tarrenz, Austria)
What you'll do: Deep inside this brewery castle is a tiled, Turkish bath-style room that holds the most beautiful site your beer-loving eyes will ever see: seven beer-filled baths. (And the second most beautiful sight you'll ever see: old Austrian dudes sitting in beer.) Rumor has it that beer baths are healing. With more than 25,000 US pints of bubbling suds in these tubs, it has to be at least as curative as a whiskey-and-pizza diet.
What you'll drink: Not the beer you've been bathing in. Instead, your $298 bath reservation (it can be split with all your beer-bathing friends!) includes a bottle of house brew, plus meat and crackers.
McMenamins Edgefield Brewery (Troutdale, OR)
What you'll do: The McMenamins' 24 spots are all fairly drool-worthy, but Edgefield beats out the rest. Book a guest room in the luxury resort -- ignore the irony that the complex was once the county poor house/work farm -- and plan for a week of indulgence. Wander through the vineyards with a beer or wine -- yes, spirit production also includes a winery and distillery -- catch a movie (the theater has recently-released films), see a live A-list concert, or play a round of golf. And then, grab another beer... your day was exhausting.
What you'll drink: Order a Rubinator, a glass of McMenamins' Ruby Ale and Terminator Stout.
Liz Childers was a national food and drink editorial assistant at Thrillist, but recently abandoned her life in New York to bathe full-time in Austrian beer baths. Follow her to better health @lizchilders1.