Oren Aks/Thrillist
Oren Aks/Thrillist
Congratulations, America! We've officially moved from being the punchline of the beer world to being a leader and innovator in all things beer. This is fantastic news for your taste buds, but bad news for anyone who gets crippling anxiety or FOMO when faced with a few hundred options each time they run out to pick up a six-pack.
To help you better understand your local beer fridge, we're breaking down beer styles in one simple, digestible format, beginning where this whole craft beer boom began: 'Murica! Following the guidelines of the prestigious Beer Judge Certification Program, we've got the complete lowdown on the most influential American styles on the market, plus examples and food pairings. Never again will you be forced to Google in a cold sweat while browsing the beer store.
American IPA
Booze factor: Moderate to moderately strong (5.5-7.5%)
How's it taste? The piney, fruity, citrusy notes of American hops start at the nose and work their way through the bitter palate, culminating in a dry finish. It's now one of the most recognizable flavor profiles in the beverage world.
What you should know: With the exception of neckbeards, it's arguably the most prolific style to come out of the worldwide craft beer movement. American IPAs showcase the assertiveness of (in the words of the BJCP) "American ingredients and attitude." That means that the famously more aggressive hops indigenous to America -- Cascade, Amarillo, and Simcoe among them -- shine through. It's also worth mentioning that the BJCP also now includes popular variation styles like black IPA, white IPA, red IPA, Belgian IPA, rye IPA, and others as a subset of American IPAs, so you should check out their guidelines if you have questions on those.
What you should eat with it: IPAs are unique with their tropical kick, which makes them a creative cook's best friend. Food like ahi tuna steak with mango salsa, barbacoa burritos, and burgers with blue cheese will all stand up to floral and bitter extremes. Just remember that hoppiness will intensify spiciness on your tongue, so be very careful if you're planning a meal with a lot of heat.
Prime examples: AleSmith IPA, Maine Beer Lunch, Russian River Blind Pig, Alpine Beer Company Duet, Surly Furious, New England Fuzzy Baby Ducks IPA, Breakside Wanderlust
American pale ale
Booze factor: Low-moderate to moderate (4.5-6.2%)
How's it taste? Those piney, citrusy American hop varieties are back at it again in both the nose and the palate of this style. Unlike the American IPA, though, pale ales have a more floral hoppiness with restrained bitterness on the tongue, as well as a more noticeable malty backbone that makes them less assertive.
What you should know: Just like American IPAs, these were born during the craft boom where local American ingredients were swapped in for British ones. Kind of like swapping in Eddie Vedder for Mick Jagger, but keeping Keith and the others on board. The more restrained approach tends to make them a brewer's favorite for showcasing recipe-crafting abilities and a drinker's go-to choice for a flavorful beer that you can drink more than one of in a sitting.
What you should eat with it: Middle-of-the-road flavors make this almost a cheat-easy option for everything. Rice? Hell yes. Flautas? For sure. Wild horses? Um… sure? Cooks should take note that this also makes a great ingredient and pairing for dishes like white bean chicken chili.
Prime examples: Half Acre Daisy Cutter, 3 Floyds Zombie Dust, Maine Beer Peeper Ale, Flying Dog Doggie Style, Oskar Blues Dale's Pale Ale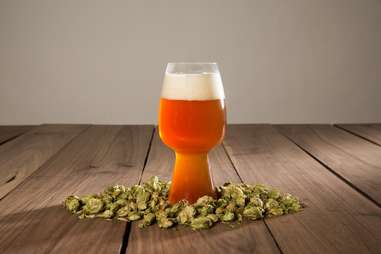 Double IPA/imperial IPA
Booze factor: Strong to super strong (7.5-10%)
How's it taste? To borrow and bastardize a phrase from the poet Rasheed Wallace: name don't lie. Expect an IPA with more of everything, from hoppiness to maltiness to fruitiness to big-ass ABV, plus a meandering, bitter finish. In short, DIPAs are about as subtle as a sledgehammer. Or Blazers-era 'Sheed.
What you should know: This style was born of the drinking market's thirst for even more hop oomph, using twice the amount of ingredients per batch to achieve the results. It's clearly successful: peruse the "best beer in the world" list on any ranking site and there's a good chance most of what you see will be a DIPA (for better or worse). It's an amped-up version of an amped-up style that can be as endearing as it is polarizing, like Wes Anderson movies or cilantro.
What you should eat with it: BBQ is a layup here… give it a go with pulled pork sliders or scallops wrapped in bacon from the grill. The best and most unexpected pairing probably comes from legendary beer expert Randy Mosher, who recommends it with chocolate chip cookies.
Prime examples: Russian River Pliny the Elder, Alchemist Heady Topper, Bell's Hopslam, Stone Enjoy By IPA, Dogfish Head 90 Minute imperial IPA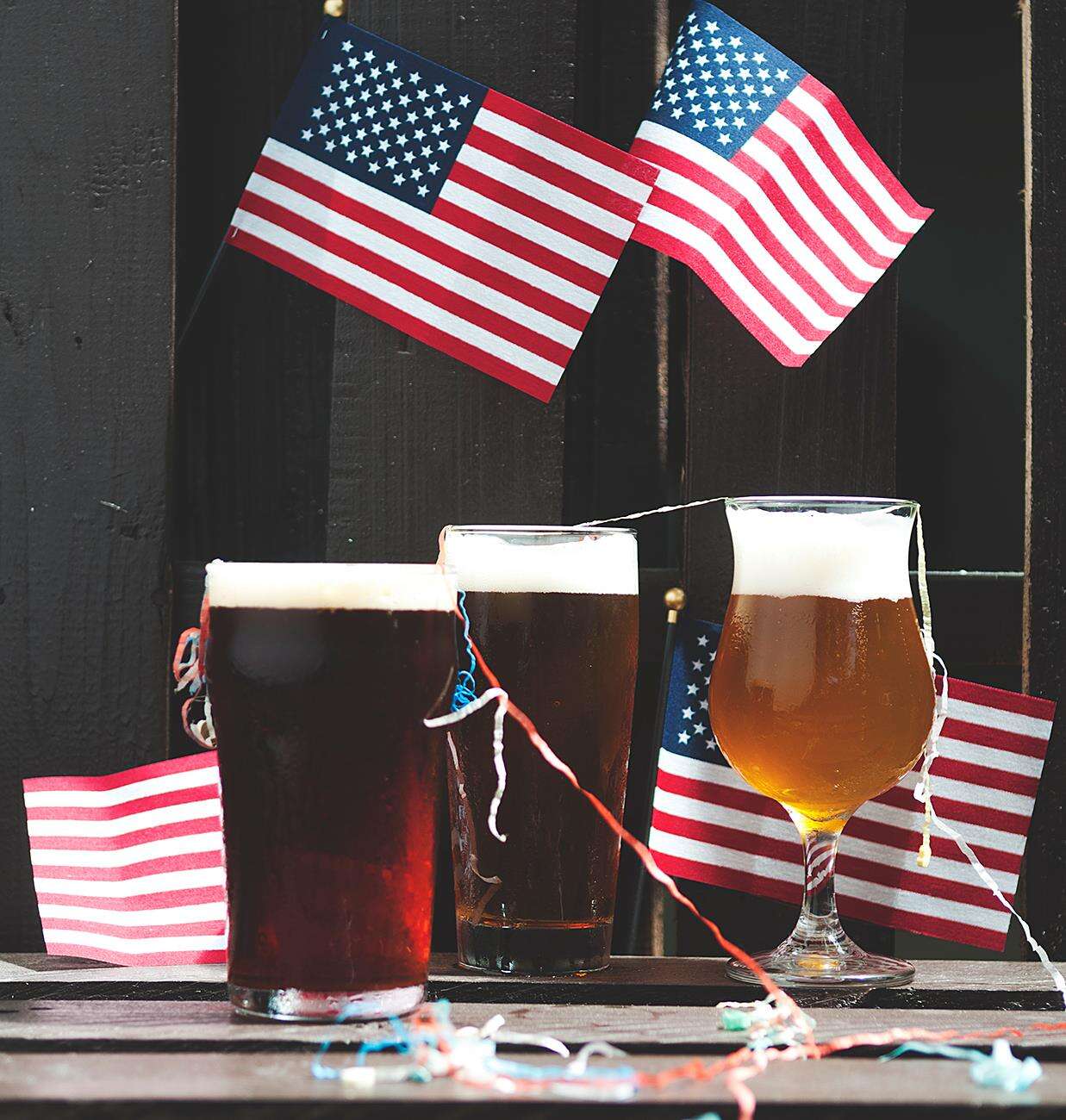 Cream ale
Booze factor: Low-moderate to moderate (4.2-5.6%)
How's it taste? Slightly hoppy with a touch of malt sweetness, cream ale is engineered to be light, crisp, and the industry definition of "easy drinking." And yeah, you can drink it if you're lactose intolerant. That cream's just a texture thing.
What you should know: Like most things born of old-fashioned American ingenuity, this style was created by brewers trying to compete with the boom in popularity of easy-drinking lagers. There's no dairy, but you might find some corn or rice in the malt bill to thin out the body to make it as laid-back on the palate as possible. What makes this Franken-ale unique is that it has undergone a lagering period at colder temperatures (and even sometimes has lager yeast or beer added to it) to give it as broad an appeal as possible.
What you should eat with it: Popcorn? A hot dog? Last night's leftover pizza? Fried stadium food? It's hard to think of a non-fussy eating situation where this beer wouldn't be an option.
Prime examples: New Glarus Spotted Cow, Sixpoint Sweet Action, AleSmith Cream Ale, St-Ambroise Cream Ale
American amber ale
Booze factor: Low-moderate to moderate (4.5-6.2%)
How's it taste? A malty backbone should be the defining note of the style, but there are varying degrees of assertive American hoppiness that balance it out.
What you should know: If nothing else, you can think of this as the style between an IPA and a pale ale that skews darker on the color scale. Does it get more American than a style that was born sheerly because of the drinking public's skepticism of beers being sold as "pale" when they actually looked kinda reddish? Unless Thomas Jefferson could've worked himself into that story somewhere, no, not really.
What you should eat with it: If you want to pretend you're a fancy chef person, try sipping this alongside more complicated dishes like duck confit, beef Wellington, or vegetable tagine. If you're wearing sweatpants, maybe just delivery pizza. Either way, you'll be happy.
Prime examples: North Coast Red Seal, Green Flash Hop Head Red, Troegs Nugget Nectar
California common beer
Booze factor: Low-moderate to moderate (4.5-5.5%)
How's it taste? Different takes will have varying degrees of hoppiness, but most are well balanced with maltiness to create a dry, clean flavor profile that makes its lager-ale hybrid status easy to pick up.
What you should know: No, this style is not a militant vegan, served with avocados, or looking for a reliable work-life balance filled with surfing and yoga. California common was originally developed by prospectors heading west in the 1800s who needed to brew lager without the advantages of the refrigeration or cool caves needed for lager fermentation. Depending on who you ask, the nickname "steam beer" could've come from the way it hissed "steam" when a keg was tapped, or maybe from the steam that would rise from the rooftop shallow fermenters brewers would use to cool down the beer with the steady California breeze. Regardless, Anchor trademarked the whole "steam beer" term a while back, so now it's the only one who can use it on a label.
What you should eat with it: Serve lighter versions with ceviche or chicken salad, while hoppier versions do well by grilled pork chops and swordfish. Yoga optional.
Prime examples: Anchor Steam, Otter Creek Steampipe, Port City Brewing Derecho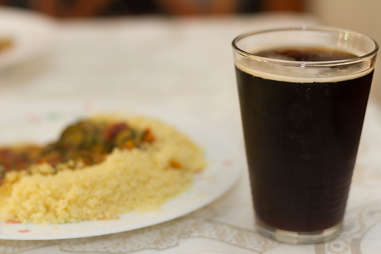 American brown ale
Booze factor: Low-moderate to moderate (4.3-6.2%)
How's it taste? It's as malt-driven as you would expect its English grandaddy to be, except in this case, increased chocolate notes and the flavor and aroma of American hops add a fruitiness that carries through to the finish.
What you should know: American brown ales were born of the same circumstances as American IPAs, where recipes from across the pond were recreated using American ingredients. Hell, taking British ideas and making them better across the pond is how we got to be America in the first place. So of course it worked for this beer.
What you should know: The nuttiness of these beers works well with most cheeses (like L'Amuse two-year-aged Gouda), but is also a sleeper hit for one of the biggest beer-buddy foods of all time: pizza.
Prime examples: Cigar City Maduro brown ale, AleSmith Nut Brown, Bell's Best Brown
American barleywine
Booze factor: Strong to super strong (8-12%)
How's it taste? Strong. Bold. Herculean. However you want to describe it, this style exhibits both enormous hop and malt profiles with mild fruit notes, palpable alcoholic warmth, and a bitter finish. Some may exhibit some caramel notes. When done right, they are complex and well balanced between hop and malt flavors. They're often the great white whales to beer lovers' Captain Ahab.
What you should know: Remember that the flavors of barleywine really come out when you serve it closer to room temperature, so let it sit on the counter a bit before popping that cork. And if you're looking to start collecting bottles, American barleywine is one of the most age-worthy styles out there (in most cases). Most breweries will even print the vintage right on the bottle.
What you should eat with it: Intense blue cheese (like Stilton or Roquefort) can stand up to the rich flavors in the beer, but the boldness can also make it perfect for rich desserts like flourless chocolate cake, especially if the beer is barrel aged.
Prime examples: Sierra Nevada Bigfoot, Knee Deep Stow the Croze, Prairie Beer Wasteland, Against the Grain This Is Not A Beer
Sign up here for our daily Thrillist email, and get your fix of the best in food/drink/fun.