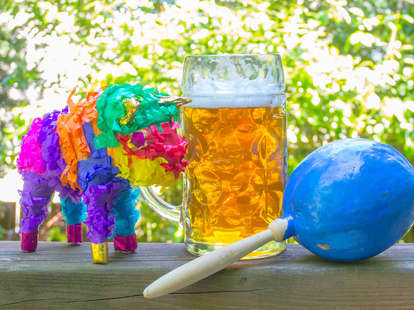 Taco lovers take note: craft-brewed Mexican-style lagers are on the rise, and they're flooding the market this summer. Thanks to a growing demand for session (i.e., light on the booze) beers, as well as an increased acceptance of previously poo-pooed adjunct ingredients like corn and rice, more and more established American microbrewers and ambitious nanos have been throwing their sombreros into the crisp, easy-drinking summer beer ring lately -- and for good reason.
"Mexican lagers are all about celebrating the good times, with or without the lime," says Joshua M. Bernstein, a Brooklyn-based beer writer and author of The Complete Beer Course. "Whether partnered with tacos and nachos or sipped in the backyard or by a beach, Mexican lagers deliver instant refreshment and it's great to see American brewers create full-flavored, thirst-quenching alternatives to the imports."

Balanced, palate pleasing, and smooth, these poolside bad boys are determined to revolutionize your summertime beer stock. Below are seven prime examples that are leading a pack of summer beers that are miles (and miles and miles) away from anything close to ordinary.
4.8%
San Francisco, CA
21st Amendment's latest release is El Sully, a sunny little 4.8% Mexican lager ideal for beachside imbibing. The California craft mainstay dropped a load of flaked maize into their smooth sipping session, rounding it out with a mix of mildly spiced Northern Brewer and effortlessly clean Magnum hops. The result? A restorative summer chiller fit for high-volume guzzling.

5.2%
Durango, CO
Back in 2002, Durango, CO's Ska Brewing was one of the very first American microbreweries to put out their version of a Mexican-style lager, and what might have been a risky move back in the industry's early days definitely paid off. The Logger is lawnmower beer at its finest -- a dose of earthy Saaz hops balances out the sugary corn while effervescent carbonation and a 5.2% ABV keep things sublimely light and crushable.

4.9%
Frederick, MD
With a mellow malt bill and a distinctly zesty finish, Flying Dog's Uno Agave Cerveza is a thing of thirst-quenching beauty. A post-fermentation tincture of bitter lime peels and sweet agave syrup gives the Maryland brewery's seasonal cerveza its signature zip while a boatload of biscuity flaked maize softly sends the 4.9% brew well into chugging territory.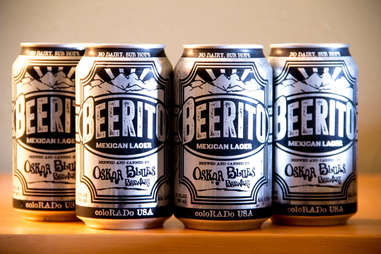 4%
Lyons, CO & Brevard, NC
A new kid on the Mexican lager block, Oskar Blues' Beerito is the latest in the can-centric Colorado brewery's lineup. This 4% ABV refresher manages to pack way more punch than your average Corona-esque fare, its rich amber body teeming with roasty honey and aromatic tree nuts. Crispy noble hops slide in at the finish, cutting through any residual sweetness.
8%
Minneapolis, MN
Clocking in at a dangerously drinkable 8% ABV, Minnesota's Indeed Brewing is responsible for the heftiest lager of the lot. Floral and fruity with a well-heeled fresh, grassy bitterness, this imperial lager is bursting with all the bright, body-defying flavor you can imagine. Grab one of these tall boys when you're craving something light on the palate but heavy on the liquor.

4.8%
Salt Lake City, UT & Denver, CO
Epic Brewing Co. celebrated this year's Cinco de Mayo with the release of their latest and greatest creation: Los Locos, the uber-creative Salt Lake City brewery's first ever Mexican-style lager. The 4.8% ABV brew distinguishes itself from the light lager masses by incorporating lime juice and briney sea salt into the recipe, a genius move inspired by warm-weather favorites like gose and fruit beer. With each sip, the citrus invigorates the taste buds while the body coasts by on a wave of smooth corn, finally crashing into a shore of salty dryness that just begs for another.

5.4%
Cleveland, OH
Cleveland's Great Lakes is known far and wide for its solid array of expertly crafted beers and their spring seasonal Mexican-style lager is no exception to the rule. Clocking in at 5.4% ABV with a subtle tartness, gentle body, and exquisitely floral nose, the hibiscus flower-infused Grandes Lagos is a proudly Midwestern take on the classic style. Best served lakeside alongside fresh mango salsa, tortilla chips, and all the sun Ohio can muster.
Sign up here for our daily Thrillist email, and get your fix of the best in food/drink/fun.
Meredith Heil is a staff writer for Thrillist. Lately she's been drinking like there's a message in a bottle. Follow her at @mereditto.