Jason Hoffman/Thrillist
Jason Hoffman/Thrillist
On the U.S.-Mexico Border, Craft Beer Diplomacy Is Bringing Brewers Together
Sick of battling it out on southern California's legendarily congested freeways, Ryan Brooks packed his bags and headed south. "I was living about an hour north of San Diego, commuting an hour each way, and I thought, 'This is stupid, I hate it,'" he said. "So I went to TJ and spent 100 bucks a month to stay at my buddy's house."
That's "TJ" as in Tijuana, Mexico, a breezy 15- to 20-minute drive from Coronado Brewing Co., where Brooks was working as a brewer in 2011. "The same border guy waved me through every day because I was like the one white guy crossing [from Mexico into the US] at 5 in the morning," he remembered.
But Brooks didn't just cut down his commute by moving to Tijuana. His professional stature as an American craft brewer gave him an in with Mexico's energetic cadre of homebrewers. Before long, he was getting hit up from around the country for advice, requests for collaboration, and even ingredients. "I would take yeast that we were just going to put down the drain anyway [at Coronado] and smuggle it across the border to hook them up," he said. In doing so, he became a well-known American figure in the unofficial, loosely knit, but increasingly visible community of craft beer professionals treating the US-Mexico border as little more than a speed bump on the road to lasting cultural exchange. Call it craft beer diplomacy, if you will.
The United States' 7,500-ish craft breweries have made the country the world's undisputed leader in flavorful beer. But for the past several years, US brewers have been following drinkers' palates away from hops and toward more "crushable" styles like Mexican-style craft lager. It's a smart move for American brewers as craft beer's growth slows down domestically. It's also schooled American drinkers that the land of Corona and Tecate actually has a terrific (though still much smaller) craft beer movement of its own afoot.
There are fewer than 1,000 breweries in Mexico. But as microcerveceria has taken hold in the past decade, those outfits have been feverishly churning out fresh takes on lesser-known-in-America styles like oscuras & agua frescas, while also nailing extremely European stuff (particularly stouts.) They may not have the equipment or access to markets that their American craft counterparts enjoy, but Mexican craft brewers are definitely figuring out the creativity/innovation thing.
"Literally all that's separating us is a fence. Why wouldn't we collaborate?"
While in TJ, Brooks was offered a sip of a bartender's homebrewed white sage/jalapeno saison. "It was one of best homebrews I ever had in my life," he said. Brooks and the TJ homebrewer scaled the recipe up from a 5-gallon homebrew batch to full-blown, 30-barrel run on Coronado's equipment. "That was one of the better brews we've done," recalled Brooks. The chance partnership augured well for both men. That bartender -- Diego Salas -- is now the head brewer at Insurgente, one of Tijuana's best craft breweries, and Coronado helped Brooks launch SouthNorte Beer Co. in 2017. With its own branding and (soon) taproom, the spin-off is a showcase of all his US-MX collabs -- 30 and counting!—and a vehicle to cultivate the Baja region as an international brewing destination.
"We like to say brewing beer crosses borders," said Melody Crisp, a Mexican-American San Diegan and marketer for Coronado and SouthNorte. On trips to Tijuana with Brooks ("I can't travel with him to Mexico without someone stopping us" to say hello) she noticed a parallel between the two countries' brewing cultures: "[We] saw that there were vibrant women-brewing scenes on both sides of the border, but no one had connected the dots," explained Crisp, who's been involved in the Pink Boots Society, the industry's female advocacy group, since 2008.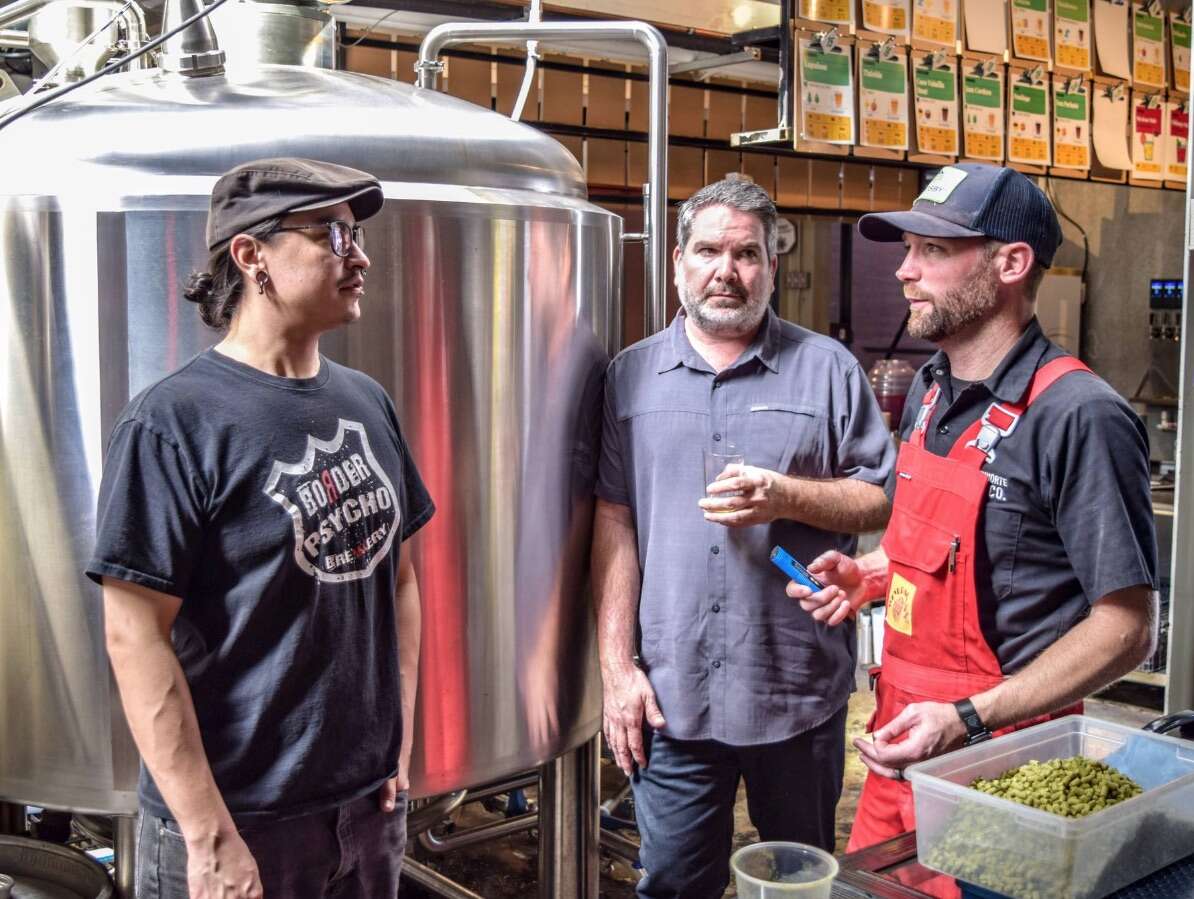 Last year, with the help of the US Consulate to Tijuana, and Coronado, Crisp founded Dos Californias Brewsters (DCB), an international club to promote camaraderie between Mexican and American female brewers. The "Brewsters" collaborate on an annual specialty beer, which is then sold in Coronado's taproom, as well as SouthNorte's outpost in Tijuana's Telefonica Gastropark. "Literally all that's separating us is a fence," said Crisp. "Why wouldn't we collaborate?"
Customs checkpoints, a language barrier (Crisp is still learning Spanish), and the inherent challenges of brewing by committee all may seem like reasonable deterrents. Still, none of that stopped Crisp, then-Consulate public affairs officer Preeti Shah, and their Mexican counterparts from creating. DCB's inaugural cross-border brew. Despite all those barriers, it was an equipment shortage threw a snag in things.
"It was crazy, because we were like 30 women, and one mash shovel," laughed Paulina Villalobos, recalling the first DCB collaboration in January 2018, which yielded two wheat beer varietals, one with Mexican hibiscus. As the head brewer at Tijuana's Olvera Brewing, she's no stranger to makeshift solutions. "Mexican microbrewers… there's a lot of improvisation because you don't have the money," she said.
That's one thing Mexican female brewers can teach their American counterparts: not gender, not pedigree, not even a lack of equipment can stop a cervecera on a mission. "It doesn't have to be big," said Villalobos. "Be proud, be passionate, and you're going to see the results."
For Olvera, Insurgente, Border Psycho, and other Tijuana breweries, the results include a chance to reshape unflattering American stereotypes of their city, and becoming one of Mexico's indisputable craft brewing hotbeds in the process. "They are producing a movement, and that movement is going to grow," said Ricardo Ocampo, a professor at Instituto Tecnológico de Tijuana, of TJ brewers' dialogue with San Diego. In Tijuana, continued the brewer-teacher, who oversees the university's diploma-issuing craft beer program, "you can feel the movement of the knowledge, the friendship of the two cities, because you can see the beer that we're making in collaboration."
Proximity isn't the only factor driving Mexican-American brewing partnerships. Far from the international boundary, colleagues-in-brewing are practicing their own versions of this Mexican-American craft beer diplomacy to lift up one another's beers and businesses.
From Denver's Cerveceria Colorado (a collaboration-focused spin-off launched by Denver Beer Co. in 2018), head brewer Jason Buehler regularly travels to Mexico to help his south-of-the-border colleagues dial in brewing techniques, said Patrick Crawford and Charlie Berger, the brewery's co-founders. (Buehler himself was unavailable for interview, on account of being en route to another international brewing collaboration, this one in Brazil.) Vice-versa, Mexican brewing expeditions north have yielded insights on ingredients (like nopales, a tart cactus) and helped American brewers dial in their takes on increasingly popular Mexican-style lagers. "Who better to learn how to brew Mexican lagers from, than Mexican brewers?" said Berger.
"I always say like the craft beer industry in Mexico is like 10 years behind the US… so for us this is amazing because we're not just doing this beer," said Rebeca Dovali Galvan, a co-owner at Primus Microcerveceria. The Mexico City brewery has collaborated with Colorado's New Belgium (1,700 miles away) since 2018. "Design, legal, distribution, selling, brewing, anything that we had a question [about], we had a good friend, like a big brother, they can help us with it," she continued.
Naturally, even wide-ranging brewery partnerships have beer at the center. Just this May, Primus and New Belgium released its latest iteration of Mural, a bright-red agua fresca. For Dovali Galvan, seeing New Belgium R&D brewer Cody Reif excited by the familiar Mexican concoction of watermelon, hibiscus, lime, and agave was an uncanny moment.
"Here in Mexico, you grow up and [agua fresca] is so common that you don't even realize how cool it could be" to a new audience, she said. "We have a joke that when people think of Mexico, it's just 'tacos, tequila, and sombreros,' so it's amazing having something that can express so well what our culture is" to American drinkers ignorant to the Mexican portfolio's range. After a strong-but-narrow release its first year, New Belgium is distributing Mural across the US this season.
Beyond palate-pushing beers and professional development, savvy collaborators are also harnessing the headline-grabbing novelty of cross-border collaboration to shine a spotlight on big industry issues.
For the Brewsters, the beers are just part of it -- elevating women in beer has always been the goal. "It was kind of sad," Villalobos said, describing the genesis of DCB's decision to donate scholarships to Ocampo's program at ITT. Some Mexican women who wanted to brew were unable to scrape together the ~$150 tuition per semester. "So we were like, okay, let's do this. We're gonna pay the scholarships woman to woman."
Like Villalobos' partner Crisp, Victoria Garza is another Mexican-American woman leveraging cross-border brewing to spotlight labor. But not in the breweries themselves -- along the supply chain that gets ingredients there.
"In the Yakima Valley, farm labor is heavily reliant on Mexican farm workers, and without them, hops wouldn't be available," said Garza, who works as an account manager for the world-renowned Washington State hop grower Yakima Chief. In 2017, she started Sesiones del Migrante, a brewing project split among five breweries scattered across Mexico (Cerveceria Colima, Cerveza Lobo) and the US (Bale Breaker, Ronin Fermentation Project, SouthNorte). American brewers went south to brew with local coconuts and mangoes; then everyone came north to Yakima to collaborate with bine-fresh hops. Balebreaker is bringing the Sesiones del Migrante mango IPA back for summer 2019, with a portion of proceeds going to La Casa Hogar, a nonprofit.
"Beer is a connection. It's a bond."
"Those same Mexican workers that are coming to work, half a year later, they'll go back to Mexico and maybe get to try the beer that they potentially picked hops for," said Garza. "It's like this whole circle coming in and out of Mexico."
Which sounds a lot like something US President Donald Trump would want to put an end to. What's the significance of brewing across a border, and with a people, that a vocal, powerful sector of American government has lately used a political punching bag?
Meghan McGill, Preeti Shah's successor at the US Consulate, fielded the question diplomatically (she's a diplomat, after all.) "Washington, DC, Mexico City, that's where the policy decisions are made," she said. "But in this region all along the border, [Mexicans and Americans] are working together so many different levels," and craft beer is a particularly delicious example of that.
Olvera's Villalobos was more direct. "Nowadays, with all this Republican 'working' on the border, you see a lot of racism against Mexico and all its Latin American brothers," said Olvera's Villalobos. But despite the ugliness at the national level, she pointed out proudly, cross-border brewing craft beer collaboration is an opportunity for regular Mexicans and Americans to "show the world that we can do things together."
Or as Ocampo, the ITT professor, said with a shrug: "Politics is important, but beer is a connection. It's a bond."
Sign up here for our daily Thrillist email, get Eatmail for more food coverage, and subscribe here for our YouTube channel to get your fix of the best in food/drink/fun.
Dave Infante is a freelance journalist in Charleston, South Carolina. Follow @dinfontay.