America's Best Craft Distilleries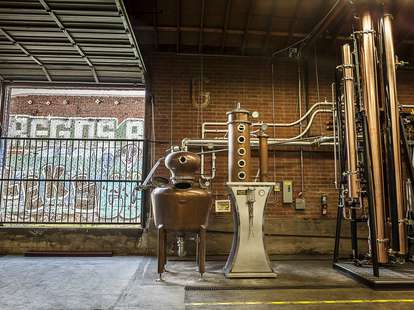 Courtesy of Greenbar Craft Distillery
Courtesy of Greenbar Craft Distillery
A few years ago, no matter if you were in Denver or Des Moines, you were sure to see a craft brewery spring up in your neighborhood. And although the interest in craft beer is not going anywhere, a new craft craze is right on its heels: distilling.
With that in mind, we reached out to the bartenders and had them identify the craft distilleries across America that are doing excellent work. As Meaghan Dorman, bar director of The Bennett in New York, says "Craft spirits give us an opportunity to support distillers whose ethos we agree with and often get a chance to visit and see up close the processes and decision they've made, instead of inheriting a tradition, they are creating something new."
Los Angeles, California
Of course the world's largest producer and distributor of organic spirits is located in LA. The label is 100% recyclable, and they claim to plant a tree for every bottle sold, but according to Jason Wagner, beverage director/partner of Fung Tu in Manhattan, the bitters are the real star here: "Their Barkeeper Bitters program is putting out some of the best bitters I've had," he says.

Middleton, Wisconsin
All of Death's Door's spirits -- schnapps, gin, vodka, and whiskey -- are made from wheat grown on nearby Washington Island. "Death's Door gin is a sustainable spirit made with locally sourced botanicals and organic wheat. It's complex, yet very smooth," says Stanton.
Brooklyn, New York
A vestige of Brooklyn's distilling past, New York Distilling Company focuses on gin and whiskey. Find its full-service bar, Shanty, right next door. "Dorothy Parker from NY Distilling has been a craft spirit I've enjoyed working with; one of the most popular drinks on the Dear Irving menu uses it," says Dorman. "I also love that they are local and we've had the opportunity to take the staff for up close education on distillation."
Portland, Oregon
Founded in 1985, Clear Creek was ahead of the craft curve with its eau de vie, grappa, and whiskey, each distilled with Alsatian and Swiss techniques. "I would really like to see brandies and eau de vies get more attention," says Jim Kearns, head bartender of The Happiest Hour in New York. "They bring a whole universe of very distinct flavors to the table. Clear Creek makes some of the best eau de vies and brandies around."
Seattle, Washington
Batch 206 was only founded in 2012, but quickly started racking up prestigious awards for its superior gin, vodka, whiskey, and even moonshine. "Solid vodka with surprising character, really nice, floral gin. Delightful sour mash whiskey and just released an enjoyable bourbon," says head bartender Chad Phillips at Pennyroyal in Seattle.

Hallock, Minnesota
The farthest northern distillery in the Lower 48, Far North Spirits sits on the Swanson family farm only 25 miles south of the Canadian border, which has some seriously fertile land perfect for sourcing all of its non-GMO grains.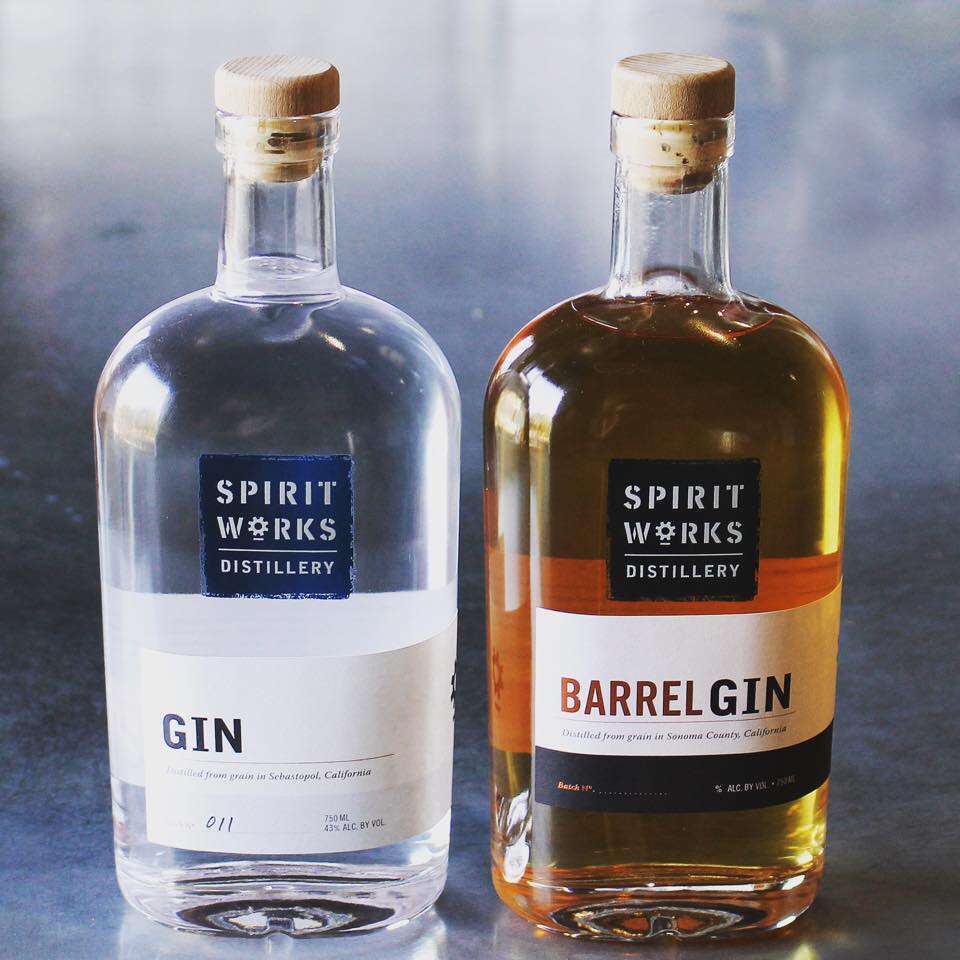 Sebastopol, California
Husband and wife duo Timo and Ashby Marshall are behind the brand, and subscribe to a "grain to grass" philosophy, meaning that they're in control of every step of the distillation process. The tank they use is 4,000 liters, and was built specifically for them in Germany.
"The old sloe gins used to be one of those dust collectors both in liquor stores and at home bars, but now distilleries are developing some truly distinct and delectable versions," says Clare Ward, head mixologist/bartender at Sāmbār in Culver City, California. "Spirit Works has a really great version that's surprisingly well balanced with subtle tart notes to counteract the sweetness. It's low in alcohol but high in flavor, which provides a fun challenge for a bartender and a new experience for the patron."

Chicago, Illinois
"Rhine Hall apple brandy [Editor's Note: Which is made with local apples] has a very clean, un-aged eau de vie, with ripe, refreshing flavors of apple and a good amount of bite to it," says John Stanton, lead bartender from Sable Kitchen & Bar in Chicago.
Chicago, Illinois
In 2008, Dr. Robert Birnecker and his wife were living in Washington, DC when they decided to work together to bring his Austrian grandfather's distilling traditions to America with from-scratch spirits.
"I like getting my customers to push their boundaries by trying new things, and ultimately providing a new experience for them," says Wagner. "The ones I'm pouring the most right now are Hanson, Spirit Works, and Koval."
Brooklyn, New York
Brothers Steven and Philip DeAngelo opened the gin distillery in 2012 and have quickly made a name for themselves in the American craft gin industry, likely because of their "vacuum distillation," which removes air pressure from the sill during distillation and allows the gin to be distilled at low temperatures so delicate aromas aren't burned off.
"I particularly like Greenhook Ginsmiths and Dorothy Parker, both making gins in Brooklyn," says Wagner. "The Last Emperor (cocktail at Fung Tu) is made with Greenhook Ginsmiths Beach Plum, Luxardo, green chartreuse, lime."

Vashon, Washington
It uses local, sustainable ingredients to make gin, vodka, whiskey, and even coffee liqueur. "Superb London dry-style gin, the best coffee liqueur I've tasted," says Phillips.
Portland, Oregon
Not content with just making award-winning Aviation gin, House Spirits also makes vodka, whiskey, coffee liqueur, and aquavit. "I am a big fan of the anise component to Aviation," says Edward Dattilo, beverage manager at Red Owl Tavern and Stratus Lounge in Philadelphia.

Philadelphia, Pennsylvania
It may be known for its Bluecoat gin, but Philadelphia Distilling Company also puts out an impressive absinthe and a Chesapeake Bay-flavored vodka that tastes like Old Bay Seasoning. "Blue Coat and Aviation are both awesome gins and less piney than their London counterparts. Both have a definite citrus component, Bluecoat more so," says Dattilo. "Vieux Carre is by far my favorite absinthe. It is much more herbaceous and less sweet than any of the others I have tasted."

Seattle, Washington
Voted the "Best Distillery" in Seattle in 2014 by Seattle Magazine, Copperworks prides itself on using ingredients sourced from Washington State, including barley. "They are doing some really insane barrel-aged gins," says Phillips.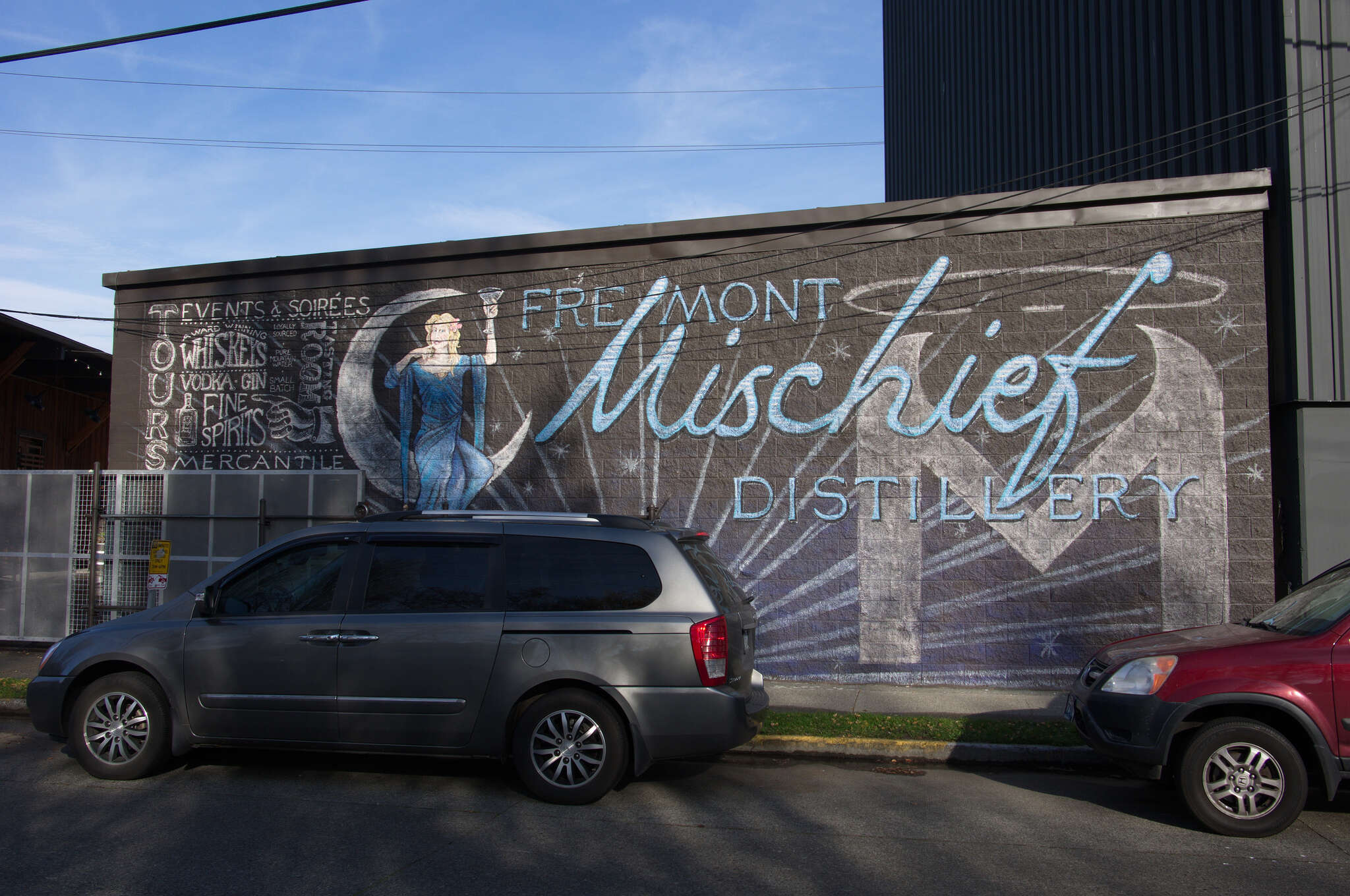 Seattle, Washington
The two vodkas and one gin distilled by Fremont Mischief are made from the same mash recipe, and contain wheat from Whidbey Island (about two hours outside of Seattle). A filter distillation process differentiates the vodkas, and the gin is distilled with a house blend of botanicals.
"Here in Seattle, there are a handful of craft distilleries doing great things. Fremont Mischief Distilling, Oola, and Sun Liquor are a few that come to mind," says bartender Keith Villanueva of Sazerac in Seattle. "I enjoy the Fremont Mischief Distilling for their consistent mash bills from spirit to spirit."
Louisville, Kentucky
In addition to the art gallery and a butterfly garden, the four-floored tourist attraction in Louisville employs "sonic aging," wherein loud music is played to the barrels. The vibrations intensify the maturation of its brandy and absinthe from a brandy base."I see what Copper & Kings is doing and I love it," says Dattilo. "I look forward to finding space for them in our program."

Sheridan, Oregon
In 1997, Tad Seestedt used his life savings and maxed out his credit cards when he opened the distillery. He started off making only au de via, grappa, and brandy but then branched out into wine two years later. Ten years after opening, whiskey, gin, and vodka were added to the roster. "The ones I see leading the pack here in Portland are House Spirits, Bull Run, and Ransom," says lead bartender Brandon Lockman at Red Star Tavern in Portland, Oregon. "The most obvious reason is that they are local, but all of these products provide a quality spirit that I am proud to offer guests. In the past I've tasted a lot of other local products that aren't quite ready, but these are definitely products that I am proud to call local."
Sign up here for our daily Thrillist email, and get your fix of the best in food/drink/fun.

Christopher Osburn has traveled the world in search of the best wine, beer, and spirits. Believe him... that includes quite a lot of sampling. Follow him to wormwood: @ChrisOsburn.