America's best craft breweries: the state-by-state breakdown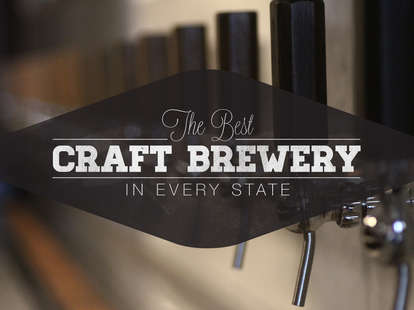 With hundreds of new operations firing up their fermenters every year and filling America's shelves/bellies, "craft beer" is quickly becoming "beer that is everywhere, and really, very good, and I want some more, please". And that's a great thing. But with so many breweries around, it can be tough to separate the great ones from the guys who don't make the best beer, but do happen to have bottles with a really cool Corvette-driving velociraptor on them. Actually, you should buy that one, too. But back to the point. We now present: our list of the best craft brewery in every single state.
NORTHEAST

New Jersey: River Horse Brewing Company
Let's be honest: NJ beer just isn't that great. The scene simply hasn't exploded yet, likely because everyone there is way too busy listening to The Boss and wondering exactly how many of the Cheesecake Factory cheesecakes Chris Christie could eat in one sitting. But there is hope. Flying Fish has been doing really good things since the '90s, and Carton Brewing does a righteous 12% Belgian strong, but River Horse comes out on top for us, mainly due to a nice spread (from Double IPAs to a pretty serious Tripel to an Oatmeal Milk Stout), and, perhaps more importantly, their mascot: the best hippopotamus mascot since you were seven and they were Hungry Hungry.

Pennsylvania: Tröegs Brewing Company
Yuengling is America's oldest brewery, mostly thanks to inexpensive brews that fill up many an East Coast college dorm mini-fridge. But for beers like Nugget Nectar Ale, which will pleasantly bitch-slap you in the face with hops (93 IBUs!), you've gotta hit up Hershey's Tröegs. And they're constantly innovating, releasing multiple brews each year as part of their Scratch Beer Series, like a Red Beet Saison and a Triple Mango IPA.

New York: Brooklyn Brewery
When Brooklyn Brewery started in 1984, the word hipster likely referenced something involving fanny packs. Almost 30yrs later, you can grab a Brooklyn Lager in Finland or Hong Kong, yet brewmaster Garrett Oliver refuses to stop creating innovative, liver-kicking beers, from readily available Blast! to the delightful Sorachi Ace Saison. Sure, Brooklyn isn't the micro-est brewery anymore. And there's plenty going on in the NY craft scene. Sixpoint does some great things, Cooperstown's Ommegang makes fantastic Belgians (plus Game of Thrones beers!) AND allows Pete Rose in, and Captain Lawrence nails everything from Kolsches to Imperial IPAs. But Brooklyn gets points for being the bellwether, and if you haven't had Black Ops yet, do that, and you'll understand.

Delaware: Dogfish Head Brewery
Delaware is the state everyone drives through to get somewhere else. But since 1995, Dogfish has given you a reason to stop. If they put an amount of minutes before the word "IPA" and slap it on a label, it's worth drinking the beer inside. And they release awesomely inventive one-offs, like an a beer/cider mash-up with producer Dan the Automator and an approximation of a beer brewed in China 9000yrs ago.

Maryland: Stillwater Artisanal Ales
Flying Dog certainly makes a case for being the best, having been listed with Stillwater as one of Ratebeer's Top 100 brewers in 2012, and Union Craft Brewing is one of the more exciting brewers of the past year, but Stillwater's dominated lately by opening a beloved brewpub in Baltimore, canning the "post-Prohibition style" Classique, and working with bands to create beers based on their songs in the ongoing Sensory Series. Rock!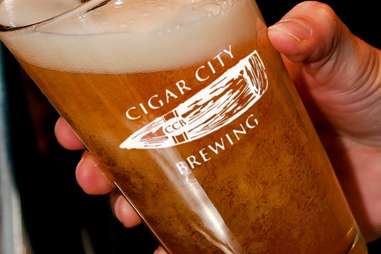 SOUTH
Texas: Jester King Brewery
Because you root against a brewery with beers named Black Metal, Commercial Suicide, and Weasel Rodeo, Jester King gets the TX nod over the state's wealth of crafters (Deep Ellum, Peticolas, Shiner, Austin Beerworks, Real Ale, Live Oak...) for its USDA organic certification, crazy use of barrel-aging and wild yeast, and big, bold flavors that embody Texas.
Kentucky: Against the Grain Brewery
Bluegrass Brewing Co might be the most well-known KY brewery (and the most awarded at GABF), but their Louisville counterpart Against the Grain consistently pushes the envelope and challenges the bourbon-drinking population of KY to pay attention. To wit: the Golden Sower, an amazingly named Brett beer, an imperial stout made with a Danish brewery, and a much-loved smoked beer aged in bourbon barrels called Bo and Luke.
Louisiana: NOLA Brewing
Though it's only about five years old, NOLA Brewing's doing its damnedest to put New Orleans on the map for something other than it's celebrated Beads for Boobs program; it's giving Abita a solid run for its money by actually making beers with the best ingredients regardless of cost, resulting in beers like the six malt, six hop IPA Hopitoulas and a citrusy, sweet, 8.8% ABV double IPA with one of the best beer names ever: Mechahopzilla.
Florida: Cigar City Brewing
The Tampa brewery stands head and very tan shoulders above other Sunshine State brewers, hitting a home run with just about every beer it touches (and that includes beer aged on baseball bats). Their Hunaphus Imperial Stout, with subtle, perfectly executed hints of chili, is one of the best beers you'll find anywhere.
Alabama: Good People Brewing Company
So endorsed by the fine people of Alabama that they actually have a pub in the airport, Good People's standout is the big, bold double IPA Snake Handler, whose orange-flavored bite matches its surprisingly floral bite.
Mississippi: Lazy Magnolia Brewing Company
MS isn't exactly a hotbed of craft brewing activity, but it is a hotbed of Larry the Cable Guy tour stops. Presumably. Still, Lazy Magnolia has a nice following among beer drinkers in the state, as they've won a couple of World Beer Cup medals and won over people with their ongoing barrel-aged series that includes the Southern Belle, which takes the Southern Pecan Nut Ale and ages it in Pinot barrels.
Georgia: SweetWater Brewing Company
Winning medals at GABF the past few years for their brown porters and American-style wheats (Exodus and Sch'Wheat, respectively), the ATL-based craft brewers with a hippie/smart-ass vibe have been doing the damn thing for 16yrs, and recently expanded production to a 250-barrel brewhouse to meet the high demand. And they win massive bonus points for the bizarre, acid-trip-like stories behind their Dank Tank limited release beers.
Arkansas: Diamond Bear Brewing Company
This Little Rock brewery has scored at the World Beer Fest and GABF with a variety of their beers, all of which adhere to the strict German purity laws that require beer to have but a few ingredients. It doesn't mean they only brew German-style, however, as they're also pouring a Paradise Porter and an Irish Red, in addition to a Honey Weiss that uses local bee nectar.
Tennessee: Yazoo Brewing Company
After interning under Brooklyn Brewery's Garrett Oliver, a Nashville brewer opened the whimsically named Yazoo in '03. Any brewery that gets a distillery license to put out a high-gravity beer deserves hero status, and Yazoo did just that in order to release the "big, rich, smoky malt bomb of a beer" named SUE that clocks in at 9.1%. And their Hop Project beers also deserve attention, as every release uses a different mix of hops.
Virginia: Devils Backbone Brewing Company
Located a few hours South of DC in the Blue Ridge Mountains, Devils Backbone brews beer that'll take your mouth straight to heaven (even though drinking beer will likely send you straight to h-e-double-hockey-sticks!), like the Danzig Baltic-Style Porter that all mothers presumably love, and their GABF medal-winning Gold Leaf and Vienna lagers.
West Virginia: Bridge Brew Works
It can't be easy operating a craft brewery in WV, as Bridge Brew has to run this disclaimer on their website: "Belgian-style beers made in West Virginia? No. It's not a joke." But they do said brews well (a dubbel, a trippel, and a Belgian-blonde trubell), in addition to a highly praised Peregrine Porter that's in competition at this year's Great American Beer Fest.
North Carolina: Foothills Brewing
At the 2011 GABF, Foothills took home some hardware for their incredible 2010 Bourbon Barrel Sexual Chocolate Imperial Stout. And at 126 IBUs, their much-loved Seeing Double IPA will do damage to your palate while living up to its name. Sharing a state with creative outfits like Duck-Rabbit and Wicked Weed made it difficult to name them the tops, but Foothills has been cranking out great brews in Winston-Salem for nearly 10yrs. Most importantly, Joel McHale agrees with our pick.
South Carolina: Thomas Creek Brewery
Westbrook Brewing Co. is certainly operating in the 1% of SC breweries with offerings like their "Old Time" series, but Thomas Creek gets the nod with year-round standouts like the Up The Creek Extreme IPA with a mind boggling 143 IBUs, which is somehow possible, and rarer releases like the Banana Split Chocolate Stout and the imperial Belgian-style porter Conduplico Immundus Monachus, which likely translates to "more please".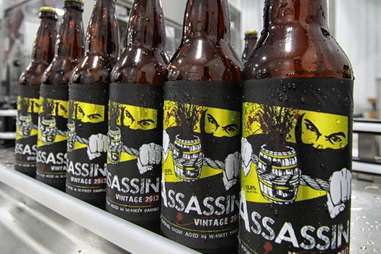 MIDWEST
North Dakota: Fargo Brewing Company
Poor North Dakota. They experience negative-60-degree temps in the Winter, and the only thing anyone knows about their state is that they use woodchippers to dispose of bodies. But people should know about Fargo Brewing, and not simply because they have a Wood Chipper IPA (they're in on the joke!), but also because they're starting to barrel-age. The fine parking lot investors of ND are lucky to have them.
South Dakota: Crow Peak Brewing Company
Hailing from Spearfish in the Black Hills, Crow Peak's the default micro on a statewide tap selection that's usually heavy on Coors and Bud, and it's earned its praise among doubting cowboys with brews like the roasty Pile-O-Dirt Porter, a surprisingly light 11th Hour IPA, and the sweet Canyon Cream Ale.
Oklahoma: Choc Beer Company
While Tulsa's Prairie Artisan Ales are hitting home runs with everything they release lately, there's something to be said for a beer born and bred in rural OK to serve coal miners using old Indian Territory recipes. They even continued to illegally brew that beer right though Prohibition. Nowadays they stay relevant with the ongoing Brewmasters Signature Series, which includes releases like a oak-aged Belgian-style quad.
Minnesota: Surly Brewing Company
With all due respect to the influx of strong micro-breweries popping up in Minnesota of late (Indeed, Fulton, and 612Brew to name a few), and to the grandaddy of Midwest craft brewing, St. Paul-based Summit (whose EPA is to Minnesota what Sierra Nevada Pale Ale is to Northern California), Surly is the most pervasive and vital brewery in the state, with a foundation built upon the local hoppiness that launched a thousand bitter copycats, Surly Furious.
Iowa: Toppling Goliath Brewing Company
Like many breweries, TG started small with a taproom and gradually expanded, having added a bottling line as demand continues to increase in the Hawkeye state. The reason? Aside from Iowa football? And Iowa basketball? Brews like PseudoSue pale ale and Assassin imperial stout that keep drawing attention not only locally, but around the country.
Missouri: Perennial Artisan Ales
Kansas City's Boulevard is still probably the state's best-known craft outfit, but Perennial has come on strong in recent years, with an adventurous spirit that has spawned brews like Saison de Lis (brewed with chamomile) and their 17 Mint Chocolate Stout, aged in whiskey barrels. It's one thing to like trying new things. It's another to do it successfully.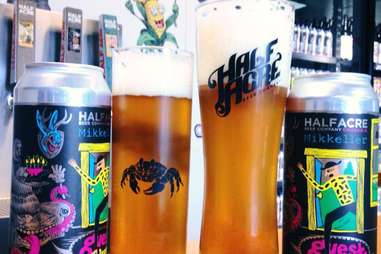 Illinois: Half Acre Beer Company
With Goose Island now the property of Anheuser-Busch, there are plenty of contenders for the state's craft crown -- Revolution, Two Brothers, Pipeworks -- but at the moment, Half Acre gets the nod for its double threat of great flagship brews (Daisy Cutter is one of the most reliable pale ales you'll find on tap in Chicago) and a steady stream of interesting special releases.
Michigan: Founders Brewing Company
When the interwebs are flooded with complaints that retailers are price-gouging with your beer (as happened with the highly coveted Canadian Breakfast Stout), you know you're doing something right. But aside from highly sought-after barrel-aged releases (Kentucky Breakfast Stout being another), Founders also kills it with more readily available offerings like Double Trouble, Red's Rye, and Dirty Bastard. They also have a barrel-aged Backwoods Bastard, but not an Ol' Dirty Bastard. Get on that, Founders!
Indiana: Three Floyds Brewing
Some of these were tough. This one was not. They're the epicenter of the craft beer universe once a year on Dark Lord Day when they release their coveted imperial stout, bars literally fight (it sounds tough, but they do!) for the right to carry them on tap. And if you're ever at the brewery and they're selling Zombie Dust, whip out the Discover card and buy as much as they'll let you.
Ohio: Great Lakes Brewing Company
Apologies to Hoppin' Frog and other Ohio outfits, but the portfolio of brews Great Lakes does exceedingly well is tough to top. From their barrel-aged Blackout Stout, to the slightly self-effacing Burning River Pale Ale, to the just straight-up tasty Edmund Fitzgerald Porter, they seem to be able to do anything. And holidays in the Midwest feel incomplete without their Christmas Ale.
Nebraska: Nebraska Brewing Company
Located in what would presumably be Steven McQueen's favorite Nebraska town -- Papillion -- there is no... waitforit!... escaping the conclusion that NBC is the state's best suds maker. It racks up awards, makes a slew of creative brews (some of 'em are aged in Chardonnay barrels), and does the funny name thing with Melange A Trois and Infinite Wit, which you probably have to have to get that Steve McQueen joke.
Kansas: Free State Brewing Company
Kansas City has Boulevard Brewing, which we mentioned above, but it's in Missouri, so the Kansas nod goes to Free State. It was the first legal brewery in the state when it launched in 1989, and turns out award-winning suds like their signature Copperhead Pale made with a four-hop blend.
Wisconsin: New Glarus Brewing
New Glarus beer may just be the best excuse to visit Wisconsin, aside from the obvious chance to run into PGA golfer Steve Stricker, and congratulate him on his amazing line of branded polo shirts at Kohl's. You literally can't get the stuff anywhere outside Dairyland, and yet it's established itself as one of the most respected craft outfits anywhere. Cask-conditioned Spotted Cow farmhouse ale is the flagship, but if you're in Wisco, see if you can track down the Stone Soup abbey ale, Snowshoe Irish amber ale, or the all-too-rare, palate-smacking IIPA.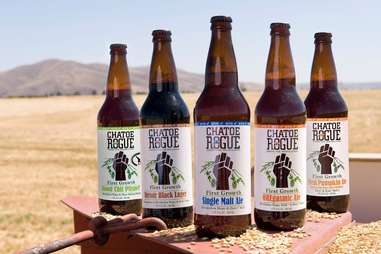 NORTHWEST

Oregon: Rogue Ales
In a state with more microbreweries than employed people, Newport's Rogue has managed to make itself a national presence while not compromising its weirdness. Sure, Dead Guy's its rightfully praised superstar, but they also get playful with ales like a (kinda gross but admirable) maple/ bacon brew and a surprisingly tasty beer made with yeast harvested from its brewer's beard.

Montana: Big Sky Brewing
While Moose Drool Brown is the Missoula-based brewer's best-known concoction, keep an eye out for its equally full-bodied, equally delicious, and equally animal-emblazoned bottles like the Summer Honey and the Trout Slayer wheat.

Wyoming: Snake River Brewing
Tucked into the ski mecca of Jackson Hole is Snake River, which once won Best Small Brewery of the Year from GABF, and still operates mostly as a brewpub. They're forward, aluminum-loving thinkers, having decided to drop bottling entirely in 2012, and moving solely to canning five of their beers like The Zonker Stout. They're also hopping on the sour train with a Flanders Sour, Le Serpent.

Alaska: Anchorage Brewing Company
A relative newcomer to the Alaskan beer scene (has anyone ever said that before right now?), Anchorage tops outfits like Fox thanks to its badass barrel fermentation with brettanomyces (they're a thing!) and souring cultures. Try their Bitter Monk Belgian IPA.

Idaho: Grand Teton Brewing
They have a beer called Bitch Creek, which is the best beer name that has ever been slapped on a label. And it's actually good, winning "12 gold medals at national events". It certainly helps that the water they use for it, and all their beers, is from glacial runoff. GTB also has an exceptional Cellar Reserve series with bottle-conditioned beers, which're released a few times a year.

Washington: Elysian Brewing Company
Washington has more breweries than any state except California (which has around six times more than the population), but Elysian -- which started wayyy back in '95 as a 20-barrel operation in Seattle's Capitol Hill but now has three brewpubs around The Town -- takes the title for the obvious quality of their suds and their sheer creativity.
WEST

New Mexico: Marble Brewery
La Cumbre is certainly making a case for themselves to be considered the state's top brewery, but Marble's on top for their stalwart Marble Red and constant innovation, like with the recent release of Breaking Bad-themed beers: Walt's White Lie (an India White Ale) and Heisenberg's Dark (an India Black Ale).

Colorado: Great Divide Brewing Company
Colorado has so much top-notch craft beer brewed within its borders that even its fifth best brewery is better than anything brewed in most states. But Great Divide's amazing Hercules Double IPA and ongoing series of Yeti stouts, along with their impeccable (Yeti!) branding, are what separates them from their peers like New Belgium, Odell, Avery, and Oskar Blues. And while they've expanded production, they still have a small tap room in Denver that feels like a neighborhood pub. They haven't sacrificed quality for quantity in any aspect of their business, and that's no small feat. The Yeti also does not have small feet.

Arizona: Four Peaks Brewing Company
Four Peaks got its start in a building that a bunch of cows once hung out in (it was formerly a creamery). No one really cares though, because they're too busy drinking awesomeness like the World Beer Cup winning Kilt Lifter, a 6% ABV Scottish Ale, and the English-style Raj IPA.

Nevada: Tenaya Creek Brewery
Many of the breweries in Nevada have a serious lack of ambition, as they seem happy to own a taproom/ casino (seriously, they exist) and not bother to bottle and get their beer out into the world in any way. Tenaya Creek Brewing started as a brewpub in Vegas, but in 2008 shut down the food part of their operation and focused on beer. They currently bottle their brews, and highlights include the Old Jackalope barleywine and the GABF-winning Gold Medal Pilsner.

Hawaii: Maui Brewing Company
Unlike some other famed Hawaiian craft breweries who make their beers on the mainland *cough* Kona *cough*, Maui is dedicated to making 100% of their spectacular brews in Hawaii, including their universally beloved CoCoNut PorTeR (if you find the Imperial version, cop that ish). They also proudly can their brews, and have limited edition winners like a saison that uses Maui lemongrass.

California: Russian River Brewing Company
Sierra Nevada is undeniably the most successful CA brewery, and Lost Abbey knows their Belgians, but Russian River has always been on some next-level ish. Their barrel aging program has produced some of the most epic sours ever tasted by man (Supplication, Temptation), and they've got tons of medals at GABF that further their legendary status.

Utah: Epic Brewing Company
Uinta certainly deserves a round of applause for making craft beer a viable thing in Utah circa 1993 (or Utah circa any era), but Epic is doing special things with their Elevated and Exponential series -- highlights include a Sour Apple Saison, and the Big Bad Baptist, a stout with cacao nibs and coffee that's been aged in whiskey barrels.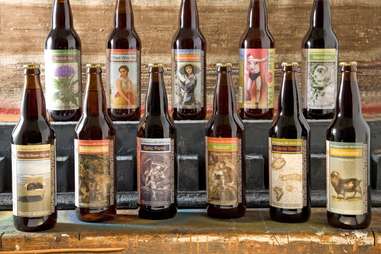 NEW ENGLAND

New Hampshire: Smuttynose Brewing Company
While the state has its share of promising upstarts (Throwback, Blue Lobster), they have a ways to go to catch Smuttynose in terms of quantity, consistent quality, and fun-to-say name-ity. Whether it's the malty sweetness of their Baltic Porter or the citrusy hoppiness of their also well-named Finestkind IPA, they do it right.

Vermont: The Alchemist
If you're going to put all of your eggs in one basket, you had better make mad good eggs. That's definitely how the saying goes. Anyway, Waterbury's small-but-mighty brewing outfit would get the nod here even if Magic Hat was still locally owned, all basically on the strength of one beer: Heady Topper, an impossibly fresh, hoppy Imperial IPA -- if you're ever fortunate enough to get your hands on a can, drink it immediately.

Maine: Maine Beer Company
With all due respect to Allagash and Shipyard, the pick for the land of lobsters and blueberries is the tiny MBC. They focus almost exclusively on "hoppy American Ales brewed in small batches", and they're kind of winning with both their American Pale Ale MO and their "East Coast" IPA Lunch in the Beer Advocate Top 250. Bonus: their stupid simple labels are kind of the poop.

Connecticut: New England Brewing Company
Yes, they've been named a Top 20 brewery in the country by Beer Advocate, and yes, they do kickass work, but the real clincher? Their Gandhi-Bot Double IPA is both delicious and has a freakin' picture of ROBOT GANDHI ON IT.

Massachusetts: Jack's Abby
And you thought Framingham was just filled with closed Bennigan's restaurants. This was a tough selection because of the many great craft breweries in MA (Clown Shoes, Night Shift, Harpoon, Slumbrew, etc.) but ultimately we gave it to Jack's because, A) they somehow mix the strict standards of German Brewing with American innovation, B) their Smoke & Dagger won a bronze at 2012 Great American Beer Festival, and C) their Bamberg-style Fire in the Ham smoked-lager tastes kind of like bacon roasted at a campsite. And that's about the best compliment out there.

Rhode Island: Grey Sail Brewing of Rhode Island
With all apologies to 'Gansett and their wonderfully old-school tallboys, GSB's already canning multiple suds after opening in late 2011 just outside of Providence, like a Wintertime-only smoked porter called Leaning Chimney. But what really gives us hope for the future is that they have it in them to create beers like the one-off Gourdemyces sour pumpkin ale.