America's best Banquet Bars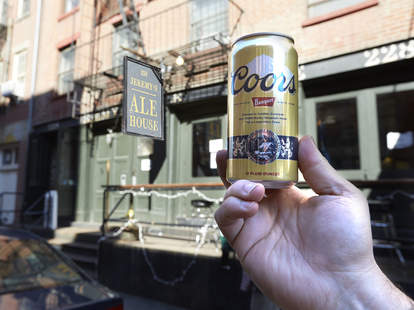 If we told you that we pulled together 20 of the finest Banquet Bars in these United States, your first thought would probably be "That sounds fantastic" -- but your second thought might be, "Wait, what's a Banquet Bar?". Well, it's this: a neighborhood institution that serves as a living, breathing part of its community, which thinks of it as something much more valuable than just a place to pull up a stool. Also, it helps if they pride themselves on serving Coors Banquet. Otherwise they'd just be "bars".
Jeremy's Ale House
Where: 228 Front St
New York, NY
Why: Opening at 8am for shift hours, Jeremy's caters to a night-working crowd of dockworkers and construction crews. They stay open 'til midnight, but every 32oz Styrofoam cup of beer gets poured with the same compassion for humanity they have for dudes whose professional hours turn midnight into morning.
Awesome Fact: Give up your bra and they'll let you drink for free. Well, maybe not you.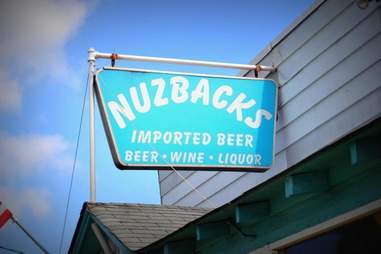 Nuzback's Bar
14405 Baltimore Ave
Laurel, MD
Why: It's been a family-run Laurel institution since Pete Nuzback opened it up as "The Palms" back in 1948. Don't let the "Where nobody knows your name" motto fool you -- no bar offering Keno doesn't love its customers.
Awesome Fact: Nuzback's had a rough-and-tumble rep in the 70s, but nothing compared to former next-door neighbors the Bay-n-Surf, whose brother-owners made unfortunate headlines over an incident involving an actual duel.
Tanstaafl Pub
Where: 409 N Bowen Rd
Arlington, TX
Why: Tanstaafl stands for "There Ain't No Such Thing As A Free Lunch", but for 20 of its 40 years, its offered local musicians and amateurs who can keep up a free place to jam on Thursday nights, and provided a haven for meet-up groups who follow the bar's titular philosophy.
Awesome Fact: Owner Jim LeRoy named the bar after a phrase in Robert A. Heinlein's The Moon Is A Harsh Mistress.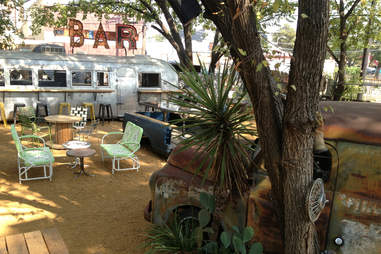 Truck Yard
Truck Yard
Where: 5624 Sears St.
Dallas, TX
Why: Owner Jason Boso designed his beer garden + music venue + outdoor noshery as a place where everyone from his niece to his dad to people not even related to him would feel comfortable -- while simultaneously providing something like a home (or at least a favorite motel) for Dallas' food truck community, a rotating squadron of which is always on hand to fill bellies.
Awesome Fact: Not only is your dog welcome, one of those trucks, Carnival Barker's Ice Creams, has a permanent stand that serves a flavor specially designed for pets.
Hockey Haven
Where: 3625 Balboa St
San Francisco, CA
Why: Opened in 1949 by a pair of hockey-loving brothers, this 65-year-old pub's current Irish owner has a hilarious lack of love for, you know, hockey. He does shower affection on customers though, by opening at 10am, allowing doggie pals, and honoring the Local of the Month with really, really kind words.
Awesome Fact: Local of the Month Nico's nickname is "The Italian Stallion", and you should definitely buy a Mini from him.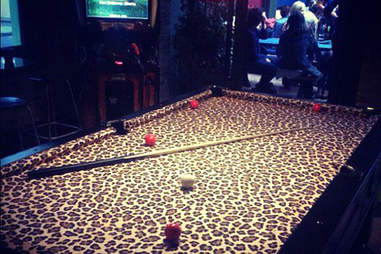 Silver Fox Lounge
Silver Fox Lounge
Where: 1833 Garnet Ave
San Diego, CA
Why: A softball team, a soccer team, a leopard print pool table… there's not much the Silver Fox doesn't have. And if you're alone on the holidays hey've got an annual Thanksgiving feast and Christmas Day dinner. Shoot, they'll give you a free drink if you show an "I Voted" sticker on Election Day. Yes, they may be better than your parents.
Awesome Fact: Happy hour doesn't start until 12 hours after they open -- but they open at 6am.
Waterfront Bar & Grill
Where: 2044 Kettner Blvd
San Diego, CA
Why: To celebrate last year's 80th anniversary, San Diego's oldest bar threw a beauty pageant for 80-year-olds, which of course was judged by Bill Walton. Contestants came from area senior living homes to join a crowd that's historically included sailors, lawyers, and judges from the nearby courthouses, and anyone else longing to escape the "dudes who dress like they just stepped off a yacht" scene.
Awesome Fact: They're firm believers in the "beat the bartenders at rock, paper, scissors, get half off your drinks" rule.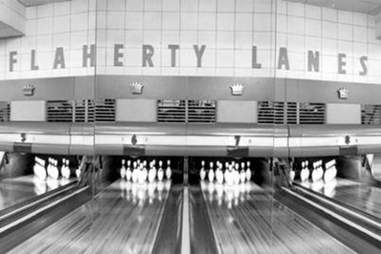 Flaherty's Arden Bowl
Where: 1273 West County Road E
Arden Hills, MN
Why: Family-owned since 1938, Flaherty's prides itself on participating in hometown parades, donating to neighborhood schools, and personally ensuring the future of our nation by helping kids read through a local literacy program. It's like the mayor handed his duties to a bowling alley (take note, Toronto).
Awesome Fact: It's not just a bowling alley -- it's the longest running family-owned bowling alley in the country.
Boar Cross'n
390 Grand Ave
San Diego, CA
Why: Family owned since 1958, Boar Cross'n for a time went so far above-and-beyond their communal responsibilities it's almost unbelievable -- by adopting exotic pets whose owners could no longer handle their exotic upkeep. If you liked beer, but could no longer handle your monkey, baboon, or boa constrictor, this was your bar.
Awesome Fact: That baboon escaped the bar multiple times, only to somehow find his way to a Cross'n regular's home… where he would proceed to break into the liquor cabinet.
Cowboy Country
Where: 3321 E South St
St. Long Beach, CA
Why: There's not just a ton of line dancing in California (which can make newcomers feel out of place here). Thankfully, this holdout country western dance hall offers free classes to the community. Plus, the older regulars are more than happy to take wallflowers out on the dance floor and teach them a thing or two-step.
Awesome Fact: The building was the scene of the crime from Thelma and Louise.
Port Way Tavern
Where: 7600 N. Willamette Blvd
Portland, OR
Why: A neighborhood pub with a clientele that leans heavily on local longshoremen, Port Way offers their beloved patrons something almost no other bar does: giving them a place to eat Hot Pockets in public. Hang out here, and you'll never have to devour one of those tasty meat-sheaths alone on your futon again.
Awesome Fact: Port Way is so down-to-earth, only one person in history has ever "checked-in" there.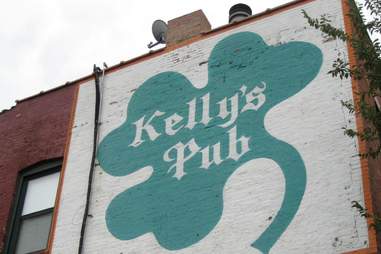 Kelly's Pub
949 W Webster Ave
Chicago, IL
Why: This tavern did all of Chicago a solid by selflessly carrying on the legendary ruse started in 1963 by the proprietors of bygone Maguire's Pub, who petitioned the NCAA for Tournament passes based on their being coaches for one "Maguire University". The gambit actually worked for two years, and even after the NCAA caught on, Maguire's (and, after 1988, Kelly's) owners and employees have been invited to every single Final Four.
Awesome Fact: Maguire University's mascot is the "Jollyman", an anthropomorphized beer stein.
Texas Chili Parlor
1409 Lavaca St
Austin, TX
Why: Bringing Republican and Democratic State Legislatures together since 1973 through the unifying power of X, XX, and XXX chili, the Parlor's hosted both weddings and provided married men who no longer play sports something to stoke their competitive spirit, the Capitol Challenge: down four hot dogs and six burgers covered with chili and cheese and shaped like the next-door Capitol building, and get yourself on the Wall of Honor for life.
Awesome Fact: Old-guard Texas troubadour Guy Clark shouts them out in the ballad "Dublin Blues".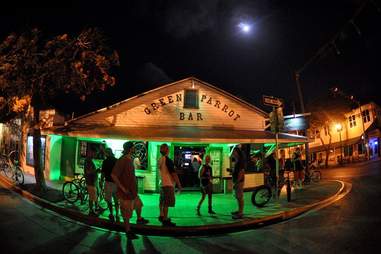 Green Parrot
Green Parrot
Where: 601 Whitehead St
Key West, FL
Why: Though it's in a 100-year-old building that's served as everything from a Caribbean trader grocery store to a Navy hangout, the kicked back music venue's always rolled with the times for the sake of loyal clientele. They're constantly having benefits for near-and-dear causes, and in the 90s, they even instituted a poetry slam, saving their more verbally gifted customers from having to yell verse in a church basement or something.
Awesome Fact: A majority owner used to own the Philadelphia Eagles, and for better or worse, there's a live webcam.
Bull & Bush
4700 Cheery Creek Dr
Denver, CO
Why: This 43-year-old stalwart was born when the brother founders decided Glendale would benefit from being a bit more British, and converted an old dairy into an homage to an ancient pub they'd visited in Hempstead Heath, outside London. The area's first darts venue was also one of the first bars in America to beam in sports via satellite, bringing much happiness to fans of basically every team on the planet.
Awesome Fact: The founders were identical twins, making the current owners genetically half-brothers.
Moe's & Joe's
Where: 1033 N Highland Avenue NE
Atlanta, GA
Why: Great Banquet bars serve their own community, but legendary ones help their neighbors, as Moe's and Joe's did upon opening in 1947 -- bringing great joy to Fulton County, and to next-door DeKalb, a then-dry county whose residents flocked over in droves. Legendary local server Horace McKennie taught all those folks that class never sleeps, working six days-a-week for 50 years in a jacket and bowtie.
Awesome Fact: On a slow night, ask for the travel Scrabble set.
Canyon Club
Where: 421 Telegraph Canyon Rd
San Diego, CA
Why: Whether it's military folks from the nearby naval base or doctors from Scripps Mercy, everyone ends up in this inconspicuous strip mall bar, and they're all treated equally – with some of the best wings in San Diego.
Awesome Fact: They edify hopheads with the only cask beer night in South Bay.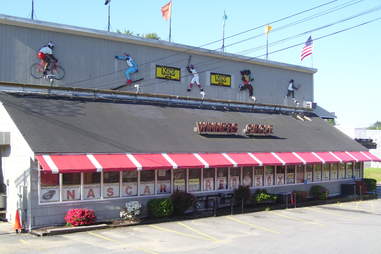 Winner's Circle
Where: 211 Elm St
Salisbury, MA
Why: In 1973, when three brothers turned their garage into a game room housing some of America's first Foosball tables, they didn't take into account how much everyone else would love Foosball. Once that became apparent, they opened up to the public, and Winner's Circle was born. Over 40 years, they've continued to expand to meet their patrons' needs, adding an atrium, skybox, and more… all from the bones of that garage.
Awesome Fact: If you want a tall glass of healthiness, the Winner's Circle has a 450-member running club.
Treff's Tavern
Where: 804 Chestnut St Ste D
San Marcos, TX
Why: Right across the street from Texas State University (aka "Texas Methodist University" if you're a Friday Night Lights fan), all you need to know about Treff's relationship with its customers can be summed up by this masterful tweet: "It's okay, your kind is welcome here". So it makes sense that the nearly 20yr-old joint is the San Marcos outpost for "Geeks Who Drink", a national organization of hardcore pub quizzers whose own motto is, "Join the revolution, wiseass".
Awesome Fact: Their Bloody Mary includes more produce than a supermarket.