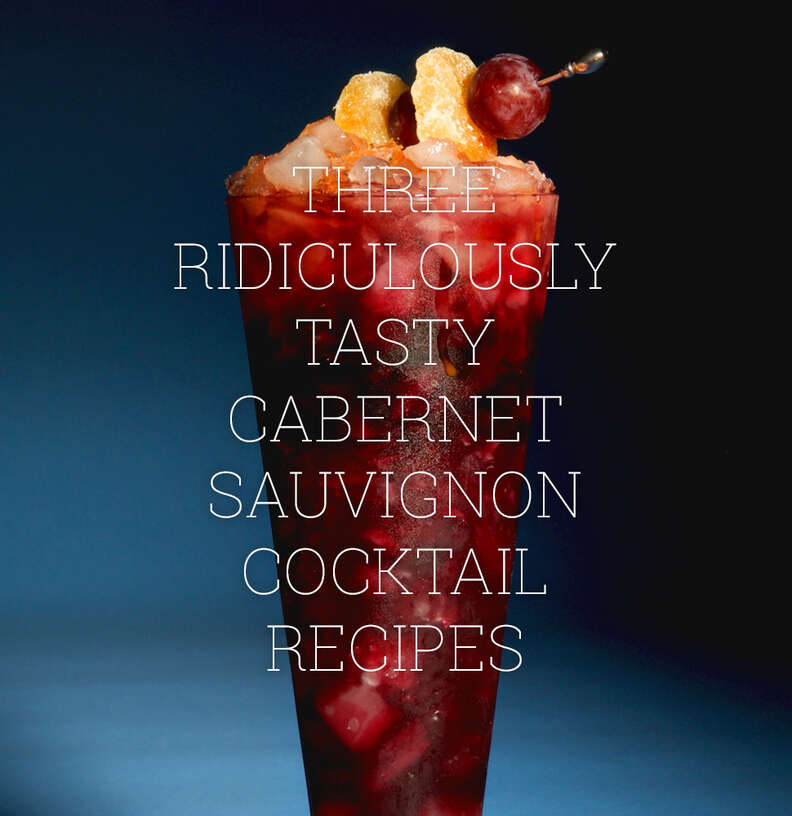 You Won't Believe How Delicious These Cabernet Sauvignon Cocktails Are
Wine as a cocktail ingredient is nothing new. As Sother Teague, beverage director at NYC's Amor y Amargo, notes: "Wine already plays a major role in several classic cocktails. After all, the vermouth in your Manhattan is defined as 'aromatized, fortified wine'." But only certain wines can serve as a base, and not just the finishing touches to a spirit-heavy drink. Never afraid to be assertive, Cabernet Sauvignon is one of those wines. To prove it, Teague custom crafted these cocktails just for Thrillist... and we guess anybody reading Thrillist. Great, now we don't feel that special.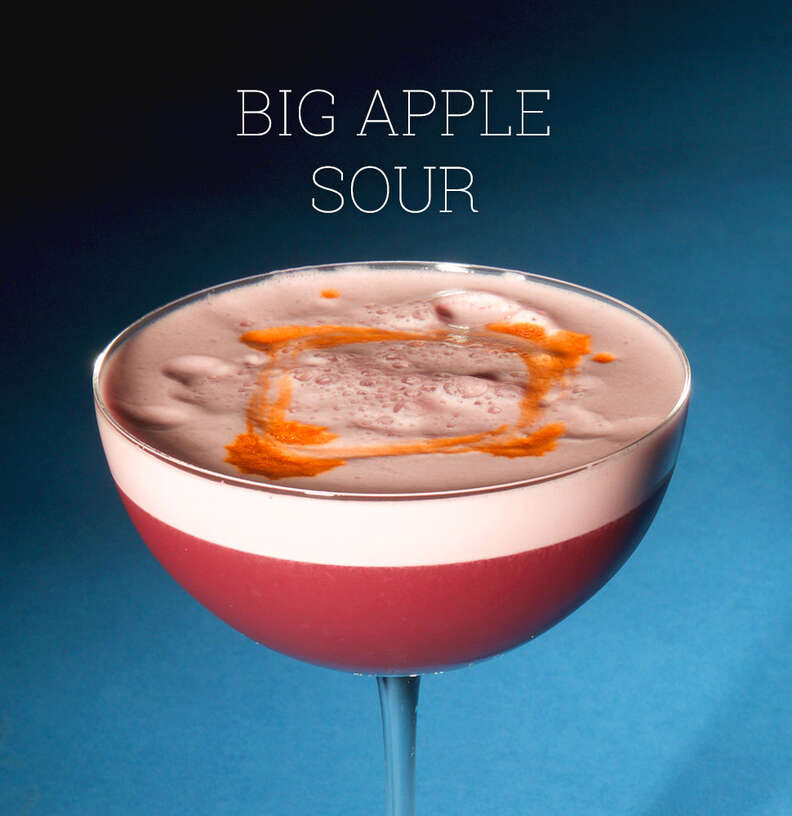 "Cabernet in particular will stimulate the sensations of a richer cocktail without all that octane, and lower proof cocktails are currently trending," notes Teague. Just because it's a cocktail, doesn't mean overdoing the ABV, but check this concoction to see why that doesn't mean sacrificing flavor:

Big Apple Sour
1.5 Cabernet Sauvignon
.5 Apple Brandy
.25 cinnamon syrup
.25 lemon juice
1 small egg white
3 dash bitters
Pour first five ingredients into a shaker. Shake vigorously without ice for 30-45 seconds to start an emulsification. Add plenty of ice and shake vigorously for 1 minute. Double strain into a chilled coupe glass and decorate the surface with bitters.
Teague's take: "These flavors are already classic pairings. All are notes you might find in a sangria. Apple, cinnamon, wine and juice. Retooled and presented more elegantly."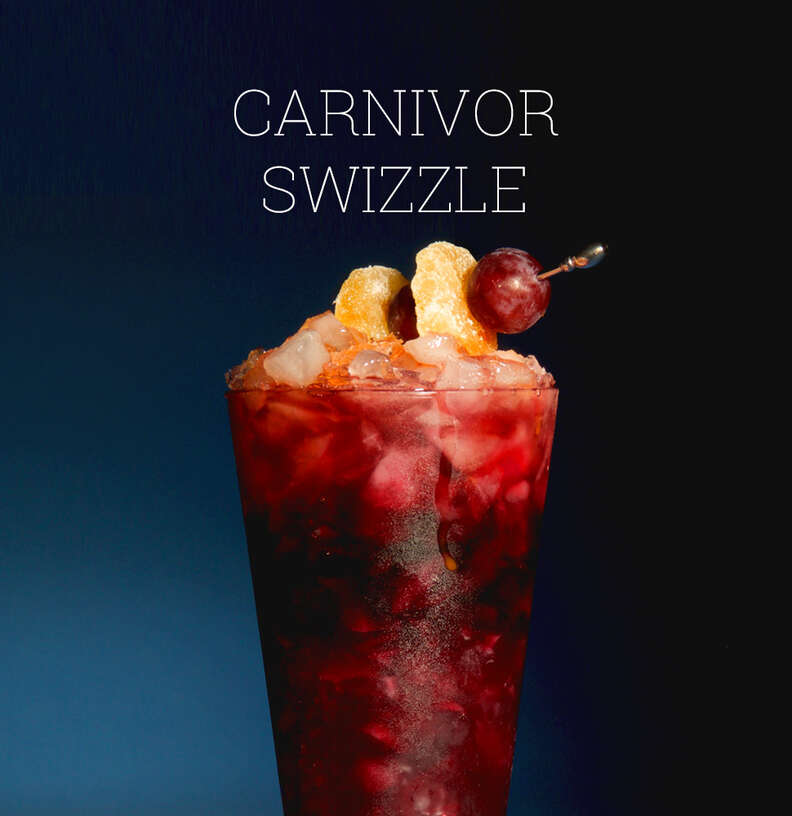 You didn't think we'd leave you hanging on that delicious beverage up top, did you?
Carnivor Swizzle
1.5 Cabernet Sauvignon
1 White rum
.5 Orgeat
.25 ginger syrup
Heavy dashes of bitters
Pour first four ingredients into a shaker with just a few pieces of pebble or cracked ice. Shake to aerate (this is know as a "whip shake"). Pour contents into a tall swizzle glass that's already filled with pebble ice. Mound more ice on top to form a dome. Dash heavily with Peychaud's to appear like a snow cone. Garnish with a mini kebab of grapes and candied ginger.
Teague's Take: "I. Love. Swizzles. Tropical flavors and aromas. Nutty orgeat and the rich wine cut by the sharpness of ginger. So delicious."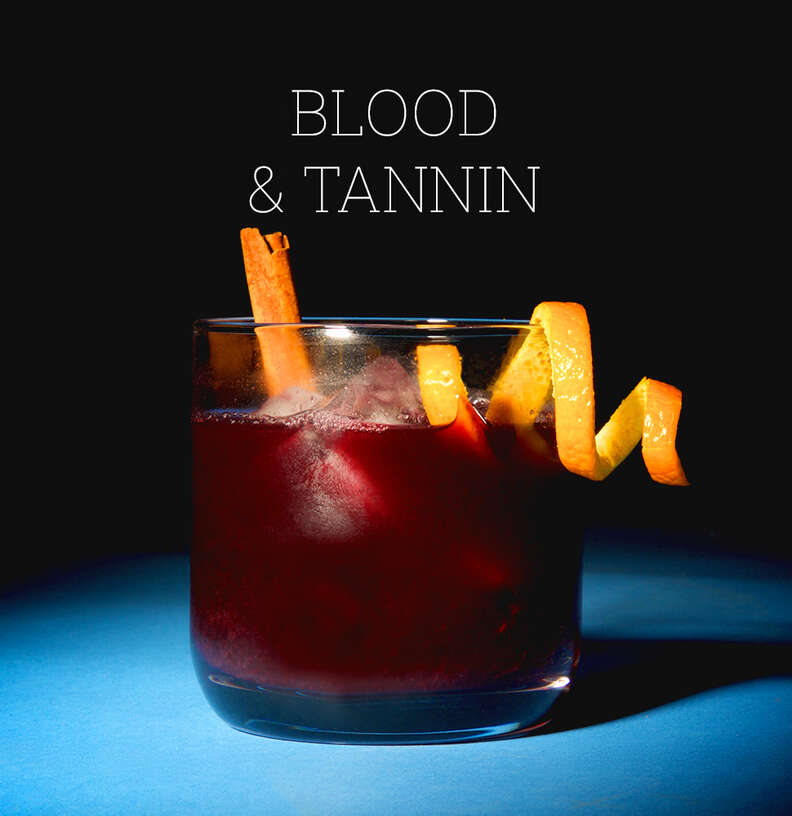 "In classic like the Manhattan, Negroni or Martinez, the first step could be to replace the vermouth with the Cab," says Teague. The vermouth is used to temper the alcohol content in these drinks as well as contribute to a juicy round mouthfeel. A beautiful lush Cabernet can easily serve these same roles." And those simple classics are easily one-upped by this take a more complex cocktail, the Blood & Sand.
Blood & Tannin
1.5 Cabernet Sauvignon
.5 Blended scotch
.5 Orange juice
.5 All-spice dram
2 Dash pimento bitters
Decorative orange twist
Cinnamon stick
Build all ingredients in a double old fashioned glass. Add a large lump of ice and gently swirl to incorporate. Garnish with orange twist and cinnamon stick.
Teague's Take: "This classic version is a scotch cocktail with orange juice and vermouth. Typically shaken. Instead I rebalanced the ratio and made it 'Old Fashioned' style."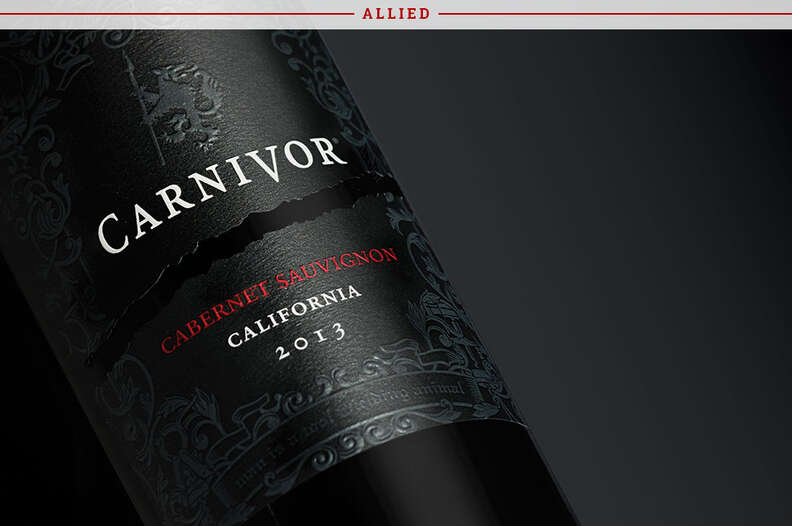 When you're making these, try this Cabernet

"Don't cook with wine you wouldn't drink" is the old culinary chestnut that's equally true with making cocktails -- or put another way, you wouldn't want a substandard gin in your Negroni, so why use a substandard Cab in your Big Apple Sour? Matching the bold and intense flavors Cabernet Sauvignon is known for with a smooth delivery and finish, Carnivor Cabernet provides the kind of solid base you need for brewing up these stellar libations.