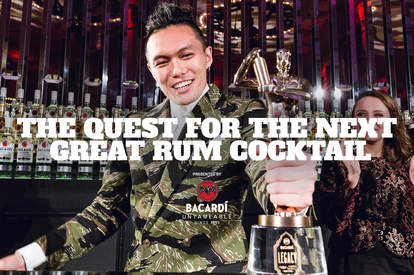 Courtesy of Bacardi/Edited
Everything Bacardi Did to Find the Next Great Rum Cocktail
The world doesn't know it yet, but there's a new future-classic rum cocktail in its midst. It was born out of the blood, sweat, and strainers of thousands of bartenders who spent the last year going through their paces with the hopes that their shaken or stirred creation would be crowned a winner and ushered into immortality alongside the mojito, daiquiri, piña colada, and old Cuban. The final proving ground: the annual BACARDI® Legacy Global Cocktail Competition. Held in San Francisco, it's one of the largest in the world, featuring fierce (but collegial) behind-the-sticksmanship between bartenders from 36 countries, each literally pouring their hearts and souls into their glassware. Which sounds overly melodramatic, but actually…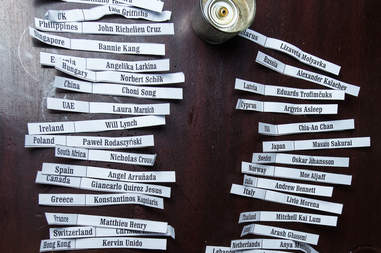 Courtesy of Bacardi
The search
Each year, the whole process starts with an open call for submissions -- as with any other art form, you never know where talent might be toiling away, just waiting to be discovered. This year thousands responded, sending in original recipes featuring BACARDI Carta Blanca or BACARDI Carta Oro that, beyond taste, balance, and presentation, were held to a (totally fair and uplifting) double-standard: each cocktail had to reflect the bartender's own journey through life, as well as that of the Bacardi family. The goal was for the drinks to become more than just liquid, inspiring all the feels through stories of love, loss, heartache, achievement, and, of course, fjords and dromedaries.
Courtesy of Bacardi
A few poignant for-instances involving said fjords and dromedaries
Moe Aliaff, who placed in the global Top 3 with his Carousel cocktail, grew up as an Iraqi refugee, spending the first three years of his life moving from camp to camp before his parents and six siblings finally settled in Norway. With flavours of dulce de leche, banana liqueur, PX sherry, salt, and Carta Oro, Carousel represented a narrative that stretched from Aliaff's first happy memory -- going to the fair with his mother -- through his family's travails, while also tying in the exodus of the Bacardi family.
Representing Israel, Bar Shira (who is a bartender, not a bar; "bar" in Hebrew translates as "son," or "grain") brought it with El Camello Loco. Using basic ingredients that almost every bar (the establishments, not sons, or grains) already has -- BACARDI Carta Blaca, Martini® Rosso, lime, sugar, and beer -- he built a drink intended to be fun and easy, inspired by the days when Bacardi also produced the best-selling beer in Cuba, and delivered it with a block of ice ideal for making cocktails. The name, meanwhile, references both Cuba's hulking, Soviet-era Camello buses, as well as the one question Bar receives on an almost implausibly frequent basis: "Oh you're from Israel? Do you ride camels?" (El Camello Loco advanced to the Top 8.)
Courtesy of Bacardi
Getting to the Finals
The competitors aren't invited to San Francisco just on the basis of coming up with a great drink. They first have to show that their concoction will stand the test of time, and can be replicated in any city around the world. From the 10,000 entrants, the most promising three in each country are then let loose into the world to promote their creation by pretty much any means available. Facebook pages, guest shifts, partnerships with anyone who can help the cause… some aspirants put in thousands of airline miles to pour in as many destinations as possible, like sales reps, except with far more enticing offerings than management software. From each country's trio, one winner is chosen to advance to the global finals to present their drink to some of the best in the bartending community.
"It's about putting more great rum cocktails out into the world. We want consumers to have that experience and we want to give the bartenders a chance to really get out there and showcase what they do every day." BACARDI Brand Director Nadine Iacocca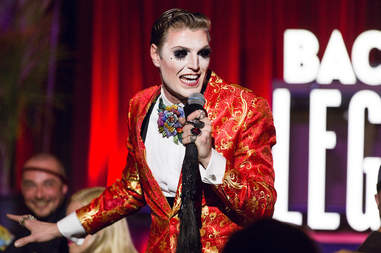 Courtesy of Bacardi
The Finals… which are not just about the Finals
Obviously the competition is the big show, but the Finals are also loaded with lessons to help further the competitors' careers, from on-the-job technique, to the fine art of self-promotion and networking, to classes that help them channel their inner calm when the workplace goes from fun to frantic.
The education is far from conventional. Take the session with international cabaret performer Reuben Kaye, who helps turn the contestants from everyday bartenders to performers with style and panache, unencumbered by sweats, shakes, and freezes.
 
"A lot of these bartenders don't have the experience of making a drink in front of more than 10 people, let alone 500, all of whom are focused purely on them," Kaye explains. "Add to that the pressure of competition and having to speak not just coherently but eloquently and emotively at the same time and it's a huge undertaking." (Note: if you feel a cabaret performer can help your colleagues avoid sweating, shaking, and freezing, you might want to bring in Kaye as well.)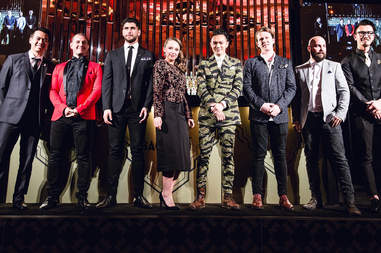 Courtesy of Bacardi
Libation deliberations
After two days of presentations and explanations, the 36 global finalists get whittled down to a top 8 who then go on to present their drinks and stories to a crowd of several hundred as they attempt to win the hearts and palates of the panel of judges who hold at least some significant percentage of their fates in their hands.
Amongst this year's panel were cocktail icon Julie Reiner, who through her vanguard establishments has helped train dozens of the country's top bartenders, as well as the legendary Dale DeGroff, Maestros de Ron Bacardi Jose Sanchez Gavito, and last year's Legacy winner Franck Dedieu.
"At the end of the day it's about the drink," stressed Reiner. "It has to have the full package: the drink has to be fantastic -- a legacy drink that can travel the world and be replicable easily and is likable to the masses." Basically, it's a feat that falls right behind "writing a classic pop song" on the all-time easier-said-than-done list.
Courtesy of Bacardi
And the winner is...
While all the top bartenders presented drinks that could easily go on to have a life of their own, one winner had to be chosen and this year, and it came in the form of Venceremos, the spirited vision of GN Chan, a Taiwanese bartender from one of New York's most speakeasy speakeasies (meaning: if you don't know it's there, you really don't know it's there). Translated as "We will overcome," Venceremos encompasses a narrative that had Chan losing everything six years ago when he became a bartender out of pure need and slept above a bar in Taiwan before being taken under the wing of top bartender Shingo Gokan (winner of Bacardi Global Legacy 2012). With the light and refreshing flavors of coconut liqueur, pineapple, cucumber, and lime juices, and just a hint of sesame oil, Chan was able to pull off a pretty remarkable feat: a unanimous vote from the judges.
Courtesy of Bacardi
In the end, though, the whole point is to present the cocktail in the world, where it can be enjoyed by the only judge who matters, you. So, whatever country you hail from, here's how to make a budding legend:
 
Venceremos
INGREDIENTS:
45ml BACARDI Carta Blanca
15ml coconut liqueur
25ml pineapple juice
15ml cucumber juice
5ml lime juice
1 dash sesame oil
DIRECTIONS:
Shake & strain into a glass over ice.
Garnish with a pineapple leaf.
Courtesy of Bacardi
Oh, and here's something else you can take home with you
The event culminated with a roundtable discussion exploring the relationship between music and mixology with members of Major Lazer, highlighting the hustle that must be mustered by both bartenders and musicians. "That communication between the crowd or what's going on in a bar, being creative and innovative, trying to ensure everyone has a good time, there's a similar atmosphere, if you think about it," noted Walshy Fire, who along with Jillionaire, DJ'd the closing house party -- and mixed drinks with badass New York bartenders Steve Schneider and Ivy Mix. "We come from a world where your name and your brand means a lot. In our world you have to constantly perform on a level and eventually you do that long enough and people automatically trust you because you have legacy."
 
Here's the take-home part: Major Lazer also curated this Spotify playlist of island-vibing songs inspired by the Legacy drinks. Use it to inspire your own legacy -- or hey, there's nothing wrong with shaking yourself up a good, old-fashioned daiquiri. Those classics are classics for a reason.