There's a reason going to the Four Corners is one of the most disappointing tourism experiences imaginable. You drive a painful number of hours into the desert, roll up to a little plaque, stand in four states at once, and feel exactly the same as you do in your living room. But you know what would make it amazing?
If the estranged wife of a meth kingpin was standing there trying to decide where to take her baby? Yes. But, also, IF THEY SOLD BEER! How cool would it be to drink in two states... AT ONE TIME??? And while that's probably never happening at the Four Corners (unless you BYOB), there are a handful of places around the country where you can do exactly that. These are seven of them.
Brattleboro, VT
While most rivers that separate states/countries are usually cut right down the middle, not so with the Connecticut River between Vermont and New Hampshire. No, apparently, New Hampshire won the game of rock-paper-scissors and got most of the river all to itself, and even some land on the Vermont side. Seriously, check it out on Google Maps -- it's crazy.
So when the Vermont town of Brattleboro began to grow, and bridge trusses/footings were extended out onto the river to support new infrastructure, they ended up crossing state lines. As a result, a part of the Whetstone's interior resides in each state and a bright yellow line on the floor marks the border. While it's a Vermont establishment for tax purposes, you can still have a drink in New Hampshire while you're there.
Superior, WI
While this bar actually sits wholly in the state of Wisconsin, you can only get there from Minnesota. Unless you swim or take a boat. See, the bar is built on a section of Wisconsin land that's located on the Minnesota side of the St. Louis River, and the only road with access is Minnesota Route 23. So after you park the Fiesta, you have to cross a state line to get inside. There, you're greeted by a giant "Welcome to Wisconsin" sign, and of course poker machines. Since those are legal in Wisconsin. And while it's not technically legal to walk outside and have a drink in two states at once, nobody has ever been stopped from doing it for the sake of novelty.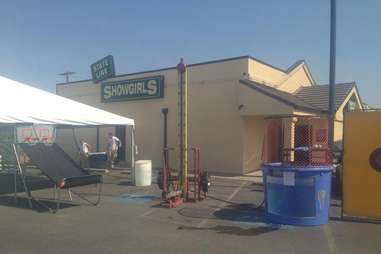 Stateline, ID/Spokane, WA
While this spot on the Washington/Idaho border might be the best strip club in Idaho, it's technically not even a bar at all! The owners of Stateline Showgirls found a way around Idaho's pesky no-nudity-and-alcohol laws, and adjoined the strip club (where they can't serve booze) to the Kon Tiki Bar next door in Washington State (where they can). So you -- and whichever strippers decide to go with you -- can get your drink on the Washington side before adjourning to Idaho for intense discussions supply-side economics. Or, ya know, a full-nude lap dance.
South Lake Tahoe, CA/Stateline, NV
If you find yourself on the other side of Lake Tahoe -- be it for a bachelor party or just because you wanted to visit one of America's best party mountains -- you might as well take this opportunity to drink in two states at once. While the lodge is legally located in California, the state line that seems perfectly cut into the mountainside may be off by as much as 30ft. So at any given time, you COULD be enjoying a shot ski at the legendary Unbuckle Apres party in California, while the guy on the other end of said ski is in Nevada.
Copperhill, TN/McCaysville, GA
The towns of Copperhill, Tennessee and McCaysville, Georgia in the Blue Ridge Mountains are separated by a pretty indiscernible state line, save for the blue stripes painted through the middle of town. Those stripes continue into Patrick's, where you can drink all you want in the front (in Tennessee) but not past the ladies room in the back, which is located in a dry county in Georgia.
Crystal Bay, NV/King's Beach, CA
Frank Sinatra would be 100 years old this year. Of course, nobody envisioned THAT guy living to 100, especially if you ever saw him at this one-time gem on the North Shore of Lake Tahoe. In the '60s, Sinatra owned the Cal Neva and built a series of underground tunnels so that he and his fellow Rat Packers could get from the casino to their cabins sans paparazzi. Now the hotel has a casino on the Nevada side and hotel rooms on the California side, but nobody's stopping you from taking a drink between the two. A far cry from its Sinatra heyday, the Cal Neva is currently undergoing renovations and will re-open soon.
Perdido Key, FL/Orange Beach,AL
The Florida Panhandle is really a different beast than the God's-Waiting-Room-And-Theme-Park rest of the state. Nowhere is that more obvious than at this landmark two-story bar and live music venue, which attracts a mix of locals from Pensacola and Orange Beach alongside spring breakers, bachelor/bachelorette parties, and folks who just enjoy beach bars on the Florida-Alabama border. The can't-miss event is the annual Mullet Toss, which surprisingly does not involve guys flipping their flowing, business-on-top-party-in-the-back Kentucky Top Hats and Wisconsin Waterfalls, but rather presumably-normal-haired people seeing how far they can throw a mullet fish across the state line.