When it comes to drinking, we're creatures of habit. We order the same cocktail repeatedly until we're suddenly texting our exes from the back of a cab at 3am. But what if you ordered a bunch of different kinds of drinks before you sent those texts?
That's the thing: at bars, we're programmed to stick with an order. Or to think that certain drinks aren't cool enough, or will get us shamed. Turns out, we're wrong, as evidenced by these top bartenders' thoughts on the drinks we should absolutely be ordering, but usually aren't. 
Recommended Video
Charleston: The Ultimate Local's Guide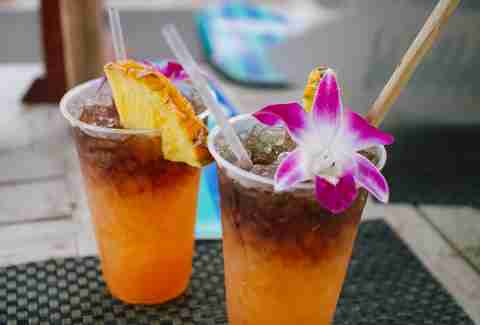 The Mai Tai
Whitney Morrow, bar manager, Drumbar (address and info)
Chicago, IL
"I love a good Mai Tai, people stay away from them because they have a history of being too sweet and poorly made, but made properly and with house-made orgeat... it's a dope and balanced drink!"
Vermouth
Robby Haynes, beverage director, Analogue (address and info)
Chicago, IL
"I would love to see more people drinking vermouth on its own. It's extremely satisfying, offers layers of complexity, and is typically low proof and reasonably priced. Unfortunately, like wine, the moment a bottle of vermouth's top is popped it starts to oxidize, so choose the venues where you consume it carefully. For example, here at Analogue we go through a couple of bottles a day so it's always fresh. On the other side of the spectrum, if you're at an Applebee's in the suburbs, they might be sitting on a bottle that was opened in the late '90s. So... if you ever find yourself at an Applebee's, your best bet is probably a Mudslide™."
 
Franky Marshall, beverage director, Le Boudoir (address and info)
Brooklyn, NY
"I think more people should drink vermouth -- in cocktails, highballs, or on its own. A lot of folks don't know what vermouth is, just see it as a modifier, or don't want it in their drinks at all, which is a shame since there's a wide range of delicious ones out there that are very versatile. (And they won't knock you out so quickly.)"
Gin cocktails
Antonio Matta, bartender, Firehouse Lounge (address and info)
Austin, TX
"Gin has such a bad reputation because it's one of those boozes that, if produced cheaply, leads to particularly offensive results. It is the staple of so many cocktails and is starting to get its due attention, but is still highly misunderstood. A simple gin and tonic or a gimlet is always a great option. Plus, they help prevent scurvy, malaria, and other such nasty ailments. You are literally drinking to your health!"
The Tom Collins
Alex Gregg, owner, Moving Sidewalk (address and info)
Houston, TX
"People never order the Tom Collins. I guess it's not seen as being exciting enough, but it's absolutely perfect, especially when it's 100 degrees with 95% humidity."
 
Low-ABV cocktails
Michael Timmons, beverage director, Kat & Theo (address and info)
New York, NY
"I'm really into low-ABV (alcohol by volume) cocktails at the moment. I think people either aren't familiar with the ingredients/flavor profiles and are afraid to inquire, or they just feel that a cocktail should be "strong" or boozy, but the subtle-yet-complex nuances that you can achieve with amaros or fortified wines are beautiful."
The Sazerac
Silas Axtell, bar manager, Townsman (address and info)
Boston, MA
"It's my favorite cocktail to drink and make. The way my face lights up when someone orders it is almost embarrassing. On multiple occasions, I've had a guest tell me I was too excited to make this drink. I love recommending it for people who like whiskey, Manhattans, or an Old Fashioned."
The mezcal Negroni
Nicole Cruz, bar manager, Contigo (address and info)
Austin, TX
"Though it is rarely ordered, nothing quite hits the spot like a Negroni with a simple change-up. The cocktail is traditionally one part gin, one part sweet vermouth, and one part Campari. One iteration that really sings is the mezcal Negroni, which swaps a London Dry gin for an earthier alternative. It may seem exotic or overbearing, but the change of spirit imparts gravitas and warmth while maintaining balance. It sips effortlessly but still packs a punch."
 
Straight booze
Andrew Pierce, bar manager, Toro (address and info)
Boston, MA
"There's so much care and time put into bottling these finished ideas."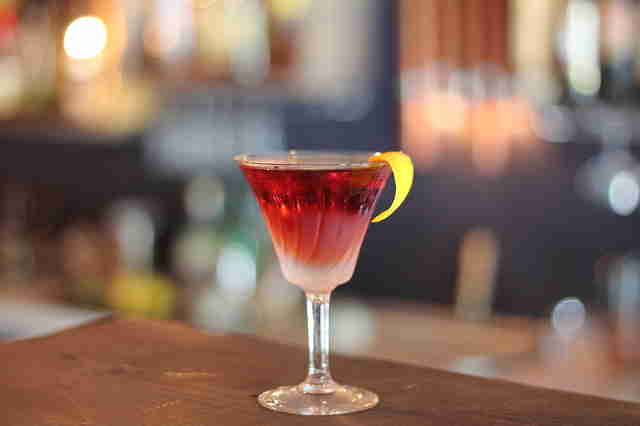 The Adonis
Trevor Frye, beverage director, Jack Rose Dining Saloon (address and info) and co-founder, Dram & Grain (address and info)
Washington, DC
"I love a good Adonis cocktail (dry sherry, sweet & dry vermouth, orange bitters). I've been drinking more low-proof cocktails lately, and the Adonis has complex and rich flavors, and your head won't feel like a badger and a raccoon are fighting in it the next day."
Cider
Ezra Star, general manager, Drink (address and info)
Boston, MA
"I think more people should be ordering cider. It is such an underutilized category. A good dry cider can rival any beer or wine and it is an incredible accent in cocktails."
 
Cosmopolitan
Nate Wales, beverage director, Cafe No Se (address and info)
Austin, TX
"It's pink, a little dainty, and so '90s, but freaking delicious! It was also of critical importance in shifting drinkers' habits from single mixer to properly crafted and appreciated cocktails, but why weigh this lovely pink drink down with the gravitas of a 'cocktail movement.'"
Brandy
Chris Morris, barman, Hunky-Dory Tavern (address and info)
Houston, TX
"Too often people tell me they 'don't like Cognac,'  which is just foolishness. They drink wine, they drink whiskey, there's zero reason not to be drinking aged brandies. Every single time I serve a Metropole, Vieux Carre, Champs Elysee, or their ilk, they love them. It's just such a misunderstood spirit in a very cornered market."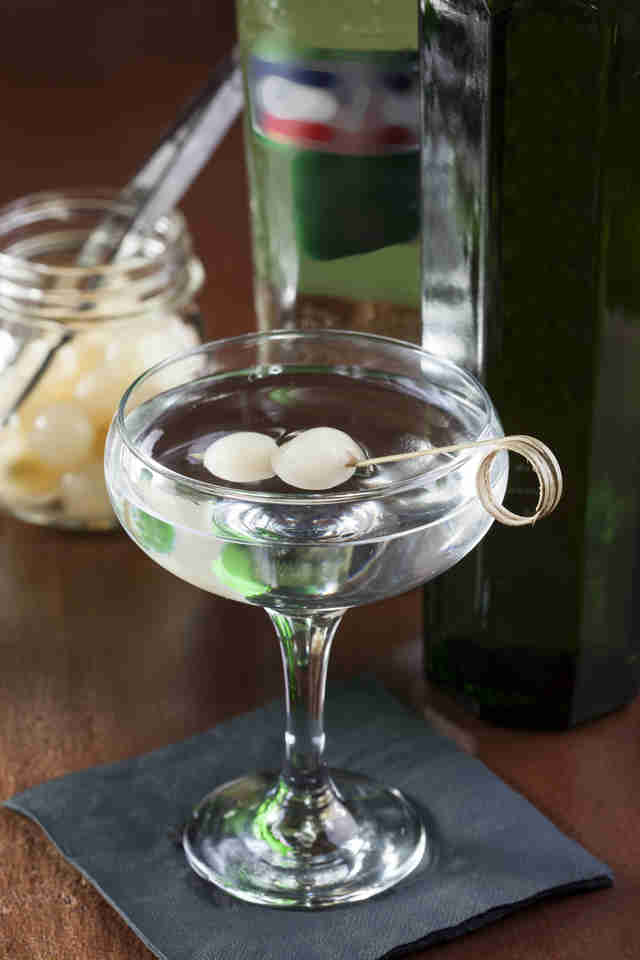 The Gibson
Nicholas Bennett, head bartender, Porchlight (address and info)
New York, NY
"A delicious dry martini made with your choice of gin (Fords, Plymouth, Tanqueray) and instead of a nondescript olive, you are surprised with a sweet-and-savory cocktail onion. It all comes down to the onion. If you can find a bar that is making their own onions, that is always a delight for me. They are delicious and, sadly, hard to find."
 
The martini
Peter Canny, bartender/co-owner, Good Night Sonny (address and info)
New York, NY
"Over the last six months we've been selling a ton of them, whether it be gin or vodka, twist, onions, olives. I love seeing two people carry on a conversation in front of me with two proper martinis in front of them, sharing a steak tartare and some oysters. That just screams old New York for me."
Egg white cocktails
Manisse Davison, beverage manager/bartender, Boiler House (address and info)
San Antonio, TX
"They are some of my favorite and when you find yourself in a fine establishment, a good one will change your life!"
 
The classics
Tomy Lokvicic, general manager, Tanta (address and info)
Chicago, IL
"I think people should order more classics cocktails -- a great Tom Collins, refreshing daiquiri, perfectly balanced Americano, Dark 'n Stormy, Zombie, mint julep, old-school gin martini with sweet or dry vermouth, etc. By using interesting new products, flavors, and techniques (without losing the romanticism of these drinks), this is key to these cocktails making a comeback."
Daiquiri
Diana Benanti, General Manager, Taste Bar (address and info)
St. Louis, MO
"A daiquiri has three ingredients; you can actually taste them. It's classic, it's sexy as all hell, and just as delicious and refreshing in the winter as it is in the middle of summer."
 
Bartender's choice
Peter Wagner, bar manager, Bradstreet Neighborhood Craftshouse (address and info)
Minneapolis, MN
"This is honestly the best way to get to know your bartender, and the best way for me to get to know a guest. You get a personalized experience and an opportunity to take the pulse of what your bartender is working on, and I get to create and show off a bit for you. It's a win-win."
Sign up here for our daily Thrillist email, and get your fix of the best in food/drink/fun.
Anastacia Uriegas is an Austin-based writer who is still working through her stockpile of original-formula Four Loko. Follow her at @anaurie.