Bizarre Hangover Cures That Bartenders Swear By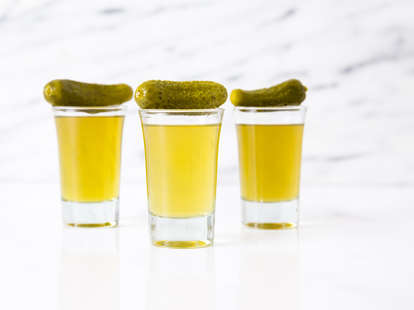 If you want medical advice, speak to a doctor. And if you want advice on how to beat a hangover, speak to the true drinking experts: bartenders. Or, sure, you can ask your doctor too, if they seem chill.
After reading some amazingly specific hangover cures in the fantastic new book Hangover: The Morning After and One Man's Quest for the Cure, I was inspired to survey bartenders from across the country for their favorite cures. They go way beyond drinking Pedialyte and napping, and many of them involve a hair of the dog. Here are the best bizarre hangover cures that (might?) actually work… though you should probably consult your doctor before doing any of 'em.
Advil, energy drinks, and running shoes
The first part of this cure from bar director Ben Potts of Miami's Beaker & Gray sounds easy enough. "I set an alarm two hours before I have to get up," he notes. "I force myself to drink at least a liter of water, take between seven and eight Advil, and go back to sleep for an hour." Easy enough, though that seems like a lot of Advil. [Editor's note: We do not endorse going THAT heavy on the Advil]. Carry on! "Then I set another alarm for an hour before I have to wake up, drink one or two 5-hour Energy bottles, put my shoes on, and go outside. After walking for about five minutes, I'll jog anywhere from one-three miles, depending on how much time I have. When I get home and take a shower, the hangover is totally gone. This has literally never failed."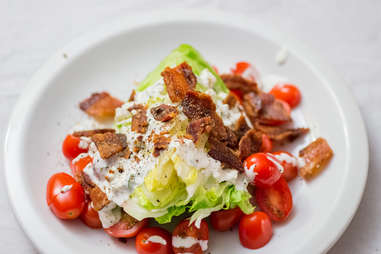 Blue cheese, beer, and a shower
"After a night of imbibing too much of the sauce, I swear by salad," says Connor Green, bar manager at Denver's Ace Eat Serve. "Preferably an iceberg wedge salad with lots of blue cheese dressing. Now, I completely understand that may sound gross, but it's always helped."
He recommends chasing it with a light lager like Busch or PBR. Once the salad and beer has been housed, hop into an ice-cold shower, brush your teeth, and then carpe the hell out of that diem. "I have never asked why this works, and rarely have an answer for those that do question its capacity as a hangover cure, but in my opinion, those are the best kinds," he says.
Alka Seltzer is your friend
San Francisco bartender Barry Horton of ALX Gastropub is all about that plop plop fizz fizz. "Take an Alka-Seltzer right before bed, and right after you wake up from a night of drinking," he says. That's perfectly reasonable, but it's the hair of the dog afterwards that got our attention. He recommends chasing the morning Alka-Seltzer with a pint glass filled with ¾ full light beer topped by a shot of orange vodka and a ¼ OJ. Orange you glad you read about this cure? Us too.
Pickle yourself
Don't be afraid of a little pickle juice. "There's lots of vinegar, sodium, and soothing spices in pickle juice that do a lot to help you out, but mainly the juice acts like electrolytes," says beverage director Alexis Osborne of Denver's Smōk. "It helps you with alertness, stomach issues, and hydration, which is the main source of post-binge headaches." She keeps a jar in her fridge especially for that purpose.
You don't have to drink pickle juice on its own, either. Alex Tsukrov, a bartender at NYC's DIA recommends half a glass of pickle juice, but chases it with more palatable options like tacos al pastor and a can of light beer. He says you must consume it in that order. Sydney Spencer of Moonshine Flats in San Diego also loves pickle juice, but recommends combining it with a few drops of peppermint oil. Whether that improves the taste of the pickle elixir is up to you, but the oil is said to have potential digestive benefits that should help the morning after.
If you're Australian, this won't seem weird
If you're a Hemsworth brother, you can stop reading now, as none of the following will be news to you. "Berocca has been known in Australia for decades as the best hangover cure," recalls Jerome Hurtado De Mendoza, the corporate mixologist at Miami Beach's Juvia. It's similar to Alka-Seltzer in that you drop a tablet into water, but this contains caffeine and B-vitamins to help you feeling right again. He also pairs it with a selenium supplement "to prevent the swelling pain that causes headaches." Oh, and a whole lot of water. Duh.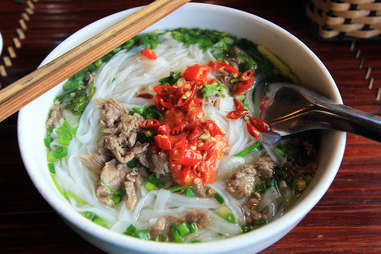 May the force, pho, and cucumber lime Gatorade be with you
Many hangover recommendations include a bowl of life-giving pho. The lead bartender at San Diego's Prohibition, Ryan Andrews, likes to pair his bowl with "two cucumber lime Gatorades, three-four hours of classic Star Wars films, a solid hour of self-loathing, and the false promise to myself that I'm never drinking again." Good luck with that, Ryan!
Bar manager Dzu Nguyen of San Francisco's Horsefeather has no movie picks, but does recommend a Vietnamese dish you might never have considered. "Order Bun bo Hue or Hue-style spicy noodle soup," he says. "It's got everything your hangover hates: a light, rich broth with citrusy lemongrass amped up with funky shrimp paste and chili oil, cuts of slow cooked meats, and the weirdly delicious cubes of cooked pork blood." Sold.
Every fish in the sea + morning negronis
"Seafood sounds like the last thing you'd want to put in your body, but it seriously works," says John Neumueller, the beverage director of Hollywood's Spoonfed. Who are we to argue with a guy who's worked the bar at countless LA spots? He says whether it's an abalone shooter, oysters, sushi, coctel mixto, sardines, or boquerones, you should eat it. And he advises you chase it with a Breakfast Negroni, which is so easy to make, you can even do it with a headache.
Salt water, champagne, and swimming
Drinking salt water sounds like a horrible idea. But Yordan Kanev, the wine director/manager of NYC's Baar Baar, says it's necessary since it's tough to find the healing beef tripe soup from his native Bulgaria. "I drink a glass of salt water followed by two glasses of regular water, take a dip in the pool with a glass of champagne, and then eat a medium-rare cheeseburger and fries. Throw an Advil in the mix and you'll be as good as new." Kanev's also unintentionally given you a new life goal: own a pool and drink champagne in it.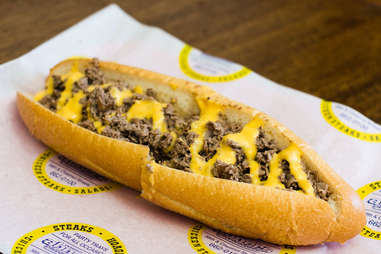 Cheesesteaks and... vigorous exercise?
While we'd much rather watch Netflix until our hangover symptoms subside, owner Heather Gleason of Philly's Good Dog Bar does the opposite. "I personally swear by 45-60 minutes of hardcore cardio," she says. "Sweat it all out. Let the adrenaline take over." Don't worry, the next part seems easier. "Then eat a Buffalo chicken cheesesteak and drink 20 ounces of blue Gatorade," as she claims that flavor causes the least amount of reflux. Umm, what if we just skipped to the second part of the cure?
Acceptance
If you've ever woken up one morning and thought, "I deserve this," you're going to love this tip from Cedric Cadin, the co-owner of Brooklyn's La Cafette. "I don't have a hangover cure I swear by," he explains. "I just accept the inevitable suffering. If someone has a magical solution, please let me know!" Can someone email Cedric a link to this story?
Sign up here for our daily Thrillist email and subscribe here for our YouTube channel to get your fix of the best in food/drink/fun.
Lee Breslouer is a senior writer for Thrillist, and writes about everything from tipping to craft beer. He's based out of Colorado, where he often partakes in some of the country's best beers and mountains.