Believe it or not, cocktail culture is a fairly new concept to much of the world. The American and British cocktail explosion has opened the door for many other countries to try their hand at the art of bartending. Mixologists and bartenders have become the newest version of the celebrity chef, many touring the world and plying their trade for an adoring public.
In May, bartenders from 34 countries gathered in Sydney, Australia for the Bacardi Legacy Global Cocktail Competition, where the world's best bartenders showcased their skills side-by-side. It was an amazing spectacle, but also an eye-opener that revealed the very different trends in bartending around the world -- trends that could well make their way to American bars, too.
We chatted with 12 bartenders from very different cultures to better understand the popular drinks and the current trends around the world. Chuck Norris is involved.
Lithuania
"Lithuania is kind of stuck in the '90s," says Algirdas Mulevicius, head bartender at Trinity in Lithuania's capital of Vilnius. In a majority of Lithuania's bars, bartenders are still making sweet, sugary drinks like the Cuba Libre, Sex On The Beach, and the Long Island Iced Tea. "If you know how to flair, then they consider you to be the best bartender ever," he says. Tom Cruise will be stoked.
What they're drinking: Vodka; an "illegal but very good" spirit similar to kvass called samanya or gira; Jäger Bombs; and the Chuck Norris -- which is like a Jäger Bomb, but also has tequila.
Trends: Bartenders have been making cocktails using fatty meats and vegetables. "They mix them all together. They muddle the meat so that the meat would add the fatty flavors to the cocktail. It was kind of interesting. Something new there." Mulevicus is also seeing a rise in classic cocktails. "In all of Lithuania, we have maybe five bars that are primarily focusing on cocktails. We are getting there. After a few more years, we should start to see many more cocktail bars in the country."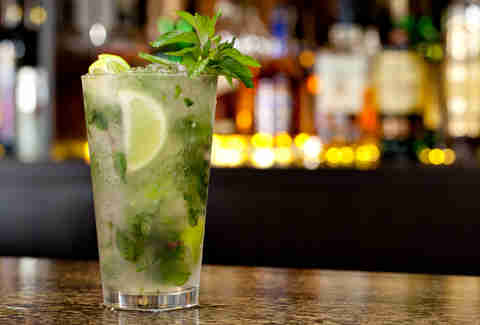 United Arab Emirates
Like the city of Dubai, cocktail culture in the United Arab Emirates is growing at an exponentially quick rate. "There are a lot of good bartenders, globally, who are looking at moving to Dubai," says Eric Ballard of Provocateur. The demand for cocktails has exploded so much that the market is almost overstimulated. "With so much over-saturation, only the strong will survive," Ballard says. "Cocktails are just getting better and better very quickly." He's been told that only a few years ago, Dubai was about 10 years behind Europe. "And now a couple years later, we are still a few years behind, but catching up quickly."
What they're drinking: Fresh pomegranate as a cocktail ingredient is extremely popular in Dubai. So is mint, which means mojitos are extremely popular. Also, because it's a good base for juice drinks, vodka is king.
Trends: It's all about cold, long, refreshing drinks. It's a city where the mojito and Long Island Iced Tea are still embraced, while more complex cocktails are just beginning to see increased popularity. "We are doing our part to try to improve that situation," Ballard says, noting that there's also a demand for more of a molecular approach to cocktails. "There are lots of foams and smokes and lots of very showy drinks."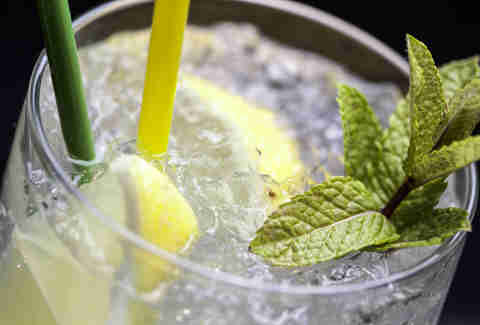 Sweden
Cocktail culture in Sweden is a bit different depending on where you live. "Obviously, in Stockholm it's a great culture that is very close to Copenhagen, London, and New York," says Emil Areng, bartender at Umeå's Open/Closed. There are tons of cocktail bars, and everyone is doing their own thing. But at the same time, they are all connected in an effort to propel Swedish cocktail culture forward. "In the northern parts, we try to do things a little bit different."
What they're drinking: There's a local gin called Hernö that was named one of the best gins in the world. "They are one the first gin distilleries in the world that has made a juniper cask," Areng says. They actually made a cask out of juniper. "So, that's pretty hardcore."
Trends: In recent months, mezcal has gotten huge. Areng also believes that the Swedes started the trend of foraged cocktails. "It probably will grow to be more of a trend and stick as an actual cocktail style," he says. "Not even just fresh produce: you use things that you have around the corner that are only available where you are."
Estonia
Estonia is a tiny country. Because of this, its cocktail culture isn't yet very developed, but it's on its way. "It's more based in Tallinn, the capital," says Regeri Zoo, bartender at the Meat Market Cocktail Bar in the city of Tartu. That's why Zoo opened a cocktail bar in his hometown, the second biggest city in Estonia, with a population of around 100,000. "We are in the process of developing the culture."
What they're drinking: Like many countries, the most popular spirit is vodka, though there's a traditional rum-based liqueur called Vana Tallinn. "A 'traditional' Estonian cocktail is the gin and tonic," Zoo says.
Trends: Zoo is quite happy to say that although Estonian people still crave fruit-filled, sweet drinks like strawberry margaritas, they are quickly going out of fashion. "Those have been popular since the early 2000s. But now, thanks to bartenders whose flavors are developing, we are pushing classic cocktails." In addition, chamomile, which grows in Estonia, has begun to pop up on cocktail menus as an infusion. "We also use a lot of berries and herbs that only grow in Estonia and Scandinavia," he says.
New Zealand
The cocktail culture in New Zealand has been growing at a steady pace in recent years. "There's definitely cocktail drinkers and cocktail appreciation," says Barney Toy, bartender at Auckland's Society & Nook. The country is a relatively classic market. "People are looking to have a martini or an Old Fashioned after dinner." Rum is a massive part of New Zealand cocktail culture. "The country was founded by sailors, and rum has been a massive part of the drinking culture," he says.
What they're drinking: Rum. Lots of rum.
Trends: Recently, Toy has seen a return to fun, flashy cocktails like Tiki drinks and cocktails covered in garnishes. "I've also seen bartenders using really fresh, good ingredients. New Zealand is renowned for fresh ingredients, and for being quite a lush country. We are using what New Zealand has to offer in our cocktails. We are very lucky to be able to get Manuka honey. We have the classic feijoa (pineapple guava), as well and that's quite an earthy fruit. That kind of stuff is just unique to New Zealand and can be used in cocktails."
Australia
Australians are well-known as fairly laid-back, even-keeled people. It's no surprise that they have been a little slower to catch on to the cocktail craze than other major countries. "Certainly, we've pioneered a few things like the lemon-lime bitters," says Alissa Gabriel, bartender at Brisbane's Manhattan Line. "We don't really have many iconic drinks, but we are growing."
What they're drinking: Aside from vodka, rum is probably the most popular spirit, with gin on the fringes. "Whiskey is kind of slow to the market in this country," Gabriel says.
Trends: Gabriel has seen bartenders jumping back to the over-the-top cocktails of the '70s and '80s, and most recently to Prohibition-era cocktails. Foraging is also big in Australia at the moment. "For some reason, everyone is going crazy over it," Gabriel says, "so, there's a push for local ingredients that the bartenders can go out and source themselves. That's really cool."
Russia
The cocktail culture in Russia is surprisingly young, but it's growing larger by the day. "I've seen an increase in hard-working bartenders making proper drinks in the past few years," says Dmitriy Chupyra, bartender at Ruby Wine Bar in Novosibirsk.
What they're drinking: Vodka is king in Russia, but it's not usually used as a base for cocktails. The most common cocktail spirits are whiskey and rum, and they're often mixed with fresh produce, including cucumbers.
Trends: Russian bartenders utilize local berries, roots, herbs and other produce in their cocktails. "It's really popular to use them because they are free and local. Russians are searching for a new taste and it's good to be able to try new things on them," Chupyra says. Cocktail tastes are divided by region, though. "For example, in Moscow, people like drinks that are more sour and more dry. Where I'm from, people mostly prefer sweet drinks and long drinks. You couldn't just pick one style that fits all of Russia."
France
France, like many European countries, has a booming cocktail culture that is continuing to grow every year. "It's pretty interesting at the moment because you can see bartenders utilizing a lot of different concepts," says Frank Dedieu, Bartender at Redwood in Lyon.
What they're drinking: In France, rum and vodka are the most popular bases for cocktails. "Cognac is not really that popular in my market, but I have been using Calvados and a lot of French Cognac in a few of my drinks," Dedieu says. Cognac is typically enjoyed on its own and using it in cocktails is fairly new to France.
Trends: As advanced as the cocktail culture is, many people are still ordering daiquiris and mojitos. But for a while, like every country, France was on a Prohibition cocktail kick and speakeasy-style bars began popping up all over the country. "Now it is completely different, and a lot of the new bars have new and exciting concepts," he says.
Norway
Unlike its neighbor Sweden, Norway's cocktail culture is very young. "In the last two years, it's been growing a lot," says Mathias Bengt Alsén, bartender at Oslo's Brooms & Hatchets. It was slow going before that. "When I moved there almost five years ago, not much was going on." He remembers there were only one or two bars that were even making cocktails. "Eventually more started popping up, and now we have like five or six pretty decent cocktail bars. But, it is happening very fast now. Things are starting to pick up the pace."
What they're drinking: Like most countries, Norwegians have many different spirit preferences. These include, gin and surprisingly mezcal and pisco. "Otherwise it's a lot of bourbon and rye," Alsén says.
Trends: The Norwegian style is skewed more to the classic side, with a subtle modern twist. Norwegian bartenders take a lot of influence from other countries. "We are quite close to London, for example, so we do take a lot of influence from the English,"he says. The great bars and great bartenders are held to a very high standard. "Even though, we don't have that many bars. That's one of the trademarks of the Norwegian bar scene."  In the next few years, Alsén imagines many high-quality cocktail bars emerging.
Lebanon
The cocktail culture is just at its inception in Lebanon. Historically, people would go to bars and purchase whole bottles of alcohol to share. "The cocktail culture is getting better," says Jad Ballout, bartender at Beirut's Central Station. "We are seeing a lot of new cocktail bars opening." When Ballout's bar first opened, people weren't used to ordering cocktails, especially complicated cocktails. "They would only order margaritas or Cosmopolitans and drinks like that," he says. When Central Station opened, people started to try other, more complex cocktails. "So now, we have people coming to the bars and saying that they want something more exciting, not just the regular drinks," he says.
What they're drinking: Vodka is everywhere, but spiced up with sage, basil, oregano, and thyme. Even the classic cocktails are punched up with infusions.
Trends: Ballout has seen a lot of barrel-aged cocktails, as well as a return to classics. "At first, people were afraid to try a drink that was more bitter or with vermouth. Now, the sour drinks are becoming less popular and the more complex and classic cocktails are taking their place," he says. And every bar has its own signature style. "The majority of people like Tiki drinks because Lebanese people are used to drinking booze. That's why before, cocktail customers didn't think there was any alcohol in the cocktails."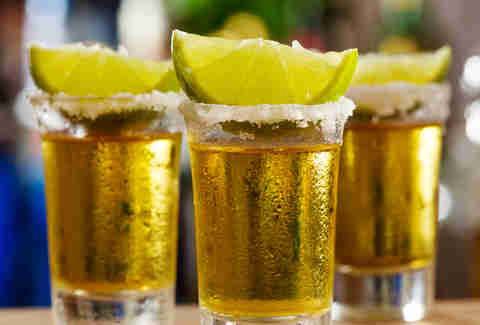 Austria
Austria has a thriving cocktail culture that is constantly evolving. "There are quite a few cocktail bars," says Kenny Klein from Maniac Bar Artists in Bad Ischl. The culture is mainly focused in the capital. "In Vienna, you find most of them, but you can find some really great ones in other parts of Austria. I think what makes Austrian bars different from some other countries is, we really pay a lot of attention to hospitality. This is what Austrians are really quite famous for," he says.
What they're drinking: Rum is still the most popular spirit. "But, I see a trend toward tequila and definitely mezcal," Klein says. He has also seen an increase in the popularity of bourbon and rye.
Trends: The bar trends in Austria are very similar to the rest of Europe. "We are using fresh ingredients from locally based dealers," he says. Fresh fruit juice and vegetable juice is extremely popular in Austria. "People aren't using limes and lemons all year." They just skip to vinegar from their home dealer or some shrubs to stay seasonal.
United Kingdom
England, London particularly, is often said to have the best cocktail culture in the world. "The bars constantly challenge each other to raise their level to new heights," says Ally Martin, bartender at Peg + Patriot in London. "They also challenge each other to push themselves. Every week, there are new bars doing something different and exciting."  London bartenders push each other to create unique cocktails and the customers are really receptive to that. "They are always looking for something new and exciting to tell their friends about," he says.
What they're drinking: When people think of England, they think of gin. But Martin says that picking the most popular spirit in the UK isn't a very easy. "It really depends on what bar you go into." Rum is one of the most popular cocktail spirits, but so is gin and vodka. American whiskey is also invading the bars.  
Trends: In England, recently, there has been a lot of movement toward house-made spirits and liqueurs. Bartenders aren't happy opening up a pre-made bottle of bitters, so they are making their own. Many bars in London are looking to reduce their offering while focusing on one specific type of spirit. "I think we'll start to see that happen more and more," Martin says.