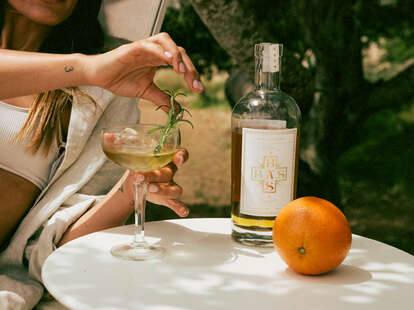 Photo courtesy of Basbas
Photo courtesy of Basbas
Just about anywhere besides the U.S., you'll discover a long-standing tradition of anise-flavored spirits. Europe lays claim to pastis in France, sambuca in Italy, and in Greece alone, tsipouro, mastika, and ouzo. Colombians imbibe the "fiery water" that is aguardiente, while Levantines enjoy "the milk of lions," or arak.
For many Americans, the first encounter with anise-flavored beverages comes in the form of a Jägerbomb at a college party—and even that's German. But Paul Geller is hoping to expand the palettes of licorice loathers with Basbas, the first premium hierbas brand available in the U.S. Hailing from Santa Eulària, Ibiza, the herbaceous liqueur features notes of citrus, sage, rosemary, and anise.
Hierbas is a liqueur made from herbs native to the Balearic Isles, which are referenced in the brand's name ("Bas" means "wild," in Euskera, the Basque language). First distilled in the 15th century by the monks living in northeastern Spain, it was often used as a remedy. The monks fermented wild anise, then extracted essential oils of 15 other medicinal herbs like rosemary, juniper, chamomile, and sage into the alcohol.
"It's really just been family recipes, and such a part of the culture, that you can't produce it off of the island," says Paul Geller, founder of Basbas. "We received the first license given out in nearly 85 years." The team partnered with one of the oldest families in the area, the Carreró family, to perfect their 400-year-old recipe.
Traditional hierbas is treated as a digestif in Spain, in the same way Italians enjoy limoncello. "For a lot of people, it's the thing they make in their bathtub. It's grain alcohol and herbs," Geller says. "I felt that we could make something smoother and a little more complex in the sense that never before were you really able to mix hierbas."
That complexity comes from a longer maceration process. While traditional hierbas sits for about two weeks, the team at Basbas adds and removes each ingredient from maceration at specifically timed intervals over a nearly year-long process. Plus, less sugar gets added, resulting in a more delicate drink. Replace tequila or whiskey with this versatile liqueur in just about any cocktail.
Basbas was born out of Geller's personal journey with spirituality. After working on an intense presidential campaign in 2016, things didn't work out quite the way he had hoped. Very disheartened, he turned to spirituality and ended up as the CMO of the The Kabbalah Centre. This led him to a retreat in Ibiza, joined by a friend who worked for the DJ Skrillex.
Ibiza is known for its parties, and Geller's friend saw firsthand what it was doing to DJs. The retreat was designed to bring stability into their lives, led by experts such as Ayurvedic healers and Olympic trainers. "We had an opportunity to tour the island and experience the softer side of Ibiza, which is much more of a healing place," Geller explains. "This is when I ran into my first bottle of hierbas. I fell in love with it at first sip."
For Geller, Basbas is about making Ibiza famous again in North America, but for the right reasons. "It's about celebrating the island and bringing out the Ibiza I know—that non-party, slow-living Ibiza," Geller says. Since its launch, the spirit has taken home many awards, including a Double Gold medal at the Sip Awards just this year. You can buy a bottle directly online, or find it at select bars and restaurants in Miami, Los Angeles, and New York.
Basbas combines a global history of anise-based digestifs with the trend of herbal spirits in America, leaving you with a drink that keeps things light, fit for enjoying at any time of day. "It's not your average, punch-you-in-the-face anise like that of a sambuca," Geller explains. "This is much easier to drink, with a lot more of a floral essence."
Because hierbas hails from the warmer side of Europe, it has long been associated with summer partying. But because Basbas is so mixable, Geller has found that it works well in warm drinks, too, like a hot toddy or the Ibezan café caleta, made from setting fire to alcohol and combining it with freshly brewed coffee.
Geller's personal favorite is a refreshing Blueberry Sage Spritz that offers the perfect transition from summer to fall.
Blueberry Sage Spritz
Ingredients:
2 ounces Basbas
¾ ounce fresh lime juice
15-20 fresh blueberries
1 bunch of fresh sage leaves
Soda water
Instructions:
1. Muddle blueberries in an empty cocktail shaker.
2. Add Basbas, lime juice, 2 sage leaves, and ice.
3. Shake until well chilled.
4. Pour the entire contents of a shaker (including ice) into a Collins glass.
5. Top with soda water and more ice as needed.
*Garnish with a sage sprig and blueberries on a cocktail pick.