14 stories celebrating MLB's booziest legends, from Harry Caray to the Mick
Booze & baseball go together like hot dogs & mustard, which actually ALL GO GREAT WITH EACH OTHER, so yeah -- this right here is what we call a mixed metaphor. Nevertheless! I have no intention of watching tonight's All-Star Game (that televised Midsummer night's nightmare of Joe Buck-induced boredom), so to celebrate America's pastime my way, I deep-Googled the now-famous drinking lore surrounding four Major League legends, from Harry Caray's Ripken-esque sipping streak, to Mickey Mantle's entire life.
Got a true-ish story of a once-great MLB party animal? If it's got a happy-ish (or at least, not terribly depressing) ending, share it in the comments!
Babe Ruth
I'd make a joke about "calling his shot", but that would be stupid, so instead, here are select anecdotes illustrating the biggest name in baseball's passion for the good life:
"Hitting longballs, downing highballs": In HBO's Babe Ruth, a tale surfaced of the time the White Sox took him out before a game and got him loaded on punch made by a Chicago-sympathetic bartender. They figured there was no way the big fella would wake up in playing condition. But game day rolled around, and Babe showed up on no sleep, dominated the game, and then asked the dumbfounded Sox where they were going for drinks after the game.
Champagne, brothels, and cigars: The Baseball Reliquary has a story: "[A] Yankee player observed Ruth sitting in a big chair in an upstairs room [of a Philadelphia brothel] with a brunette on one knee and a blonde on the other. As the girls poured a bottle of champagne onto his head and shampooed his hair with it, Ruth smiled and exclaimed, 'Anybody who doesn't like this life is crazy!' The next afternoon at Shibe Park, the Bambino, with barely two hours sleep, hit a pair of home runs."
"One night in Detroit after a few drinks, Mantle & Martin crawled out on the 22nd-story ledge of their hotel."
"Ice cubes and all": Also in the HBO documentary, former Yank Tommy Heinrichs said of the Babe's sipping strength: "For Pete's sake, that guy has a throat like a trombone."
Legends never retire: Once his playing days were over, George Herman continued to go hard -- so much so that there are tales of him drinking in backwoods New Jersey speakeasies right up until his death at 53.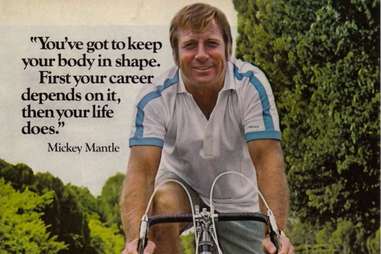 Mickey Mantle
Though Mick's stories are pretty legendary, we'd feel remiss not to mention that his later life turned into a cautionary tale, a scary reality check on the dangers of alcoholism. But there were some bright spots along the way, and they're worth remembering:
The "Breakfast of Champions": Famously opening Sports Illustrated's 1994 profile on Mantle was the recipe for his morning-starter: "a big glass filled with a shot or more of brandy, some Kahlua and cream." So yeah: you should probably read this article.
The hammered home run: There goes a story that once, after homer-ing inebriated, he trotted back to the dugout and told his teammates, "If you think it was hard for me to hit that pitch, you should've seen me try [to] round the bases." Whether he said the second sentence is up for debate, sure -- but damn it's great.
"Boggs may have drank 64 beers on a single roadtrip."
Aerial maneuvers in the Motor City: "One night in Detroit after quite a few drinks, we went back to our hotel room, and Billy [Martin] said, 'Let's climb out on the ledge and see what's going on in the other rooms.' We happened to be staying on the 22nd floor. He climbed out the window, and I was right behind him." This is also from the SI article; seriously, read it!
"My outstanding experience": When the Yankees organization asked Mantle for his favorite memory at the stadium, he, uh... didn't disappoint. No, it's not technically a drinking story -- but booze was probably involved in his decision to recount it.
Yogi's revenge: Once, Mickey decided to get himself kicked out of a game to cope with a bad hangover. Yogi Berra caught wind of his scheme and intervened, convincing the umpire not to eject Mantle no matter how nuts he went. Mantle allegedly ended up stuck playing the whole game.
Wade Boggs
The Chicken Man's drinking legacy begins & ends with a single story about the time he may (or may not) have drunk 64 beers on a cross-country roadtrip. Brought to light by an intrepid, sign-making College Gameday fan, the claim is coyly denied by Boggs himself. But the Hall of Famer's smirk in the Pardon the Interruption interview above suggests that while it may not have been a full 64, it was certainly more than the "few Miller Lites" he later claimed.
Bonus: Harry Caray
Will Ferrell's favorite fair-haired Chicago announcer wasn't technically a ballplayer, but, man, did he drink like it was a competition. Highlights include:
Beers with Bill Murray: On August 8th, 1988 (8/8/88), something capital-I Important happened. Yes, the Cubs played their first night game at Wrigley, but who cares? This was the evening Caray opened up a broadcast by telling Murray, "This Bud's for you", and handing him an already-koozied can of beer on the air. Man, the '80s.
The streak: Caray kept diaries that became property of his estate when he passed away in 1998. Because Chicago is a place where emotions & feelings go to freeze, though, the notebooks weren't full of his reflections. The Sun-Times reports that the 1972 diary alone documented Caray's bar outings for 288 days in a row. "I'm a convivial guy," the iconic call-man once said. "I like to drink and dance." Totally.
The early-morning cab: Deadspin's coverage of the above story yielded a trove of Caray tales from commenters, including this one about coming home at 8am...
The cab that wasn't a cab: ... and this one, about being too soused to realize that the "cab" he'd hailed was actually a parked police car. (The cop drove him to his destination anyway -- that's the sort of Chicagoan Caray was.)
Honorable mention (drugs!)
Because this is a family website -- You and I are family, reader. Aren't we? -- I excluded narcotic-fueled baseball fables. But that's not to say they didn't happen. For additional reading, deep-Google:
Darryl Strawberry
Dock Ellis
Dwight Gooden
Oil Can Boyd
Enjoy the stories -- I'm a firm believer that they're more enjoyable than the game itself.
Dave Infante is a senior writer for Thrillist food & drink. Want to know how much he cares about baseball? He once traded a ball signed by Joe DiMaggio for a fountain pen. So yeah: not a lot. Follow him on Twitter: @dinfontay.