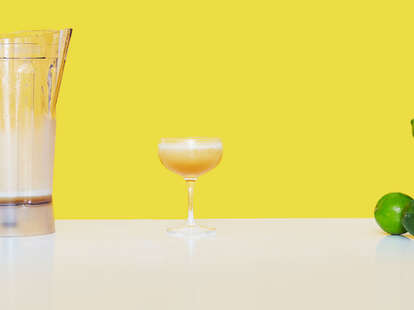 Victor Jules Bergeron Jr., better known as Polynesian restaurant chain founder Trader Vic, created this tiki classic and published it in Trader Vic's Bartender's Guide in 1947. The drink isn't a far cry from the Hemingway Daiquiri, which also includes rum, lime, sweetener and maraschino liqueur. But the blended Beachcomber swaps out the Hemingway Daiquiri's sugar for Cointreau and forgoes grapefruit juice, resulting in a delightfully sweet and refreshingly easy-to-make tiki cocktail.
Beachcomber
INGREDIENTS
2 oz

White Rum

0.75 oz

Cointreau

0.25 oz

Maraschino

0.75 oz

Fresh Lime Juice

0.25 oz Simple Syrup
INSTRUCTIONS
Step one
Pour all of the ingredients and a half cup of crushed ice into a blender.
Step two
Blend until smooth.
Step three
Pour into a chilled coupe glass.
Contributed by Supercall