We live in an amazing world where the adult beverages we love -- from craft beer to wine to cocktails -- all come in cans. Thank God, now we can concentrate on the aluminum art that encases our booze. In honor of Beer Can Appreciation Day -- which for some reason is a very real thing -- we've gathered the prettiest cans you'll soon forget you held.
Recommended Video
'Last Week Tonight' Writer Josh Gondelman Takes Shots, Talks About Working For John Oliver
Sockeye Red IPA, Midnight Sun Brewing Co.
This surprisingly light and excessively delicious IPA may have been made in Alaska, but its design could very well be found on the back of a Yakuza enforcer with no pinkies but great taste in beer.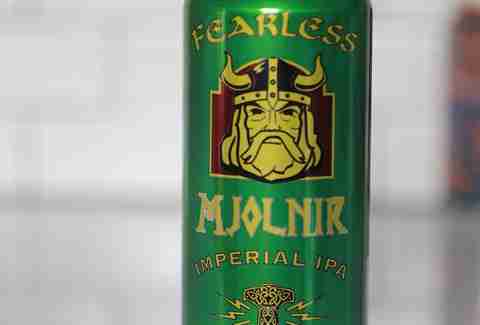 Mjolnir Imperial IPA, Fearless Brewing
Anyone who stayed awake during Thor knows that Mjolnir is the God of Thunder's hammer. And instead of seeing the sequel, they should drink this 8% monster outta Oregon.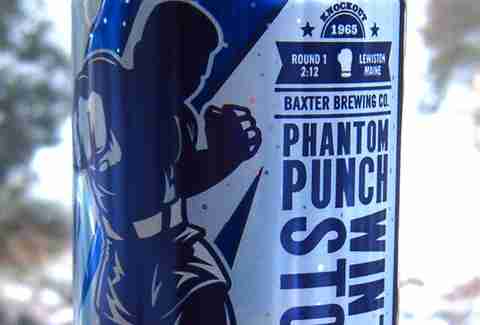 Phantom Punch Winter Stout, Baxter Brewing Co.
The package for this Maine brew looks like it could double as a design for an update of Punch-Out!!, but beware: its 6.8% ABV'll make fighting Glass Joe seem like going up against Mr. Sandman if you overdo it.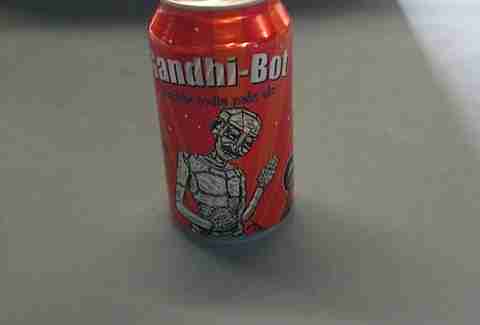 Gandhi-Bot Double IPA, New England Brewing Co.
It's hard to say what inspired this Connecticut company to decorate its cans with an image of a cyborg Mohandas, but we're guessing the 8.8% elixir had something to do with it. 
Dottie Seattle Lager, Emerald City Brewing
We're not sure who Dottie is, but she definitely gets hotter with every sip out of these cans, which can be stacked together to give her a centerfold-style portrait. Also, she probably really likes Mudhoney.
Duff Beer, Springfield USA
It may have started out as a fake beer, but brewers the world over have released their own versions of Barney's burden, and all of them stick pretty close to the original can design. No word yet on the status of Skittlebrau or the imported version, Düff.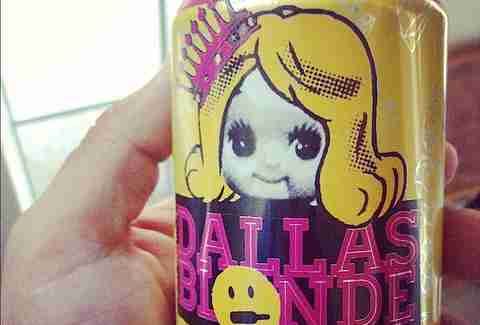 Dallas Blonde, Deep Ellum Brewing Co.
The brewer caught flack for its "goes down easy" tagline on its Dallas Blonde, which is an obvious reference to Dirk Nowitzki.
Cavatica Stout, Fort George Brewery
The back of this heavy stout from the Oregon coast features badass metallic spiders, and fake facts about them and their drinking habits that make the can look like something from a high school science book.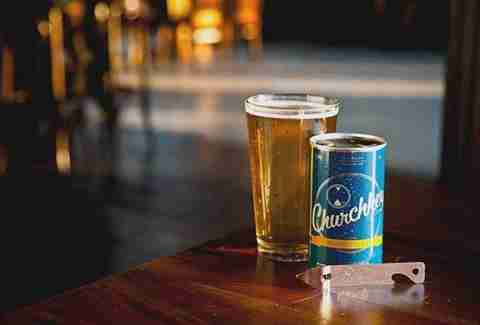 Churchkey Pilsner, Churchkey Can Co.
This retro can is ultra thick and requires an old-school top-popper to open it, which is included with the six-packs. It was co-founded by Adrian Grenier from Entourage, but he probably just makes Kevin Dillon open them for him.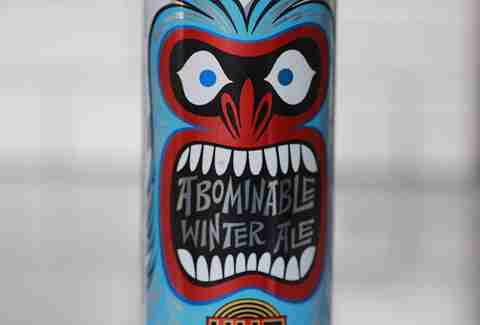 Abominable Winter Ale, Hopworks Urban Brewery
Rest assured, if the angry monster who terrorized Rudolph and his crew had access to this 7.3% Portland seasonal, he probably would have been so distracted by the Misfit Toys that he wouldn't have bothered trying to ruin Christmas.
Chupacabras Pale Ale, Cucapá Brewing Co.
Straight-outta Baja, this English-style pale is named after the mythical beast that haunts its label. Unlike other things outta Baja, it's totally safe to drink.

Bitter American, 21st Amendment
We could fill a book with 21st Amendment's awesome labels, which include everything from a surly Abe Lincoln to the Statue of Liberty. But Bitter American trumps them all because... well, space monkey!
Zombie Monkie Porter, Tallgrass Brewing Company
Astronaut monkeys we can abide. But it would take a few strong porters for us to accept these slightly terrifying/totally awesome zombie monkeys outta Kansas. Luckily, that's what's inside these cans. That and nightmares.
Akari Shogun, Half Acre Beer Company
The Chicago brewer may have canned a thick American wheat ale, but the cans -- which can be stacked together to make a bigger portrait -- look like a boss fight from Ninja Gaiden. A fight you'd totally lose, since that game is impossible.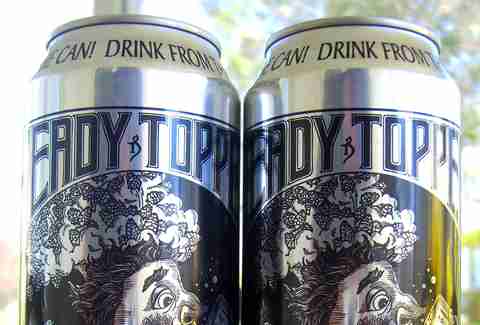 Heady Topper Double IPA, Alchemist
One of the highest rated beers in the country (apparently, these Vermont folks like beer) literalizes its mind-blowing taste on its can. Either that, or somebody in the design department really likes Scanners.
PsycHOPathy IPA, MadTree Brewing
By essentially creating a Rorschach image out of its minimalist tree logo, this Cincinnati brewery may have inspired many psychoanalysts to come up with a diagnosis regarding why people see Frank Zappa in their beer cans. 
Porkslap Pale Ale, Farmhouse Ale
The happy pigs on the label of this NY beer have not yet been informed that people will eat them in hot dog form after a night of drinking microbrews.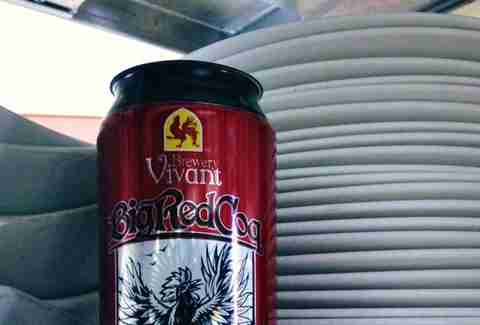 Big Red Coq, Brewery Vivant
The big rooster looks great juxtaposed with the simplistic, Gaelic-crest-style design from this Grand Rapids brewer, but honestly, we just wanted to type "Coq".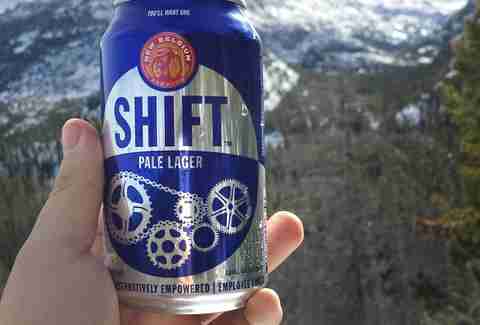 Shift Pale Lager, New Belgium
The good folks at New Belgium are not encouraging you to drink these industrially designed pounders, then ride a bike. But that isn't going to stop you, because those gears are pretty damn tempting.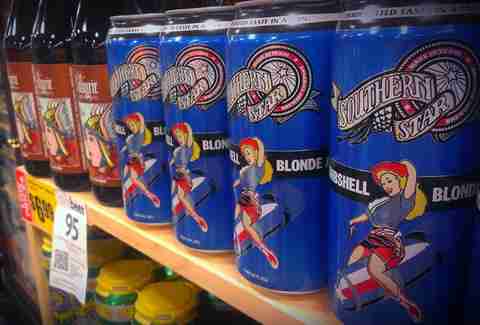 Bombshell Blonde, Southern Star Brewing
Fact: Had it been this purty cowgirl/Texan brewery mascot that rode that bomb down to ground zero instead of Slim Pickens, Dr. Strangelove would've had a much happier ending.
Ten FIDY, Oskar Blues Brewery
The metal-stencil design is a thing of beauty... beauty you'll soon forget after you've finished a can of the 10.5% stout and smashed it over your head.
Andy Kryza is Thrillist's national eat/drink senior editor, and has proudly lived vegetable-free since 2001. Follow his adventures/slow decline via Twitter at @apkryza.