OK, I'll admit it. When I'm standing in front of a wall of cans, I'm no longer debating pilsner vs. another lager. Oftentimes I can't even see what styles or ABVs I have in front of me because I'm distracted by aesthetically appealing colors, quippy sayings, and designs that are way more beautiful than anything hanging in my apartment. With more than 1,000 craft breweries opening in the past year alone, it makes sense that brands are throwing elbows to compete for your attention (and get coveted space on your Instagram grid).
This year was perhaps the most booming for craft beverages, so it's safe to say I had a big job ahead when I was tasked with rounding up the coolest cans of the year. I could have gone with all minimalist designs or crazy screen prints with bold colors, and even picking just gorgeous hand-painted labels could have drummed up a long list. 
So with the help of my go-to beer experts – Alphabet City Beer Co. owner Zach Mack, Thrillist editor Andy Kryza, and a few bartender friends – plus my own discerning eye, I picked out can designs that were the best because they were the weirdest, funniest, or some other trendy -ist to hit the shelves this year.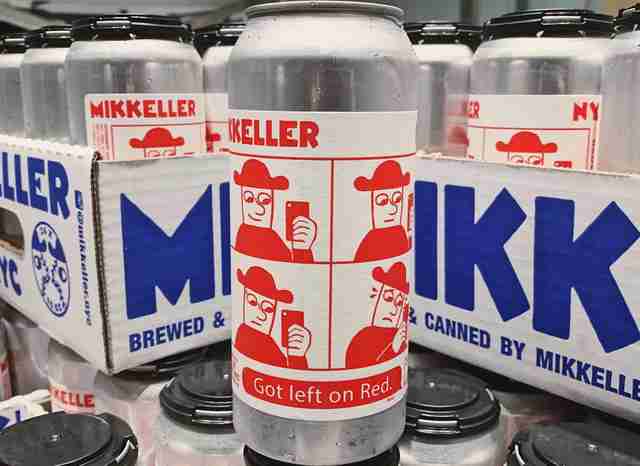 Red Lager, 4.5%
Flushing, New York
When it comes to funky label designs, Mikkeller is king. The blob-like figures that adorn every bottle, can, and glass are ubiquitous with the Copenhagen-born brand, and this red lager printed with a playful story about a too-real reality of 2019 is gold.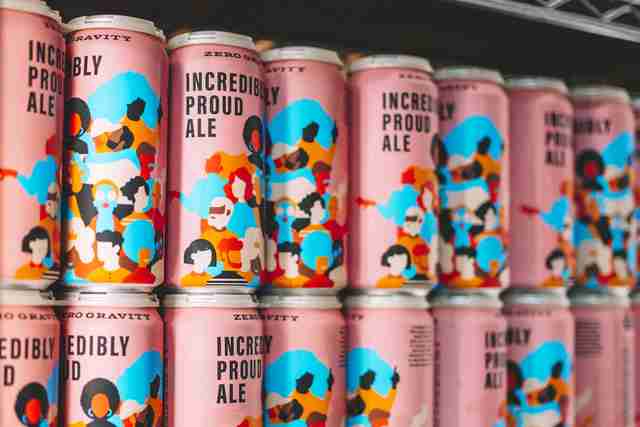 India Pale Ale, 5.4%
Burlington, Vermont
Fifty years after the historic Stonewall Riots, Zero Gravity Brewing put out one of the most beautiful and inclusive cans in the industry. The can was the product of a design competition hosted by the brewery, and a dollar from every four-pack of this minimal, pop-art covered pink can goes to the LGBTIA Alliance of Vermont.
Hazy India Pale Ale, 8.0%
Chicago, Illinois
One of the country's biggest craft breweries is no stranger to using some bud as an emblem of its brews. So when Chicago announced it would legalize recreational weed starting in 2020, Revolution Brewing released a can that is as hazy as the IPA inside.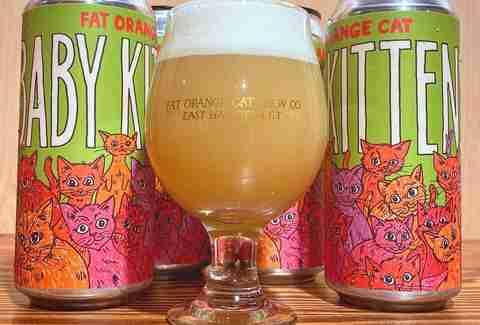 Hazy New England Style India Pale Ale, 6.5%
East Hampton, Connecticut
Lorenzo The Beer Cat – an Instagram sensation and a somehow cute, but mostly curmudgeon-y beer lover – graces some of Fat Orange Cat's best labels. The brewery almost always features cats on its labels, which pretty much automatically carves out its spot on this list. But when artist Leslie Herman drew up the brand's best label of the year covered with dozens of kittens, I really couldn't resist.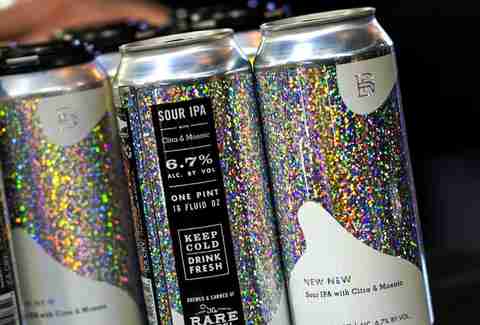 Sour IPA with Citra & Mosaic, 6.7%
Berkeley, California
This sours-only brewery has been in the bottling business since it settled on brewing just one style of beer years ago. So when the brand announced it would venture into cans this year, it made a splash with a modern glittery, sparkly can fit for the announcement.
Ginger Cinnamon Honey Cider, 6.9%
Newburgh, New York
Most cans have a story. Brewers don't just slap a label on the side of a can and move along anymore. For nearly every can of Graft Cider, illustrator Caleb Luke Lin designs a gorgeous label and dreams up an entire story for the image. For the Book of Nomad series – a trilogy of ciders released throughout the year, each with its own art and backstory – the company even tasked Lin with drawing up a comic book to expand on the story and partnered with restaurants for dinners where you drink through the cider collection while reading along.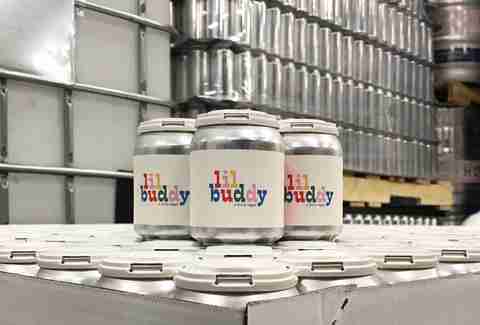 Helles Lager, 4.7%
Chicago, Illinois
How could I not include this li'l guy? Everyone loves a pony. Eight-ounce brews typically come in a bottle and the size has become synonymous with brands like Miller High Life. But as beer brands struggle to stand out, Hopewell Brewing Company might be onto something big by going tiny.
Triple India Pale Ale, 10%
Doral, Florida
In just over a year, Tripping Animals Brewing has managed to crank out more than four dozen cans featuring animals with red eyes, glazed over looks, and sometimes even drool. The best of the stoned species has to be the rhino. This dude is so baked even his horn seems to be slumping. But even better than the sheer hilarity of these designs is that a dollar from each four-pack of this brew went to Save the Rhino International.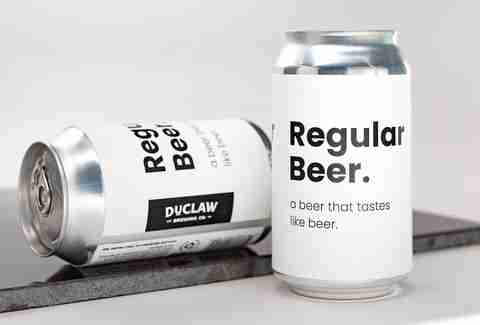 American Craft Lager, 4.9%
Baltimore, Maryland
There's a reason people like beer. It's easy. It's not fussy. It shouldn't take a lot of explanation. That's why Regular Beer – with its regular colors, and regular font, and even pretty regular taste – hits home.
Triple IPA, 10.3%
Boston, Massachusetts x Torrence, California
It's been a minute since I've seen an MP3 player in the flesh. So imagine my surprise when I happened upon a Trillium and Monkish Brewing collab that made a Triple IPA look like a goddamn time machine. If you told me they hollowed out the music player from my junk drawer and filled it with beer, I'd believe you. So brava, brewers.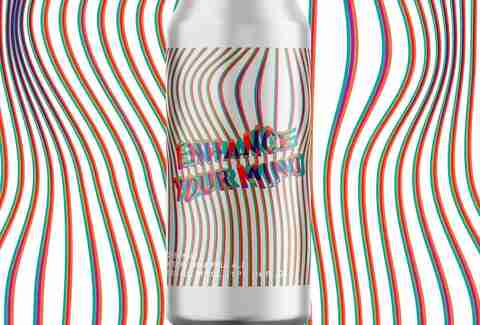 Imperial IPA, 10%
Brooklyn, New York
Other Half Brewing isn't afraid to play when it comes to the designs it stamps directly onto its cans rather than using a printed label (which, by the way, is a pretty unique method in its own right). From minimalist designs with a single image stamped on straight aluminum to crazy designs like this that you can't look at for too long, Other Half Brewing knows how to stand out.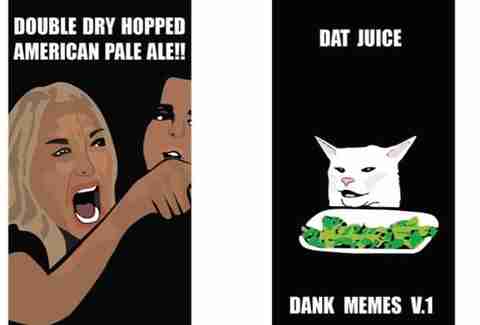 American Pale Ale, 5%
Upper Marlboro, Maryland
In any other context this design would not be lauded as beautiful. It's pretty eye-catching, but not because of bright colors or artful designs like others on this list. It's amazing and year-defining because it's haphazardly slapped with a MEME. And I gotta say, it's dank.
Sign up here for our daily Thrillist email, get Eatmail for more food coverage, and subscribe here for our YouTube channel to get your fix of the best in food/drink/fun.