Beer concentrate is here, but does it belong in your hiking pack?
In her endlessly cruel toying with humanity, Mother Nature dictated that camping and beer pair better than graham crackers and marshmallows, requiring us to make a difficult choice when we're about to hit the trails: either packing in a heavy 30-pack of beer or, you know, food.
Pat's Backcountry Beverages seeks to change that with Brew Concentrate, little packets of booze designed to let you bring microbrews deep into the woods without risking a slipped disc. They're rolling into liquor stores and camping shops throughout the US. But are they good? We went outside and found out.
Andy Kryza
Beer concentrate backgrounder
So what the heck do you get when you buy these? They're a bit like those non-anabolic GU packs cyclists eat, and they have the consistency of watery pancake syrup. Since you don't want to shotgun these raw (though we did, as you'll soon see), they can be mixed with flat water (if you're gross and/or British), carbonated water (which, well, is just as heavy as beer), or carbonate it using a $50 apparatus that adds bubbles.
Andy Kryza
Black Hops IPA
OK, I admit that I was skeptical about this whole beer concentrate thing, but one sip of Black Hops IPA kinda changed my mind. It doesn't really taste like an IPA... it's more like a chocolate stout with hints of chocolate and coffee, plus a hoppy kick. It's a pretty damn serviceable beer, especially considering that it doesn't require you to lug a bunch of bottles through the woods (then pack them out). It's not as good as, say, a Rogue Shakespeare Stout, but it's still got the taste of a decent microbrew that's surprisingly smooth at 6.1%. That, in and of itself, is a small miracle.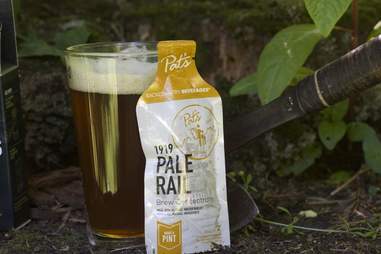 Andy Kryza
1919 Pale Rail
The pale ale in a pouch isn't as good as the Black Hops, but it's still surprisingly tasty. There's a lot of sugar up front, which reminds me a bit of a Radler, except it clocks in at 5.2%. There are also some weird floral hints in it, but regardless, for a pale ale that came out of a little baggie, this really hits the spot, especially after a hike or a couple hours scratching mosquito bites.
Andy Kryza
Straight-up concentrate
No, you're not supposed to do this. But the prospect of basically shotgunning a beer in shot form seemed like a no-brainer... until the explosion of hops, malt, and a 58% blast of booze made the quick trip from my belly and back into my mouth faster than you can say "charf". I'm pretty sure that this would make even Grizzly Adams barf. And that dude could pound them back.

Conclusions
While these aren't the kinds of beer you'd drink with dinner at home, they beat the hell out of a warm case of the fizzy yellow stuff shoved into a backpack. Definitely spring for the carbonation device for optimal ease, and resist the temptation to just chug the concentrate, unless you've eaten poisonous berries that you need to get out of your system immediately.
Andy Kryzais a senior editor on Thrillist's food and drink team. He usually just packs-in whiskey, which leads to a lot of poisonous berry consumption. Follow him to accidental vision quests via @apkryza.