The perfect beer for every NFL team
There is nothing better than enjoying a beer on a Sunday while watching a football game, unless you're stuck watching the Browns play. Then we just hope your beer is strong. But it's especially important that you drink beer that fits your team. Why? Because the craft beer you drink, like the team you love, is inextricably linked to the place it's from.
We've selected a single beer that fits every team in football. What makes a good fit? It's not necessarily the best beer in that city, but it is the one that reflects the character of said city, its team, and current or former players. Drink up.
(Editor's note: The National Football League and the teams mentioned here are in no way affiliated with any of the beer brands mentioned, and were not involved in the creation of this article. We did not receive express written consent for any of this.)

Arizona Cardinals
Their beer: SunUp Brewing Co.'s Stinger Pale Ale
The Cards are based in Glendale, which doesn't offer much in the way of craft beer, so your best bet is to drink the Phoenix-brewed Stinger Pale Ale, because a stinger is a fun, popular football injury you should hope to never suffer in your lifetime. It really doesn't have much else to do with the Cardinals, a team that confusingly missed the playoffs last year even though they went 10-6, and even more confusingly will be without one of their best players on D for smoking weed. They will miss the playoffs again.

Atlanta Falcons
Their beer: Max Lager's Resurgens Rye Double IPA
Just a mile from the Georgia Dome this badass brewpub (located in a brick-heavy 1913 building) is where the discerning Falcons fan noshes on rich eats like mac & cheese in a cast-iron skillet, Southern fried chicken, etc.; or (Hard) Knocks back a few of their half-dozen brews, like this rye double IPA with sweet citrus notes that sound almost like what the Dirty Birds are in need of this year: a... andwe'resorry'boutthis!... resurgence.
Baltimore Ravens
Their beer: Brewer's Art St. Festivus Holiday Ale
Sure, Natty Bo's the beer of Baltimore, but this is all about finding a beer for the Ravens. And nothing says the Ravens like that Electric Slide-type dance Ray Lewis used to do pre-game. Since dancing will only keep you so warm during a Baltimore tailgate in December, bottles of St. Festivus will do the rest. A winter seasonal released around Thanksgiving, this 8% ABV brown winter ale from the acclaimed brewpub is the perfect antidote to the cold. And it'll help Ravens fans forget that everyone on the team is in their mid-50s, and their best receiver is a 35-year-old Steve Smith.

Buffalo Bills
Their beer: Labatt Blue
Umm, cause that's, like... what you drink at Bills games.

Carolina Panthers
Their beer: NoDa Brewing Company's Hop, Drop 'n Roll
Cam Newton is the face of the Panthers (and of that Play 60 commercial where a little kid owns him), and a man who has a serious motor. Speaking of motors, there's a big ole one in the car pictured on NoDa's Hop, Drop 'n Roll can, which hauled in a gold medal at the World Beer Cup for American-style IPA. And anytime you have a hoppy beer, you'd expect a little bitterness -- something plenty of Panthers fans will feel when they flame out in the first round of the playoffs again.

Chicago Bears
Their beer: Revolution Brewing Co.'s Straight Jacket
Expectations are high for the team this year, what with a pair of All-Pro receivers and Jay Cutler's second year in Marc Trestman's offense. But they forgot to fix their safeties or linebackers, which means losing a bunch of 41-38 games again will likely leave fans having a breakdown/reaching for this boozy barrel-aged barleywine.

Cincinnati Bengals
Their beer: HuDey Beer; Rhinegeist's Truth
Nothing is going to be more Bengals than a beer with their mascot on it. A fan recently tried to chug a can, and failed miserably. Probably because it was over 20 years old, and beer doesn't age well in cans. For a beer that reps this year's Bengals, it's Truth, an American IPA brewed by Rhinegeist. They won the division last season and blew it again in the first round. To tell you the Truth, we're not sure Dalton can take them to the next level.

Cleveland Browns
Their beer: Great Lakes Brewing Company's Lake Erie Monster
Johnny Football is on the team!! Hooray! With him and Lebron, the city is sav... wait, did he just flick off the other team? And throw for like 89 yards all preseason? And maybe feel like he needed to discuss his rights as a 21-year-old to enjoy clubs to the media? You guys didn't necessarily create this monster, but here he is, likely living in a new development high-rise condo right next to Lake Erie. Good thing this stuff is 9.1%.

Dallas Cowboys
Their beer: Deep Ellum's Dreamcrusher Double Rye IPA
Romo has won one playoff game in his long and (so far) un-storied career. And the offense is the only potential bright spot for the seemingly perennial 8-8 team, which has already lost Sean Lee for the year. That does not bode well for America's Team, whose fans are used to having their dreams crushed in the past 10 years. How fitting, then, that Deep Ellum has canned the Dreamcrusher, a super-hoppy double rye IPA.

Denver Broncos
Their beer: Wit's End Brewing Company's Bitter Late Than Never
Everyone remembers how the Broncos ended their season last year. But Broncos fans are a forgiving bunch -- they waited 10+ years for Elway to win his first Super Bowl with the team, and while Manning doesn't have the luxury of 15 more years in a uniform (though he might spend the next 15 years making Buick commercials), they'll stick with him until the end. Bitter Late Than Never is, according to the brewery, based on the "Premium Bitter" style -- a fleeting mindset of Broncos fans they'll likely jettison by kickoff. It would surprise no one to find them back in the Super Bowl again this year.

Detroit Lions
Their beer: Detroit Beer Co.'s The Detroit Dwarf
Yeah, Matthew Stafford, Megatron, blah blah blah. The best Lion of all time was Barry Sanders -- he was listed at 5'8", but he looked like a little kid running through a forest of Redwoods. And so Lions fans are best off raising a glass of this Great American Beer Fest-winning altbier while they watch Eric Ebron try to haul in whatever garbage Stafford is throwing at him.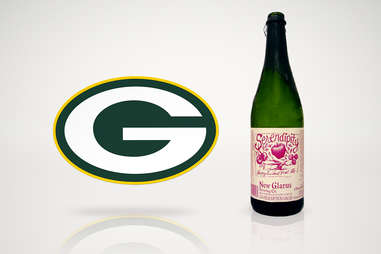 Green Bay Packers
Their beer: New Glarus Brewing's Serendipity
In this case, Serendipity would consist of Aaron Rodgers' clavicles remaining intact and not seeing the 49ers in the playoffs.

Houston Texans
Their beer: Saint Arnold's Weedwacker
These are not last year's Texans. For Texan fans, this is a very good thing, as that team went 2-14. They lost 14 straight. Like the Saint Arnold's beer name, the front office took a WeedWacker to the roster -- gone are Schaub and head coach Kubiak. It'd be difficult for this year's team to be worse. Even if they do end up being horrible, the piling losses would be easier to take with this German-style wheat beer in your hand.

Indianapolis Colts
Their beer: Three Floyds Brewing Co.'s Alpha King
In the early aughts, that Alpha King in Indy was Peyton Manning. But now he's drinking SO MUCH GOOD BEER in Colorado, that the Team of Quarterbacks wisely went with the bold, yet balanced next Alpha King and occasional wearer of a sexy neck beard, Andrew Luck. Also, if they really wanted to be awesome and make this pick seem very spot-on, they could trade for Michael Floyd, Malcom Floyd, and unsigned free agent guard Floyd "Pork Chop" Womack. DO IT FOR US!
Jacksonville Jaguars
Their beer: Engine 15's Nut Sack Imperial Brown
If we told you there were guys who were die-hard Jags fans who tailgated every single game, you'd assume they were probably sharing a 3/3 in Jax Beach with Santa Claus and the Easter Bunny. But the guys behind this Northeast Florida brewery bring their classic fire engine to every single home game, and sling their suds outside (and, for years, inside the stadium) prior to kickoff. Also, the name pretty much describes the quality of Jags football for the past decade.

Kansas City Chiefs
Their beer: Boulevard Brewing Co.'s Dark Truth Stout
The Chiefs outperformed expectations last year, but, like the beer that fits them, the Dark Truth will be coming to grips with the fact that Andy Reid has not shown himself capable of leading a team deep into the playoffs since the McNabb era in Philly. At least there's a 9.7% Imperial Stout to keep Chiefs fans warm through those cold winter months.

Miami Dolphins
Their beer: The remnants of a mojito, in a Solo cup
You know how it's all sort of watered down, and, despite the fact that, at first, you're pretty excited about it, you then realize what a huge mistake you made, and how bad it's going to be? Yeah. Too bad Tampa Bay doesn't have a football team, because Cigar City is pretty -- wait, what's that? The Bucs? Really, they still play there? Oh. So, yeah, maybe drink the Bucs' beer?

Minnesota Vikings
Their beer: August Schell Brewing Company's Grain Belt Premium
Sure, one of MSP's best taprooms is just around the corner from the stadium (or will be again once the new one opens), but the way to go when watching the Vikings is old school, with the most popular beer from one of Minnesota's best breweries: Grain Belt Premium. This legendary local brew was the official beer of the team back when they won their only championship -- the '60s -- and, unlike the team, this crisp, uniquely flavored lager is still a winner.

New England Patriots
Their beer: Jack's Abby Brewing's Copper Legend
A few years ago, when Tom Brady wasn't 37, Jack's Abby probably would've made a Gold Legend beer. But now that painfully handsome man finds himself three years away from receiving a personalized memory lane art print of his career, and one of their best talents of the last few years just (ALLEGEDLY, BUT REALLY HE DOES) murders people and doesn't play football, here we are. Perhaps annoyingly enough, they'll still probably win their division by eight games.

New Orleans Saints
Their beer: Abita Amber
While there are newer, hipper beers on the scene now, Amber is the steady and reliable OG, and just like Drew Brees, it's a trusty go-to. Plus it's a solid choice in hot weather, only decent in cold, but under the right conditions, it can be damn near perfect. And like any true Saint, the Amber works in a fleur-de-lis wherever possible even if it doesn't make any sense.
New York Giants
Their beer: Brooklyn Brewery's Wild Streak
Those New York Football Giants went on quite a wild streak themselves last year -- six straight losses. Even though it seems impossible for Eli to have a worse year than he did last year, it's possible! And it will happen. At least that's what the guy writing this hopes (Editor's note: He's an Eagles fan). He threw 27 of those last year. Just a reminder. And hey, at least you'll have a killer Barrel-Aged Wild Brett Ale to keep you company.

New York Jets
Their beer: Sixpoint Brewery's Sweet Action
NFL football is eleven minutes of incredibly sweet action and three hours of commercials and standing around. So pick up a can from Brooklyn's other insanely popular brewery and enjoy watching Geno Smith try to play well enough that Vick doesn't replace him, while Rex Ryan's expressive face grimaces for yet another season.

Oakland Raiders
Their beer: Linden Street Brewery's Town Lager
No one gets it outside of Oakland. The beer, I mean. It's only served in the city. But the same sort of thing could be said for the Raiders, and their terrifying fans' habit of painting their entire bodies silver and black, wearing Mad Max style spikes, and beating up opposing fans because of seriously disrespectful stuff like cheering for the other team... and existing.

Philadelphia Eagles
Their beer: Yards Brewing Company's Love Stout
There cannot be a more perfect beer for a football team than from a brewery called Yards, and it's a happy coincidence that Yards makes a stout full of coffee and chocolate notes that're worth sipping come wintertime. As for the Eagles, they'll likely continue their positive momentum this season with the addition of Sproles and the continued coaching brilliance of Chip Kelly. Also, the Cowboys suck. (Editor's Note: This article was obviously written by an Eagles fan.)

Pittsburgh Steelers
Their beer: Pittsburgh Brewing Company's Iron City Beer
If you poke around eBay, you can still find cans of Iron City with Steelers players on them from the '70s, cementing a long-standing link between the beer, the city, and its favorite team. Many of the players on the team feel like they've been around since the '70s: guys like Roethlisberger, Polamalu, and Taylor. But they're seemingly in the playoff hunt every year regardless of who's on the field, and that seems unlikely to change.

San Diego Chargers
Their beer: Green Flash Brewing Co's Road Warrior
The Chargers were 4-4 on the road last year. Does that make them Road Warriors, deserving of an imperial rye IPA full of Mosaic hops? Well, answer me this: does Phillip Rivers ever look like he's not really angry, for no apparent reason? Of course not. And that must stress the hell out of Danny Woodhead and the other guys on offense who don't look like they just stumbled out of Pizza Port, and deserve to drink this delicious beer all the time just for being in his mercurial presence.

San Francisco 49ers
Their beer: 21st Amendment Brewery's Bitter American
You know who is a bitter, bitter American? Jim Harbaugh. No one at Stanford liked him. No one at the Niners actually likes him. But they respect the sh*t of him, because he basically lives, breathes, and drinks football, and that's it. He doesn't have time for small talk about your family, or shaking your hand in a non-aggressive manner after the game, or buying khakis not at relatively inexpensive big box retailers. And his Bitter American ass might just propel them into the Super Bowl this year, if the turf in the new stadium decides not to break everyone's ankles.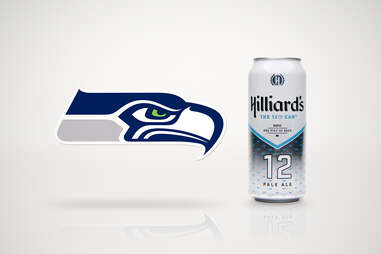 Seattle Seahawks
Their beer: Hilliard's The 12th Can
Not to be confused with former Seattle kicker Norm Johnson's 12th Man Pale Ale (made with some help from Centralia's Dick's Brewing), this sessionable brew from Ballard's hippest beer slingers is made with Cascade hops, comes in a 'Hawks-colored can, and was inspired by the people at KJR 950, which's also presumably the number of 'em it'd take to get over losing in the Super Bowl... but you'd have to ask the Broncos.

St. Louis Rams
Their beer: Perennial Artisan Ales' Vermilion Barleywine
Bradford's out for the year. You're gonna need something strong. Lucky for you, Perennial's one of the best breweries in the country, and you can drink their 10.5% Barleywine. Better luck in 2015.

Tampa Bay Buccaneers
Their beer: Cigar City Florida Cracker White Ale
People outside the Sunshine State don't know this, but the semi-insulting-but-not-really term "cracker" originated in Florida as a term to refer to the cowboys who cracked whips on cattle ranches. Now it pretty much refers to what happens to the Bucs defense after about week four, and at Tampa's best brewery it means a light, crisp white ale that tastes like a Heff, but is totally drinkable during those hot day games and hotter daytime tailgates in November.

Tennessee Titans
Their beer: Fat Bottom Brewing's Bertha Oatmeal Stout
The brewery describes this beer as an American version of an Irish stout that's got "a little extra junk in the trunk". To us, this beer honors those hardworking O-linemen who use the junk in their trunks to create blocking lanes for Chris John... oh wait, he's on the Jets now? And the QB they're protecting is Jake Locker? Oh geez. Those guys do not get paid enough.

Washington Redskins
Their beer: DC Brau's The Public
Lately, the chatter about this team has had nothing to do with their football talents (of which they have plenty, with RG3, Jackson, and Morris) and everything to do with their name. So we chose a beer with the most inoffensive name imaginable to counterbalance all that talk: an American Pale Ale called The Public. In addition, this is Jay Gruden's first year as head coach of an NFL team, and so far the preseason's been rocky. The DC public might wanna stock up on The Public if they want to enjoy watching this team play.
Lee Breslouer writes about food and drink for Thrillist, and can't wait for the season to start. Follow him at @LeeBreslouer for celebratory nonsense when the Eagles win and deep, deep silence when they lose.