The Origin Stories Behind the Names of 7 Great Beers
Behind every great beer, there's a great brewery. And behind every great brewery, there's a team of crazy people doing crazy things and giving their products crazy names. To wit, we talked to the purveyors of some of the finest, most interestingly named beers in the country, looking to find out what inspired them to call their beers what they did. Their responses ranged from the matter-of-fact to the mildly prophetic.
Here are the origin stories behind some of your favorite brews.
The Minute IPA Series
Dogfish Head Craft Brewed Ales
"Our 60 Minute, 90 Minute, and 120 Minute IPAs received their names because of how long each one of them is continually hopped. The amount of time the beer is continually hopped changes the flavor profile. Most IPAs have hop additions added twice, while our 'Minute' series has them added throughout the entire brewing process." - Janelle Miley, public relations

Porkslap
Butternuts Beer & Ale
"Porkslap is a play on the name of Park Slope, Brooklyn. I had been involved in a brewery project that encompassed the Park Slope and Red Hook area from 2000 to 2001. After that, we developed the beer for our new brewery project, Butternuts Beer & Ale, and used that to play into our characters and image of our brands." - Chuck Williamson, owner/operator
The Yeti Series
Great Divide Brewing Company
"Originally, Titan IPA (our biggest seller) and Yeti Imperial Stout were called Maverick. Our founder, Brian Dunn, had done trademark searches on that name and it came up clear, but then it turned out that another brewery in California was using Mavericks, plural, and asked us to stop using the names. A lot of names were thrown around at the time, but Yeti just had this level of elusive character (as the beer can sometimes be hard to find) and this sort of bold, imposing nature to it. In 2004, Yeti was born, and the blue label was its first label, before the brown artwork that people recognize today. It changed to the brown label in 2008. The Maverick IPA also had to be renamed, and that is how Titan was born. I wish there was a Yeti sighting involved to amp up the wow factor on that story, but alas." - Shannon Berner, marketing manager

Heady Topper
The Alchemist
"I would love to give an honest answer to that question. However, we hold a federal brewing license, and they might frown upon the origin of the name. Especially since we do not reside in Colorado or Washington." - John Kimmich, head brewer/owner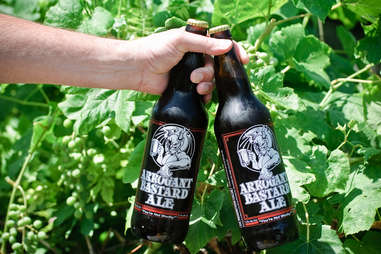 Arrogant Bastard Ale
Stone Brewing Co.
"It told me what its name was. I think that Arrogant Bastard Ale (and this confuses some people) has always been named Arrogant Bastard Ale. I often see eyes glazing over when I say this, but I honestly believe that throughout the annals of time -- throughout the millennia! -- Arrogant Bastard Ale has always been there, and has always carried its righteous name. It just is. It patiently (or more like impatiently) sat for eons, just waiting to be discovered. We did not create it. I did not name it. It was already there. We were just the first lowly mortals to have stumbled upon it. Steve [Stone Brewing Co. president and co-founder] was the first to learn how to brew the beer that already was, and I was the first to realize what its name already was." - Greg Koch, CEO/founder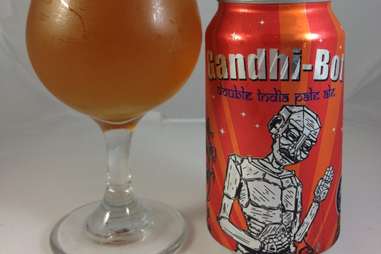 Gandhi-Bot
New England Brewing Co.
"I wish there was a very cool story behind the name, but instead we have a Craig. Matt had this beer developed years back, and when we wanted to get it to the market, we needed a name. So in rolls our friend Craig one afternoon, and we say, 'Hey Craig, we need a name for the Double IPA.' Craig (who does most of our labels and is very creative) asks, 'Are you going to can this one?' We say yes. He pauses for a second and responds, 'Gandhi-Bot.' It simply fell out of his head. We ask, 'How did you come up with that?' And he says, 'Um... India, Gandhi, can, metal, robot.' Then did the sketch and we had our name and label." - Rob Leonard, owner/brewer

Fred
Hair of the Dog
"Fred is named after Fred Eckhardt, local beer historian and writer here in Portland, Oregon. He has always been an inspiration for me, and this is my way to say thank you." - Alan Sprints, founder
Adam Lapetina is a Food/Drink staff writer for Thrillist, and the origin of his name is his parents' imagination. Follow his musings at @adamlapetina.