The final month of 2013 gave us many exciting developments in the world of beer. Festivus poles and beeramids rose, Orval Trappist Ale fell, and Cinnamon Roll'd beer... was rolled. Before we head into an exciting new year of beer, check out some of December's greatest hits.
Recommended Video
Thrillist's Best (and the Rest): What's the Perfect Fast Food Meal?
In an effort to help you through any lingering Red Wedding trauma, Ommegang recently opened votes on its fourth -- FOURTH! -- Game of Thrones beer. The poll's already closed, so we won't know which of the worthy contenders took the Seven Kingdoms until Spring 2014, and we won't be able to drink it until Fall 2014, when it debuts.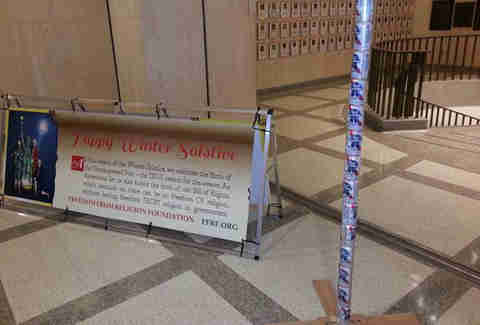 A Florida man constructed this six-foot Festivus pole out of PBR cans in a stunning feat of strength. It's currently on display at the state capitol, where it is surely delighting Seinfeld fanatics as much as it is confusing the hell out of 8yr-old children on field trips.
As part of its ongoing Reserve Series, Terrapin Beer Co. released a cinnamon roll version of its popular coffee oatmeal imperial stout. The Cinnamon Roll'd Wake-n-Bake even comes in a waxed-dipped bomber made to look like cinnamon roll icing, and based on the success of its Reserve predecessor, White Chocolate Moo-Hoo, it's probably already working towards world domination.
Because everything old is new again, Miller Lite is releasing the Original Lite Can, an updated version of the inaugural ML can from 1973. It'll only be available from January to March of 2014, so keep a (bleary) eye out for it on New Year's Day.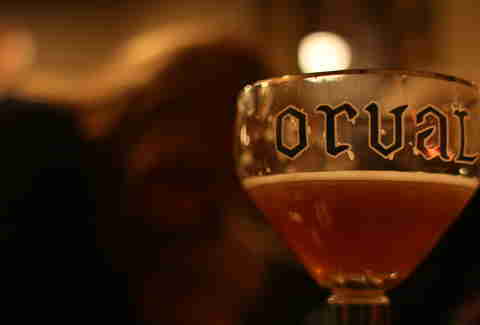 Disaster has struck Orval Brewery! The Belgian ale is poised to lose its coveted Trappist designation, since the 12 monks at Abbey of Notre Dame d'Orval can no longer keep up with production and are hiring outside help. Monks have to head up brewing in order for a beer to be "Trappist", and, seeing as that won't be happening, Orval will have to turn in its badge. (At least America's Spencer Brewery just got its official Trappist title!)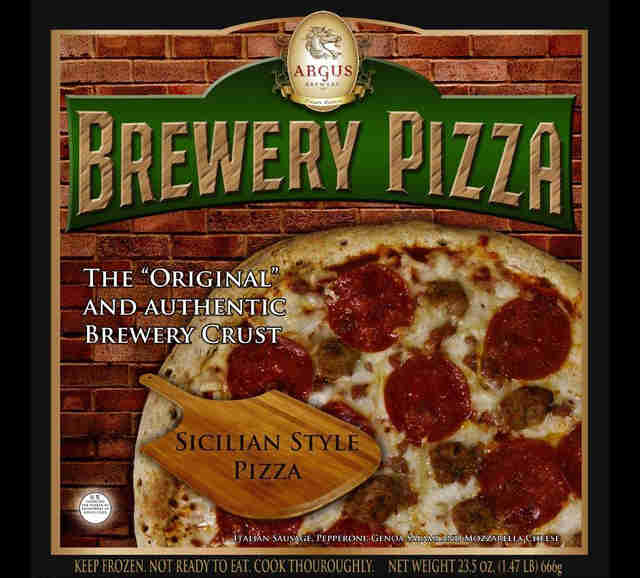 Pizza & beer is for chumps. Argus Brewery cut out the middleman by launching a line of frozen pizza with beer byproducts in the crust. The Chicago brewers took the "mash" from the early stages of beer-making and put it into ready-made pizzas. The beer crust comes on four pies: Santa Fe, Chicago Sausage, Five Cheese, and Chicago Sicilian.
This photo of an altered air hockey table labeled "Canadian beer pong" set Reddit on fire, and likely inspired many amateur carpenters to destroy their rec rooms.
The Germans are so serious about their beer purity law that they're trying to get it UN protection. The law, known as Reinheitsgebot, has been around for about 500yrs and only allows four ingredients in the brewing process: water, malt, hops, and yeast. The German Brewers Association wants it protected by the same UN agency that looks out for the Great Wall of China and the pyramids. Obviously the beer should become their top priority.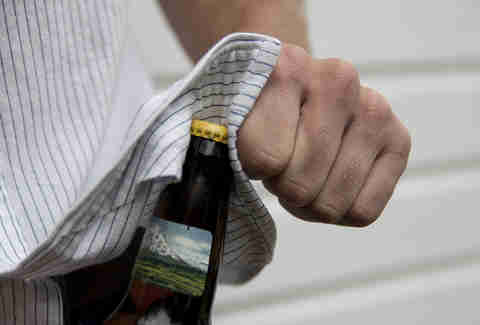 Criquet Shirts' new "twist-off proof" shirt is here to change the button-down game with a reinforced shirt bottom. Once you pop one, you likely won't be able to stop.
Kristin Hunt is a food/drink staff writer for Thrillist, and is personally pulling for the Khal Quadrupel GoT beer. Follow her at @kristin_hunt.