5 Beers Dogfish Head's Founder Loved at the Great American Beer Festival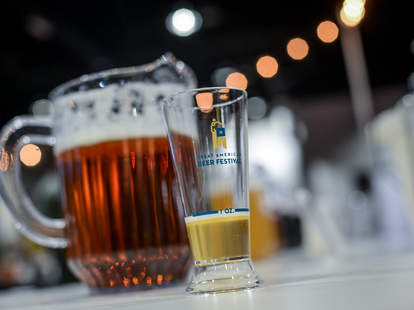 Courtesy of Photo © Brewers Association
Back in 1998, K-Ci and JoJo's "All My Life" was a huge hit and Dogfish Head Craft Brewed Ales, Delaware's pride and joy, made its debut at the Great American Beer Festival. Nowadays, Dogfish is a nationally beloved craft brewer (and one of the best), and K-Ci and JoJo are still around too. Probably? Because founder Sam Calagione has been a fixture of the country's biggest craft beer gathering for so many years, we thought there was no one more qualified to tell us some of the best beers at GABF.
Oh, and if you were wondering about Dogfish's most interesting beers poured at the Fest this year, it had one made with scrapple (Beer for Breakfast), a lobster brew (Choc Lobster), and an 18% ABV 20th anniversary beer with pureed cherries/cacao nibs (Higher Math).
Sierra Nevada Brewing Co. Kellerweis
German Hefeweizen, 4.8%
Chico, CA
"The Kellarweiss is a lower ABV beer. It's a great way to calibrate your night to start with something about 5% alcohol. The beer is fermented in open-top fermenters at a warmer temperature, so it's got a very spicy nose from the German beer yeast. There are lots of cloves and banana notes in the nose -- almost like a sweet dessert bread."
 
Short's Brewing Co. Key Lime Pie
Fruit Beer, 5.5%
Bellaire, MI
"They make lots of adventurous beers. It's almost a pale ale, but it's made with limes and milk sugar and graham crackers. There's even marshmallow fluff in it. Just a great dessert beer; a fun, exotic brew."
Andy Kryza/Thrillist
Russian River Brewing Co. Pliny the Elder
Double IPA, 8%
Santa Rosa, CA
"I always try to stop by and see my buddy Vinny from Russian River. Pliny the Elder is a big, strong IPA clocking in somewhere around 8%. It's the big brother of Pliny the Younger." [Editor's Note: Put this beer on your bucket list.]
 
Avery Brewing Co. Rumpkin
Pumpkin Ale, 16%
Boulder, CO
"This is a local beer from Colorado -- my buddy Adam Avery at Avery [brews it]. They've been doing a pumpkin beer for 20 years, and then three years ago they came out with Rumpkin, which is a very strong, 16% ABV pumpkin ale that's aged in rum barrels. It's a massive pumpkin ale with rum character."
 
Allagash Brewing Co. Coolship Resurgam
Gueuze, 6%
Portland, ME
"This one's from our friends at Allagash. Wild yeast ferments in this Belgian sour they brew called Resurgam. It's got a fruity character to it. Definitely the most notable component is the wood-aged oakiness and the sour tartness, the high acidity of the wild yeast fermentation."
Sign up here for our daily Thrillist email, and get your fix of the best in food/drink/fun.
Lee Breslouer is a senior writer at Thrillist and can confirm that Key lime pie beer is delicious. Follow him to dessert beers at.: @LeeBreslouer.