23 American beers to drink before you die
Adam Lapetina/Thrillist
Adam Lapetina/Thrillist
There are at least infinity beers in this country of ours, and someone likes every single one of them. But unfortunately, infinity beers is too many for most people to try, so we narrowed it down to 23 American that you need to consume if you want to feel a strong sense of drinking accomplishment in your life.
Obviously there are thousands that could be totally at home on this list; these are just some of our personal favorites, plus a few that no beer-drinking American, however craft-crazed he is, still needs to taste at some point. So be sure to let us know your own must-drinks in the comments below. And then we'll drink those too.
90 Minute Imperial IPA
Dogfish Head Craft Brewery
Dogfish Head has always been known for their wild and crazy experimental beers, and even their IPAs are no exception. They take one of the most common and easy-to-make varieties and turn it into something exceptional by continually adding hops for 90mins (hence the moniker) and also dry-hopping using a device called the "Me So Hoppy", which speaks volumes about founder Sam Calagione's twisted sense of humor. What they achieve through their labor of love is a super-malty, spicy IPA that's the kind of beer even veteran drinkers can get excited for again and again.
Heady Topper
The Alchemist
You know a beer has to be good when people are getting arrested for selling it on the black market. Don't go getting yourself in any legal trouble to acquire it, but do make sure at some point you get your hands on it to enjoy the potent yet balanced hoppiness. The hops literally floating in that silver can let you know it's good!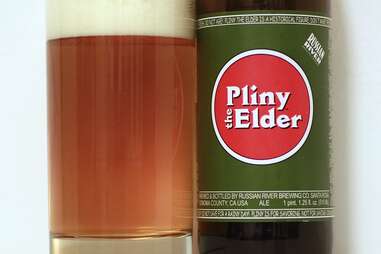 Pliny the Elder
Russian River Brewing Co.
Pliny's best consumed as fresh as possible at (or near) the source, which means taking advantage of any time you spend in Northern California or other adjacent states and drinking as much of this piney, malty giant among IPAs as you can get your hands on. If your Pliny takes a little longer to get to you, crack it as soon as you can. This is not a beer that's meant to be hoarded. Bonus: its price is shockingly reasonable for a brew of its caliber.

HeBrew Bittersweet Lenny's RIPA
Shmaltz Brewing Company
From among some fine offerings of The Chosen Beer (their Jewbelation Reborn, which this year clocked in at 17%, is barely a beer but also must be tried), we chose this. It's caramel-y, it's malty, it's strong as hell, it's named after Lenny Bruce, and it doesn't taste a thing like Kelly Ripa. I don't think, at least.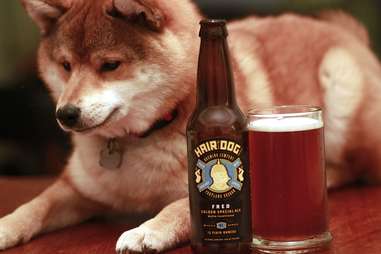 Fred
Hair of the Dog Brewing Company
That Hair of the Dog is the weirdest brewer in Portland -- which rocks more than 70 breweries and a pride in eccentricity -- is quite a statement, and Fred is its mainstay masterpiece. The beer isn't just transformative with each new pint; the 10% American strong ale changes with each sip. That's the beauty of putting rye and 10 different kinds of hops into the mix, creating a cloudy, sweet, spicy, aromatic brew that defies classification even by the most ardent beer geeks, who often argue about its flavor profile but always agree it's one of the best beers out there.

Bourbon County Stout
Goose Island Beer Co.
This is one of the OGs of the barrel-aging craze that's thoroughly swept American craft brewing, and it remains one of the best representations of the form out there, with the sweetness of the barrel kept in perfect balance with the maltier aspects of this smooth, velvety stout. Some purists got all "rabble rabble rabble" when AB InBev bought them out, but there's an upside to that: they're getting their hands on more and more bourbon barrels to make more of it!
Dale's Pale Ale
Oskar Blues Brewery
If you've had a great beer in a can, you've got Dale's to thank. Colorado's Oskar Blues was one of the first outfits to recognize the benefits of aluminum vs. glass bottles -- stays cold longer, ships cheaper, cuts your head less when you slam your beer into it -- and produced a robust IPA delicious enough to make them cool.

Chocolate Rain
The Bruery
What happens when you take an already-outstanding beer like The Bruery's Black Tuesday, throw in some vanilla bean and cocoa nibs, and let them all party together in a bourbon barrel? This impossibly smooth, sexy beast of a 19% (roughly, depending on the year) ABV beer that's shockingly savorable given its potency. Best consumed while watching a certain YouTube video.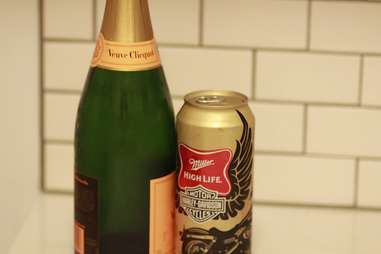 Miller High Life
Miller Brewing Company
If nothing else, whatever wordsmith thought to dub High Life "The Champagne of Beers" deserves your taste buds' recognition. Best consumed out of one of its eye-catching clear bottles, ice cold, in a dive bar, at a backyard BBQ, or somewhere else where that sassy delivery guy would not object to hanging out.

Great Lakes Christmas Ale
Great Lakes Brewing Company
In Cleveland, which is currently undergoing a serious brewing boom of Portlandian proportions, Great Lakes is the OG of the movement. Its seasonal has developed such a devoted following that it's referred to as Christmas crack, and its release is like a holiday unto itself. Despite the claims of fans (who are, apparently, crackheads), the Winter warmer's recipe hasn't changed over the years, perennially offering up a crisp, caramel-y mix of spices and malt that goes down far more easily than something that's 7.5% alcohol should.
Old Rasputin
North Coast Brewing Company
Like its namesake Mad Monk (not Tony Shalhoub… that dude's a sweetheart), Old Rasputin is impossibly dark, has an almost burnt taste to it, packs serious punch (9% ABV), and will probably convince you to do something evil when it gets in your head. Speaking of which, this velvety Russian imperial stout, when poured out of the bottle, has a head as thick as dough, which gradually cascades into the beer and commingles with the tastes of malt, burnt chocolate, and coffee in an almost otherworldly alchemical fusion. You'd expect nothing less from a beer named after an evil bastard known for his dark artistry.

Bud Heavy Tallboy
Budweiser/Anheuser-Busch
It might not be the most innovative or trendy offering compared to some of these others, but this is a list of beers you should drink before you die. And if you die, and you somehow never drank a Bud Heavy, you really have to question what the hell you were doing all that time. The can is a must, because this is America; the tallboy is a must because you deserve four extra ounces (or basically, two extra beers from your sixer).
Utopias
Sam Adams
Technically, this is just a beer. Yeah, and technically, a Ferrari is just a car. This 28% ABV behemoth is released in super-limited quantities whenever it happens to come out (once a year, if you're lucky), and it's unlike any beer you've ever had. Sam blends a bunch of their best brews together and barrel ages it in bourbon casks. You get a beer that has no carbonation, is meant to be served at room temp, and is a great conversation starter. Is it even beer anymore, technically? Drink it and find out.

Dirty Bastard
Founders Brewing Co.
A beer should be as much fun to order as it is to drink, and thankfully Founders kept that in mind with its eminently drinkable, caramel-y, well-balanced take on a Scotch ale. It tastes like bagpipes sound. Pro tip: if you're into the bourbon, the barrel-aged Backwoods Bastard is a grand old time.

Green Flash Barleywine
Green Flash Brewing Company
Barleywine sounds like something Andre the Giant would drink all day long out of a really large, crude goblet if he lived in a medieval forest. Green Flash's example of the classic strong ale stands as a counter to the San Diego brewery's light and hyper-drinkable IPAs -- its sweet thickness is somehow still refreshing. Also, at 11%, drinking a bomber is basically like drinking a bottle of wine. Which is cool.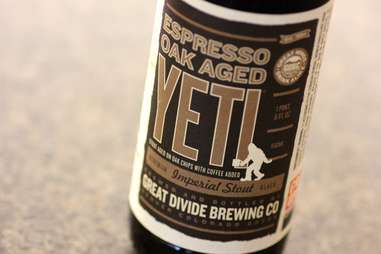 Espresso Oak Aged Yeti
Great Divide Brewing Company
One of Colorado's top breweries, Great Divide is always creating new versions of their stalwart Yeti Stout that keep pushing the beer to new heights – including this release from 2014 that provides plenty of dark chocolate, espresso, and oak notes. They say it goes perfect with breakfast, we say it goes with any meal.

Oberon
Bell's Brewing
Kalamazoo's Bell's is one of the country's most revered breweries, and beers like Two-Hearted Ale and Third Coast stand as some of the finest offerings out there. But Bell's is a tease when it comes to Oberon, which sends the Midwest into looting mode when it debuts in the Spring and disappears on Labor Day. Kegs, mini-kegs, and bottles of the wheaty, citrusy, spicy ale fly off the shelves all Summer long. Then, like any good tease, Bell's sends its cult-like followers into withdrawal by taking it away from them. Finding a bottle of this nectar in January, where it's gathering dust on the bottom shelf of some unknowing dive bar's fridge, is the beer-lover's equivalent of finding the Holy Grail. Except the stuff inside's way more delicious than messianic blood.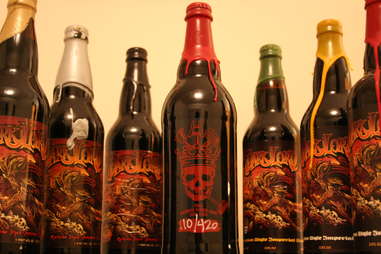 Dark Lord
Three Floyds Brewing
One of the harder beers on this list to acquire, Dark Lord is only sold one Saturday a year in April at Three Floyds' brewery near the Chicago-Indiana border. You need to buy a ticket in advance for the right to go purchase your beer. Fortunately, BBQ, more great beer, and metal bands are also involved. Also fortunate? It's a sweet, rich, flavorful stout with hints of the Intelligentsia Black Cat espresso used to make it.

Serendipity
New Glarus Brewing
Fruit beer isn't the most talked-about beer style. That would be the IPA. It isn't the second, or the third either. Those two are probably also the IPA. Seriously, does ANYONE get jazzed about fruit beer? But Serendipity is quietly one of the finer fruit beers around, produced by a brewery that only distributes their nectar in Wisconsin. There're beautiful apple, cranberry, and cherry notes, melding together to create a smooth, delicious, refreshing beer that tastes like every good Summer you've ever had.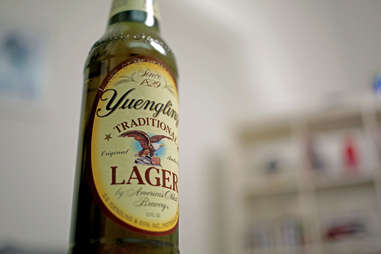 Yuengling Lager
D.G. Yuengling & Son
Most beers made this list thanks to raw deliciousness. Yuengling made this list because it's old as hell, and drinking history is more fun than learning from it. The oldest brewery in the nation makes a full line of beers, including the slightly gimmicky Black & Tan, but the Lager is the move. They say history repeats itself, and if you ever find yourself in Pennsylvania, it'll repeat itself between five and 10 times before it's time to go home.

Stone Enjoy By IPA
Stone Brewing Co.
Those bastards of arrogance at San Diego behemoth Stone went with the opposite of a born-on date: the very label tells you when to drink their beer by, or else. It's more than just a gimmick, though -- the delicious double IPA always seems fresher than anything else you're drinking. Whether or not it's a self-fulfilling freshness prophecy doesn't really matter.
Shiner Bock
Spoetzl Brewery
With over 100yrs of history, Shiner Bock, like everything in the Lone Star state, is bigger in Texas than elsewhere. But what makes Shiner Bock essential is its ability to pack a big flavor profile in a distinctly sessionable beer. At 4.4%, it's relatively light, and its crispness belies a bold, slightly sweet flavor that hits all the right notes of a bock without the heaviness. It's the perfect lawnmower beer for people whose lawns are actually ranches.

Ballast Point Homework Series #2
Ballast Point Brewing Company
Not too long ago, I went on a beautiful odyssey of a beer tasting in San Diego and made my sister and girlfriend try 21 extremely strong beers (and plenty other not-that-deadly ones). They hated some I love, and loved some I hated. But the beer of the day, as judged by all in attendance, was Ballast Point's Homework Series #2 Belgian-style double IPA. They'd only sell you a pint; they laughed when someone wanted a growler fill. The only prudent move was to order many, many pints. I've seen it in a bomber only once since -- if ever you do, just get it.