10 (Canadian) beers worth pouring into the Stanley Cup
Once again there are no Canadian teams in the Stanley Cup Finals, which means everyone in Canada has put away their respective team sweaters and returned to wearing denim on denim. Despite this, hockey remains Canada's national sport, and there are still many Canadian players left on the rosters, vying for the chance to hoist the Cup. With that honour comes a truly great responsibility: finding the right brew to swig from it.
Here are 10 great Canadian beers worthy of being chugged from Lord Stanley's mug, as selected by our very Canadian Toronto contributor, Sam Riches.
Unibroue's La Fin du Monde (Chambly, Quebec)
It's hard to argue that there's a better beer in Canada. To date, no other Canadian beer has won as many awards as this one, and it deserves every single one. It's a triple-fermented golden ale that packs a punch at 9%. The name translates to "the end of the world". If you're drinking this when the time comes, you'll be at peace.
Great Lakes Brewery's Harry Porter and the Bourbon Soaked Vanilla Bean (Toronto, Ontario)
A sip of this and you'll feel just as fearless as that bespectacled little wizard child. It smells and tastes of fresh vanilla bean, dark chocolate, coffee, and a hint of hazelnut. It was released in a limited run this year, which is probably a good thing, because Canada would have a constant buzz if this was readily available.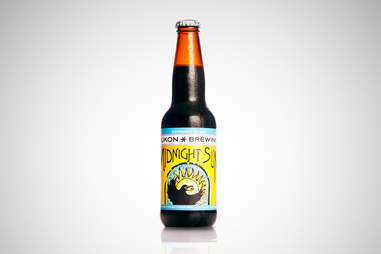 Yukon Brewing Co.
Yukon Brewing Co.'s Midnight Sun Espresso Stout (Whitehorse, Yukon)
Way up yonder, Canada hides some of its best secrets: mind blowing landscapes, mountain valleys, winding rivers, and this delicious beer. This brew was the brainchild of the good folks at Midnight Sun Coffee Roasters, a local java company. Yukon's best beer packs eight different malts, along with notes of oatmeal and espresso. It'll warm your soul, even in the deep North.
Driftwood Brewery
Driftwood Brewery's Fat Tug IPA (Victoria, BC)
A world class IPA, this beer has notes of grapefruit, mango and passion fruit, but it's balanced with a good amount of malt and a 7% alcohol volume. Not too sweet, and with the right amount of carbonation, the hoppiness shines through.
Great Lakes Brewery's Bourbon Barrel-Aged Robust Porter (Toronto, Ontario)
Another fine number from the folks at GLB, this porter pours pitch black, and the bourbon notes are strong. It's aged for three months in Kentucky bourbon barrels that bring out the malt, chocolate, and coffee finish. Stock up, because you can store these away for up to three years. Which will come first, you drinking this beer or a Canadian team winning the Cup? Probably a dumb question.
Waterloo Brewing Co.
Waterloo Brewing Co.'s Dark (Waterloo, Ontario)
The Blackberry phone came out of Waterloo, but unlike that beer, you won't see businessmen holstering this to their belt. Though they should, because that's a good look. For a dark beer, it's surprisingly light, and its craftsmanship has won it awards across the globe.
Labatt 50 Ale (Toronto, Ontario)
This is every Canadian Dad's favorite beer and his Grandpappy's. It's a crisp, aggressive ale that's been going strong since 1950. Pop into any small pub in Northern Ontario, and you'll find plaid shirts, trucker hats, and this beer.
Beau's All Natural Brewing Company's Lug-Tread Lagered Ale (Vankleek Hill, Ontario)
Made with organic malts and hops, this beautiful golden beer is brewed in the ilk of classic German beers. Light and crisp, it's a great summer drink for all those hockey players stuck playing golf now.
McAuslan Brewing
McAuslan Brewing's St. Ambroise Stout Impériale Russe (Montreal, Quebec)
This big, bold stout packs in the flavo(u)r while remaining surprisingly sessionable. Its thick, velvety taste features notes of toffee and molasses, bourbon, black coffee, and charred wood. A drink perfect for lumberjacks. Or enforcers.
Alexander Keith Brewery's India Pale Ale (Halifax, Nova Scotia)
Keith's was at the forefront of the IPA movement in Canada, where it's regarded as a classic. It's Nova Scotia's most popular beer, and also the top specialty beer in the country. While it's not the hoppiest IPA you'll ever drink, it does maintain a light, sweet taste that goes down smoothly, making it easier to mourn your fallen hockey team.
Sam Riches drinks beer in the Yukon and rides his bike in the woods. He never leaves the house without bear spray. Follow him at @sam_riches.