If you're going to visit the oldest working bourbon distillery in Kentucky, ideally you'll choose a day when there are tendrils of mist rolling over the green hills, so that when you come upon your destination it'll seem as if it's materializing out of the past. Which in this case it is: distillation started on this spot 8 miles outside the town of Versailles back in 1780.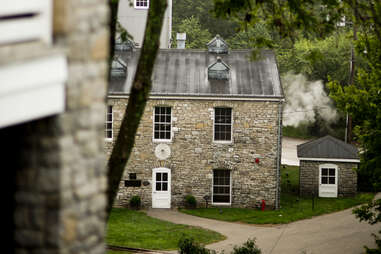 The site was granted National Historic Landmark status in 2000, a pretty damn fitting way to toast the new millennium.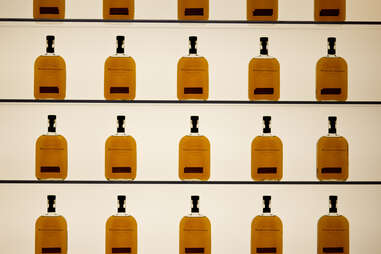 Woodford Reserve production started here in 1996. The name came easy -- the distillery is in Woodford County, and "Woodford Reserve" has a ring to it that "Just Outside Versailles, KY Reserve" doesn't quite match.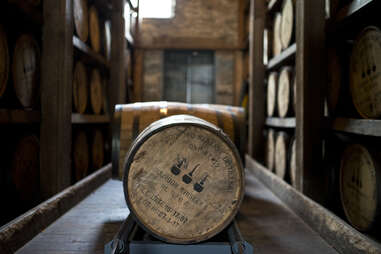 The product, on the other hand, didn't come so easy. Just to be called "bourbon" you've got to meet the toughest requirements of any spirit in the world. To be called "good bourbon" -- flavorful, complex, balanced, and robust, but still approachable because this isn't a grappa operation -- takes even more work.
Our Homeplace Host, Tim Knittel, has been on property for five plus years. His job involves more than just saying, "Hey, this stuff is delicious." He's got to tell you how history, science, geography, mineralogy and various other disciplines you haven't thought about since college come together to make the stuff delicious. Says Tim: "If I don't know the answers, I know the people who know the answers."
When Elijah Pepper chose this land in 1812, he did so for its ample access to fresh water, specifically, naturally filtered limestone creek water that's perfect for the production of whiskey. Also, he chose it for stunning photo ops, obviously.
Five factors influence a bourbon's taste: water, grain, fermentation, distillation, and aging. That limestone directly affects two of those factors. It pulls iron out of the water (which in Woodford's case is drawn from a 75ft-deep limestone well), and imparts minerals (told you: mineralogy) that facilitate the yeast fermentation process.
Obviously Woodford isn't all water. It's made with 72% corn (51% is the legal minimum), 10% malted barley and 18% rye. The corn's non-GMO corn from a farm in Shelby County, KY; the malt comes from a single malt house in Montana; and the rye hails from Canada. All this results in a high-rye, high-malt bourbon, which means secondary wood and nut notes, spices, and an overall character best described as creamy.
The grains and water are mixed, and that mixture is put into fermenters, large open vats crafted from environmentally-friendly cypress wood. Woodford's a sour mash whiskey, so it's seeded with leftovers from the last fermentation, which feeds the yeast. The distillery uses an industry-lowest 6% sour, and allows the mash to ferment for an industry-longest six days.
In the fermenters, the yeast breaks down the sugars and starches in the grains, producing acid and giving off carbon dioxide, which makes the mixture bubble. The air around the fermenters is moist and smells like craft beer and banana bread. Someone should probably make candles out of this scent.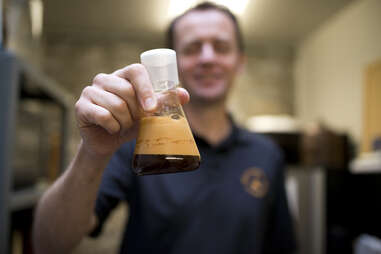 Woodford Reserve maintains their own yeast strain, which is "guarded quite jealously," says Conor O'Driscoll, the distillery's Production Manager (translated: "I keep the yeast happy and healthy and that's what I do."). This little flask will produce 4,500 lbs of yeast, but there's always a backup flask kept at the distillery, and several more backups are kept in cryogenic freezers in Louisville -- so in the year 2514, whether the world is ruled by robots, mutants, or aliens, mankind will still have bourbon as compensation.
The fermenters are drained into three vast copper pot stills, the tallest pot stills in the world. Each batch of pre-whiskey progresses through all three, becoming first "low wine," then "high wine," and then finally the barrel-ready spirit.
The spirit is tested every step of the way, using some of the same methods you use when you "test" spirits!
From this perspective, the still room looks like an ancient castle -- probably occupied by, well, The House of Bourbon.
On to the barreling. Woodford's white oak barrels are medium-toasted, which brings out flavors like marshmallow, molasses, and maple; and medium-charred, thereby drawing out caramel and butterscotch, burnt sugar notes.
After a barrel is filled, it's rolled down the longest barrel run in the U.S. (over 500 feet, and totally gravity-fed, to the relief of whoever'd have to carry one of those beasts) to the warehouse, where the aging process begins.
Warehouse C's walls are 18 - 24 inches of thick limestone. The distillery uses heat cycling to mature the bourbon more quickly, a process that's helped along considerably by Kentucky's capricious weather.
During the long, cold winters, while everyone else is huddled under a blanket watching 7-8 episodes of their favorite TV show in one sitting, a steam-driven heater fluctuates the temperature in the warehouses to produce several hot and cold cycles.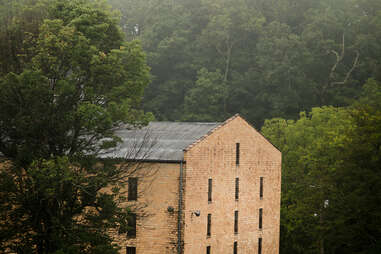 That's part of the reason bourbons do not have an age statement: because of heat cycling, a bourbon can be aged much more quickly than whiskey can be aged in cooler climates.
Tim Hockensmith, the Warehouse Manager, is tapping some of the barrels for samples. Before a batch is approved, it is tasted by three experts at the distillery, and then sent for further taste-testing by at least three more people in Louisville. On the list of terrible jobs... you probably won't find that job.
Once everyone agrees the bourbon is up to standard, the barrels are drained and filtered to catch any of the char, or barrel bits accumulated in the bourbon while it's been matriculating.
Reverse osmosis is used to add water, and bring the product down to 90.4 proof. Which is still a pretty solid proof.
A final check is done by hand to ensure the product is perfect (and correctly labeled).
Once you've seen how your bourbon is made, the best move is to find out how it tastes.
And the best way to taste bourbon is to first "give it a nose" with your mouth slightly open to absorb the bouquet, then hold it in your mouth, roll it over your tongue, and swallow. Three sips are needed from each sample to really determine the flavor: the first gets your taste buds adjusted, the next helps you pick out the high notes, and the third is the whole, beautiful package.
Woodford Reserve Distiller's Select packs in more than 200 flavor elements -- that's a college course unto itself. Distillery tastings pair various foods (a citrus wedge, a dried sweetened cranberry, Parmesan cheese, dark chocolate, and a bourbon ball to really bring out the... bourbon?) with the spirit to see how different tastes brought out the different facets.
Different food & bourbons pairings are offered at the end of different tours, including one involving Double Oaked (fully mature Woodford is finished off in another, super-toasted, slightly-charred barrel, to showcase the difference that changing just one part of the meticulous process can make).
As you leave, take comfort in the knowledge that, even though your tasting is finished, there's more bourbon on the way.