Cole Saladino/Thrillist
Cole Saladino/Thrillist
In Meet the Parents, Benn Stiller's character Gaylord Focker once dropped this nugget of wisdom: "You can milk anything with nipples." While almonds indeed lack the anatomy, lo, you can milk those, too.
With a small carbon footprint—but, eek, high water usage—almond milk has long been a favorite plant-based alternative to cow's milk. Whether you're vegan, lactose intolerant, or want to cut back on bovine beverage, it's dominated many grocery store shelves for years. While oat milk may be the current darling of the non-dairy milk scene, almonds were there first. (And don't even get me started on potato milk!)
But not all almond milks are created equal. To help you make up your mind in a supermarket stocked with an overwhelming amount of options, I bought every one I could find and then drank them. Then, I cooled it on the milk-chugging for a while.
You can try your hand at making your own nut milk. For those who want to skip the DIY project, here's a super-not-too-serious ranking of 10 brands of unsweetened almond milk.
10. Orgain Organic Protein Almond Milk
With "10x the protein!" of other brands, this is the ideal beverage for the lactose-intolerant gym bro—or, say, anyone who's just hauled 10 cartons of almond milk two miles through Manhattan. If Muscle Milk had a weird hippie cousin that hits the gym in jean cut-offs, it would be this chalky, beige beverage. Good for vegans trying to lift weights, bad for those of us who have taste buds and can't get past the powdery qualities. The verdict: It's a watery protein shake masquerading as almond milk.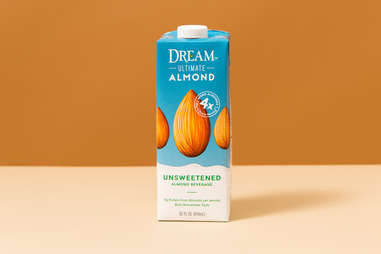 If you're looking for a drink that you need to wash down with another drink, this is it. With a nearly eggnog-caliber viscosity, the super-thick, almost grainy liquid makes you question at first whether you're actually drinking almond milk or almond butter. Perhaps it would work well in a smoothie. It coats the inside of your mouth in much the same way it coats the inside of your glass, and is likely to result in a milk 'stache rivaling that which has decorated the faces of celebrities since the iconic "Got Milk?" campaign debuted in 1993. That being said, if you're not a celebrity, you should probably wipe your upper lip.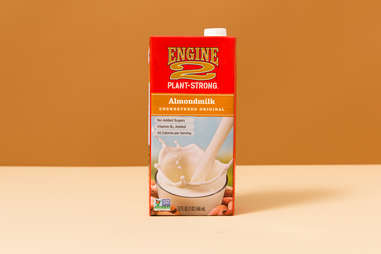 If you think the term "plant-strong" emblazoned across the carton of this almond milk isn't exactly evocative of a creamy and luxurious milkshake-like beverage, well, you'd be correct. Part of the Engine 2 Diet product line and only available in unsweetened varieties (at least at your local Whole Foods), this is probably the healthiest and definitely the healthiest-tasting of the bunch. File under: bland and watery.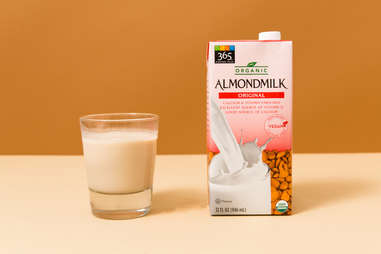 One day, many moons ago—or whenever this alt-milk craze began—a Whole Foods exec said, "Well, I guess we better make almond milk," and the 365 version was born. (I'm paraphrasing this historically questionable occurrence.) It's light, obviously organic, and pleasantly average. The general lack of actual almond taste means no flavor distractions, making it the ideal vehicle for whatever weird muesli you're at Whole Foods to purchase that particular day. It's a perfectly okay almond milk!
If you're a fan of Silk's soy milk, this won't disappoint. Silk knows what it's doing in the plant-based milk department. It boasts just enough almond flavor and an appropriately smooth texture—oh, that's why they call it Silk! This would be a good choice in coffee as much as it would in a bowl of cereal. It's the versatile MVP of almond milk.
Decently creamy, subtly sweet—it's a quality almond milk, especially for one that's mass-produced by a ubiquitous chain market. However, when you consider the fact that you're at Trader Joe's and could buy a bottle of Two Buck Chuck for roughly the same price, we won't fault you for opting for the latter instead. Though we're not sure shiraz pairs as beautifully with Crunchy Cinnamon Squares.
Blue Diamond's take on the nut milk is on the same level as TJ's and Silk, but scores bonus points for being a tad sweeter than the others…and mostly for having a cool name like Almond Breeeeeze. But maybe that's just the almond-milk goggles talking.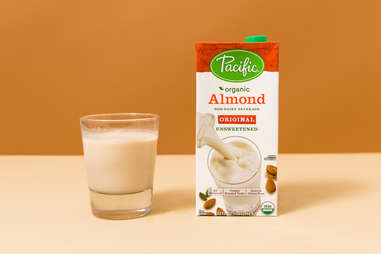 This is likely the one I'll be buying from now on due to pure drinkability. The almond taste is recognizable without being overpowering, resulting in a beverage that's pleasant, versatile, and cereal-ready. But it would do just as well in a smoothie as it would in a vegan mac and cheese. I would even use it in—dare we say?—a White Russian.
New Barn's milk is slightly sweet but without any weird aftertaste (likely because it's sweetened with maple syrup). It boasts a velvety thickness that could best be described as runny Go-Gurt (but, like, in a good way). Plus, due to the plastic packaging, it lacks the weird cardboard notes that plague some of its carton-sealed competition.
Can't quit the cow stuff? For those more interested in the milk than the almond, Califia is the most reminiscent of the dairy version. It's the ideal option to satisfy your milk-and-cookie cravings without succumbing to the dairy devil, and you can almost imagine a milkman dropping off a few bottles at your door (you know, if that were a thing that still actually happened).
While this would totally do the job and delightfully cream-ify your coffee, it's also worth noting that for those who are serious about their cups of joe, the blue-ribbon brand also offers an alternate Barista Blend that makes for "full-bodied foam and better latte art." Hey—always good to have options.
Sam Sumpter is a Brooklyn-based writer who will be eating nothing but cereal for the foreseeable future, and she's totally OK with that. Follow her other (dairy-free) adventures @sam_sumpta.