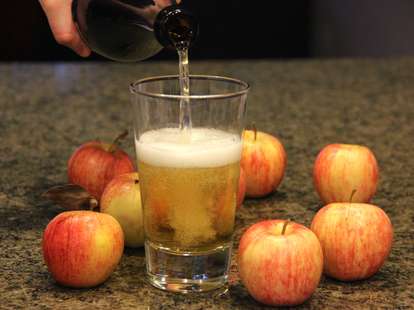 Considering the American hard cider industry is older than baseball, Bruce Springsteen, and the burrito cannon COMBINED, it's no wonder boozy apple juice is in the very top tier of vital and venerable American institutions.

Of course, just because a thing has been around for a long time does not mean it is healthy -- consider, for instance, your student loan debt or the ham fizzing away in the back left corner of your fridge -- and the domestic cider racket went through a wee bit of a dormant period stretching from just before the Civil War to sometime around the midpoint of our most recent adventure in Afghanistan. But cider's back! Which you knew, and which we'll discuss after a brief digression into where it came from and where it's been.
That (semi) brief historical digression
There is nothing more quintessentially American than liquefying a bathtub's worth of apples, adding some yeast, and waiting for the party to start -- even though cider, like most quintessentially American things, originated elsewhere. The British have been swilling cider approximately forever, and they really got into it after 1066, when the invading Normans brought advanced apple cultivation techniques and one more reason to drink.

The initial wave of European immigrants to North America had a hard time figuring out how to work the indigenous fruit, but it wasn't long after the first apple tree arrived from England in 1623 that thirsty and industrious American colonists reacquainted themselves with the British tradition of capping a hard day's work with a tankard of cider, sleeping away the darkness, and then starting the next day with a refill. Cider drinking was, for many, an all-day affair; this is commonly attributed to the lack of clean water and an optimistic view of alcohol's use as a general disinfectant of the internal organs, but it's just as likely that 17th- and 18th-century laborers were simply acknowledging the fact that work sucks, cider's cheap, and get off their backs, man, no one's driving.

With the East coast of the New World being ill-suited to the cultivation of hops and wine grapes, and with rum being ill-suited to long-haul daylight drinking, cider continued to flourish in the colonies for a couple hundred years before peaking in the middle of the 19th century. Its cultural high point came during the 1840 presidential campaign, when the Democrats accused Whig candidate William Henry Harrison of being a lazy old man who would rather sit around getting silly on cider all day than run the country. In a clever and refreshing bit of populist pandering, Harrison turned the tables by adopting the workingman's elixir as a campaign symbol. W.H.H.'s death on his 32nd day on the job was likely due to the rigors of the presidency having kept him from his fermented apple a day (plus pneumonia or whatever), proving that talking about hard cider will get you elected, but only drinking hard cider will get you reelected (provided you don't have pneumonia).

Shortly after Harrison's death, the American love affair with cider was cooled by Europe's penchant for political unrest and our own expansionist hunger for cheap labor. The United States began welcoming huge numbers of immigrants from Germany and other lands along Eastern Europe's beer belt, and lager gradually supplanted cider as the common man's comfort. Then war, Reconstruction, baseball, history, history, Prohibition, and now here we are in 2014 in the delicious middle of a long-overdue American cider renaissance.
American cider today, plus nine craft ciders to drink immediately
Our national taste for cider began to reemerge in the 1990s, when imports from the United Kingdom started showing up again in American bars and liquor stores, but only in the past decade have domestic apple-magicians begun to turn out serious cider in measurable quantities. American cideries increased production 264% between 2005 and 2012, as the evolving national drinking palate (and our devolving tolerance for gluten) encouraged more and more home-fermenters to get into the commercial game.

High-end, not-from-concentrate cider is now produced all over the United States, with localized hot spots in the Midwest, Virginia, and both top corners. These juices vary widely in style, because legit cider is produced from regionally purpose-bred apples. Cider apples differ from traditional eatin' apples based primarily on sugar and acid composition -- cider apples need to be sweet enough to allow efficient fermentation, yet tannic enough to provide some backbone -- and they are far less profitable for most farmers, which leads to greater crop diversity, as they're not worth commoditizing.

In the Blue Hill Mountains hamlet of Dugspur, Virginia, Diane Flynt makes her world-class Foggy Ridge ciders with traditional French and English apples augmented by a wide range of American heirloom varieties. The light and refreshing Foggy Ridge Serious Cider is made with Tremlett's Bitter, Ashmead's Kernel, Dabinett, and Roxbury Russet, among others. The sweet, port-like, 18% alcohol Pippin Gold dessert cider -- made with Newtown Pippin, Grimes Golden, Ginger Gold, and Golden Delicious -- is an outstanding aperitif that will make you reconsider just what fermented apple juice is capable of.

Portland's Cider Riot! combines locally grown traditional English cider apples (including Yarlington Mill and Kingston Black) with tart wild apples from the Yamhill County woods and dessert apples from the Hood River and Yakima Valleys to produce Burncider dry draught, which employs both ale and wine yeasts and is modeled on the pub ciders of the English West Country. They also make the deliciously dry Everybody Pogo hoppy cider, a distinctive marriage of Hood River apples and Willamette Valley hops.

Farnum Hill in Lebanon, New Hampshire, uses an evolving cast of fruit to craft each edition of their Dooryard line; their flagship Extra Dry relies on Ellis Bitter, Dabinett, Somerset Redstreak, Golden Russet, and others to produce a "radically dry" cider boasting tropical and mineral notes that provide uncommon depth and complexity.

Austin Eastciders represents Texas with sweeter (which is to say, less dry) ciders made from classic Old World apples and uniquely Southern varieties such as Winesap and Arkansas Black. The signature Eastciders Original blend employs American dessert apples and European bittersweets, and the tangier Gold Top is a blend of more than 40 different varieties.

Other excellent new-wave artisanal ciders include Boston's Downeast, which was born in a Bates College dorm room and now pumps out some of the region's easiest-drinking good-time ciders, including their Original Blend of Cortland, McIntosh, Gala, and Red Delicious. Down the road in Somerville, Bantam uses Champagne yeast and honey to produce their breathtakingly delicate Wunderkind. Revered Nat of Portland makes a Belgian wit-style cider, Hallelujah Hopricot, with American apple juice steeped with coriander, orange peel, and Grains of Paradise and fermented with French saison yeast.

No matter where you live in these great 50, you now have access to regionally made hard cider of unsurpassed quality. With the Summer still upon us, and a proliferation of artisanal cider the likes of which hasn't been seen on these shores since before the Civil War, there's never been a better time to enjoy America's original all-day drink.
Will Gordon drinks the good stuff and the other stuff in Cambridge, Massachusetts. He tweets about food, drink, and lesser things @willgordonagain.