Barleywine Is the Best Winter Beer. Here's Why.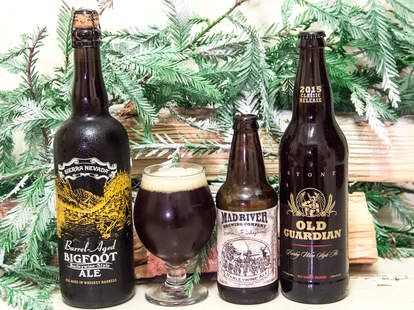 Seasonality in beer consumption isn't just some kind of marketing invention. In those parts of the country fortunate (or unfortunate?) enough to have real weather changes to contend with, the body invariably starts crying out for certain brew profiles at certain points in the year.
A hot summer demands the refreshment that comes with a fruity hefeweizen or a lightly hopped session IPA.
The fall? Time for Märzens and pumpkin beer, which... fine, is entirely a marketing gimmick, but damn if they aren't tasty.
Winter? Many reach for the soul-warming comfort of an imperial stout, and they aren't wrong. But if you don't have barleywines atop your arsenal of "just get me through these next three months" provisions, you're missing out. There's a tremendous variance in flavor profiles -- from toffee-like sweetness to a "this is not what I was expecting" punch of hops -- yet they typically share a smooth drinkability that belies an ABV that typically checks in well north of 9%. They're like the liquid embodiment of curling up on a bearskin rug in front of a fire.
Also, ordering a barleywine makes you feel like you may have stumbled into a snowy tavern in Westeros, which hopefully you haven't, because that'd probably mean you'll be dead soon.
Instead, celebrate life! Raise a barleywine. Like many once-obscure styles, they've climbed in popularity to that point that there is an overabundance of fine examples, but here are some you should be more than happy to find warming your gullet this winter.
Portland, OR
A couple years back, Hair of the Dog -- one of Portland's best and weirdest breweries -- had a 1998 barleywine
sell at auction for $2,000
. This isn't that brew. Point is, though, that Hair of the Dog makes fantastic, sought-after barleywines. Doggie Claws is the beloved annual release, a malty, hoppy beast that really does age beautifully, if you can resist cracking it open immediately. At 11.5%, it's a sweet, malty beast, but for something lighter, go with the Little Dog Doggie Claws, which transforms it into a 3.5% session that doesn't compromise on the flavor.
Amherst, WI
The cats at Central Waters do naughty, nasty stuff in their Brewer's Reserve series, from cherry stout to Scotch ale. But the barleywine is the star. For those who find the fruity sweetness of barleywines overwhelming, this is the one for you, with the woody whiskey flavors toning it all down to create an immaculate fireside drinking companion.
Paso Robles, CA
Originally called "Abacus" before the name was flipped in order to settle a trademark dispute, it's a bucket list beer no matter what you call it, worthy of the hassle you'll likely go through trying to secure yourself a bottle as it tends to fly off the shelves a little bit faster every year as more and more brew hounds gravitate towards its complex, bourbon-laced charms.
Denver, CO
Never shy to mess with conventional recipes, Great Divide's Old Ruffian is what would happen if a barleywine and a hoppy pale ale got into a fight, then mated. Which is to say it's an aggressive beer (GD's words, not mine), but also deceptively gentle and sweet in the sack (the paper one). Here, hops take on an unexpectedly big role, making this the first barleywine fans of IPAs should turn to for a walk on the darker side.
Andy Kryza/Thrillist
Blue Lake, CA
Named for the British folk song/ode to cereal grains, Mad River's take on the storied brewing tradition is effectively straightforward and minimally Americanized. Creamy, spicy, fruity, and boozy, it really does taste like holidays in a glass (sometimes, clichés are true!), and is an under-the-radar favorite for beer nerds in the know. The dude at
Portland's finest bottle shop
disclosed that he takes a case home every year, then compares notes from the previous batch, declaring the beauty with which it ages (optimal time is one year). Just like British folk songs.
Downingtown, PA
It's not a clever name. Well, it is, but also an honest one. Because this beer is prone to knocking you right on your ass for a warm winter's nap. At 11%, it's not the strongest concoction on this list, but where this sneaky bastard gets you is with its mellow hops and almost candy-like fruit taste. It'll be gone before you know it. And so will your insomnia.
Andy Kryza/Thrillist
Escondido, CA
A classic barleywine amped up by hops is one thing, but Stone has never shied away from experimenting (evidenced by the 9,000 or so beers the brewery unleashes annually). This year, as part of the "Odd Beers for Odd Years" program, it released an ultra-hoppy cousin to this already uncharacteristically bitter little wonder. For hop heads, it was the sexiest mating of styles since Tex met Mex. But, honestly, either version is worth picking up. Neither is recommended with flautas.
Juneau, AK
Seeing as Alaska's experiencing barleywine weather pretty much year-round, it's fitting that they've mastered the style. Nutty, sweet, complex-yet-harmonious -- it's everything you'd ever want a barleywine to be, and becomes even moreso if you have the patience to cellar it for a year. But hey, even if you pop it the second you get your hands on it, it'll still be damn good.
Andy Kryza/Thrillist
Chico, CA
How do you take Sierra's cultishly beloved Bigfoot -- a hoppy, funky, sour, sweet masterpiece of mutated brewing styles -- somehow better? Stick it in a barrel. And while it's easier to grab the smaller bottles and let half age and the other half go right down your gullet, the bourbon barrel-aged version is a special-occasion experience. If you can let it sit, the sound of that cork popping will lead to Pavlovian disappointment in all future New Year's Champagne toasts.
Chicago, IL
Aged in barrels that once held Goose's more celebrated Bourbon Country Stout, this is the perfect beer for the drinker paralyzed with indecision between a stout and a barleywine. Don't ponder too long, though -- like all the other BCS beers, they're becoming harder and harder to come by with each passing year as an ever-increasing number of bottle hounds spend their Black Friday tracking it down.
Andy Kryza/Thrillist
Santa Fe, NM
While Santa Fe doesn't seem like a likely place for winter warmers, make no mistake: it can get colder than a sumbitch down there. But here's the thing about Chicken Killer: it doesn't really drink like a barleywine. It's the kind of beer that pairs dangerously well with a summer BBQ, and its year-round status has guaranteed many a burnt burger as a result. It drinks like a step up from a session beer. It does not metabolize like one. Proceed with caution, but definitely proceed.
San Diego, CAAnother
barleywine that seems out of place in its balmy climate? Well, to be fair, the good people of San Diego
react
like they're in a blizzard if the temperature dips below 60, so on some level "winter" is a relative term. It's sweet, smooth, and just the right kind of boozy, so if you pass on it, the numbskull is YOU!
Munster, IN
Dropped each January, Behemoth lives up to its name with 10% ABV of rich, malty, winter-destroying swagger, which becomes even more pronounced if you happen upon the even rarer barrel-aged rendition. Either way, this is the kind of beer that'll have you staring at foot after food of lake effect snow and thinking to yourself "life doesn't suck right now."
Sign up here for our daily Thrillist email, and get your fix of the best in food/drink/fun.

Andy Kryza is a senior editor at Thrillist. You can bet your ass he listened to Traffic's "John Barleycorn Must Die" whilst writing his portion of this story. Follow him to prog rock, and maybe his unicorn-emblazoned van, @apkryza.

Deputy editor Matt Lynch was drinking Sucaba when it was still called Abacus. Spell stuff backwards with him @MLynchChi.