Shutterstock/Khakimullin Aleksandr
Where does a college bro go after graduation, when his move to the nearest urban center rips him away from the safe, sticky embrace of his favorite college bar? Why, to the bro bar, of course: a former-frat star safe haven where the beer comes in pitchers, the game's always on the flatscreen, and there are maybe-possibly-occasionally potential sex partners to whom he can boast about his very important job in financial services.
Like "hipster," "bro" is essentially an empty vessel of a word whose meaning changes depending on the region it's uttered in, and the sense of humor of the person uttering it. So when searching for America's 21 biggest, bro-iest bars, we talked to only the most local, most self-aware washed-up Van Wilder types to bring you this comprehensive roster. What you choose to do with this information is really up to you, but remember: everyone's gotta bro down once in a blue moon. So the next time you want to drink Blue Moons, this prestigious piece of journalism will be right here, ready & waiting to guide you to flavor country, bro.

Boston, MA
Clerys is the OG of the Boston bro bar scene. Unlike the hipster, the bro is slow to shift allegiances, and prefers the sturdy reliability of a place where, since the late '90s, bros have been crushing domestics on draft, ripping shots, and seeing dudes they know who went to Bowdoin with other dudes they used to play lax with at Nobles. Unlike Beacon Hill Pub, which is almost exclusively NESCAC bro territory, Clerys is a little more of a mixed crowd, meaning you could easily see someone who went to Skidmore or Kenyon as well. Most of the earlier action happens in the front and back bars up top, but as the night pushes on, bros will inevitably have enough cinnamon-flavored whiskey to feel confident in their dance floor moves, and invite girls who went to Dana Hall and Wayland High and even Governor Dummer (before they changed it, bro) downstairs to grind to mainstream hip hop classics and eventually go back to their apartments on St. Botolph and Westland and Pickney. Great wings too, but that's not really the point.
Ft. Lauderdale, FL
The bros who ran Potbelly's -- Tallahassee/America's finest establishment for $5 liquor pitchers and FSU girls -- thought that concept needed to be brought to frat-tastic Fort Lauderdale, and hence, this Las Olas spot was born. Between the $7 beers, the actually-solid menu, and the fact that those same FSU girls from Potbelly's moved home and now come here in the same makeup & heels to watch NFL as they wore to work out at the Leach, AmSo is a magnet for every Greek-affiliated Nole man within a three-county radius. Even bros who didn't spend the best six years of their life in Tallahassee come in to experience the life a couple nights a week. Last month, they opened a brand-new Miami outpost, that's well on its way to being the bro-iest bar in Dade County now that Tobacco Road has succumbed to Brickell's tireless expansion.

Cleveland, OH
On Fridays & Saturdays, there will be a throng of partygoers lined up outside on West 6th Street, the Mistake on the Lake's main drag for aggressive drinking and mechanical bulls. More often than not, this throng will be wearing Ohio State hoodies, graphic tees, or Ohio State hoodies over graphic tees, because this is Cleveland, and more often than not, Cleveland is cold. But back to the throng: they're headed to Barley House, a seething bastion of Top 40 EDM and dudes named Steve who transferred from Dayton to Miami, graduated from neither, and returned to the Land for fist-pumping. And construction work. That too. Pass your time drinking pastel-colored test-tube shots and making small talk about the latest Machine Gun Kelly single. Barley House also doubles as a sports bar, which is good, since you'll need to be drinking heavily if you plan on watching anything having to do with Cleveland sports.

Dallas, TX
Uptown Dallas is like Thunderdome, if Thunderdome was exclusively populated by Big 12 energy consultants who exclusively lease luxury sports sedans. In the middle of it all is Blackfriar, a bedecked, multi-level fun house with dark beers and enough heat lamps to keep its front patio crawling with blonde all winter. If the stars over Texas are properly aligned, Friar'll have entertainment: either a movie projected onto the brick wall next door, or Tom Petty cover band/institutional heroes Petty Theft tuning up on stage. If the stars aren't, and it's too packed to make it up the ramp, worry not -- Idle Rich is basically the exact same thing, and it's directly across the street. Play your cards right (or wrong, or not at all) and you may find yourself stumbling back up McKinney with a new friend to do sex with. Wait 'til she/he sees your pool-front one-bedroom in Post Worthington!
Nantucket, MA
Remember that movie where George Clooney is all like "WE CAUGHT MAD SWORDFISH!" and Matt Damon is like "Yeah, but this Doppler though..."? Of course you do. It's called The Perfect Storm, and it's a tremendous film. What does this have to do with The Box, a down-home ACK sea shack that, at one point in its 65-year history, did actually serve chicken? So glad you asked.
First, it's a regular hangout of Nantucket's fishermen, who are as indispensable to The Box's character as the license plates, seafaring paraphernalia, and assorted Nantucket knick-knackery that adorn the walls. Everyone knows bros are the original fishermen. Second, "the perfect storm" is a frighteningly prescient allegory for the chaotic orgy of Ivy Leaguers, Massholes & McGillicuddy's that touches down during big island-wide events. Notably, Figawi, a Memorial Day weekend boat race/hajj/rager whose siren song is impossible for LL Bean-wearing, oversand permit-fetishizing New England bros to resist. A perfect storm, indeed.

Philadelpia, PA
The three locations of this Philly institution stretch in a straight line across the city's waist from West to East like Orion's Belt with a sweaty button-down tucked into it. Main Line post-grads flock for the silly-cheap booze ($8 forties, anyone?) and the pretty undergrads, who themselves flock for the silly-cheap booze and the promise of "more mature" prospects than college has to offer. (This delicate dance rarely works out because... well, $8 forties.) No one flocks for the food, which, given the fact that the place is called Drinker's, should be neither surprising nor alarming. Ditto the milkshake-y floor sludge you'll find caked to your Cole Haans/Uggs the morning after. It's not dangerous, probably.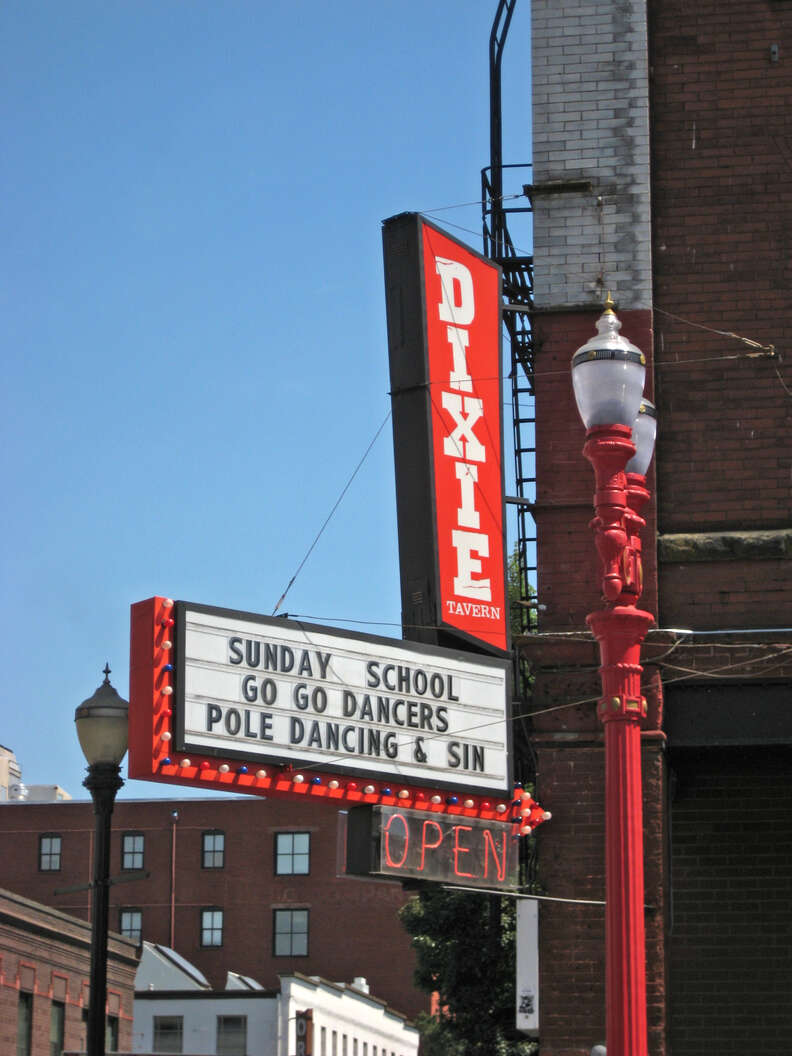 Portland, OR
Look, Portland's known for its hipsters, craft cocktails, and indie music, but that doesn't mean the bros don't need somewhere to go... and there are more of them than you think. On the weekends, when the suburban commandos invade Stumptown, there're so many that some blocks of Old Town -- the only spot in the city where "clubbing" is a thing -- are shut down for safety. The Dixie is ground zero, a place where the scent of Drakkar Noir wafts into the streets every time the door opens. The place is a sweaty orgy of dance music, cosmos, and fist-pumping bros looking to hook up with whatever moves. Oh, and there's karaoke. Because sometimes a bro's gotta 'roake, and nothing makes the panties drop like an off-key rendition of "Blurred Lines."

Denver, CO
Affectionately known as "Denver's Action Sports Bar," this weirdly sleek LoDo spot has something for everyone: fireplaces! Neon lights! Ping-pong tables that Tim Tebow played on this one time! This being the Mile High City, Gaslamp also boasts plenty of flatscreens playing ski/snowboard movies, which provide small distraction from the reality that almost everyone here is just the same Cherry Creek dude with a slightly different tattoo. Wait a second... a girl! You should show her your tattoo! Go tal-- nope, nevermind, she just got picked up by one of the Avalanche's new rookies. Back to the flatscreen!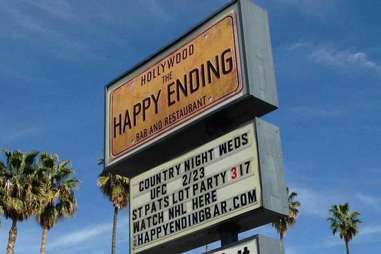 Los Angeles, CA
It's almost as if everyone who's ever worn a backwards baseball cap, used the word "bro" unironically, or has worn a backwards baseball cap while using the word "bro" unironically has the address of Happy Ending saved in the "favorites" tab of their preferred rideshare app. This sports bar/dance club/pickup bar is responsible for more brain cells lost than LA's entire medical marijuana infrastructure, thanks to a discount wheel-of-drinks, a seemingly never-ending stream of co-eds, and more TVs than you can shake an enormous mug of beer at.

Atlanta, GA
Like moths to flame, or Tripp's Dad to an 8am tee time on the Ocean Course at Sea Pines, bros from all over (Buckhead) are drawn to this sorta-maybe-kinda swanky nightspot for one reason and one reason only: the ambiance. Ha! Kidding! They're there for the endless parade of Fireball-fiending FSU blondes, who themselves are there to meet the man of their dreams. Kidding again! They're there to meet someone -- anyone! -- with a frat swoop, an open tab, and a lot of experience calling Ubers while heavily, uh... "medicated." Or perhaps they've got their eye on The Ivy's other male lead: Mister "I am very polished and mature, please look at my leather shoes," yonder with all the hair gel. The beauty of this place lies in its ability to seem totally, completely different than 5 Paces (Buckhead's divier bro favorite, which draws UGA KDs anxious to prove they're "just one of the guys"), even though it's actually pretty much the same thing with a drier floor and slightly nicer clothes. See you at Waffle House.

Chicago, IL
The "official" name might be Joe's Bar, but make no mistake, the name of the place is Joe's on Weed, which has nothing to do with what substances the patrons may or may not have used, it's just located on Weed St. Depending on the night you're at this nightmarish warehouse of a sports bar/music venue/toxic cloud of moderately priced men's body spray, you might run into varying species of bro -- the sensitive country bro who's just really stoked to see Brad Paisley, the IU frat guy manchild, the Affliction-decked meatball who's had this UFC fight on his calendar since his last anger management class, it's quite the revolving cast. The common denominator is that they could all well try to fight you when you allegedly graze their shoulder or cause their lady friend to spill her overpriced vodka tonic.
Baltimore, MD
Because it's against international law to write about Baltimore without in some way referencing The Wire, it must be clearly stated that Mad River is not the sort of place McNulty & Co. would go to mourn the loss of another "good police." No, this Fed Chill favorite traffics more heavily in washed-up Greyhounds doing shots of Rumplemintz in Gilman lacrosse sweatpants... and that's just on a random Sunday. Bartended by attractive ladies and beloved by every under-30 Ravens fan within city limits, Mad River is colossal (go upstairs and creep!), messy, and full of people somehow more smashed than you. It's basically like a horseless, indoor version of the Preakness that never ends, which if you know anything about the Preakness, is utterly terrifying. Bonus: professional laxers (MLL bro, look it up) drink there on weekend nights. Which, like, why are you even still reading this gogogogoMadRivernow.

Scottsdale, AZ
You know that super-famous music venue in Los Angeles called The Mint? The one that's hosted everyone from Stevie Wonder to Justin Timberlake in its 70+ year run? Yeah, this is nothing like that. Located 400mi from LA in the Southwest's weirdly clean neon heartland, this Mint is an Asian fusion lounge-thing named for the vault it houses (it's in a former bank building). It hosts all manner of shimmering youth who "might go to Coachella this year, but we'll see," and the patio is actually pretty killer. But the main attraction is... well, butt: attractive women in tight clothing get in easy and dance late. Scottsdale's finest shiny-shirted jablonskis are happy to follow.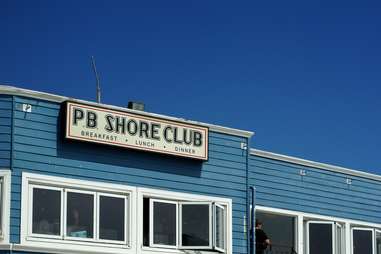 San Diego, CA
San Diego is the bro capital of California, and Pacific Beach is the bro capital of San Diego. Behold: PB Shore Club. No matter which way you approach this shining bro-beacon from, you will end up walking past a string of CrossFit gyms and tank-top stores, and once you get there you'll realize that everyone in the bar has spent a lot of time at both. Shore Club is utterly teeming with wall-to-wall dudes wearing RVCA shirts, flatbrims, and boardshorts climbing over each other to buy this frozen drink creatively known as the RBV: a jumbo cup full of Red Bull/vodka slushie served out of those carnival-style drink machines. Is it a good idea? Nope. But it is cold, which is like "chill," which is the way La Jolla bros pretending to be surf bums might say "good," so... yep, it's a good idea.

New Orleans, LA
The Palms is the bar equivalent of that girl you hooked up with during freshman orientation week, swore you'd never get with again, and then woke up next to during Hell Week after finals sophomore year. And senior year. It's one of the first places locals go in high school (and don't drink at, of course, because that's illegal!), yet keep returning to throughout college and into the late stages of bro-life, until they find themselves sipping that third free G&T after a solid run at the coin toss in Flip for It Friday, staring desolately at the stripper pole that's inexplicably in the middle of the floor, and realizing it's finally time to graduate to other dives. But you'll be back... it's hard to give up on a 50/50 chance at free drinks.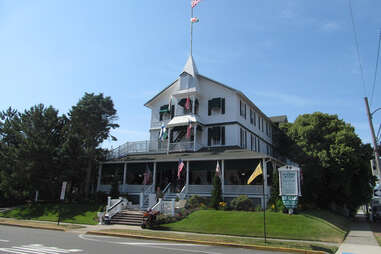 Sea Girt, NJ
Though Sea Girt is very much DTS ("down the Shore"... duh), it's the polar opposite of the greased-up flesh carnival most people envision post-Jersey Shore. No, the Girt is a sacred enclave full of lush lawns, German crossover vehicles, and city-living NESCAC alums spending summer weekends at their parents' underused beachfront homes. In the middle of this pasty-white paradise, there is Parker House -- a 137-year-old, multi-level watering hole that looks much like a beachfront home itself. This place is an institution up and down the shore for its porches (perfect for day drinking), its very solid seafood, and of course, its nightlife, which sprawls sloppily across big rooms upstairs and down into the furnace-hot basement. The shuffleboard tables are usually run by regulars so good they're not worth challenging, and when the band plays, the sweat pours. Don't bother pulling out your Amex, Chip -- Parker's cash-only. But bring plastic anyway, because when it closes at 12am, everyone's going to the Osprey, where you can swipe to your heart's content.

Austin, TX
Overlooking the yuppie sector of Austin's largest bar district, West 6th staple The Ranch is undoubtedly one of the city's largest strongholds for the salmon-colored shorts set who've marched over from an overpriced condo building that's inexplicably named after a butterfly. It's a melting pot of polo shirts and cowboy boots and guys who bench-warmed for the Longhorn football team for a year whose only huddle-like experience is grinding awkwardly to mashups in uncomfortably close proximity to their "wingmen." If the environment isn't... uh, "target-rich" enough with fuchsia day-glow dress'd women who you don't even need to buy a breakfast taco for the next morning, there's always J Black's right next door.
Pensacola, FL
Pensacola is filled to the brim with freshly minted naval flight school students with nothing to do but buy whey protein, do CrossFit, and drink. Seville Quarter is headquarters for the drinking part. Maybe the whey protein, too -- who really knows? Inside you will find a dueling piano bar, a stage for live country music, and a third area in which to smoke cigarettes and play billiards poorly while talking about playing billiards well. However, the serious bro will make his way towards the front of the bar to the appropriately named "skank tank": a glorious, crowded, nuts-to-butts grindshow that's singing along, unintelligibly & en masse, to a T.I. song from like eight years ago. You have to pay a $5 cover to get in -- unless, of course, you have a season pass, which is a real thing that they actually sell.
New York, NY
Given that Manhattan is both an international financial hub, and "next to Long Island, New Jersey, Westchester, and Fairfield," it's got a truly breathtaking array of 20-something doughboys flailing their considerable disposable income at things. Often, these things come in dime bags, high heels, or both. But when New York's young white princes want cheap pitchers, bar-sanctioned beer pong, and Bucknell chicks at which to blather loudly about the private equity jobs they don't have but want, they go to 13th Step. The crown jewel of a kingdom that also includes such mainstays as Off the Wagon & Gin Mill, this East Village sports hideaway has been awash in privilege & lager since it opened back in 2010. The sidewalk out front is quite possibly the best place in NYC to bum cigarettes from guys named Trevor.

Washington, DC
This two-story bro mecca is located in Glover Park, which is the neighborhood people move to when they want a more "authentic" city experience than Arlington, but also need a house with a driveway. You don't park a Range Rover Sport with Gonzaga window stickers just anywhere, man. Town Hall's brunch is actually solid, but the real sell is its covered back deck, where rain or shine, you can rub shoulders with Barbour jackets that contain life-like wax figures named Mitchell & Brad, who are interning on the Hill right now for blahblahdoesn'tmatter. In addition to democracy, Mitchell & Brad also enjoy double-fisting whiskey-gingers out of Town Hall's plastic cups, and the SEC. They talk about the SEC a lot. Like, the most. How much do you care about the SEC? Yep, Mitchell & Brad care more than that.
San Francisco, CA
Tipsy is the bro local, the comfortable neighborhood bar in the Marina, which could actually make a very convincing argument for being the epicenter of the Western bro movement. It is an older bro strain -- the bros that would roll into Bar None are usually not the ones here -- and you'll see quite a mix; everyone from dudes who used to play water polo at Cal to dudes who used to play water polo at UCLA. In terms of atmosphere, this is a bit of high-culture bro -- the food here is very good, the cocktails are a little more crafted than you would find at most bro bars (girls almost exclusively drink the Strawberry Fields), and the TVs at each end of the bar are a little smaller, making it hard to see which Pac-12 water polo team is playing.
Dave Infante is a senior writer for Thrillist Food & Drink, and are you guys gonna want another round here, or should we move to that other spot for the late game? Tell @dinfontay on Twitter, Instagram, and Snapchat.