Yes, Munich's a beer town (especially if you're here for Oktoberfest). But at this point, many of the city's coolest bars are slinging high-concept cocktails, and even a few of the brightest beer halls are newcomers that even locals don't know about. Of the city's many ways to wake up wrecked, here are eight of the best.
1) Gamsei
Part high-end cocktail lounge, part anti-globalization protest, the stylish new Gamsei pours only "regional" cocktails, using locally sourced, often foraged fresh ingredients from the surrounding countryside. Australian owner Matthew Bax has kept his day job as an artist, and he brings the same creative spirit to Gamsei, serving drinks like the Mid-Life Crisis and the Nitro Muesli in a tiny, open-plan lounge that owes as much to old-school Bavarian beer halls as it does to minimalist Japanese houses. Thanks to the elevated, amphitheater-style seating, everyone can check out the action at the bar.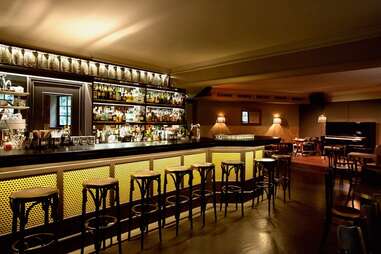 2) Bar Gabányi
The author of several whisky books, Stefan Gabányi's stylish cocktail lounge gives place of pride to Ardbeg, the peaty Islay Scotch. Solid drinks are only half of what brings in the regulars, though. Set in an atmospheric, moody cellar not far from the Oktoberfest grounds, Bar Gabányi has a wildly varied entertainment schedule, with poetry, chamber music, jazz, and dance performances, resulting in an artsy, sophisticated clientele. With plenty of intimate corners, couches, and nooks for dates, Gabányi is a modern classic clearly inspired by Gabányi's tenure at Schumann's American Bar, the city's old-school favorite.
3) Red Hot Bar
Beer in Munich? No biggie. Non-Bavarian craft beers, however, remain rarities in the German heartland. Get your IPA fix at this pub and self-styled "chophouse" close to the University of Munich, where the lengthy brewski list includes bottles from cult American, Belgian, British, and Italian names -- think Brooklyn, Firestone Walker, and BrewDog. Even better, the list has never-seen German takes on foreign styles, like the solid Crew IPA from Bavaria's own Ale Werkstatt. If you've had your fill of wurst, back up the brews with some hearty food from back home, like Europe's best spare ribs and pulled pork sandwiches.
4) Padres
This raucous speakeasy near the southern entrance to Old Town is actually named after San Diego's unlucky MLB franchise, or as the bar calls them, "the worst baseball team of all time". The players behind the bar, like cocktail historian Marco Beier, have a much better record, serving original and classic highballs to the party-all-night crowd. Flatscreen TVs give the place a bit of a sports-bar vibe, especially during Bundesliga game nights, but don't order a Hefeweizen; even when soccer's on, the Moscow Mule's your go-to drink.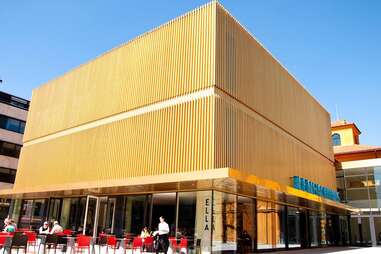 5) Ella
Most people come to the renewed Lenbachhaus to visit the recently reopened museum's impressive collection of Expressionist paintings. They stay, however, because of this stylish ground-floor café-bar, which kicks off cocktail hour with bittersweet Aperol spritzes and other classic Old World eye-openers, as well as high-end bottles of German, Italian, and French sparkling wines. Beyond the bubbles, there's a full menu of modern Italian cuisine, and killer views of the neoclassical architecture on nearby Königsplatz square.
6) Forschungsbrauerei
After you visit touristy (but excellent) old beer halls like the Augustinerkeller, impress your beer-geek pals at home by visiting this obscure micro in the Perlach neighborhood to the city's south. As the name implies, this is a former "research brewery" from 1930 that went legit, and serves some of the city's best (and least-known) brews, including a remarkably hoppy Blonder Bock that kicks as hard as the goat it's named after. Despite the arrival of a new owner, Manfred Silbernagl, two years back, fans say the beers are just as good as they were 80 years ago.
7) Bar Müenchen
Set at the end of one of Munich's ritziest boulevards, this 10yr-old wood-paneled bar feels like it's been there just about forever. Inside, guests stop in for new-school cocktails like a Stagger Lee (mint, cherry marmalade, cherry liqueur, and Wild Turkey) before a night at the nearby opera. There's also a full dinner menu, though it's quite spendy; an oversized steak of juicy Simmertal beef goes for €54.50, but at least it includes side dishes.
8) Couch Club
The city's best gin joint stocks over 100 variations on juniper juice, including such rarities as the UK's Bulldog and Botanist, as well as bizarre German gins like Adler, the Duke, and Monkey 47. Despite the rare names on the top shelf, the place feels like a college pub, with cheap pizzas and a foosball table entertaining in the crowd of Glockenbach regulars. This is the second address from owner Alex Schwarz, whose book-lined, retro-styled Niederlassung a few blocks away remains a local legend.