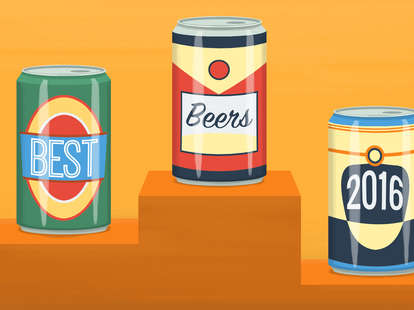 What the hell is the "best beer," anyways? For us, it's gotta be Kickmouth Brewery's Slop House barrel-aged stout. Just kidding, we made that up. But you kind of believed us for a second, right?
2016 was an excellent year for beer, and Lord knows we needed it! But what were the experts' favorite brews of the year? We asked some of our favorite brewers and writers to pick the best beers they had all year. You'll find beers from Austin to Antwerp in this here rundown. Consider it a shopping list, and let us know what you loved in the comments so we can bolster ours.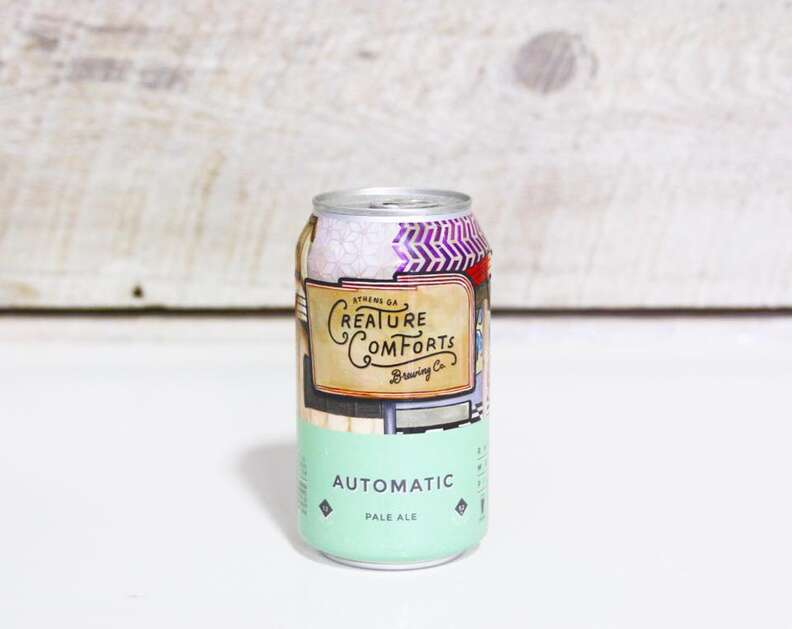 5.2%, pale ale
Athens, Georgia
"I'm a true hophead who indulges in IPAs in the 6-7% range, but when I had the Automatic pale ale this summer I was blown away by the fact that it packed so much flavor, balance, and straight deliciousness at 5.2%. Its tropical juiciness brought me back to elementary-school fruit cups with the pears and maraschino cherries I couldn't wait for. Well, I'm antsy once again, pacing back and forth until this seasonal drops again next June. Oh yeah, the can's art is gangster too!" -- Ale Sharpton, writer, Cruisin' for a Brewsin'
5%, kriek
Brussels, Belgium
"I sipped this whale alongside my brother inside Cantillon's Brussels tasting room in July. Living up to any hype, all aspects of the setting made it an unforgettable beer experience." -- Bryan Roth, writer, This Is Why I'm Drunk
11.9%, old ale
Grand Rapids, Michigan
"Better Half is a 2012 Founders Backstage selection I had been saving in my cellar for some time. This beer was remarkable. The bourbon, maple syrup, and hearty malt of the old ale became nicely blended in four years of aging. The result was a magnificent and complex menagerie of malty and sweet flavors. It's a beautiful beer that I hope Founders releases again." -- John Thompson, writer, The Hop Local
5.4%, amber ale
Bristol, England
"I was already a lover of the Bristol-based Moor Beer, but I fell deeply in love with Wiper and True's beautifully crafted beers, specifically the Amber with Citra and rye. The spice of the rye in the amber-style grain bill was attuned to the Citra hops, and I felt like weeping at its perfection in delivering that malt punch with a delicate touch that still allowed the Citra to shine. I'm a total dork for the Bristol beer scene." -- Nora McGunnigle, writer, NOLA Beer Blog
6.8%, amber ale
Montreal, Québec
"I try a lot of beers, so picking one favorite from the year where I probably tried more than any other is incredibly hard. But looking back through photos from the past few months, one jumps out at me: Dieu du Ciel!'s anniversary IPA that I was lucky enough to get my hands on while on a trip to Montreal.
"The beer itself was beautifully tropical and citrusy -- both balanced and bright with plenty of pineapple and passionfruit -- and it tasted amazing as I sat outdoors on the brewpub's terrace on Avenue Laurier in Mile End. It might've helped that it was one of those cinematic September days in Montreal where it's a perfect 72 degrees, and that I was surrounded by some of my oldest, best friends. But there's no mistaking that this was one of the happiest moments of 2016 made even better by a damn fine beer." -- Zach Mack, owner, Alphabet City Beer Co.
4.6%, lager
Woodridge, Illinois
"I've been traveling a lot this year, trying beers from all around the world, and I just wrapped up my travel with a week-long trip to Chicago. I've had some amazing beers this year, but in all honesty I think I'm beer and travel fatigued, and many of my memories have begun to blur together.
"That is, until I arrived at Metropolitan Brewing on a Friday afternoon in Chicago -- it turns out that many of the city's brewers and industry brethren gather there every Friday at 2pm. We mingled for a few with many of the Windy City's friendliest folks, and then a voice came over the speakers and announced it was 'Shotgun Friday.' Tracy, Metro's co-founder, came out of the walk-in with a couple of suitcases of Old Style and we all shotgunned one and slammed the can to the drain. It had been a while since I shotgunned a beer, and much longer since I drank Old Style, but wow! It went down so easy and it convinced me it's absolutely the way to kick off Friday afternoon!
"So there you have it: Old Style, on Friday afternoon, above the drains at Metropolitan Brewing. I will admit that I followed it up with a few of Metropolitan's Krankshaft Kolschs, which went down equally as smooth." -- Dave Thibodeau, Ska Brewing Co., Durango, Colorado
5.6%, lager
Munich, Germany
"Every year, the Sam Adams brewers take a trip to Bavaria in October to hand-select hops from local growers in the Hallertau region. After spending a week in the hop fields, we typically head into Munich and visit historic breweries in the city. This year I especially appreciated sitting with Jim Koch in the bierhalle at the Augustiner brewery, enjoying a traditional helles-style Augustiner Edelstoff and talking to him about hops and his German ancestors who were also brewers." -- Jennifer Glanville, brewer, Sam Adams
6.6%, pale ale
Boston, Massachusetts
"I've been drinking pale ales for 15-20 years and thought I had tried them all (including the best ones). And then you get a pale ale that sets new standards for what the style can be. So soft, so smooth, so drinkable, yet so flavorful and refreshing. How is it possible to take one of the most brewed beer styles of the last 50 years and totally change it and make it better than anyone has done before? Such an inspiration!" -- Jeppe Jarnit-Bjergsø, Evil Twin Brewing, Brooklyn, New York
7%, gueuze
Antwerp, Belgium
"I had this on a trip to Brussels in April. It is 100% spontaneously fermented by the magical brewer's gut instinct of when to invite in the countryside air and allow the wild yeast and bacteria into the brew. The brew is aged in a giant oak tank for one to two years, blended with a fresh brew to the tune of 95% old to 5% new, and then bottled. This is a very complicated brew that no US brewer could ever hope to replicate, especially since we lack the magical air of the Brussels countryside!" -- Jeremy Marshall, brewmaster, Lagunitas Brewing, Petaluma, California
11.5%, imperial stout
Willoughby, Ohio
"This past year was a great year for beer. The one that stands out in my memory is Nut Smasher. Dark, with flavors like cocoa, peanut butter, coffee, and roasted malt, Nut Smasher is a complex beer with a warming presence, thanks in no small part to its 11% ABV. Forget filling your spirits with joy by watching The Nutcracker this holiday season -- drink a Nut Smasher instead and fill your joy with spirits." -- Bryan Carey, writer, Great Beer Now
6.3%, IPA
Berkeley, California
"The only thing more dangerous than living next to a bar is living next to a brewery -- three little blocks, in my case. Fieldwork is constantly changing its lineup, which is why it was so hard to pick a favorite (because no matter what, I was going to pick one of their beers for this list). 2016 was a big year for fruit beers, and nobody crushes it in that department more than Fieldwork.
"My favorite of the year has to be High Sea -- an IPA brewed with sea salt, oranges, and tangerines. It's super-juicy and dank with just the right hint of salt. Personally, I think the addition of salt to IPAs is quite brilliant. It seems to neutralize the hop bitterness in a really neat way (did I really just say neat?). The name of this beer is also quite brilliant. High Sea... get it? High Sea? Like Hi-C? But with sea, because of the sea salt? Pretty neat, right?"-- Ashley Routson, writer, Drink With the Wench
4.5%, lager
Minneapolis, Minnesota
"It's clean and crisp with a nice American hop bite. While there were plenty of great beers throughout the year, none were as easy to drink while still being flavorful. Even better, it won't burn you out if you drink pint after pint." -- Ben Brausen, writer, Craft Beer Time
5.8%, Sour
Austin, Texas
"Every few years a beer comes out that transcends the craft-brewing industry -- one so much more than just a great representation of its style or its brewery. SPON is exactly that! Created using the method of authentic Belgian gueuze: a blend of one-, two-, and three-year-old 100% spontaneously fermented beer. As my fermented brother Jeffrey Stuffings puts it, 'Méthode Gueuze -- pioneered by breweries like Cantillon -- stems from a desire to protect this traditional method lest it become so watered down, confused, and bastardized that it essentially becomes meaningless.'
"He and his team at Jester King interpret this heritage in the most thoughtful way possible. It involves well water, Texas malted barley, and raw wheat, turbid mash, and a long boil with aged hops and wort chilled and inoculated in a copper coolship. Then it's fermented in oak barrels and naturally conditioned. The second you hear the pop of the cork, your nasal senses are flooded with the undeniable funk of what I lovingly call 'cat piss and burnt hair.' Every sip reveals a new layer of flavor dynamics that an aged fine wine aspires to. Super-tight bubbles and a backbone acidity keep you salivating for more and more." -- Jensen Cummings, Certified Cicerone, Brewed Food
6.8%, IPA
Los Angeles, California
"This is one of our favorite representations of a West Coast IPA style -- so bright and pungent it's like drinking California sunshine from a can. The resinous hops punch forward along with tropical fruit flavors like passionfruit and mango, while grapefruit and a bit of pine lingers on the nose. With all this going on, Hello, LA finishes dry -- just the way us Angelenos like it!
"We took a few fresh cans of this abroad to test it on the palates of enthusiastic Norwegians and they were blown away with its crispness, bright hops character, and overall drinkability. It's such a great brew to represent Los Angeles, as well as American craft beer." -- Kelly Erickson, writer, Girls Who Like Beer
10%, saison
Lancaster, Ohio
"I'd had a couple of Rockmill's brews before, being that nearly their entire portfolio is available at my neighborhood Whole Foods. Story is, the beer buyer there's a big fan -- and he's got company. Rockmill is a maker of farmhouse ales located on a former horse farm about 25 miles southeast of Downtown Columbus. Cask Aged Noir is one of their biggest beers -- barrel-aged and clocking in at 10% ABV. It was one of my first new samples of 2016, and I still remember how well the boozy character blended with the vanilla, molasses, and dark, dried fruit flavors.
"The elegant artwork on the label and the cork-stoppered bottle only help to entice new drinkers, but the Ratebeer score in the high 90s should make you want to try it, too." -- Jeremy Fultz, editor, Brew Studs
6.8%, stout
Worcester, Massachusetts
"I debated this selection -- I didn't want to pick Norm just because it's named after me and my beautiful face is on the equally beautiful label. I didn't want to be accused of playing favorites. However, I'm picking this beer because it's the beer I enjoyed the most after a one-year hiatus. It's the perfect dessert beer -- it features a combination of coconut and chocolate that can't be beat. More and more breweries are doing coconut beers, but none have surpassed Wormtown's version, which features 1lb of coconut per gallon of liquid." -- Norman Miller, writer, Real Beer Nut
Sign up here for our daily Thrillist email, and get your fix of the best in food/drink/fun.
Lee Breslouer is a senior writer for Thrillist, and his favorite beer of 2016 was all of them. Follow him to indecision @LeeBreslouer.