Brewmasters on the Best Beers They Drank in 2015
Andy Kryza/Thrillist
Andy Kryza/Thrillist
While it would have been impossible/amazing to try every single new beer on the market in 2015 and tell you the best ones, we ultimately decided against doing it ourselves this year (you're welcome, mom). Instead, we spoke to brewmasters from across the country to find out their favorites. The only rules we gave them were that it had to be released in 2015, and that it couldn't be from their own brewery. Here's a look back at the best brews of 2015 from around the country.
IPA, 6.5% ABV
Tukwila, WA
"I was visiting family in Seattle over the summer and found this beer in my hand nine times out of 10. I really dug the hop aroma, and the hop flavor played well with the malts. And who doesn't love cans?! All in all, Asgard IPA made a great beer to accompany us on all of our family outings. As a side note -- and most certainly contributing a wee bit of bias -- the fact that my last name is of Viking origin made the beer even more fun to drink." -- Matt Thrall, Left Hand Brewing Co., Longmont, CO
Pilsner, 4.1% ABV
Asheville, NC
"I went to Asheville and bellied up to Sierra's new bar at their Mills River brewery. I ordered their Keller Pils and was leveled by how tight that beer was. I was a few beers in, but it was flawless. Those guys are scientists building some great beers." -- Gabriel Magliaro, Half Acre Beer Co., Chicago IL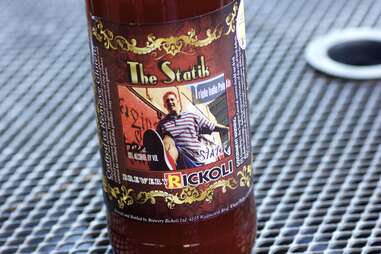 Triple IPA/barleywine, 13% ABV
Wheat Ridge, CO
"One of the best beers I've enjoyed in 2015 was actually brewed by a craft brewer in our Sam Adams Brewing the American Dream program. Rick Abitbol from Brewery Rickoli, one of the smallest breweries in the Denver area, brewed a delicious triple IPA in the barleywine style category called Statik. This beer has a variety of American alpha hops, but is also very well balanced. Rick actually won silver at the Great American Beer Festival with this delicious beer. I've also had the pleasure of trying many of their beers, and we brewed a gluten-reduced stout collaboration with Rick last year." -- Jim Koch, Samuel Adams, Boston, MA

IPA, 6.5% ABV
Chicago, IL
"My favorite non-Ale Asylum beer of 2015 is an American IPA from Half Acre Beer Company in Chicago called Blanco Niño. It's single-hopped with Hallertau Blanc hops from Germany, and comes in at 6.5%. It's expertly made, clean, bright, refreshing, and highly quaffable. The aroma is how I imagine angels smell. I would bathe in this beer if it was socially acceptable." -- Otto Dilba, Ale Asylum, Madison, WI

IPA, 8% ABV
Portland, ME
"I'd give my shout out to Epiphany by Foundation Brewery in Portland, ME. Really nice double IPA that I believe is done with a British ale yeast, giving it a smoother, softer character than most. A real standout this year, and I've tried a lot of beers in 2015!" -- Tim Brady, Whetstone Station, Brattleboro, VT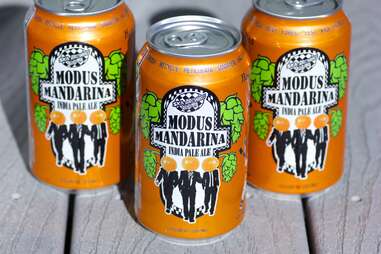 IPA, 6.8% ABV
Durango, CO
"I have fallen in love with the Mandarina Bavaria hop, and I love the brightness of the orange peel followed by the aggressive bitterness that Modus is known for. Maybe it was the bright-orange can (go Broncos!), but this beer spoke to me and I couldn't quit buying it." -- Sam Scruby, Upslope Brewing Co., Boulder, CO

Barleywine, 9% ABV
Chicago, IL
"I absolutely love the 'culinary beers' that Jared Rouben does at Moody Tongue in Chicago. This beer was my top beer at GABF and then again at the Festival of Wood and Barrel-Aged Beers. The marriage of chocolate, bourbon, and elegantly oxidized barleywine is perfect: it's like boozy drinking chocolate. Not the sort of beer I can go for every day, but this was one of the few beers that knocked my socks off all year." -- Ben Edmunds, Breakside Brewery, Portland, OR

Ale, 7.9% ABV
Petaluma, CA
"I'm a big fan of Lagunitas' CitruSinensis Pale Ale. Lagunitas in a longtime friend of Anchor's, and I love what they've done, especially their recent releases. There are so many out there, but a really good citrus beer is hard to come by. The CitruSinensis Pale Ale is a particularly interesting one because of its high ABV, yet the burst of blood-orange flavor makes it refreshing and drinkable." -- Mark Carpenter, Anchor Brewing, San Francisco, CA
Sour, 6.4% ABV
Boston, MA
"2015 was a great year for tasting beers -- it rocked pretty damn hard! Evaluating beer can be quite difficult -- our own beers, or someone else's. Many view selecting a favorite beer much like determining which child is your favorite... alas, I have no children! With so many incredible beers this year, I would like to talk about the most surprising beer I tasted -- Kosmic Mother Funk from Sam Adams. Having spent a few years living in Beantown during my school years, I had pretty much written that brewery off ("I mean, they're pretty much a dinosaur at this point," my young self surely would have said). It's fitting that Boston is where I fell in love with sour and tart beers, and I'm quite glad I no longer have the 'big (craft) beer' chip on my shoulder that I once did.
"KMF not only showed me that Sam Adams and the Boston Beer family are still able to kill it in regards to producing spot-on products, but it also reinforced the fact that a brewery who many folks seem to think of simply for Boston Lager actually has the capabilities to take a crack at some fairly challenging beer styles and still come out looking like an American hero among brewers. The notes I recall the most regarding KMF were the pleasant aroma of dark tart cherries and a lingering of oak that was reminiscent of a Flemish Brun. The flavor of the beer was the ideal marrying of the aroma and a slightly sweet taste from the darker malts to balance the perfect level of sour." -- Richie Saunders, Shmaltz Brewing Co., Clifton Park, NY

Stout, 6.5% ABV
Kansas City, MO
"We're an Oklahoma City-based brewery. We launched in the Kansas City market in October of this year and have been getting more familiar with KC's local brewers with every trip we make to the market. Our early favorite is Torn Label Brewing Co. They have one of the most thoughtful, nuanced coffee stouts I've ever had, with the most unassuming name possible. It is absolutely beautiful. The wheat-stout base has a soft mouthfeel that allows for the full expression of the locally roasted Sumatran coffee. The earthy and vegetal characteristics of the coffee are unexpected for those not familiar with the flavor profiles produced in the Sumatran growing region. As a brewer, I know you don't arrive at this result by happenstance. Beautifully designed. Beautifully executed. I'll be grabbing at least one pint of this every time I visit KC." -- Brad Stumph, Black Mesa Brewing Co., Oklahoma City, OK

Pilsner, 4.8% ABV
San Diego, CA
"My beer of the year is Fall Brewing's Plenty pilsner. It's a well-made pilsner -- a little fruity, very drinkable, and usually on tap at bars in my North Park neighborhood." -- Erik Jensen, Green Flash Brewing Co., San Diego, CA
Amber, 8.5% ABV
Escondido, CA
"The latest release from the Stochasticity Project incorporates newly developed forms of grain yet to be widely used in the brewing world. There is a distinct nutty and cereal-like malt quality in the flavor and aroma. With Columbus, Chinook, Centennial, and Cascade hops added to balance out the intense malt backbones, the result is a blend of spice, citrus, and pine-nut flavors. A well-balanced beer!" -- Tim Kovac, Small Town Brewery, Wauconda, IL

Sour, 7% ABV
Austin, TX
"Jester King took an already amazingly complex beer, put it in different barrels (sherry), and got something with even more layers and complexity. When a beer can challenge even the best wines, you know you have something special. Jester King is a brewery that started good, but over the years has become better and better, and right now they are one of the finest makers of unique, wild-fermented beers." -- Jeppe Jarnit-Bjergsø, Evil Twin Brewing, Brooklyn, NY

IPA, 6.5% ABV
Brooklyn, NY x Dunedin, FL
"The best beer I was able to try this year has to be It's Not You, It's Me, which was a collaboration between Other Half Brewing Company and 7venth Sun Brewing Company. It's an IPA brewed with lychee, which really enhances the fruity hop aroma and creates a complex, sweeter flavor for an IPA. I tried it at the Other Half taproom and it was phenomenal!" -- Eric Hernandez, Coney Island Brewery, Brooklyn, NY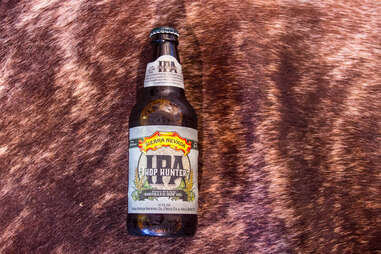 IPA, 6.2% ABV
Chico, CA
"Asking for a beer I enjoy that I didn't create really thins the herd dramatically, but I'll go with Sierra Nevada Hop Hunter IPA. It's brewed with fresh hop oils distilled right at harvest, which gives it a nice smack of hop resin intensity, but is also extremely well balanced and therefore highly drinkable. And since our local stab-n-grab carries it, there's always more available right around the corner!" -- Andy Tveekrem, Market Garden Brewery, Cleveland, OH

Stout, 7% ABV
Washington, DC
"This is an impossible question to answer. There are many amazing beers out there, but Mexican Radio was a standout in a stellar crowd: layered with numerous flavors for an unforgettable experience, this beer stood out to me as pretty unusual and really tasty, like dessert in a glass." -- Stephen Hale, Schlafly Beer, St. Louis, MO

IPA, 8.2% ABV
San Francisco, CA
"My favorite beer of 2015 that I didn't brew is part of the Anchor Argonaut Collection. They took the iconic Liberty Ale -- America's first dry-hopped IPA (originally brewed in 1975) -- and 30 years later reimagined it! Like the name implies, they doubled the amount of Cascade hops. It also has a respectable 8.2% ABV and arrives in a beautifully packaged four-pack. More importantly, it has amazing tropical fruit aromas and juicy malt flavors, making for a very drinkable double IPA." -- Brenden Dobel, ThirstyBear Brewing Co., San Francisco, CA
Sign up here for our daily Thrillist email, and get your fix of the best in food/drink/fun.
Lee Breslouer is a senior writer for Thrillist, and loves every beer Ska makes. Follow him to Colorado beers: @LeeBreslouer.