Any good beer store these days is practically drowning in a sea of craft beer labels begging for attention. Drink in that glorious, art-filled ocean! And while many breweries have beautiful works of art on their cans and bottles, only a select few have been plastering their brews with consistently attention-grabbing art that makes you stop drinking the beer for a second to look at the label.
To help us investigate the best, most consistently innovative label art in the country, we spoke to Harvey Shepard, who literally wrote the book on it (Oh Beautiful Beer), and Craig Gunderson of Beer Labels Art, a site that shines a light at the artists behind the drinking vessels and the incredible art they're responsible for creating. Feel free to hang these on the wall. Preferably after you've emptied them into your stomach.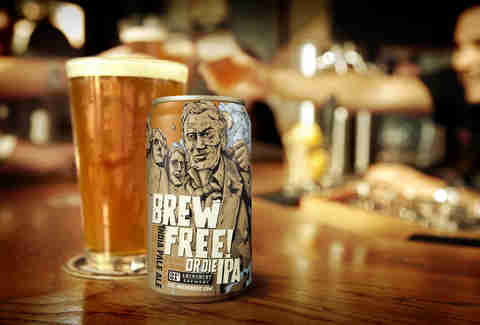 San Francisco, CA
The way 21st Amendment tells the story, not many craft breweries were canning in 2008 outside of Oskar Blues and a handful of others, and certainly not anyone on the west coast. So they decided to differentiate themselves with the cans and their hilarious art/storytelling, much of it focused on iconic American imagery, like Abe Lincoln breaking free of Mt. Rushmore, the Statue of Liberty sitting on the Golden Gate Bridge, and that poor monkey floating in space (though after the redesign of the beer FKA Bitter American, now the monkey comfortably resides on a deserted island). 21st Amendment has since branched out from solely focusing on iconic American imagery, but their packaging (recycled cardboard boxes that serve as "mini rectangular billboards") and can art remains as strong as ever.
San Francisco, CA
For 40+ years, Jim Stitt has drawn the tree on the venerable Bay Area brewery's Christmas Ale. No computers are necessary for this operation, as he hand-draws it. For the technology addicts: a hand is something you can use to draw things if your computer is broken. A new tree makes its debut on the label every single year. He also still assists in the design on many of the iconic brewery's bottles. His first one for the brewery appeared on the Anchor Porter in 1974, according to SF Gate. It's one thing to hear about it, and it's another thing to see him in action. In today's world where a drawing can go viral one day and be forgotten completely the next, it's comforting that there's still a place for Stitt's handmade work, even after all this time.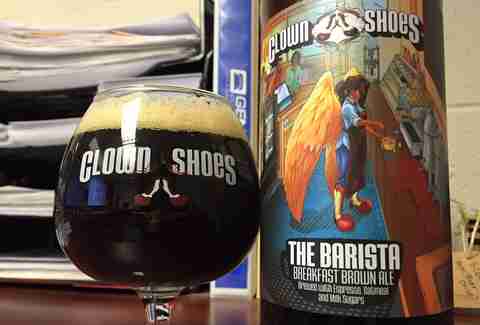 Ipswich, MA
A beer named Undead Party Crasher deserves a label as ridiculous as the name, and Michael Axt, the label artist for Clown Shoes, does it justice by depicting a "comic book-style conflict between monster lawyers and a vampire hunter," says Gunderson. It's also a "jab at excessive litigation" because they were threatened with a lawsuit for trying to call the beer Vampire Slayer. All of Axt's impressive label art has that same comic-book feel (it helps that most everyone featured on the beer is wearing clown shoes), including a T. Rex drinking wine as fireballs engulf the earth for Rexx red ale and Santa's favorite helper bounding over a hurdle in Reindeer Games, which thankfully features zero Ben Affleck.
Frederick, MD
If there's an award to be given for the most recognizable labels in the craft-beer game, Flying Dog deserves a nomination or two for this award we just made up. And it's all due to one man -- Ralph Steadman. That's because Steadman, whose claim to fame was illustrating Hunter S. Thompson's articles and book covers, has worked on making Flying Dog's beers stand-out with his inimitable style since 1995. He was introduced to Flying Dog's owner George Stranahan via Thompson, who were bonded through their love of Colorado, drinking, and blowing shit up. If someone magically erased all the words on Flying Dog's bottles for Doggie Style pale ale (one of his first drawings for the brewery), or Gonzo imperial porter, or practically any of their beers, there's still no doubt who's responsible for it.
Portland, OR
Gigantic came out of the gate swinging in 2012, quickly becoming a favorite in a crowded market thanks to its inventive saisons, new takes on IPA, and early collabs with some of the nation's best brewers. But the brewery is also storied for its team-ups with artists, selecting a new designer for each of its labels. As such, you might score a Ginormous IIPA sporting a robot that might look at home among anime toys, or a Still of the Night with a terror creature straight from Rob Zombie's fever dreams. From lucid dreamscapes to blacksploitation heroes to an effin' three-way brawl between a bear, bald eagle, and great white, it's the kind of beer art you'll wish you could hang on the wall. Luckily, you can.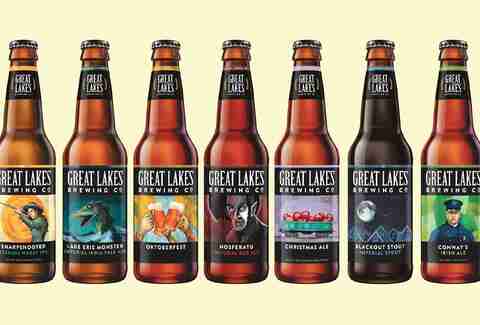 Cleveland, OH
The sullen visage of Prohibition Superman Eliot Ness has long spied out from the iconic and classy labels of Cleveland's pioneering Great Lakes Brewing. He still does. But he's looking a little more colorful these days thanks to a full-on label overhaul by local artist Darren Booth, who was tasked with re-imagining an already iconic series of labels. Now the Untouchable is rendered as a collage-style painting, as is a kayaking trip down the Cuyahoga (Steady Rollin) and a pioneer woman aiming a gun on the label of Sharpshooter Meanwhile, the new label for Burning River -- flames underneath the Titans of Industry statue and all -- represents perhaps the only time a Clevelander will talk about that little snafu without getting all pissed off. They look like paintings. Because they are paintings.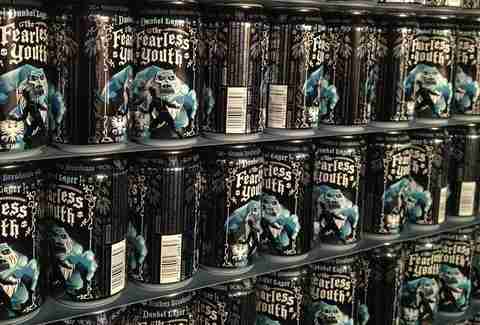 Loveland, CO
The Grimm Brothers were German guys in the 1800s, not beermakers in northern Colorado. But thanks to public domain, two enterprising brewers used their name (and their stories) to brand their German-style beers. Each beer has a name corresponding to a Grimm tale (literally, the original stories are dark as hell and not the Disney fairytale you remember), with fonts similar what was used in their original storybooks, plus fantastic artwork with a distinctly not-for-kids vibe that looks torn from a Grimm story. Each Grimm beer's label looks like one chapter in a long storybook, a storybook that becomes increasingly hard to read as you go on.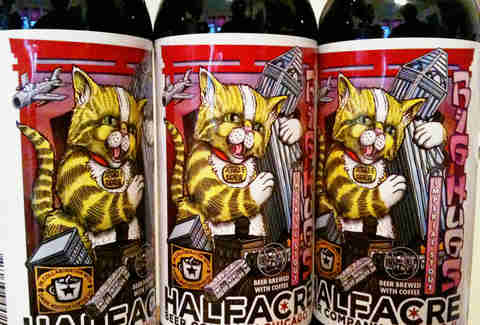 Chicago, IL
If 3 Floyds beer labels are demon and monster-filled hellscapes, Half Acre are whimsical, animal-filled, adorable… hellscapes. The art is done by a full-time Half Acre employee Phineas X. Jones, who's created some of their most memorable labels in the Big Hug imperial coffee stout series, all of which were "inspired by classic Japanese horror movies" according to Creative Bloq. No Japanese horror movies we've seen has an oversized cat squeezing the life out of Santa and a Yeti, but we sure would like to see that on the silver screen. Outside of Big Hug, highlights include the big, slobbery dog on Sticky Fat, the cut-up pig on the Meat Wave IPA, and the bizzaro-world video game art of Ambrosia.
Dexter, MI
Gunderson of Beer Labels Art notes that the same guy, Adam B. Forman, has been the man behind Jolly Pumpkin's art from the get-go. He says the "poster-art-inspired direction they are going now is unlike anything on the shelves" and that he buys them just for the art. But Craig, there's delicious beer inside! Drink the beer! He might have a point, though. The Saison X and the new 2016 label for Biere de Mars sour truly look like they deserve to be hung in an art gallery. But unlike the stuff you find in galleries, you can drink the delicious Jolly Pumpkin beer and keep the art afterwards.
Longmont, CO
The stalwart Colorado brewery has always been innovative with beer, becoming the first craft brewery to bottle a nitrogen beer without a widget -- Milk Stout Nitro. The simple design for that beer was even lauded by the legendary designer Milton Glaser (he of the Brooklyn Brewery logo and I Love NY), calling it in an NY Times story, "adventurous because it's so unlike most existing beer labels." But the Milk Stout is an understated achievement next to the colorful, cartoonish labels by the design firm Moxie Sozo, which created illustrations for 400 Pound Monkey IPA, Oktoberfest, and a creepy skeleton face that you might miss on first glance for the gingery Good Juju.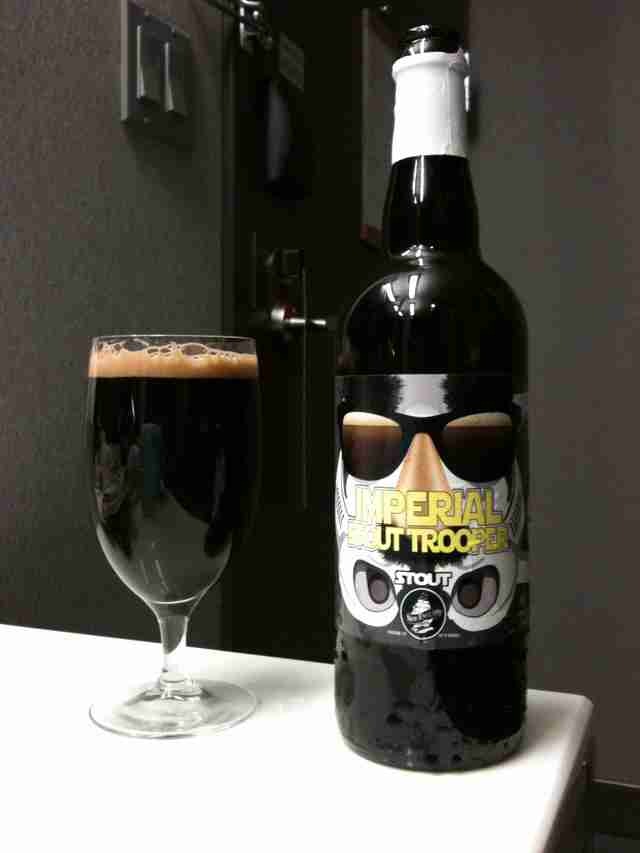 Woodridge, CT
New England got into a little bit of an international incident when folks were offended by a certain enlightened cybernetic organism on the can of its Gandhi Bot Double IPA. Well, now it's G-Bot (accompanied by a decimated pile of robot parts), but come on: New England's known for putting ridiculousness front and center on cans and bottles bearing its simpler corsairs logo. Take Weiss Trash Culture, which features what appears to be the German answer to Honey Boo Boo on the can, lederhosen and all. Or Imperial Stout Trooper, with a certain trademarked Imperial death-marcher obscured by a pair of jokey Groucho glasses. New England's long been into artful punchlines and weirdness in its packaging. Oh, and the beer's great too.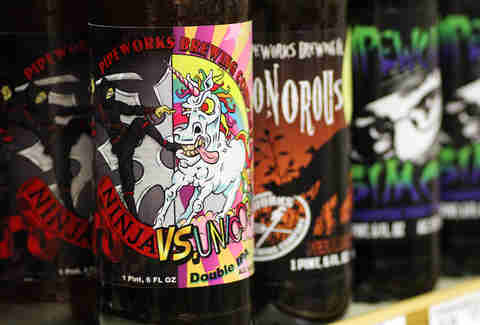 Chicago, IL
Some might argue that beer nerds are the comic-book guys of the beverage world, so it only makes sense when an artist blurs the line between the two, amazing things happen. Artists like Jeff Kuhnie, Ink & Lead Designs, Peter Wano, and even one of the brewery's cofounders has done just that with Pipeworks' incredibly trippy labels, offering up everything from a literalization -- in all its awesomeness -- of the battle between ninja and unicorn its aptly named IPA, or a zombie-warrior version of the horned horse for Blood of the Unicorn, a running theme that looks like Liza Frank's worst nightmare. Other cans depict everything from alien autopsies (guts and all) to evil ventriloquist and, um, Inigo Montoya. Because it can't be all blood and guts all the time. Just most of the time.
Baltimore, MD
Some people only see a tattoo artist after they've had a few too many beers, but Stillwater inverted the cliche by hiring a tattoo artist to create much of its label art. Recognized as one of the best breweries in the Northeast, the Baltimore-based brewery refers toitself as an "a libation cult and art collective," and it shines through in the artwork. From the murdery-vibe of the saison of Love & Regret (also the name of their brewpub) to the old-fashioned dame/serpent on Brontide to the Victorian Era-nightmare of the As Follows bottle, each vessel's design is as distinct as the beer within it.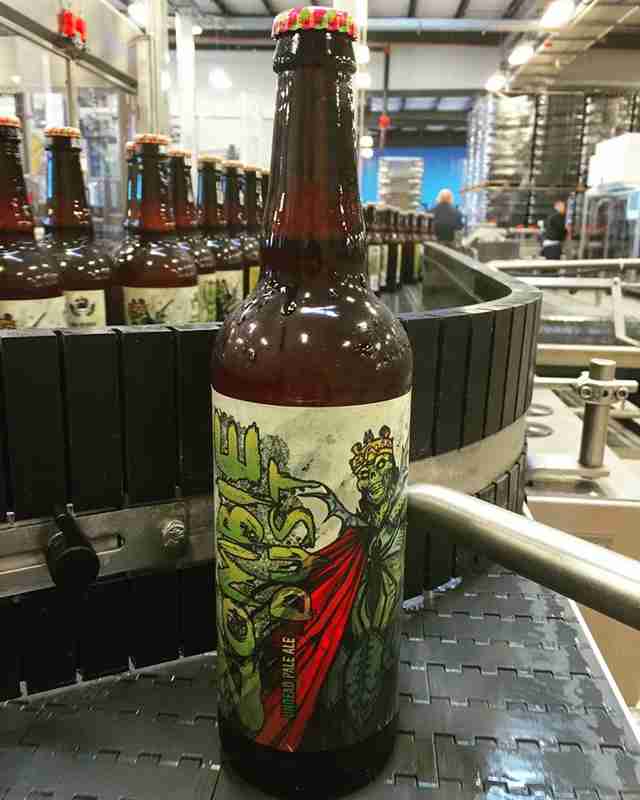 Munster, IN
The masterminds behind Dark Lord have some of the most terrifying beer labels in the biz, but we guess that comes with the territory when you name a beer something like Permanent Funeral. The Chicago-based design firm that does the art direction for the brewery brings in a fleet of illustrators to do their evil bidding for the label. And because it's 3 Floyds, those talented artists "bring all manner of demons, monsters, and creatures from beyond to life." The art is so striking/horrifying that it's as much a part of the 3 Floyds brand as the beer is.
Sign up here for our daily Thrillist email, and get your fix of the best in food/drink/fun.
Lee Breslouer is a senior writer for Thrillist, and has never had hops come out of his head. Follow him to strange medical conditions: @LeeBreslouer.