The 5 best beers I had at the Great American Beer Festival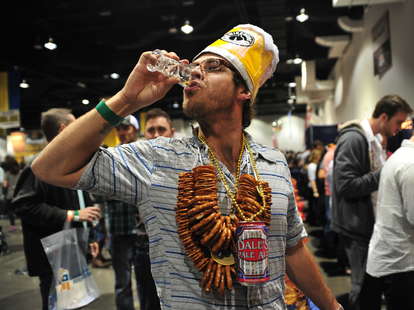 There are more than 2,800 beers being poured at the Great American Beer Festival this year. I estimate I tasted approximately 2,700 of them at the Thursday night session, and now I'm ready to name my five favorites.
Also, I'm not the guy in the photo. You'll see me later. Without further ado, here are my top five:
5. Serenity
Wicked Weed Brewing -- Asheville, NC
Why this beer is so good: I'm lucky enough to live in Colorado, where I've had a few of the exceptional Brett beers at Crooked Stave. So I was curious to see if Serenity, another 100% Brett beer, could match up. It did. It's a saison through and through, but there's enough funk in there to remind you you're drinking a Brett.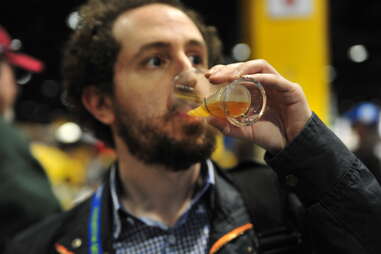 4. Permanent Funeral
Three Floyds Brewing -- Munster, IN
Why this beer is so good: First off, there was no Dark Lord being poured at the booth, which was a bit of a bummer. But a Three Floyds fan I was waiting in line with recommended I give Permanent Funeral a shot. He has good taste.
On the surface, I'd expect a beer with 100 IBUs to be a hop-bomb. But not so -- it's a well-balanced IPA, and the finish is glorious. My only regret is not getting in line again to sample Zombie Dust.
3. Midas Touch
Dogfish Head Brewery -- Milton, DE
Why this beer is so good: There's always a long, long line to get a pour of Dogfish, but when you get to the front, their founder Sam might even pour you a beer. Plenty of people were there to try the Choc Lobster (a porter brewed with 40 lobsters) and other rarities, but I went for the drink the brewery calls "something between wine and mead" and was not disappointed.

2. B.O.R.I.S. The Crusher Oatmeal Imperial Stout
Hoppin' Frog Brewery -- Akron, OH
Why this beer is so good: I'm loyal to Colorado beers, so when I saw a big ole imperial stout that's won a few awards from the good people at Hoppin' Frog, I started to immediately measure it up to Great Divide's Yeti. And sure enough, B.O.R.I.S. is a worthy competitor. Rich and chocolatey without making me feel like I was drinking chocolate syrup, this is a big beer worthy of all the gold medals it's received.
1. Assassin
Topping Goliath Brewing Co. -- Decorah, IA
Why this beer is so good: I do not have words for this beer. People lined up for this beer and kicked the keg before the Thursday night session even really got underway. And I know why. It's aged in Pappy barrels, they release it once every 15 months or so, and it's one of the best imperial stouts on the planet. It's like angels came down from heaven and brewed this beer just for me, providing all the bourbon, vanilla, and chocolate notes I could ever want.
I might have to go to Iowa and try to score a bottle.
Lee Breslouer writes about food and drink for Thrillist and would not be mad if Topping Goliath sent him a case of Assassin. Follow him at @LeeBreslouer for blurry photos of beer.