Meet 6 of the best beers poured at the Great American Beer Festival
If you think you drank a lot this weekend, you've got nothing on the 201 GABF judges, who tasted 4,809 entries and awarded medals for 138 different beer styles on Saturday in Denver. It's also the only medal ceremony you'll see where most of the people who won rocked a beer gut.
We sifted through all the winners to show you six gold-medal winning beers for styles you absolutely need to drink if you want to be a winner yourself. Yes, drinking beer makes you cool.
Style: American-Style IPA
Brewer: Barley Brown's Brew Pub
Winning Beer: Pallet Jack IPA
The Deets: If you want the best IPA in the country according to the beer judges, get thee to Oregon. It's the only place their beer is distributed, including this gold-medal winning entry that's made from a combo of Columbus, citra, Amarillo and simcoe hops.
Style: Barley-Wine Style Ale
Brewer: AleSmith Brewing Co
Winning Beer: Old Numbskull
The Deets: You don't have to be a smartypants to know this 11% ABV'd monster deserves a place in your fridge. The San Diego brewers have won a ton of awards for this beer, and the gold at GABF adds another to their mantle.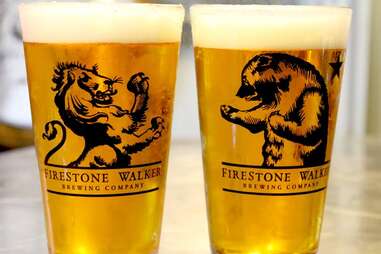 Style: English-Style IPA
Brewer: Firestone Walker Brewing Company
Winning Beer: Taproom IPA
The Deets: The less hoppy (and more malty) cousin to the American-Style IPA, you're gonna have to go to one of Firestone Walker's taprooms in California to sip a beer this winning. Firestone Walker also won Mid-Size Brewing Co of the year, if you were wondering who won Mid-Size Brewing Co of the year this year!
Style: Wood- and Barrel-Aged Sour Beer
Brewer: Boulevard Brewing Co
Winning Beer: Love Child No. 3
The Deets: The popularity of sours seem to grow bigger with each year, so it's no small feat for the beloved Kansas City institution to pull in gold for the bourbon-barrel aged beauty.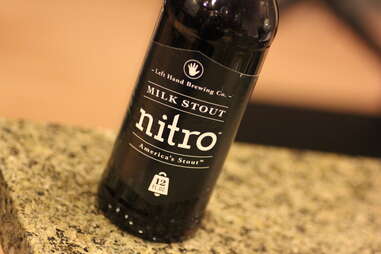 Style: Sweet Stout or Cream Stout
Brewer: Left Hand Brewing Co
Winning Beer: Milk Stout
The Deets: This beer is worth getting just for the patented nitro technology used in the bottle, which gives the stout a nice, creamy head right out of the bottle. And any time you want another one and want to be clever, just say "More cowbell". (See it on the label?)
Style: American-Style Pale Ale
Brewer: Lumberyard Brewing Co
Winning Beer: Lumberyard American Pale Ale
The Deets: Flagstaff, AZ is home to this small brewpub outfit, the size of which makes their win even more impressive. Lumberyard went up against 123 other entries for this hotly contested category, and won for a beer they're not even bottling or canning!