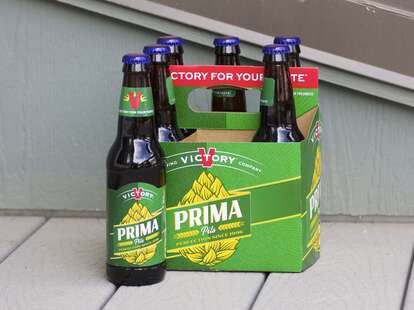 Welcome to Tapped, where the brightest minds in beer pour out their suds-soaked knowledge. Drink it all in, right this way.
As the great prince and philosopher William Smith once said about summertime, "There's an air of love and of happiness." Part of the reason we're so happy during this season is because there are great summer beers on shelves now. And the senior director of brewing and quality at Widmer Brothers for 22 years, Doug Rehberg, couldn't agree more.
He's selected four delicious, summery beers (and a cider!) he's drinking right now that you should get your hands on. Speaking of summery beers, Widmer crafts a fantastic Hefe, which just celebrated its 30th anniversary, and is currently available in cans in OR. Cheers to that.
Berliner weisse, 5%
Bend, OR
"Light, crisp, tart, and refreshing -- it's a great way to slake your thirst on a hot summer day."
Cider, 6%
Portland, OR
"I like a little cider now and again. It's well-balanced between acidity, dryness, and sweetness, and I think there's more than meets the eye in this cider. Nat's is where it's at."
Pilsner, 5.3%
Downingtown, PA
"Clean and crisp, with just enough hop. It's the quintessential contemporary American pilsner."
Pilsner, 5%
Chico, CA
"Great Czech-style pilsner with a great soft maltiness and spicy hops. Highly quaffable."
IPA, 6.2%
Seattle, WA
"I love the hops in this beer -- there's lots of good aroma, citrus, floral, and a bit dank. Interurban's got just enough caramel malts to support hop flavor and bitterness, with a crisp finish."
Sign up here for our daily Thrillist email, and get your fix of the best in food/drink/fun.
Lee Breslouer is a senior writer for Thrillist, and has a six-pack of Prima Pils in his fridge right now. Follow him to refreshing beers: @LeeBreslouer.