The cocktail lover's guide to beer
Lee Breslouer
Lee Breslouer
Put down the bar spoon and back away from those liquor bottles. As much as we all love cocktails, sometimes you want a well-crafted, delicious drink you don't have to slave over -- and that drink is a beer, you lazy son of a bee.
We know we told you to take a break from that wall-mounted bottle opener in favor of some vino, but one can only survive without suds for so long, so this time we asked our go-to cicerone (aka beer sommelier who we forced to drink lots of malt liquor) Anne Becerra to recommend some beers to try out instead of your favorite mixed masterpieces. While these beers aren't meant to taste exactly like the cocktails, they do share similar flavor profiles, and might be just what you need to broaden your own boozy horizons.
If you drink... Manhattans
You'll love: A Belgian strong/quadruple
A typical Belgian quad has full malt flavors of dark raisins and figs, burnt sugars, and rich molasses.
A good example: Three Philosophers (Brewery Ommegang)
It has all of these qualities, but the Manhattan connection is improved even further by the addition of Belgian cherries. The combo of the warming high-alcohol levels with the dark malt & bright stone-fruits makes a perfect nightcap.
If you drink... Rum and Cokes
You'll love:The sweet, chewy malt flavors of a doppelbock
Doppelbocks are dark, strong German (or German-style) lagers with flavors of deep caramel, birch, and toffee; they also feature a dry finish and almost no bitterness.
A good example: Troegenator(Troegs Brewing Company)
If you drink... Negronis (or other bitter aperitifs)
You'll love: An American IPA
IPAs can be many things -- citrusy, juicy, earthy -- but if you're craving big bitterness, try something super dry.
A good example:Smuttynose IPA(Smuttynose Brewing Company)
This New Hampshire brew is refreshing, mouth puckering, and a perfect appetite stimulator.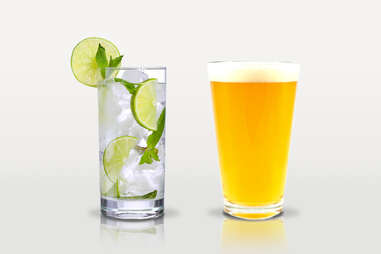 If you drink... Mojitos
You'll love: A spicy, Belgian-style Witbier
Offering the bright flavors of a mojito, Witbiers are juicy, invigorating, unfiltered wheat beers that are typically brewed with Curacao orange peel and coriander.
A good example:White Aphro(Empire Brewing Company)
Brewed with lavender and ginger, it's light and refreshing, but still has a ton of flavor.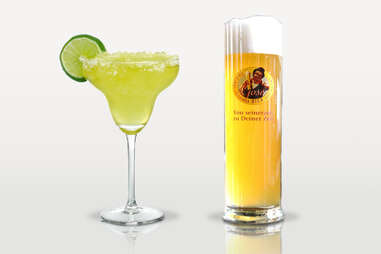 If you drink... Margaritas
You'll love: A Gose
Gose is an old-school, German-style wheat beer that has a zippy citrus tang and is actually brewed with salt.
A good example: Leipziger Gose (Bayerischer Bahnhof)
If you want to take it one step further, they also have a version that's double the strength and aged in tequila barrels called Goseator.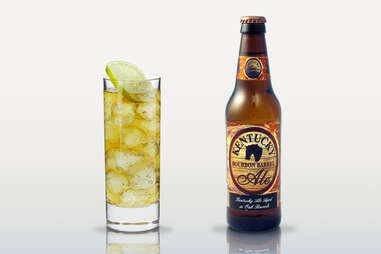 If you drink: Whiskey gingers
You'll love: A bourbon barrel-aged pale ale
The sweet flavors of vanilla, toffee, and light fruits that come from the barrel are perfect on their own or with dessert, and buying a sixer of this is much easier than trying to fit a bourbon barrel in your studio.
A good example:Kentucky Bourbon Barrel Ale (Alltech Lexington Brewing and Distilling Co.)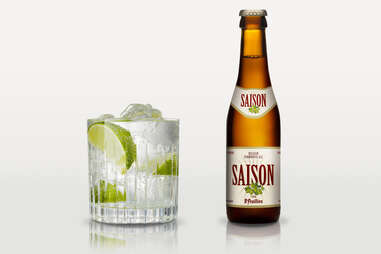 If you drink: Gin and tonics
You'll love: A saison
A saison is a Belgian, farmhouse-style beer with huge herbal aromatics and complex flavors of citrus, spice, and fruity funk.
A good example:St. Feuillien Saison (Brasserie St. Feuillien)
It's one of the few Belgian beers now available in cans -- perfectly portable for Summer.
If you drink: Cosmopolitans
You'll love: A bright, sweet, fruity beer
Sure, the beer's the same color as your girlfriend's purse, but it tastes delicious.
A good example: Founders Rubaeus (Founders Brewing Co.)
Brewed with real raspberries, Rubaeus is a delicious blend of sweet and tangy with a Summery pink color.
Rachel Freeman is a food/drink editorial assistant at Thrillist, and though she does not even drink cosmopolitans, she thinks Founders Rubaeus sounds incredibly delicious. Follow her to raspberry-flavored beer at @rachelifreeman.