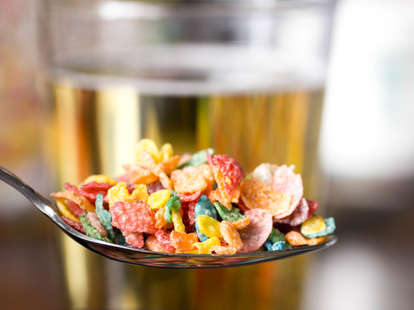 When people say, "It's 5 o'clock somewhere" before cracking open a beer, they should be referring to 5 am. Because while mimosas and Bloodys might get all the love at brunch, beer is way more versatile than those boring options. That's why we enlisted some fine Certified Cicerones (think: people who know more about beer than 99% of the population) and beer writers to find the perfect pairing for all kinds of breakfast options. Your Benedict will thank you.
Breakfast tacos
The beer pairing: Allagash White
"I live in Florida, so naturally I have orange juice with my breakfast tacos. But when I want to step it up, I enjoy a good beer in the morning. For me, nothing goes better with breakfast tacos than a bottle of Allagash White. This awesome interpretation of a Belgian witbier has everything you need -- the wheat provides a soft approach, a Belgian-inspired yeast strain provides a ton of character, and orange peel provides the citrus to round it all out. Also, it's the best beer for a beermosa if I'm still craving OJ!" —David Acra, Northern Florida area manager, New Belgium Brewing Co.
French toast
The beer pairing: Crooked Stave Table Beer
"If you're drinking for breakfast, chances are it's going to be a long day. So, something sessionable that's not going to be palate fatiguing is in order. I'd go for a Belgian table or patersbier like one my favorite American interpretations, Crooked Stave Table Beer. The fresh-baked bread, lemon, pear, and orange flavors of the beer complement your French toast's cereal grains and maple to create this complete breakfast. The moderate alcohol content will help to keep you around to see the rest of the day." —Nick Bondi, bar manager, Jerry's Lincoln Square/Andersonville/Wicker Park
Pop-Tarts
The beer pairing: Westbrook White Thai
"I've long been a proponent of witbier for breakfast, especially along the lines of trusty Westbrook White Thai. It goes with everything that's good in the A.M.! The fruitiness goes as well with Pop-Tarts as it does pancakes, without having to dive all the way into a full-blown fruit beer to play along. It's also full-bodied and fragrant enough to go with savory dishes like frittatas or eggs Benedict with hash." —Zach Mack, owner, ABC Beer Co.
Chocolate cereal
The beer pairing: Rogue Hazelnut Brown Nectar
"As a card-carrying citizen of the Rogue Nation, I highly recommend pairing Rogue's Hazelnut Brown Netcar with a man-sized bowl of Kellogg's Krave Cereal. The inspiration for this tag team duo came to me while I was in Paris, and I noticed their overall obsession with Nutella, which is apparently the Parisian breakfast of champions. My idea of breakfast, however, needs to be a little more...American, to fend off the hangovers that haunt me on any given Saturday morning. I find this morning treat to be sublime, due to the nutty flavor of the beer pirouetting with the chocolate center of the cereal mimicking the deliciousness of Nutella, while the smooth malty finish begs for another bite of the crunchy sweet cereal." —Michael Arp, writer, The Blue Collar Foodie
Avocado toast
The beer pairing: Schell's Hefeweizen
"Nothing says breakfast like a hef. Light-bodied and spritzy, with delectable fruity and spicy flavors, it's like a glass of sparkling wine, but more satisfying. Bready wheat malt plays nicely with the toasted bread, and the rich mouthfeel of the beer matches the creamy texture of the avocado, while the effervescent carbonation clears it away at the end. And if you're in the mood for a mimosa, just add a little orange juice to your glass. It's great." —Michael Agnew, owner, A Perfect Pint
Omelette
The beer pairing: Stiegl-Radler Grapefruit
"When it comes to drinking beer first thing in the morning, there are a number of important factors to consider. What am I eating? How is the weather? Do I have to be productive for the rest of the day? For omelettes, my breakfast beer is Stiegl Grapefruit Radler. This beer is low in calories and alcohol; it's unfiltered with bright, citrusy notes, and is perfectly refreshing on hot summer days. It complements the weather and the meal—and since I have a three-year-old to keep up with, it's appropriate for the productive day ahead." —Angela McMaster, beer & wine specialist, Whole Foods Market Albuquerque
Egg & cheese sandwich
The beer pairing: Dogfish Head Festina Peche
"My favorite beers to drink with breakfast are tangy and refreshing. A light sour like a Berliner Weisse is a perfect choice for an egg & cheese. The alcohol percentage is fairly low so you can slowly ease into your day, plus the citrusy tartness will brighten up the greasy sandwich. One that's readily available all summer long is Dogfish Head Festina Peche—an American take on the German style brewed with peaches. Who needs a mimosa?" —Anne Becerra, writer and beer director for Taproom 307/Treadwell Park
Oatmeal
The beer pairing: North Coast Old Rasputin
"I'd recommend Old Rasputin from North Coast Brewing Co.; an Imperial Stout weighing in at 9.0% ABV. The high alcohol content and fullness of the body strips away the rich slickness coating the tongue after each bite, allowing for a cleaner palate in between drinks, the roastiness is able to balance out the sweetness/richness of the oatmeal, and the coffee/chocolate notes are strong enough to allow you to skip the coffee—you won't even miss it." —Dave Hunter, BJCP judge, Pacific Northwest Homebrewers Conference
Buttermilk pancakes
The beer pairing: Funky Buddha Floridian Hefeweizen
"Consider a banana & brown sugar topping [for these pancakes]. Slight citrus notes bridge the gap from the sourness of the buttermilk directly into the big banana and clove notes. [This] takes your palate on a journey to a happy place, full of decadent bananas foster [flavors]." —Jensen Cummings, Brewed Food
Buckwheat pancakes
The beer pairing: Oskar Blues Death by Coconut
"Try a chocolate and coconut topping [for these pancakes]. The richness of the buckwheat meld into the porter's grain bill nicely. [The beer's] use of 58% chocolate pistoles and desiccated coconut translates into a true culinary grade, cocoa-coconut essence to the flavor profile. Most chocolate and coconut beers fall short with extracts and powders. Having gotten to brew this beer with Juice, the R&D Brewer for OB, I have a special place in my belly for this one!" —Jensen Cummings, Brewed Food
Lee Breslouer is a former senior writer for Thrillist, and needs to drink a radler about now. Follow him to summery beer: @LeeBreslouer.