The Best Bottled Cold Brew Coffee in America
Lee Breslouer and Oren Aks/Thrillist
Lee Breslouer and Oren Aks/Thrillist
If you ever order iced coffee at a coffee shop, and you see the barista pour hot coffee over ice, you should just walk out. I mean, use the bathroom first, if you have to. But then you should leave, because that's no way to drink cold coffee. Strangely, your best bet for iced coffee might be the supermarket, where the shelves are currently packed with all kinds of cold brew for purchase.
For the uninitiated: cold brew is not hot coffee that's been chilled. That usually results in a garbage-tasting cup -- the ideal cold brew is made by grinding coffee beans, mixing it with filtered water, and leaving it alone for 12+ hours, after which the grounds are filtered out -- the result is a delicious, rich cup of coffee. Let's kick off summer with the best bottled cold brew coffee in America.
Editor's Note: This is not every single bottled cold brew on the market, and also doesn't include coffees pre-mixed with milk or caramel or whatever. There's plenty of local brands that we're sure are very good, but we tried to stick to cold brew offerings available in supermarkets coast to coast, and used the Specialty Coffee Association of America's Coffee Taster's Flavor Wheel to judge the java.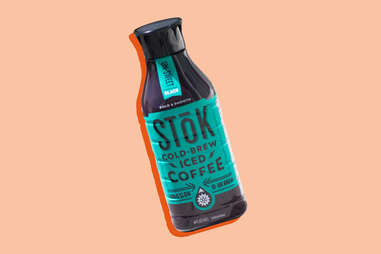 Broomfield, CO
The first sign that Stōk was going to be a little different than the other cold brew coffees I tasted is that "coffee extract" is the main ingredient. The company also produces "shots" under this same name -- miniature coffee-flavoring pods you dump into your cup of coffee to give it more caffeine. I didn't know this was a thing! After one sip of this strangely-not-Scandinavian Stōk cold brew, I realized this wasn't for me. It tastes like water with coffee flavoring, and not even much of that. If you like all the flavor of water without that pesky coffee flavor, then this is for you! And considering America loves drinking blended coffee drinks that mostly taste like chocolate or caramel, there's a market for it. But if you like the taste of coffee, I'd try another one.
That Magical City Where Trader Joe's Products Are Made, USA
Keep in mind, all the other cold brews in this rundown are ready-to-drink -- as in, the coffee could be poured into a glass over ice and enjoyed -- it didn't require milk or water. Trader Joe's is a concentrate -- you must add milk or water. I didn't, of course, in order to best write about the flavor. If Trader Joe's had a ready-to-drink product, I would've tried that.
Unlike a lot of the foodstuffs on TJ's shelves, this isn't organic. I get some serious almond aroma, and a touch of molasses. The taste is fine overall, despite a slight sour note, but it's the super bitter aftertaste that's a huge turnoff. Not a pleasant offering here from TJ's, which saddens me because I love 90% of what's stocked on its shelves. The good news is that because it's meant to be mixed, you can cover up the sour and bitter features with a lot of milk and sugar.
Atlanta, GA
A staple of Vitamin Shoppe and GNC locations nationwide (though I found mine in Whole Foods), Kill Cliff is the only name of an organic, fair-trade cold brew coffee company that could also double as a command to a hitman. The company also gives a portion of its proceeds to the Navy Seal Foundation, which makes sense, as it was founded by a Navy Seal. So obviously I'm not writing a bad thing about it, because I don't need that kind of trouble.
There are between 120-180mgs of caffeine in each 11oz bottle, which should provide a necessary boost above and beyond the regular 95mg in a cup of 8oz coffee. I got a ton of nutty and cereal aromas from it, and a tiny bit of chocolate. There's a little too much cereal in the aftertaste for my liking. On the plus side: I felt 15% more badass simply holding a can named "Kill Cliff."
Seattle, WA
This is not a review of the cold brew you can order in Starbucks locations, which, for the record, I'm not a huge fan of (it came in 34th out of 48 total drinks on the Starbucks menu). This cold brew I tried is bottled, and it should be on shelves soon in your local Starbucks store. And considering I'm not a fan of the original, it was surprising to find pleasant dark chocolate and hazelnut aromas in the bottle. It goes down remarkably smooth. It's not quite on the level of the other fancy (read: organic, fair-trade) cold brews you're about to read about, but it's a solid offering nonetheless.
Portland, OR
Now, it might seem unfair to judge a nitro cold brew coffee against non-nitro/less creamy offerings, but we're trying to give you a good idea of what's available on the shelves right now. And as Stumptown slowly begins to dominate every Whole Foods and regular supermarket's refrigerated coffee section (it even has a dairy-free Coconut coffee that's shockingly good), we'd be remiss if we didn't include this in the rundown. Also, nitro cold brew is one of life's beautiful gifts, and every cold-brew maker should can with nitro.
There was such a loud noise when I cracked this open, my neighbors probably woke up. It sounded like I was opening a beer, but I usually wait until at least 2pm to open one of those, and this was much earlier in the day. Even though it's infused with nitro, you don't get that beautiful coffee cascade you see when you order a nitro cold brew in a coffee shop. On the plus side, there are fewer cereal aromas than other coffees. Some chocolate notes make itself known in the finish and linger into the aftertaste, which is quite pleasant. But the creaminess is the real value-add in a nitro can, and to that I give a thumbs up. The regular bottle of Stumptown is good too, but this is your best bet.
Albuquerque, NM
Cold brew's dirty secret is that sometimes you get beans that were in a "large roaster's garbage disposal." It's definitely not beans from one single farm. Bottom line: you don't exactly know what you're drinking. With this, you know exactly what you're getting, a smooth, delicious, single-source coffee from Villa Myriam's grandpa's farm. And it's in an adorable can that's enhanced wonderfully by nitro.
A 9-pack of 8oz cans for $28 + $6 shipping is a steal if you're a coffee nerd. Or you can move to ABQ, where it's readily available, which is also not a horrible idea. You can make cold brew at home all you want (and we do!), but you can't replicate that Guinness-like creaminess. You need a can or a nitro tap in your house. Also, if you have that tap in your house, I'd like to swing by tomorrow morning for a cup.
Oakland, CA
This organic cold brew smells different right out of the gate -- hazelnut, peanuts, nutmeg, and chocolate notes all fight for your nose's attention. When I was in the Bay Area a few weeks back, the Oakland-based company always had a line at one of its stores. It's not surprising, the stuff was damn good. Blue Bottle has lately been shipping its popular chicory and sugar-filled New Orleans-style iced coffee to select cities (check a Whole Foods near you).
But this rundown is of the best black cold brew coffee, so when I popped the top of its miniature 8oz can, I was expecting some of the best cold brew in the country. And that's what Blue Bottle delivered. A smooth, rich sip of black coffee, with nary a bitter aftertaste. It's also expensive (don't expect to pay less than $4-5), but quality is rarely cheap in the coffee game. And I didn't even knock them to #2 on the basis of price. There's just a better cold brew coffee out there.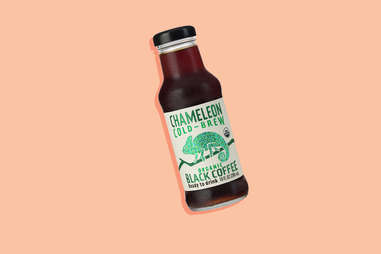 Austin, TX
I've long been a fan of Chameleon's large 32oz bottles of cold brew concentrate -- that is, cold brew meant to be mixed. But lately, I've seen more of Chameleon's ready-to-drink 10oz bottles on shelves at Whole Foods and my local supermarkets, and that's what I sampled for this story. I'm equally impressed with this coffee. It's not as heavy on the cereal aromas as High Brew and Kill Cliff, and has more chocolate and brown sugar notes.
But the taste is the bottom line in this, umm, taste-test, and this is as close as it gets to drinking a mason jar of cold brew in a hipster coffee shop. I've spent the last few years of my career writing in fancy coffee places all over America, and I know good cold brew when I... sip it slowly so I don't get brain freeze. This is damn good stuff. Side note: If you're a fan of flavored coffee, Chameleon's mocha cold brew somehow has 0g sugar and has a smooth, rich chocolate flavor that's worth picking up too.
Sign up here for our daily Thrillist email, and get your fix of the best in food/drink/fun.
Lee Breslouer is a senior writer for Thrillist and has Chameleon in his fridge year-round. Follow him to cold coffee: @LeeBreslouer.