What's the best fancy bottled water Whole Foods has to offer?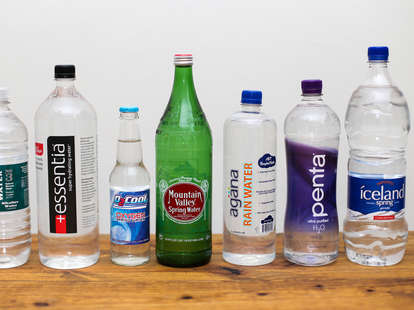 All photos by Dan Gentile
We've already ranked the biggest brands in the world of hydration, but since there is plenty more water in the sea, we hit the Whole Foods aqua aisle to find six new bottles to test against our previous champion, Mountain Valley Spring Water.
Each water was tested blindly by four judges, who gave tasting notes and rated it on a scale of unsippable (1) to Garden of Eden (10!). Read on to see how Crazy Water, Essentia, O2Cool, Agana, Penta, and Iceland Spring measure up against the Mountain.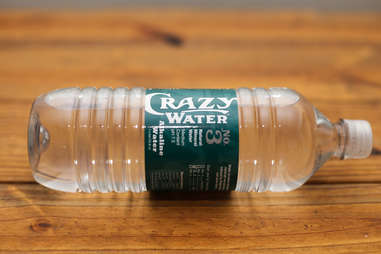 7. Crazy Water No. 3
The story: After water from Mineral Wells, TX supposedly cured a crazy woman's dementia in the late 1800s, thousands began flocking to the source. Their site lists the supposed health benefits of 11 minerals contained in the waters. We chose to test version No.3 because it had the medium level of mineral content and because that number is lucky.
Tasting notes: Undeniable aroma of an indoor swimming pool. Milky. Unsippable.
Final score: 1.75
6. O2Cool Oxygen Water
The story: O2Cool (say it out loud with a sarcastic tone!) comes from Adobe Springs in Northern California. After the water is pumped, they add pure oxygen and the O2 content spikes to 10 times the normal levels. This apparently leads to better breath and increased energy. It's bottled in glass to preserve the oxygen content and sold in six-packs to dissuade impulse buyers. Endorsed by Ernest Hemingway's granddaughter.
Tasting notes: Got milk? Tastes like it was left open in the fridge. Notes of durian, the suburbs. It's as if a slow-moving creature is crawling its way across the jungle floor that is my mouth.
Final score: 2.25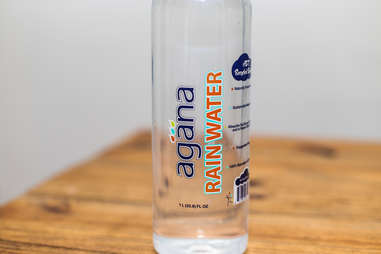 5. Agana Rainwater
The story: Agana is only one of five commercial rain bottlers in the world. It's bottled in Buda, TX in what they call "Sky Spring", which is a water collection system and not the name of a skeezy '80s soap opera.
Tasting notes: Spicy finish. Notes of pepper. Heavier mouthfeel. Might give you a sore throat. One reviewer notes similarities to the Bjork video All is Full of Love, but another thinks that's giving this too much credit.
Final score: 4.5
4. Essentia
The story: Essentia takes municipal water and loads it with electrolytes, pumping the pH level to 9.5, by far the highest of any of the waters on this list. This makes it easier for the body to absorb, as proven in peer-reviewed studies.
Tasting notes: Sour. Hints of carrot. The aftertaste makes me want to open up my mouth to dry it out. The PBR of water.
Final score: 5.25
3. Iceland Spring
The story: Filtered over decades through basalt and friggin' lava on an island near the Arctic, the makers of Iceland Spring actually purport that the water in the region is the reason that Icelanders live longer than any other nationality.
Tasting notes: Minimalist. Tastes like the ocean, but without salt. Basic and essential. Thoughtful. Humble. Every synonym of meek. Great for chugging after a run.
Final score: 5.625
2. Penta
The story: It takes 11 hours and 13 steps to create an ultra-pure bottle of Penta. Studies show that it might keep your skin from aging.
Tasting notes: Tastes closest to tap water, in a good way. From the earth. Not overly purified. A fresh spring bursting from the rocks of the Sierra Nevada. The garden of Eden. Fertility. Tingling mouthfeel. Fla-Vor-Ice aftertaste.
Final score: 6.25
The once and future liquid king: Mountain Valley Spring Water
The story: This Arkansas-sourced spring water has been quenching thirsts since 1871 and defending its bottled water championship since early 2014. It takes 3,500 years for rainwater to make its way to the aquifer, so this water was born before Christ.
Tasting notes: Citrus. Light plastic. Heavier mouthfeel. Seems sourced from a genetically modified orange grove in the future on Mars under a dome. Subtle. Refreshing.
Final score: 6.75
Conclusion
It can be easy to look at a generic commodity like bottled water and think that it's all created equal, but when blindly tested it's clear that one water rises above all others. That water is Mountain Valley.
Despite a strong field of competitors that claimed their products had everything from age-defying properties to a vague association with The Old Man and the Sea, Mountain Valley has defended its championship and proven that our first test couldn't have possibly been a fluke.
So next time you turn away from the tap, reach for the green bottle.
Dan Gentile is a staff writer on Thrillist's national food and drink team. He now brushes his teeth exclusively with Mountain Valley Spring Water. Follow him to no cavities, pure flavor, and an empty bank account at @Dannosphere.