Whiskey experts reveal their 8 favorite bourbons
Andy Kryza
Andy Kryza
Everyone knows that whiskey is the best spirit in the world. And everyone should know that bourbon is the best type of whiskey. But with such a dizzying array of bourbons saturating the market (with AWESOMENESS), how do you know which ones to pick up for your home bar? Fortunately for all of us, whiskey experts Bill Thomas (of Washington DC's Jack Rose, one of the best whiskey bars in America) and Jamie Boudreau (of Seattle's Canon Whiskey and Bitters Emporium) are here to let us know which American whiskies belong at the very top of your shelf.
EVAN WILLIAMS SINGLE BARREL
Bill says: "At a time when most whiskies are losing their age statements, this offering from Heaven Hill Distillery continues to be aged at 10 years. It's because of that length of time in the barrel that this whiskey -- bottled at only 86 proof -- still has complexity. Its nose has notes of caramel and sweet oak, with fruit, honey, and spices on the palate. With its low proof and big flavor, this is 'drinking responsibly'."
OLD BARDSTOWN 10 YEAR ESTATE
Jamie says: "This is the exact same distillate as Black Maple Hill, but at a stronger proof and for substantially less. What more does one need to know?"
WILLETT 8 YEAR
Jamie says: "Willett consistently produces some of my favorite whiskies, and this one is no exception. Big, bold, and beautiful."
WILD TURKEY RARE BREED
Bill says: "When I work the floor of my restaurant and recommend Wild Turkey, sometimes I get an odd look. It's that look of 'that whiskey isn't very good'. I know it's because that person overindulged on it at some point in their youth. This distillery and the whiskey they produce is one of my favorites, and Rare Breed is one of their best. It's a barrel-proof expression, which means it goes right from the barrel to the bottle. It may be higher in alcohol than most bourbons, but what stands out is the vanilla, candy corn, toffee, and spices in this high-rye bourbon. This whiskey is one of the most complex and well-balanced whiskies on the market."
BARTERHOUSE 20 YEAR OLD
Jamie says: "Newly released, this Orphan Barrel whiskey was distilled at Bernheim and aged at Stitzel-Weller, and is dirt cheap for a 20-year-old whiskey in today's environment, where whiskey is being sold faster than it can age."
W.L. WELLER 12 YEAR
Jamie says: "Want Pappy and can't get any? Try this as the next closest thing, and at about half the price."
WILLIAM LARUE WELLER (ANTIQUE COLLECTION)
Bill says: "This whiskey suffers from only one flaw: availability. It's part of the Buffalo Trace Distillery's Antique Collection -- offered only once a year. It's a wheated, which means -- besides corn and malted barley in the mash bill -- the third grain is wheat. This is a departure from (other) rye bourbons. This is another cask-strength whiskey, and it comes out at a different proof every year -- and, with that, it also changes the flavor profile. Never disappointing year to year, though. Doing vertical tastings of this whiskey is awesome."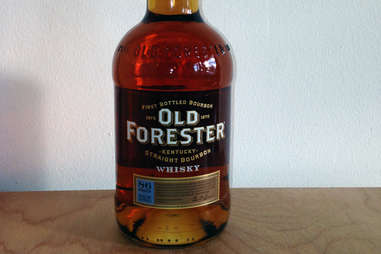 OLD FORESTER BIRTHDAY BOURBON
Jamie says: "A little more difficult to find, but Old Forester's Birthday Bourbon is a release I look forward to every year, and this year was no exception."
NOAH'S MILL FROM WILLETT DISTILLERY
Bill says: "This has been a long-time favorite. While not quite a cask-strength -- coming in at 114.3 proof -- the alcohol is not a distraction, but a delivery vessel. It imparts brown sugar and caramel, but isn't too sweet, with light smokiness and a nice lingering finish. If their two-year-old whiskey (coming out later this year) was already on the market, it would be my fifth choice for this list. So, whiskey drinkers: get ready to taste one of the best young whiskies ever distilled."
Adam Lapetina is a food/drink staff writer at Thrillist and finally has an alternative to those plastic bottles of Rebel Yell. Read his musings on Twitter at @adamlapetina.