The 10 swankiest, tastiest, booziest bowling alleys in America
Most people associate bowling alleys with greasy food, stiff well drinks, and that jackass friend who thinks Lebowski quotes constitute a conversation. Usually, they're right. Except at these joints, which ditch thawed chicken tenders for steaks, rum & Cokes for craft Manhattans, and nicotine-stained lanes for high-end, nightclubby wonders of modern gaming. And the shoes... Well, they're still stupid. But waaaaaay cleaner.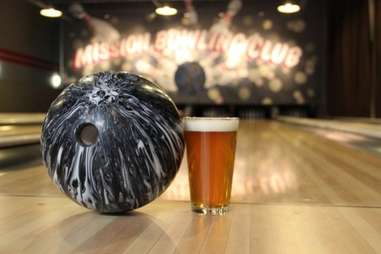 Mission Bowling Club
There're only six lanes here, making it all the more exclusive... and giving you the excuse to be all, "Yeah, I'll sit this one out," and park at the bar to down cocktails like the Tangerine Sour & Scotchy Green Shirt, and eat hanger steak w/ fried oysters or grilled salmon.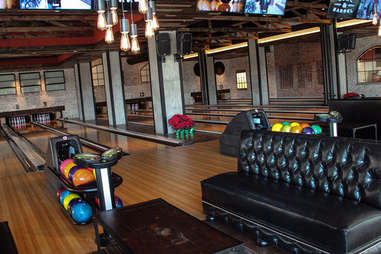 Bowl and Barrel (Dallas)
B&B's a 15-lane, brick-laden, upscale ode to booze, food and bowling that prides itself on serving up steins as heavy as kids' bowling balls -- 35oz-ers of the German stuff -- alongside absinthe-intensive cocktails and high-end sandwiches that represent your only chance of scoring a turkey all night.
XLanes (Los Angeles)
A super popular date spot for Jean Grey & Cyclops if they were real and liked Fruit Ninja, this glowing Little Tokyo testament to living the high life in the gutter features a super-Japanese arcade, 24 lanes, buffalo chicken pizza, 24 beer taps with beers from brewers like Golden Road & Angel City... but not Archangel City, because he's not real.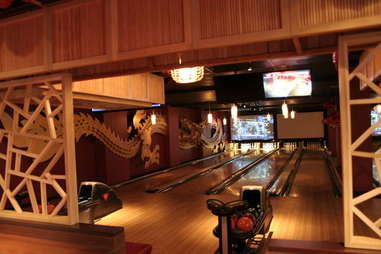 Bowlmor Lanes (New York)
Were having a high-end restaurant and slick nightclub not enough, Bowlmor Lanes (which sounds like the home of a Sherlock Holmes villain) also includes seven New York-themed bowling rooms w/ lounges, representing the only time you can take a date to Chinatown, Central Park, and beyond while wearing stupid shoes and avoiding panhandlers.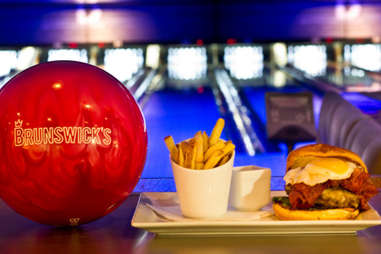 Brunswick's (Atlanta)
Some bowling alleys have bacon. Some have chicken. This one has bacon and chicken waffles. And bacon sundaes. And craft beer flights. And beer cocktails like the Moonshiner w/ Midnight Moon cranberry moonshine, apricot brandy & Blue Moon. Oh and bowling. Cuz that's the point, right?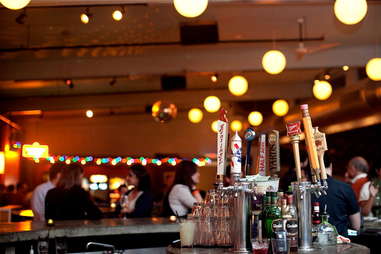 North Bowl (Philadelphia)
With its ridiculous shoes and retro lounges, bowling is a natural draw for the hipster crowd, and this Philly mainstay caters beautifully to the retro set, from a menu that features eight variations on tots to the ultra-swank, Rat Pack-style blue bar. There's also an arcade, a four-lane private alley, and probably a dude sitting in the corner complaining about how mainstream bowling is while drinking PBR.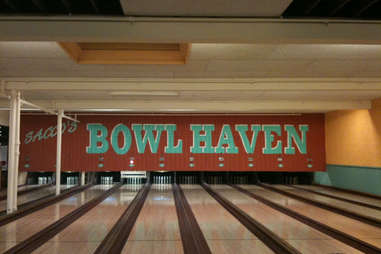 Flatbread Co. at Sacco's Bowl Haven (Boston)
This renovated Boston pinporium makes up for not being named after that trophy from The League by hybridizing a bowling, bar, and pizza concept that includes clay oven-fired pies, a 40-seat alley, 40 beer taps, and a huge craft beer list that'll inspire you to Shiva-blast the pins into splinters.
Lucky Strike (Miami)
Along w/ lobster sliders, the obligatory high-end White Russians, and punch on tap, this 12-lane beauty also features a private lane w/ its own arcade, and a Jeopardy!-style trivia game where you stand at a podium and get hit with questions, to which the answers are probably all Kingpin.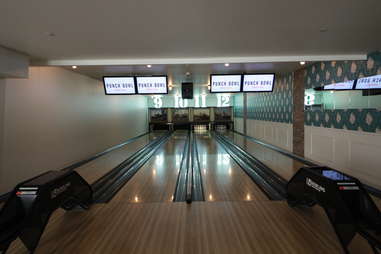 Punch Bowl Social (Denver)
Combining every great old-man game (bowling, shuffleboard, telling dirty jokes to 22yr-old girls) and young-man game (arcade games, karaoke, telling dirty jokes to 72yr-old girls) under one gigantic roof, this enormous man cave rocks gastropub-style food (think buffalo meatloaf & duck pastrami) in addition to craft cocktails from multiple bars, including a rotating selection of punch served up in huge bowls (see, it's not just a clever name).
Brooklyn Bowl (New York)
Perhaps the only place in the world where you can throw 10 frames while catching a live show by Big Boi, Guns N Roses, or Dr. Dog (except maybe at Big Boi's secret bowling den), Brooklyn Bowl also delivers all-Brooklyn beer taps (including heavy-hitting Brooklyn Blast) and everything from apps to legit dinners from NY's beloved Blue Ribbon, including fried chicken, pork ribs, and a "Really Sloppy Joe". Plus, the bowling!