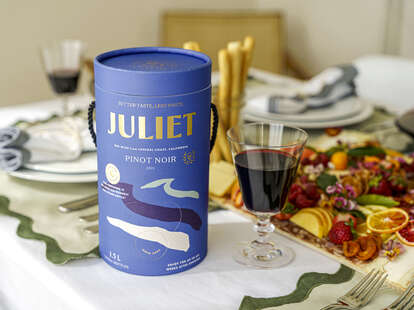 Juliet Pinot Noir Boxed Wine

| Photo courtesy of Juliet Wine
Juliet Pinot Noir Boxed Wine

| Photo courtesy of Juliet Wine
Fine wine is often associated with the celebratory pop of a cork, but, as of late, glass is no longer the only vessel to hold a quality product. In some ways, the dethroning of the glass bottle has already begun, thanks to the current rise of its unlikely opponent: the cardboard box.
Because it is an inert material, glass still prevails as the choice storage for certain types of vino—from bubbly champagne to wines that are funky or fermented. The boxed model also isn't ideal for a wine that is meant to age, as a box remains shelf stable for up to one year unopened.
Still, a glass bottle of wine is not a long-lasting product upon opening. After a mere three to five days, that once-smooth pinot noir begins to taste more like a pungent vinegar. Boxed wine, on the other hand, stays fresh in its carton for over a month—up to six weeks.
Until now, boxed wine has been associated with college parties and low budgets. Let's face it: A host wouldn't necessarily be thrilled to accept a box of Franzia Chilled Red as a gift, past a certain age. But, unlike the cardboard wine cartons of days passed, the product's new wave is being championed forward by smaller companies looking to change the way boxed wine is both perceived and consumed.
Many of these savvy business owners, such as Italian wine specialist and founder of Sandy Giovese Wines, Amy Ezrin, are shifting the assumptions around the format. "There's an army of my colleagues that will stand behind me to say, 'We are now putting really good wine into boxes,' and that's offering a huge amount of choice to the consumer," says Ezrin. Putting this power of choice into the consumer's hands, Ezrin tells us, allows them to find and enjoy better wine at a lower cost.
"By better wine, I mean a wine that is made from responsibly sourced grapes—my wine, for example, is made from organically farmed grapes in Italy."
Melissa Monti Saunders is likewise in the pursuit of quality vin. "My entire career is built around selling really high-end, fine wine from all over the world, and I am trying to make a boxed wine for those people—for drinkers like me, or aspirational drinkers who just want to put something better in their bodies," she says.
Saunders is the founder of a wine importing business and a boxed wine entrepreneur called Communal Brands, and she also spent the past couple of years writing a dissertation for the challenging Masters of Wine exam. Her subject? Whether retail wine buyers in New York City could make purchasing decisions based on the environmental impact of packaging. She's betting boxed is the future of the industry, and that more wine drinkers will soon clue into the quality and quantity of product to be found inside that cardboard.
The founder of Wine Queen, a consulting business that focuses on environmentally responsible wine packaging, Saunders' own boxed wine includes a rosé from a sustainably farmed vineyard, and a malbec sourced from a certified organic estate in France.
"I had always been focused on practices that were environmentally friendly in the vineyard and in the winery, and worked with producers that were aligned with me from an overall ethos perspective, but you're still bottling your wine in single-use glass and that's the packaging type with the highest carbon footprint," says Saunders.
Ezrin and Saunders agree: one of the main selling points of boxed wine is the aspect of increased sustainability over glass. It's an aspect of the product that most consumers aren't consciously aware of, but a major selling point that up-and-coming boxed wine producers are trying to get across to their customers. Click on any of their websites, from the stylish Juliet Wine to Really Good Boxed Wine, and you'll find an ever-deepening well of information on why cardboard is better for our environment than glass.
"A huge part of our brand is our mission to significantly reduce the carbon footprint in the wine industry," says Jake Whitman, the CEO of Really Good Boxed Wine. "Studies show that up to 68% of the industry's carbon footprint comes from the manufacturing and transportation of glass bottles and corks, far and away the biggest culprit in the industry." Really Good Boxed Wine's final product weighs half as much.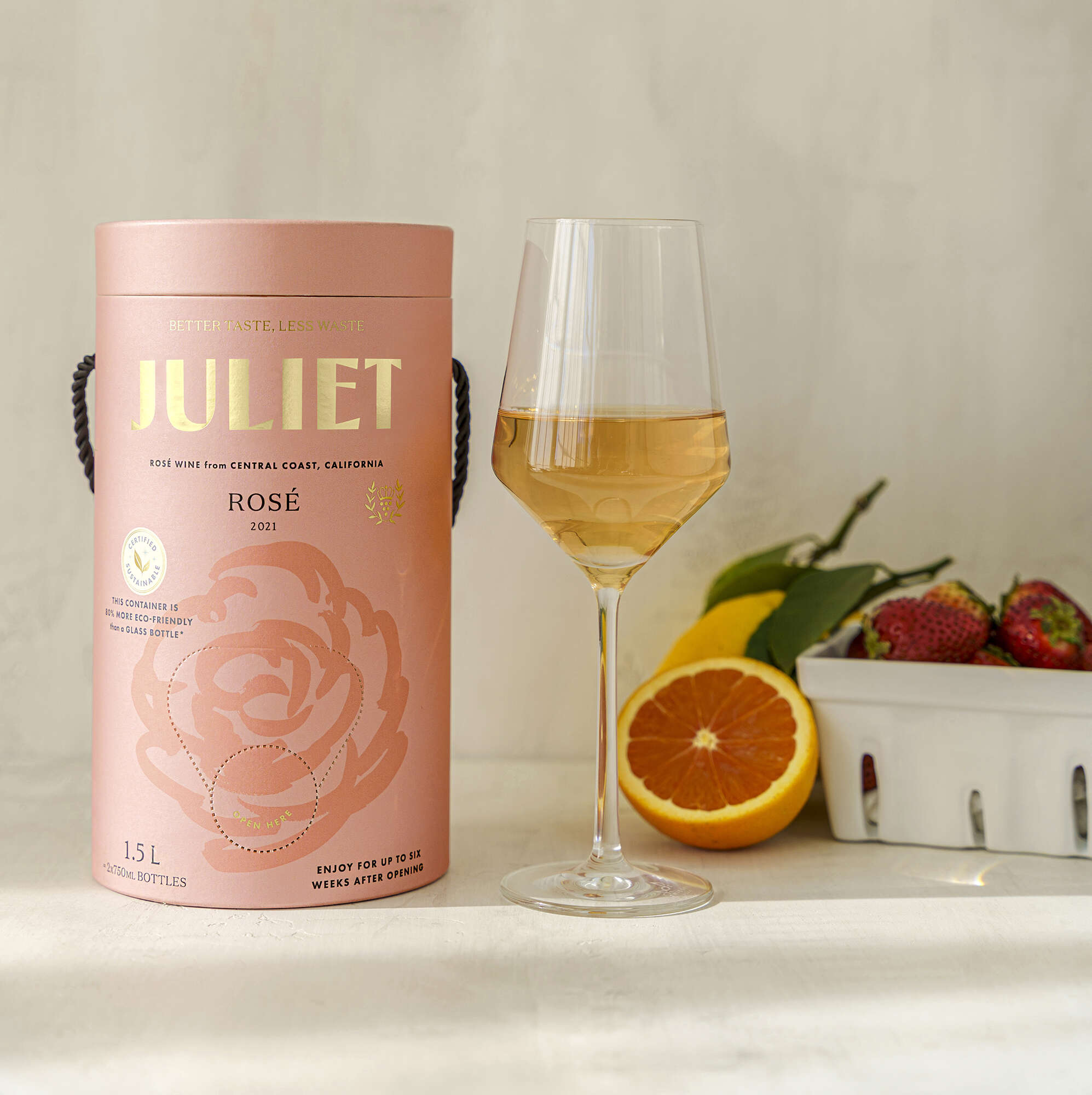 While the conscious wine consumer might be diligent about discarding their glass bottles in the recycling bin, they might be surprised (and concerned) to find out that most of that glass isn't actually being reused. Regardless, those same consumers might still turn to glass bottles over boxed wine, because of the pesky plastic bag that resides within. One of the largest hurdles for boxed wine producers today is shifting the conversation around plastic—one of the most publicly demonized materials.
"All boxed wine incorporates plastic pouches, including Juliet's proprietary Eco-Magnum, but our supplier partner for these has an outstanding commitment to innovative design for the circular future and is a member of the Sustainable Packaging Coalition," says Lauren De Niro Pipher, founder and co-CEO of Juliet Wine.
"Juliet also offers a take-back scheme to give consumers the opportunity to send us their empty pouches to ensure they are properly recycled. It's estimated that only 31% of glass is recycled. In contrast, putting the same amount of wine in bag-in-box packaging delivers 84% lower carbon emissions."
Sustainability aside, Juliet's star is rising quickly in a world where many of us, this journalist included, tend to make wine purchases based partially on packaging. Juliet's cylindrical shape and modern, colorful design sets it apart from the typical rectangular box—instantly shirking some of the negative perceptions that boxed wine tends to be cursed with.
That positive shift in perceived quality is helping the brand to break wine's 'glass ceiling,' beginning with the task of convincing shop owners, restaurants and bars to stock and sell quality wine in a box. Today, Juliet's Grenache Rosé can even be found by the glass in upscale restaurants in East Hampton, New York, a feat that would have been unimaginable 10 years ago.
Austa Somvichian-Clausen
is a freelance food and travel writer, who lives in Brooklyn with her girlfriend and two fur babies.