Sponsored By
The 11 Best College-Town Breweries in America
Sponsored By
For the overwhelming majority of college students, the most amazing beer near campus is whatever you can get for a $3 door charge at some dudes' house down the street. But some schools are also home to incredible breweries fostering a new generation of craft beer drinkers. And yeah, they all taste pretty good in a red cup, too.
For our conference of 11 college-town breweries, we got a little discriminating: the breweries had to be the original location (sorry, Wolverines, but Jolly Pumpkin started in Dexter). And in the interest of sharing the love, we eliminated college towns that are also beer destinations (Burlington, Missoula, Asheville, we still love you). These are our favorite breweries in straight-up college towns.
University of Oregon
Eugene, OR
Back in 2006, Ninkasi was just a little brewery in the shadows of UO's Duck dynasty, but my how a decade's changed things. It's now one of the biggest craft breweries in the country, thanks to a steady line of beers that range from the crazy-hoppy Tricerahops to the beloved Total Domination -- one of the best IPAs in a state that basically owns the style -- and the pitch-perfect IRA Dawn of the Red. Those are the regular beers, but this isn't a brewery afraid to experiment, either. Case in point: Ground Control, an imperial stout made with yeast that was shot into space. These guys didn't need a degree in rocket science to pull it off, but if they did, they could have probably recruited some students from UO to help.
University of Colorado Boulder
Boulder, CO
Students could walk to Mountain Sun after classes, but this is Boulder we're talking about, so they're definitely biking. Unlike some of the fantastic Boulder-based breweries like Avery, Mountain Sun has never had ambitions to be anything more than a top-notch pub and brewery with beers to enjoy on-site. Its consistently packed digs have a decidedly hippie vibe (think art that wouldn't be out of place at a meditation retreat), and locals enjoy pairing said vibe with beers like the hop-filled Colorado Kind Ale, the Old School Irish Stout (pro tip: it's even better if it's on nitro), and the 9.5% ABV Hop Vivant.
Indiana University
Bloomington, IN
Such is the Hoosiers' (both the IU community and the state residents) love for Upland's beer that what began as an upstart brewpub in 1998 has grown into the state's second-largest operation, with several satellite bars and taprooms in the Indianapolis area and elsewhere in the state. But the original Bloomington brewpub is the undisputed mothership, playing host to live music and art events, and representing the birthplace of everything from its flagship Upland Wheat (ubiquitous during scalding Indiana summers) to its coveted limited-release sours that draw beer geeks from all over the Midwest who line up hoping to snag a couple of bottles.
Smith College
Northhampton, MA
Smith business students, take note: if you're gonna go into a crowded market, you'd better make sure what you're doing is close to perfect. Take a lesson from BLDG8, a brewery founded by veteran brewers that decided to ditch stouts, porters, and the like and focus strictly on IPAs. The taproom has but one tap. It's an IPA. It's sold only within 25 miles of the taproom, which is great for beer lovers in Northampton, and adds the type of cultish exclusivity that drinkers lap up. One batch a week. When it's gone, it's gone. And you thought Heady Topper was hard to find. That's how you build a cult around a beer: do it just right, and keep people wanting more. Class dismissed.
University of California, Santa Cruz
Santa Cruz, CA
One of the best-kept secrets in Santa Cruz (sorry, grad students working on theses in the dark here), Santa Cruz Mountain's tucked into a nondescript commercial complex a bit off campus. But what isn't nondescript is the incredible selection of stouts, IPAs, and seasonals pumping out of the all-organic, seven-barrel system the owners have been rocking since 2005. And while Santa Cruz's weather might lend itself well to a crowler of the hoppy Amber (which pairs perfectly with the fish tacos), the standout is the Devout Stout, a dark, creamy blend of chocolate and coffee flavors that, at 5.5%, is great for late nights cramming away on that thesis that never seems to get done, probably because it's being written in a brewery.
University of Arkansas
Fayetteville, AR
Less than five years ago, Arkansas had a mere four breweries. Now, the state's in the middle of a boom, with breweries numbering in the 20s, and in the middle of that boom, the Razorbacks are sitting pretty with one of the state's best breweries, Apple Blossom. A rowdy college bar this cavernous gastropub isn't, but for those who don't require their beer to be consumed in a parking lot, there are few finer pairings than a Hazy Morning coffee stout on nitro with a slice of bourbon/chocolate chip/pecan pie. Or the malty Rover Red with a plate of shrimp and grits. Or… anything, really. Like we said, Arkansas is in a craft boom, and Apple Blossom is helping to steer the ship directly into the national limelight.
University of Georgia
Athens, GA
Bulldogs are a lucky breed: the city that gave us REM, it also brought us the wonders of Creature Comforts, for our money the best damn brewery in Georgia. The brewery opened only two years ago, but like some sort of sophomore savant, it's risen to the ranks of greatness by transforming a former car dealership into a haven for everything from the oak-aged Reclaimed Rye to a limited series of limited-engagement runs that includes the Brettomatic pale and a maple-bourbon stout called See the Stars. Athens is also home to the fantastic Terrapin, but when it comes to experimental beers gauged to transform Solo Cup-crazed students into genuine beer snobs, well, CC makes us shiny happy -- UGH! Sorry. No more writing while drinking Tropicalia IPAs and listening to old REM.
University of Alabama
Tuscaloosa, AL
At a mere four years old, Druid City's Tuscaloosa's oldest craft brewery… which is to say, the scene's not exactly old. But now that the brewery's lasted a generation of students, we can safely say the tide is rolling in favor of craft beer, and Druid City's on point with solid go-tos like the simple hop-forward Pale and the tropically inclined Lamplighter IPA, plus more advanced/strong offerings like the 9.2% Riverside Saison and a beefy 9.1% Downtown North Porter. The place is nice and simple -- it's a tiny taproom that looks like it could double as a counter-service pizza place -- but that homeyness is part of the charm here, a place where craft beer leaves behind its snootiness in favor of great flavors and cornhole on the patio.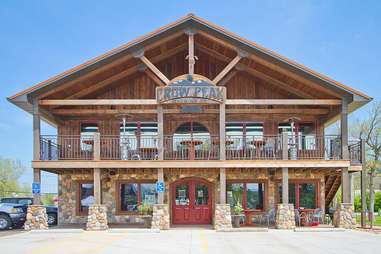 Black Hills State University
Spearfish, SD
Students at Black Hills State have a lot to be thankful for, what with the often-overlooked splendor of Lookout Mountain, Spearfish Canyon, and a close proximity to Devils Tower. They're also privy to Crow Peak, the best damned brewery in the entirety of the Black Hills, whose 11th Hour IPA could hold its own next to most of its West Coast brethren, but wouldn't get too braggy because of its Midwest niceness. CP has broken into bars across South Dakota, but BHSU students get it straight from the source, from the crowd-pleasing Canyon Cream Ale to harder-to-find selections like the 7.7% Wobbling Wheel Scotch ale and a chili ale that comes in handy when cold air comes blowing through the canyon… which is basically every five minutes or so in one of the country's most erratic weather systems.
Illinois State University
Normal, IL
You could be forgiven for not expecting to find a brewpub executing head-turning sours in the midst of a shopping center rocking a Target. But that's exactly what Normal has in DESTIHL, which a former attorney-turned-homebrew obsessive founded in 2007. Since then it's added another location up the road in Champaign (home to the University of Illinois), but the Bloomington-Normal area is indisputably home -- in fact, there's a $14 million, 47,000sqft production facility and taproom planned for 2017 to keep up with beer demand, especially for its popular WiLD SOUR series. Anyone who graduated when DESTIHL was just getting rolling, take note for your 10-year reunion plans.
Duke University
Durham, NC
Screw a Blue Devil… if Duke's mascot were a Ponysaurus, maybe its basketball team would have a shot at the -- oh, yeah. Never mind. But hey, this is the state's most underrated brewery by a long shot, putting up brews like the fruity Fig Saison, the funky French farmhouse-inspired Biere de Garde, and the simple-yet-complex Single Hop Pale that would easily give the folks in Asheville -- one of the nation's finest beer cities -- a run for their money. Bonus points for the beer garden, where you can reserve your own grill to grill your own meats (pre-prepped). It's like Korean BBQ. But outside, less confusing, and with way better beer.

Matt Lynch and Lee Breslouer drank beer in the name of this report.
Sign up here for our daily Thrillist email, and get your fix of the best in food/drink/fun.
Andy Kryza is a senior editor at Thrillist. He blames college breweries for having to take Intro to Forestry twice. Follow him as he explains this confession to his mother @apkryza.