Now is the time to visit a brewery in Portland, Maine. There are currently 11.3 breweries per capita in Maine, the third-highest in the US, which itself is a jump of two places since 2016. There are tons of options available, too -- and plenty of ways to explore those options. You can take the Maine Beer Trail Challenge, you can take a Brew Tour Bus, or you can simply walk around a fantastic city while keeping this guide to the best breweries in Portland handy.
India Street
Founded in 1994, Shipyard Brewing Company is considered to be one of the forerunners of modern craft brewing in Maine. (The other is Allagash.) The brewery produces more than 100,000 barrels per year and is available in 40 states in the United States. The Shipyard XXXX IPA drinks light with a low-lying flavor of grapefruit, as well as a slightly sour finish.
The beer you shouldn't skip: Shipyard does consistently good pumpkin beer but, in the winter, try the Blue Fin Stout, a smooth and dry brew with notes of coffee, espresso, and chocolate.
Riverton
Allagash began as a one-man outfit in 1995, using modified dairy equipment. Today it produces one of the most well-known beers in the country -- Allagash White -- and the locale serves as an incubator of sorts for smaller breweries. We have previously praised its "impressive selection of year-round, 'tribute' (brewed to give back to the community), 'coolship' (crafted using spontaneous fermentation), and limited brews."
The beer you shouldn't skip: Do we have to say it? Allagash White. But the colder months call for Allagash Black and a recent release, Noctura, ages the beer in bourbon barrels with vanilla beans. The 9% ABV beer is oaky and roasty and warms you right up.
Libbytown
It began as a beer without a space of its own -- initially offered through The Thirsty Pig, now Bissell Brothers produces roughly 10,000 barrels a year in its Libbytown space. It can also claim the unique distinction of producing a beer the assistant for The Rock flew into town to get. Keep an eye on their handy release schedule for upcoming beers.
The beer you shouldn't skip: The brewery's flagship is Substance Ale, a bright but hop-heavy IPA with some piney, caramel notes. Or, as we've previously noted: "... the immensely drinkable Baby Genius Session Ale brewed with citra hops" is one you can drink all summer long.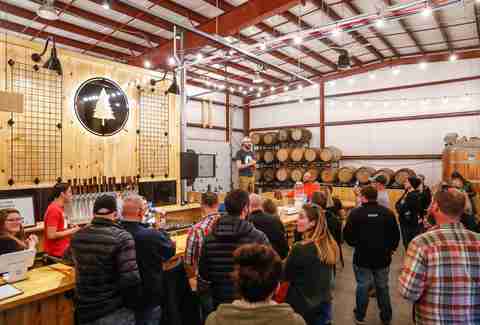 East Bayside
Across the street from the fantastic Maine Tool Library, Lone Pine is a cozy space in a cozy corner of the East End with friendly staff that is currently producing roughly 13,000 barrels per year. Lone Pine's flagship beer is the aptly named Portland Pale Ale, which is remarkably light with flavors of stone fruit and citrus.
 
The beer you shouldn't skip: Don't miss out on the brewery's animal-themed DIPA series, which includes Diamond Unicorn, Quantum Cuddle Kitten, and Space Metal Dinosaur. The latter is a 7.8% ABV beer brewed with rye malt and exuding flavors of melon and orange zest.
East End
Nearly 50 miles southwest of its original home base/farm of operations is Oxbow's Portland outpost, which houses more than 200 oak barrels and dozens of stainless steel tanks. Production focuses on mixed-fermentation or sour beers that require extended aging, like the Surfer Rosa, which is a subtly funky choice. The taproom itself shares its courtyard with a Duckfat stand -- aka New England fry and poutine royalty -- and, inside, local art fills the walls and a Ms. Pacman is in the corner.
The beer you shouldn't skip: To take advantage of everything Oxbow is known for, try the Barrel-Aged Farmhouse Pale Ale, an American-hopped, mixed-fermentation saison aged in oak barrels.
East Bayside
The minimalist, garage-like space of Rising Tide feels fitting for a family-owned brewery that keeps its focus on local ingredients. Take Daymark, a bright crisp pale ale that uses local rye malt for a hint of spice.
The beer you shouldn't skip: Daymark is worth your time, but take a look at Mountainside, too, a slightly hazy, tropical IPA that feels more appropriate for the wintertime and gives off notes of pineapple and grapefruit.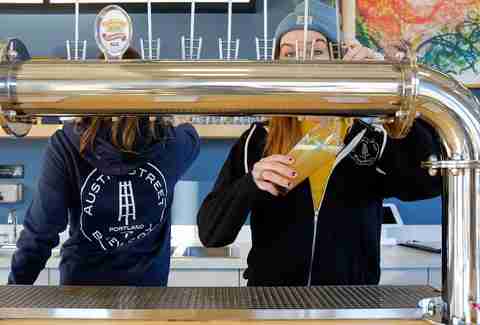 Riverton
After you go to Allagash, you should stop by Austin Street Brewery across the street. The physical layout has echoes of Rising Tide, and its Offset IPA might serve as a nice counterpoint to the great Allagash White.   
The beer you shouldn't skip: If it isn't an Offset IPA day for you, then give the flagship hop-forward Patina Pale Ale a try. The brewery's descriptive words of "grassy" and "Fruit Loops" seem to hit the nail on the head.
South Portland
A brewpub that has something for everyone, Foulmouthed Brewing features several options that can change quite quickly. Since its 2016 inception, Foulmouthed has produced nearly 100 different beers -- everything from German lagers to saisons -- and somehow manages to perfect every style.
The beer you shouldn't skip: Grawlix features hops locally grown from The Hop Yard, and is named for the comic-book term used when profanity is replaced by various characters (like @#&!) and the description says that it "features the best @#&! hops grown right here in Maine."
Libbytown
Just a short walk from Bissell Brothers is another alliterative spot, Bunker Brewing, a rad space that features a record player connected to a PA system, an outdoor dog-friendly patio, and frequent guest pop-ups. Bunker's flagship lager is the Machine Czech Pilz, a crisp take on a Bohemian-style pilsner from the Czech Republic.
The beer you shouldn't skip: We love a good session lager and the 4.7% ABV Salad Daze fits the bill with its late-kelle and dry-hopped additions of Citra for a fruity and crushable result.
Riverton
After going to Allagash and Austin, you should go to Foundation Brewing, which covers a lot of ground in terms of what it offers -- lagers, brown ales, IPAs, and more -- and it covers that ground well. One of its most popular products is Epiphany, which is aggressively hopped in the kettle and fermentor for an aromatic citrus and pine flavor that lacks any strong bitterness. As the brewery says: "East or West Coast? No. This is a Maine IPA."
The beer you shouldn't skip: After you've sample Epiphany, cap off your experience with a Burnside, a brown ale that gives off notes of coffee, toffee, and chocolate.
Sign up here for our daily Boston email and be the first to get all the food/drink/fun the Hub has to offer.