Design by Chineme Elobuike for Thrillist
No disrespect toward fluffy waffles, bountiful egg dishes, or gooey cinnamon rolls, but the real reason we all go to brunch is the drinks. Whether it's a classic hair-of-the-dog situation or there's a cause for celebration, the idea of free-flowing mimosas or Bloody Marys always makes our Sundays a little brighter.
But if you're heading over to a friend's house or to a brunch picnic, hauling bottles of champagne and bags of celery just isn't realistic. That's where drink trend ju dour, the canned cocktail, really comes in handy. Just pop the top of these bright and refreshing concoctions (some with alcohol, some without) and you have yourself a fancy, premade brunch cocktail in seconds. Here are nine of our favorites.
Some might categorize whiskey in the morning as "aggressive," but for the rest of us there are new canned cocktails from Vermont distillery WhistlePig. The adorably named PiggyBack craft cocktails blend 100% estate rye whiskey and barrel-aged fruit to make these potent, ready-to-drink blends. For this particular flavor, Remington Rye is mixed with tart lemonade and a hint of mint for a strong by refreshing 8% ABV cocktail.
Bloody Marys are divisive. Some find the zingy, tomato-based drink to be the perfect morning pick-me-up, while others say they're too filling and come with a side of heartburn. To satisfy everyone, Cali company Vervet has come up with the Pale Mary, made with Wilder Gin, light tomato water, celery bitters, habanero peppers, and Salicornia green salt. The result is a 7%-ABV beverage that drinks like a bright, clarified Bloody Mary to satisfy even the biggest brunch staple skeptic.
While typically we associate soju with Korean barbecue or a night out at karaoke, there's no reason we can't enjoy it with brunch. Yobo Drinks makes that easier than ever with its line of Hunni Sparkling Soju, inspired by both K.Town and Southern California. All of the flavors have Korean influence, but the 100-calorie, 4%-ABV Peach and Chili Pepper reminds us of a brunch bellini with a little chili pepper kick and a touch of sweet yuzu. We'll drink to that any time of day.
We honestly think it defies the laws of physics that something this delicious can have this few calories. But somehow the geniuses at Miami-born Five Drinks have made flavor-packed, 75-calorie canned vodka sodas. Our preferred flavor uses real juice from watermelons, limes, monk fruit, and some carbonated basil water for a canned beverage akin to spa water. Plus, we love that the minimalist labels on the 5.9%-ABV drinks still tell us everything we need to know.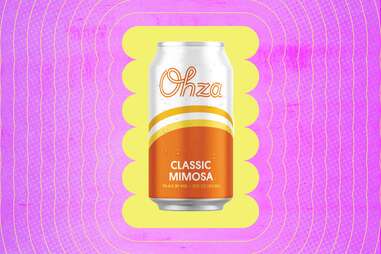 When a group of friends was attempting to mix cocktails on a tippy boat off of Cape Cod, the idea for Ohza was born. The company's bread-and-butter is canned mimosas (though it makes a Bellini as well) using sparkling wine and fresh juices, including cranberry, orange, and mango. We love that there are no added sugars, about 140 calories in each 5% ABV can, and that a 12-pack is equivalent to four bottles of bubbly and two orange juice cartons. Much easier to carry onto a boat or back on dry land.
We're not sure about you, but sometimes our brunches involve migas tacos or breakfast burritos and, when that's the case, we turn to tequila. Not only do the Las Vegas-based Two Chicks cocktails have beautiful can art, but there are plenty of 5%-ABV tequila tipples to try out. We opted for the classic Lemon & Lime Sparkling Citrus Margarita, which is tangy, tart, and agave forward—and makes us wish all our margaritas had bubbles moving forward.
If you're opting for a booze-free brunch, there is no reason why you still can't enjoy some refreshingly bold flavors to go with your eggs Benedict. Enter Fauxmosa, which specializes in zero-proof versions of the classic brunch drink. We like the bitter tang of the 100-calorie Grapefruit version, which uses chardonnay and grenache grapes, rio red grapefruit, apple cider vinegar, and aromatic holy basil. In other words, it's basically a health drink.
Another option for the sober curious is to buy one of the mixers from Brooklyn-based Avec, which you can enjoy on their own or blend with a spirit, if you so choose. Try the Hibiscus and Pomegranate blend with vodka for a brunch Cosmo or mix it with rum if you're going for more of a tiki vibe. But we're also partial to enjoying it on its own, simply over ice.
If you're a fan of the Bravoverse, you might (abashedly) know that Summer House star Kyle Cooke founded a drink company called Loverboy. Primarily known for its sparkling hard teas and spritzes, the brand also makes an Espresso Martini in a can. The 110-calorie drink packs a wallop at 12% ABV, but if you find yourself having one of those mornings, where you need all the caffeine and liquid courage you can get, try this drink with maple water, orange wine, and espresso coffee extract. After one of these, you might just end up poolside in the Hamptons.
Jess Mayhugh
is the editorial director of Food & Drink for Thrillist, who loves prosecco with just a splash of juice. Follow her on
Twitter
and
Instagram
.