The Best Canned Craft Beer for Your Cooler Right Now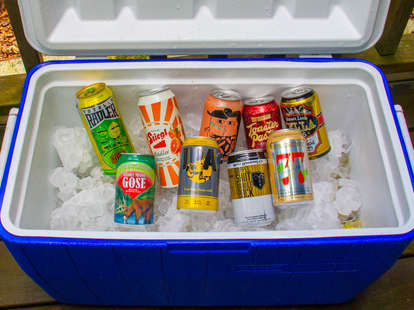 Andy Kryza/Thrillist
Andy Kryza/Thrillist
Adult drinks in cans is by no means a new thing, or a standout thing, or even a debatable quality thing at this point, but it is unquestionably a great thing. And what better time of year than summer to take advantage of them. As the more portable, more eco-friendly cousin to the bottle, packing a cooler full of cans before heading outdoors is as fundamental to the season as sunburns and overpriced beach parking.
We're here to help with what we consider to be the "beach reads" of beverages: light-weight, portable, and compelling enough to not be able to put one down, but not so over the top that you can't appreciate them as your body temperature spikes. So put down that bottle opener, dust off that Igloo that's been waiting patiently in your garage, and get ready to hit the trail with the best canned beers for your cooler right now.
Author's Note: As always, we're gunning for great stuff that's more widely available. If you're looking for a good canned option in your neck of the woods, the Canned Beer Database is a solid way to get a feel for what's available locally.
Gose, 4.2%
Boonville, CA
Putting salt on watermelon has always been a thing. But what about putting salt, on your watermelon, in your beer? Anderson Valley has long been known to put forward a solid fruit-based gose, but this is next level. Don't be afraid of the ingredients: it's a surprisingly perfect combination of fruitiness, acidity, and brine that's way less Jolly Rancher and more actual melon rind with this flavor. Even as an admittedly divisive style, goses are absolutely perfect for most cooler-friendly events and outings, and tend to be a gateway beer for those friends or family members who don't usually reach for brews. I defy you to find a more thirst-quenching beer out there.

Pilsner, 5.2%
Portland, ME
Chances are if you close your eyes and picture yourself on a beach drinking a beer, the can in your fantasy hand will likely be a Pilsner: the lighter body, crisp finish, and refreshing flavors make it a go-to style for warm-weather outdoor drinking. Some of the best news out of the craft beer world is that it's finally easy to find a well-done version of this style, and Bunker's Machine Pilz is one of the best on the market. It has the grassy Saaz hoppiness, light-medium body, and water-cracker malt flavors that are mainstays of Pilsners, all while avoiding the blah-ness that so many subpar versions of this style put forth. If you ever have a doubt about what non-beer-drinking people are going to feel comfortable diving into, this is your answer.
IPA, 6.5%
Portland, OR
Until Portland's ambitious, somewhat underrated Burnside Brewing starts canning its truly perfect summer offering, Lime Kolsch, we'll have to make due with its flagship IPA. Luckily, it's a beer that stands out in a crowded field, balancing four types of hops without crossing into the too-bitter zone. It's not a session IPA. But it drinks mighty easy. And, hell, if you want to put a lime in it in anticipation, nobody's going to fault you.

Radler, 4.1%
Kansas City, MO
Anyone who has spent time with Europeans has probably heard them order a "radler" (or "shandy" if you're with a Brit), which is a glorious combination of fruit soda and beer that is built to refresh. Boulevard has one of the best American takes of this on the market that perfectly combines two summer-friendly flavors. Don't let the spicy aroma scare you off: this tastes more like lemonade than ginger beer, with bright, beautiful, refreshing lemon and just a subtle hint of a ginger burn on the finish to balance out the acidity. If it sounds like a stupid-easy-drinking beverage, it's because it is. It also happens to work wonders in an impromptu cocktail, if you're having that kind of a cooler party.
Coffee doppelbock, 8.2%
Kihei, HI
It's a holdover from winter, but if you're in the market for a delicious early-in-the-day beer for an early-season camping trip or, you know, a Tuesday, this meaty bock definitely splits the difference between iced coffee and beer in a wonderful way, and offers up a nice alternative for folks who enjoy their dark beer ice cold.

Pale ale, 5.6%
Gainesville, FL
If you're lugging your cooler outdoors to take advantage of the fresh air, chances are you're going to appreciate a beer as aromatic as Swamp Head's Stump Knocker. How does it get that piney, floral bouquet? By dry hopping, of course! But instead of overwhelming your palate with resin (or underwhelming with a thin, watered-down body), this has beautiful citrus flavors and a medium body with a solid malt backbone that takes it all home with a crisp finish. It's an easy-drinking beer that never set out to just be easy drinking, and will work as well on a golf course as it will at a poolside BBQ.
Session IPA, 4%
Seattle, WA
This limited lite IPA may have disappeared from the taps, but you can still find this spring beer from one of the Pacific Northwest's finest breweries on some shelves. And if you do, well, you're unlikely to find a more robust session IPA in the Pacific Northwest, a lawnmower beer with a nice hop blast that disappears as soon as you swallow it. If you see it, stock up.

Gose, 4.4%
Cincinnati, OH
Peach has a special place on the flavor spectrum, where it can be perfumy, sweet, acidic, and insanely refreshing all at once. Maybe that's why when you include it as an ingredient in a style of beer that goes down like lemonade, it comes off as memorably as Dodo. Like any good gose, it's well balanced between sour and salty, with clean fruit flavors instead of canned-syrup flavoring. For non-beer drinkers, it perfectly replaces a margarita or daiquiri in the beverage rotation, saving you from having to jam all of those ingredients into a cooler. For beer lovers, it's a sensational standout for a style you've probably become all too used to seeing these days.
Radler, 2.6%
Portland, OR
Generally, we're against punny names in beer, but we're willing to forgive Portland's bike-obsessed brewery for this refreshing take on the radler, which perfectly mates the hops and maltiness of Hopworks' already-killer organic lager with its lemon soda, creating a sweeter take on the fruit-forward tradition without losing sight of the fact that a good radler should still taste like beer, and not like a spiked glass of Country Time (not that we're against that...).

Hefeweizen, 5%
Stratford, CT
Maybe I've said this too many times, but I think it's worth repeating: warm weather makes me crave hefeweizen like no other. And if you're packing a cooler with cans to specifically get out into that warm weather, No Limits is one of your best options. It has all the trappings of traditional Bavarian-style wheat beers, featuring the clove, banana, and slight bubblegum flavors with a clean finish that somehow feels right at home when the beer hits your tongue in sunny weather. This one happens to be a combination of sessionability and complexity, which rarely go together this well.
American Pilsner, 5%
Copenhagen, Denmark
The traditional Pilsner, Americanized... by an incredible Danish brewery. That's some Inception-style brewing. But where so many hoppy "American-style" Pilsners basically taste like light IPAs, Mikkeller has found the balance, offering up a crisp, refreshing beer that doesn't bite too hard when it comes to bitterness, which is key when the sun starts beating down.

Session IPA, 4.4%
Norwood, MA
You can't put together a summer can list without including at least one almighty IPA. But in the aftermath of the great session IPA boom of the past two years, there are only a select few examples of the style that are worth the coveted space in your cooler. To put it bluntly, the crew at Castle Island has nailed it with Candlepin. It's everything you'd want a session beer to be: light-bodied with slightly dank, resinous aromas and citrusy flavors like grapefruit with a clean, dry finish that makes each sip easier than the last. It has plenty going for it, whether you're a hophead or not.
Pilsner, 5.3%
Lyons, CO
Oskar Blues is a brewery known for canning big flavor in the form of hop-crushers like Gubna. This is not that kind of can. No, this is Oskar Blues' take on lawnmower beer, crisp and light and refreshing in the same way that its other offerings are bold and complex. It's a year-round beer, but every time you drink it, it reminds you of what a perfect summer beer tastes like.
Radler, 2.5%
Salzburg, Austria
Simply put, this is the quintessential radler. Low ABV. Fruity, but not too fruity, thanks to all-natural fruit juice. Somehow, it's even better when it's sweltering outside. No beer cooler is complete without it this summer. Or any summer. Such is Stiegl.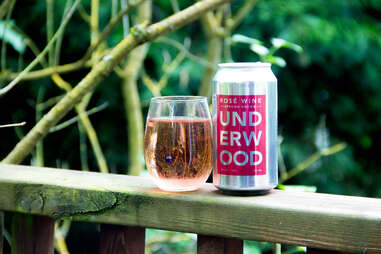 Rosé, 13%
Sherwood, OR
Look, it's just good business to offer up something to the non-beer drinker. Or to yourself after you've finished all your beer and are like, "damn, I could really go for a nice cold rosé right now," because you know damn well you love pink wine. The best part about Underwood? It's delicious and it fits in a koozie. Plus, that can's about a half a bottle's worth of pink, and way more compact than a gigantic bottle. And easier to open with your teeth, too.
Sign up here for our daily Thrillist email, and get your fix of the best in food/drink/fun.
Zach Mack is Thrillist's contributing beer writer, the owner of Alphabet City Beer Co. in NYC, a newly minted Certified Cicerone, and nothing else. Follow him: @zmack.
Thrillist senior editor Andy Kryza contributed suggestions for your amazing hypothetical cooler.