Design by Maggie Rossetti for Thrillist
Design by Maggie Rossetti for Thrillist
The typical piña colada usually involves a plastic cup on a beach, beads of condensation falling down the side, a wedge of pineapple perched at the top, and the feel of coconut-flavored ice crunching between your teeth.
So, popping the tab on a can and taking a swig might seem like a far cry from that tropical escape. But with ready-to-drink (RTD) versions of piña coladas rising in popularity this summer, distillers are using science and getting creative when making the next best thing.
"We wanted to make sure it tastes and drinks just like the classic cocktail that everyone knows and loves," says Gwen Conley, director of quality and innovation for Cutwater Spirits. "Mouthfeel is so important. There was quite a bit of science that came into play."
The San Diego-based distillery—which produces nearly 30 canned cocktail varieties from Long Island Iced Teas to Mai Tais—uses its White Rum, natural pineapple flavoring, and a house-made coconut cream liqueur to mimic that blended texture.
The last couple of years have been huge for the RTD market, which was valued at $714.8 million in 2020 and is expected to grow 12% annually until 2028. Plus, it's easy to understand why tropical flavors (like mango and pineapple) lead the hard seltzer pack.
"It would be hard for someone to smell and taste the piña colada and not be instantly transported to a vacation," Conley says. "There is something about that feeling you get when you take a sip of a tropical drink that transports you from the mundane to an exotic escape."
Conley also recommends rimming the can with cocoa powder or toasted coconut, adding fruit garnishes, and leaning into the vibe with a drink umbrella or crazy straw. No matter how you choose to enjoy them, here are some canned piña coladas you can try right now.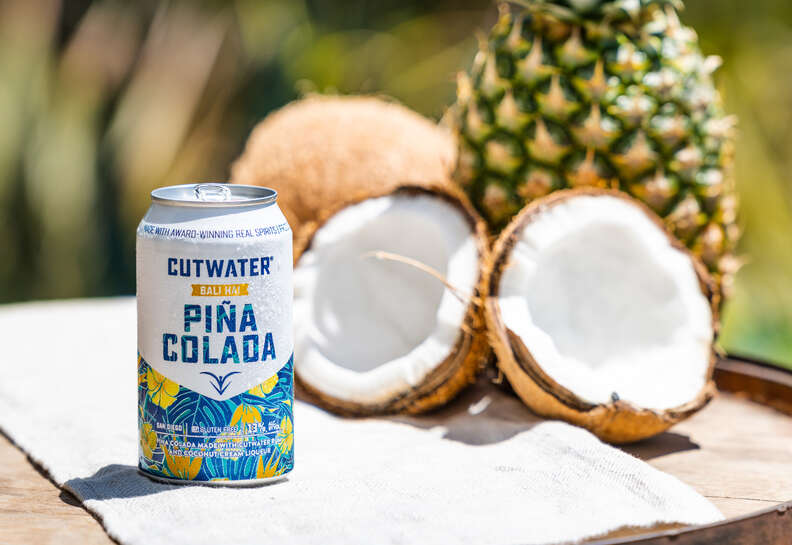 13% ABV
San Diego, California
Served in 12-ounce cans and made from the distillery's own White Rum, Cutwater's version is a silky substitute for the real frozen drink. Real cane sugar and actual milk in the coconut cream liqueur make this drink taste anything but artificial.
5% ABV
Harrison Township, Missouri
As a part of the growing hard seltzer category, Smooj drinks are all gluten-and dairy-free and market themselves as similar to smoothies. This piña version sets itself apart with pineapple puree and key lime puree that give it a thicker viscosity than the typical seltzer.
5% ABV
Boston, Massachusetts
You know that a trend has reached the mainstream when Truly gets involved. The Boston Beer-owned brand tapped pop star Dua Lipa to collaborate on its latest limited-edition Poolside Variety Pack, which includes four, 100-calorie, cocktail-inspired flavors: Strawberry Melon Fizz, Orange Peach Spritz, Piña Colada, and Kiwi Mojito. We've heard the kiwi one is her favorite, but we'll try all four to decide for ourselves.
5% ABV
Bridgetown, Barbados
Another big dog got its piece of the the piña RTD action and this famous brand uses its Carribbean rum, various fruits, and preservatives for its version. (Be warned, there are nearly 40 grams of sugar in every eight-ounce can.) But Malibu purists will certainly appreciate the company dipping its toes into this category.
4.5% ABV
Stamford, Connecticut
Produced by another giant in the booze world, this version features a common ingredient in hard seltzers: grain alcohol. This product is geared toward the health conscious, clocking in at only 90 calories, one gram of carbs, and zero sugars or artificial sweeteners. But just don't expect the full-body flavor or texture of the famed frozen drink.
6.5% ABV
San Pedro, California
This seltzer offshoot of Brouwerij West outside of LA has four flavors and counting, including Mango, Grapefruit, Watermelon and, yes, Piña Colada. The benefit of having a craft brewery make your seltzers is that products that aren't overly saccharine or artificial and have awesome label art.
5% ABV
Grand Haven, Michigan
This Midwest microbrewery is trying its hand at the hard seltzer game, like a lot have around the country. So far, Odd Side has released nearly 40 varieties of the stuff, with three dedicated seltzer tap handles at the brewery. All of them boast no gluten, no sugar, and are only 110 calories per 12-ounce can.
5% ABV
Mount Pleasant, South Carolina
Another example of craft breweries experimenting with this tropical flavor comes from right outside of Charleston. This is as close to a piña beer as you can get without being, well, beer—since it uses American Ale yeast, sugar, and real pineapple in every 16-ounce, tallboy can.
Jess Mayhugh
is the editorial director of Food & Drink for Thrillist.